This really is a groundhog day, of sorts. Every week the Colts fail to perform and every week they slide further into the abyss in terms of organizational infighting, criticism and inadequacy.
Indy's secondary seems to be competing with Patriots group for 'worst in the league' status, and it's becoming almost impossible to watch the start of a Colts game with enthusiasm. Normally I'm excited and immersed all week long in the NFL and specifically our Colts, but this really is a trying time.
To their credit, the Falcons played well and took advantage of our ineptitude. Nonetheless, the team moves on.
I'd like to say thanks to everyone that read and commented on my piece last week – whilst this process is educational for me in terms of going over the plays, I love to hear that other people have learned something from it as well, and I can only hope my presentation is adequate for that purpose.
To the analysis. . .
Play #1 – 2nd and 6 from the IND 24 – 14:26 in the 1st Quarter – Colts 0 – Falcons 0.
At 6pm on Sunday, I was just arriving home to settle down and watch the game. Before I managed to get the game up, the NFL alert system on my phone notified me that Delone Carter fumbled the ball. As soon as this occurred, I think the Colts chances to win disappeared. The team has no chance of chasing down an opponent on the scoreboard, so taking advantage of the first possession is something they have to do.
It's the second play of the game, and the Colts come out in a 2WR, 2TE, 1RB set. Reggie Wayne and Pierre Garcon (the team's best blocker) are split to the left of the formation, with Garcon inside. Dallas Clark and Brody Eldridge are stacked on the right side of the line, and Delone Carter is in the backfield. Anthony Castonzo (yellow) is fresh back from an injury which has kept him out since the Bucs game, and is unfortunately matched up on John Abraham (#55, DE) – and the run is designed to go behind LT/LG.
Unfortunately, Castonzo gets absolutely brutalized by Abraham as Carter takes the hand-off. As a consequence, Carter has to totally redirect and cutback to head to the right of the line. The rest of the line does a reasonable job against an 8-man box. An 8 man box against Peyton Manning and this formation? You'll rapidly move out of it. Curtis Painter? Not so much.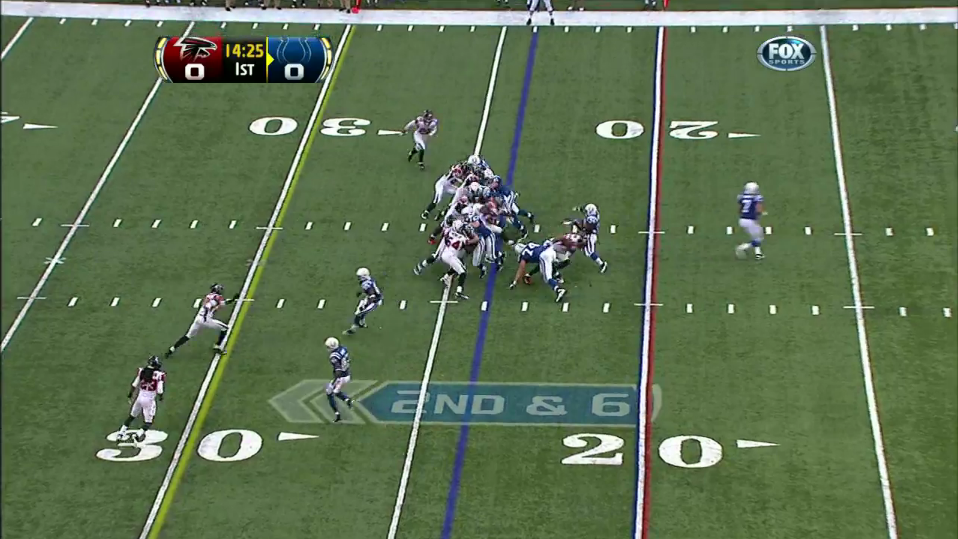 Somehow, Carter manages to evade Abraham with an excellent cutback. Castonzo is beaten all ends up.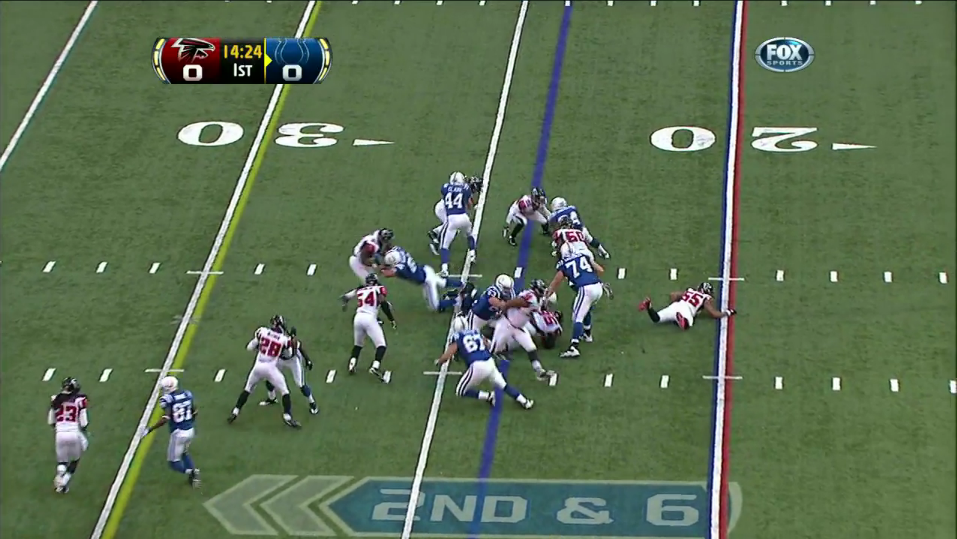 Abraham falls over in pursuit of Carter, who moves to the right of the formation and tries to cut inside. Unfortunately, given it's an 8 man box, there is one spare player due to the O-Line having 7 blockers. With the play designed to go left, this guy isn't as important. When Carter cuts back, he becomes pivotal.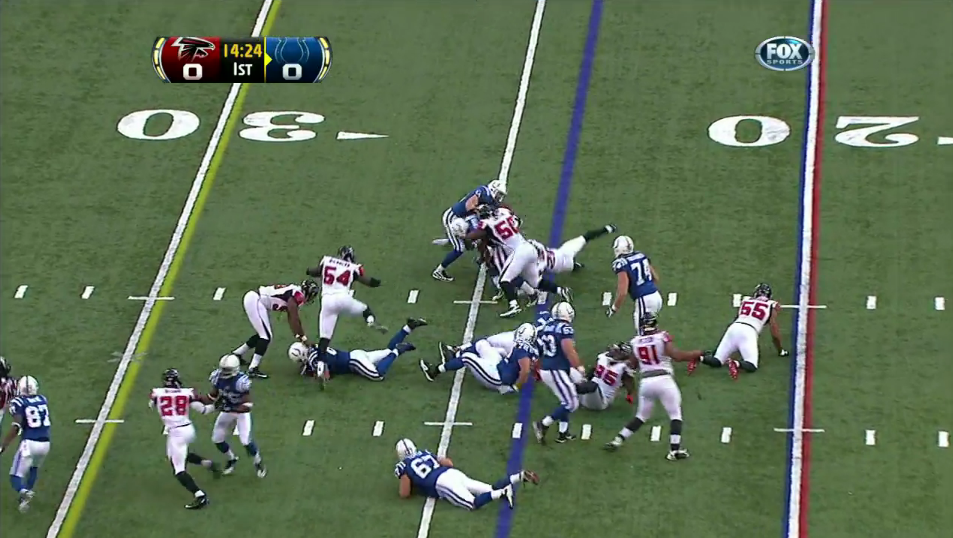 Carter runs into the arms of Curtis Lofton (#50, MLB) and Brent Grimes (#20, CB).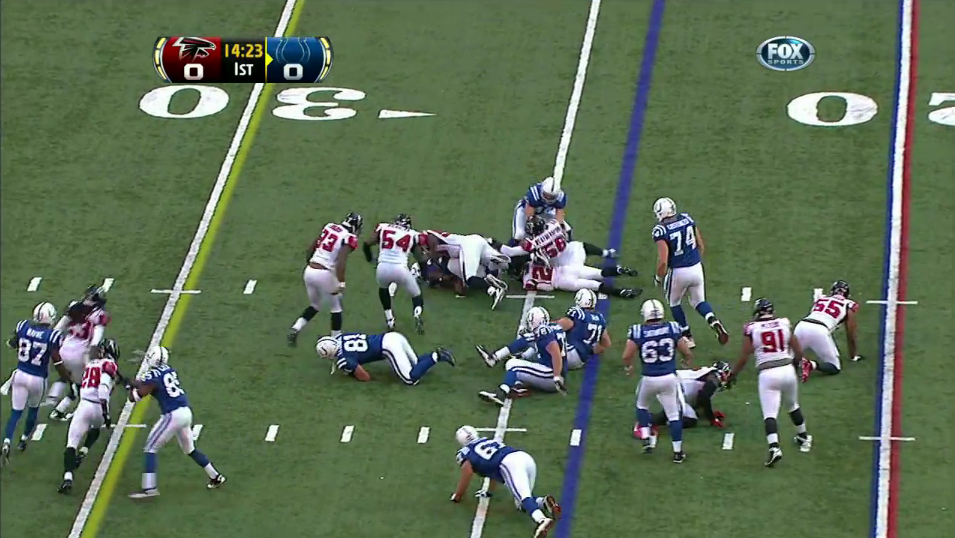 Lofton punches the ball free from Carter's loose grasp, and the ball lies on the turf, and is eventually recovered after a sizable scrum.
You can see here Carter is struggling forward whilst in contact with Lofton and Grimes. No issues with it whatsoever, he's broken a couple of long runs after ripping through tackles.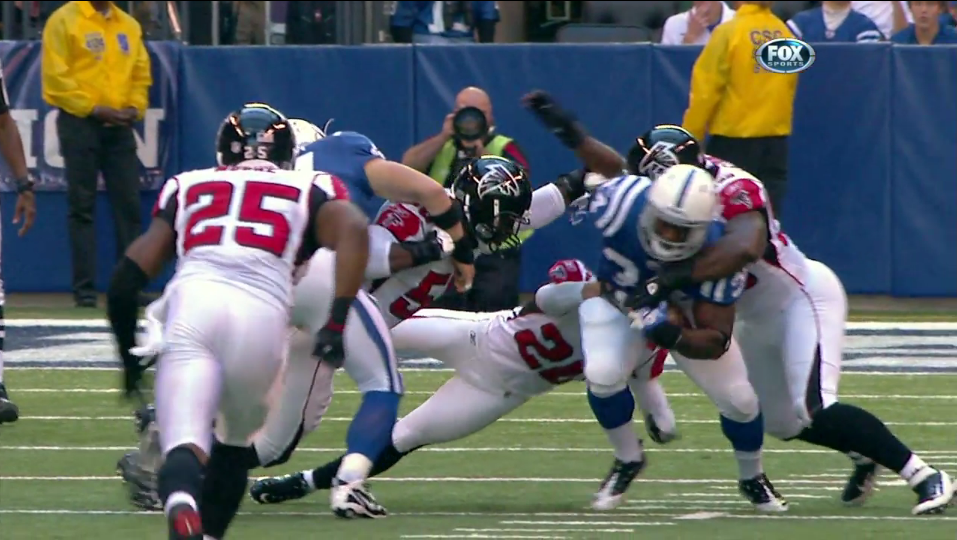 Lofton reaches around, sensing that the football might be swinging about. Carter's hold of the ball isn't good enough for me, but his other arm is being wrenched behind him and he's trying to power through.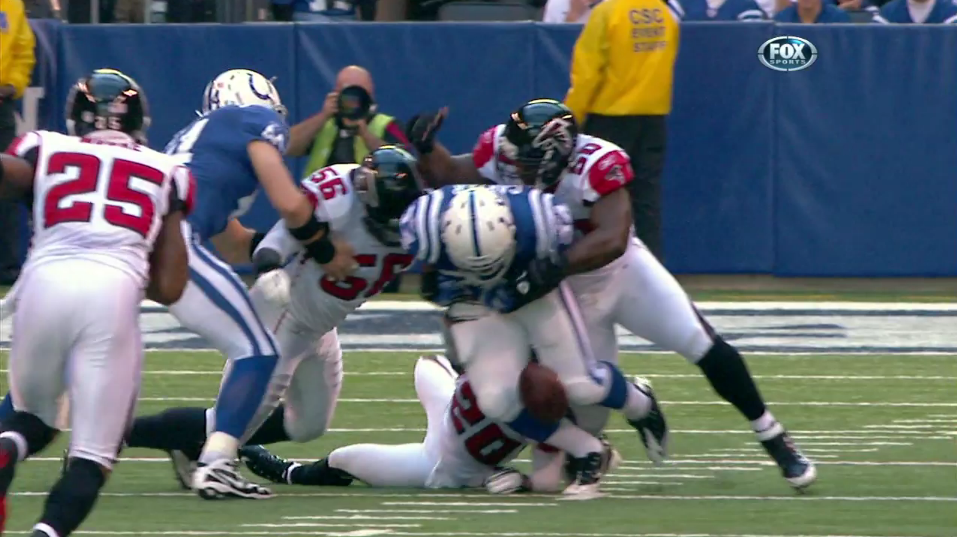 At the end of the day, it's a great football play by Lofton, and it's sub-par from Carter.
There's nothing particularly deep or outlandish about this play, and the analysis is quite vanilla as a consequence. I do consider it to be a pivotal play however, and I also take issue with what happened subsequently – Carter didn't see the ball again until midway through the 3rd quarter.
I don't like the decision making by Caldwell in this instance – I know it's the second play of the game, but I dislike the decision to take him out as some kind of punishment. The guy is obviously going to feel bad after fumbling, so keep him in and let him run – he's been our best and a lone bright spot over the past few weeks, for a start.
Benching him after he cuts Abraham out of his cleats and breaks a tackle, after the designed play has been blown up? I don't like it, but I understand if people disagree.
Play #2 – 3rd and 10 from the ATL 33 – 8:16 in the 1st Quarter – Colts 0 – Falcons 7
The Falcons immediately took advantage of the Carter fumble and put 7 on the board. Shortly afterwards, the Colts made a solid drive down the field on the back of some tough running from Donald Brown.
The Colts then decided to put the ball in Curtis Painter's hands on three consecutive plays when approaching field goal range. We've been running the ball at 4 yards a clip throughout the season, and we'd started with promise in this game. So what do we do? Give it to Curtis. 2 incompletions later, it's 3rd and 10.
The Colts line up in a 3WR, 1TE, 1RB set, with of all things, Austin Collie split out left on the outside, Pierre Garcon on the right in his usual spot, and Reggie Wayne in the slot to the right hand side. Dallas Clark and Donald Brown are in the backfield to assist in pass protection.
Reggie moving away from his usual spot wide left would be enough to alert me as a defensive coordinator, but I digress.
The Falcons are playing man coverage on the outside against the receivers, and are either in a zone alignment or loose man coverage in the middle.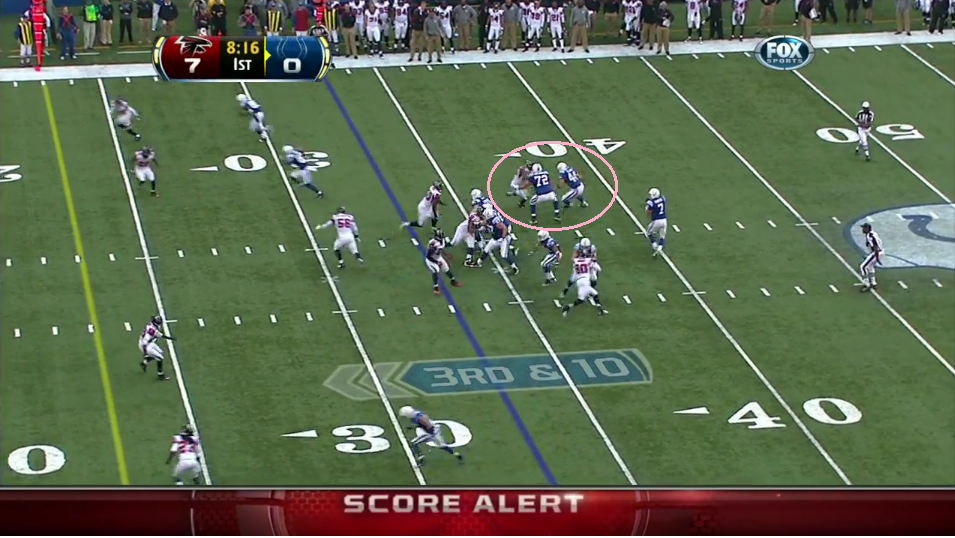 John Abraham is lined up at LDE, and consequently is matched up with Jeff Linkenbach and Dallas Clark, the latter present to chip block and wheel outside.
Unfortunately, Jeff Linkenbach is a scrub. Dallas' attempt at a chip block is entirely inadequate, and Link against Abraham simply isn't fair. A speed rush is enough to get around the outside and put significant pressure on Painter.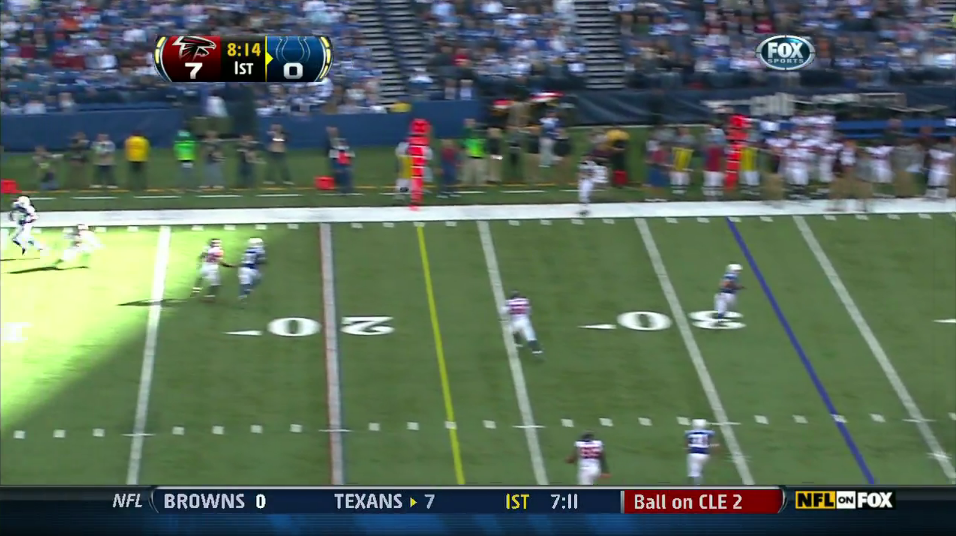 Painter attempts to throw nonetheless, and Reggie is on a 15-yard out, past the first down marker. Unfortunately, he's matched up against Kelvin Hayden – a man he lined up against in practice for several years, and who undoubtedly has familiarity with Reggie's tendencies. Hayden tracks him all the way, and seems to be anticipating the out route.
Hayden redirects Reggie earlier than would be ideal, but the throw is absolutely woeful regardless. Hayden does an excellent job of turning his body and makes the catch far away from his body, displaying the ball skills that helped him with the Colts. He's tackled immediately by Reggie.
You can see the poor work from Linkenbach, and you have to question Painter's awareness in throwing this ball when under such severe duress. The throw absolutely needs to be questioned as well.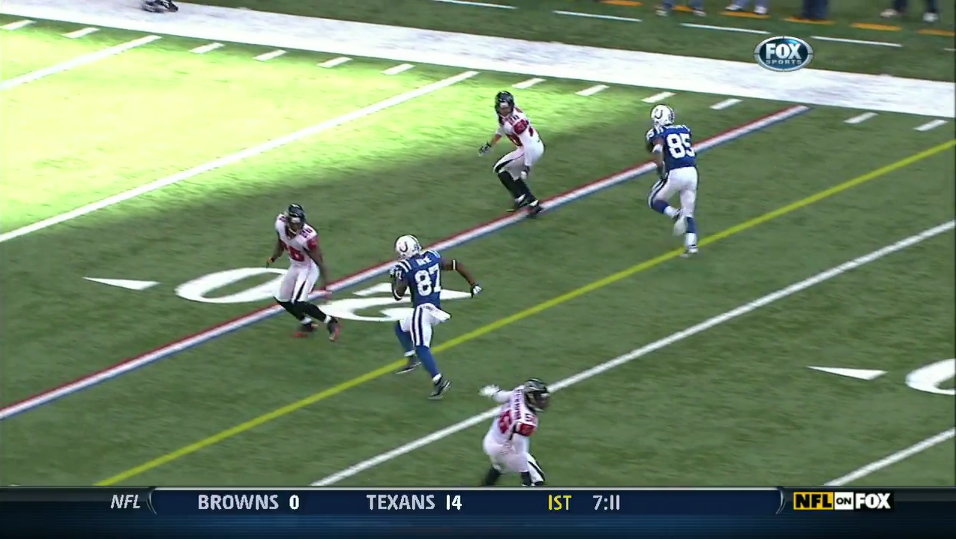 You can see the man coverage is tight on both Reggie and Pierre. Hayden is watching Painter as much as he is Reggie – he isn't going to get burned by the 32 year old.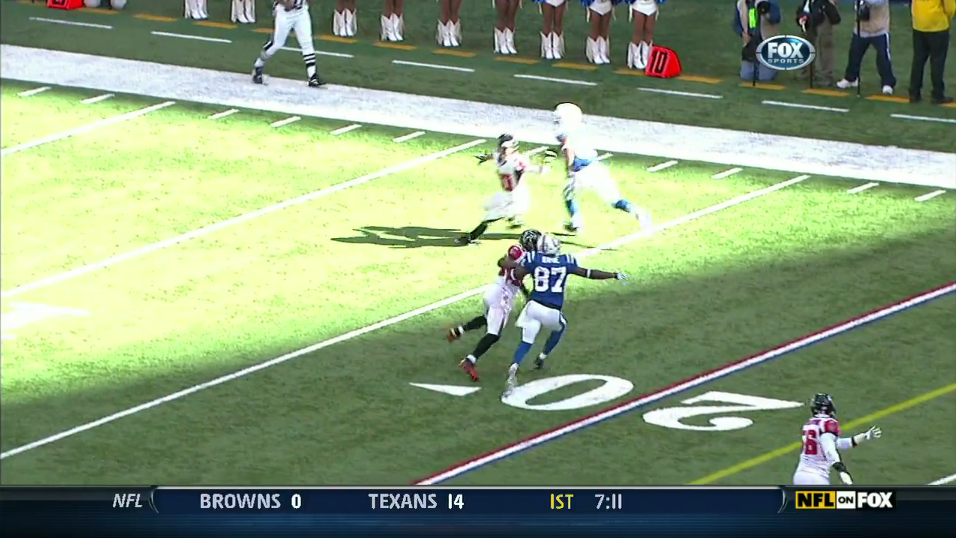 Hayden stays incredibly tight and his actions are borderline pass interference, given the strength of the redirection.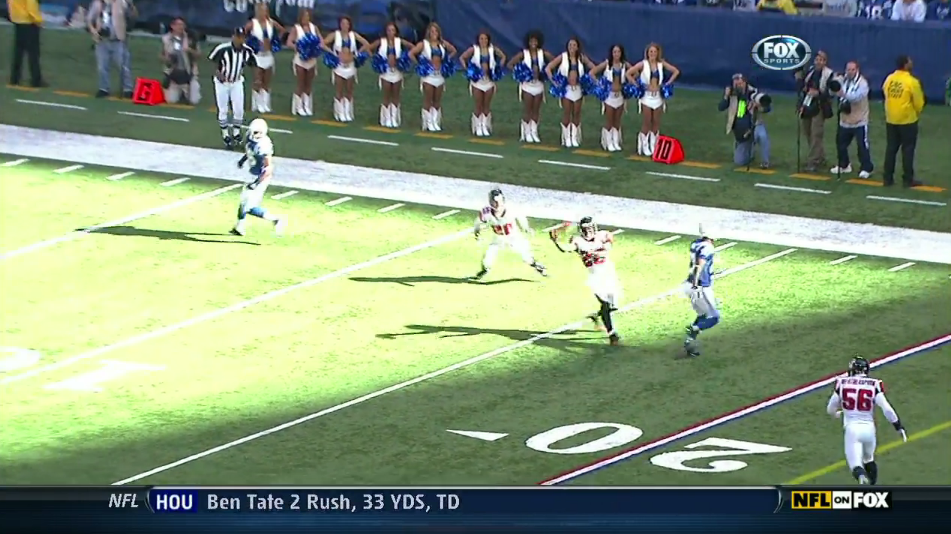 The throw is incredibly poor, and nowhere near where it needs to be. Reggie seems somewhat confused by it all, and I don't blame him.
Props to Hayden for a great play, but as was described on the broadcast by Jim Mora Jr., this was a forced throw. I mentioned last week how Painter needs to develop the use of his eyes as a way of moving the defense around, and this play is another example of why he needs to have that growth. He was staring Reggie down for the entire course of the play, and if a corner like Hayden is able to watch him, there's very little chance of a completion being made.
Play #3 – 1st and 10 from the 50 – 3:00 in the 1st Quarter – Colts 0 – Falcons 7
I'm quite a passionate sports fan, and I take pride in that fact. The following play made me absolutely incandescent with rage, truth be told. You know what's coming, I'm sure.
The Falcons line up in a 2WR, 2TE, 1RB set, with a twist. The 2TE part of the formation is incorporated with them lining up as slotbacks, off tackle and in the backfield. They're in solely to block, and Michael Turner does his part from the backfield as well. Roddy White and Julio Jones provide the only receiving threats on the play – White will go upfield and cut across, and Jones is simply going to the endzone.
The Colts are lined up with 8 in the box, but they are in a routine Cover-2 package. Due to this, the Colts bring 4 against the multitude of Falcons blockers. Ryan drops back 10-yards deep, in order to get a good idea of what's downfield, and also to clear the pocket to step into his throw.
As you'd expect with that many blockers, the Colts fail to get any pressure on the play. Ryan steps into his throw, and tries to make it an absolute howitzer down the field.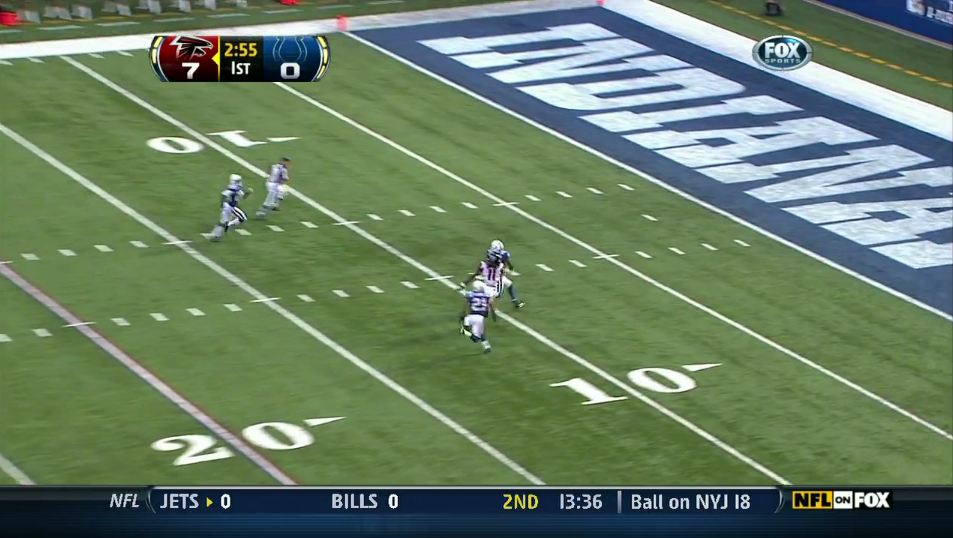 Downfield, Jones is bracketed by Bethea in front of him and Kevin Thomas behind. There is absolutely no way this pass should be completed. Both Thomas and Bethea are tracking the ball in the air.
The gap between the two Colts defenders is still small, but you can see the beginnings of an issue. Bethea clearly isn't in control of his movements, and Kevin Thomas is reliant on him in case the ball is placed away from where he can reach it. It's a combination of Bethea's poor tracking and the pace he's moving which throws him off balance, and is ultimately responsible for the play.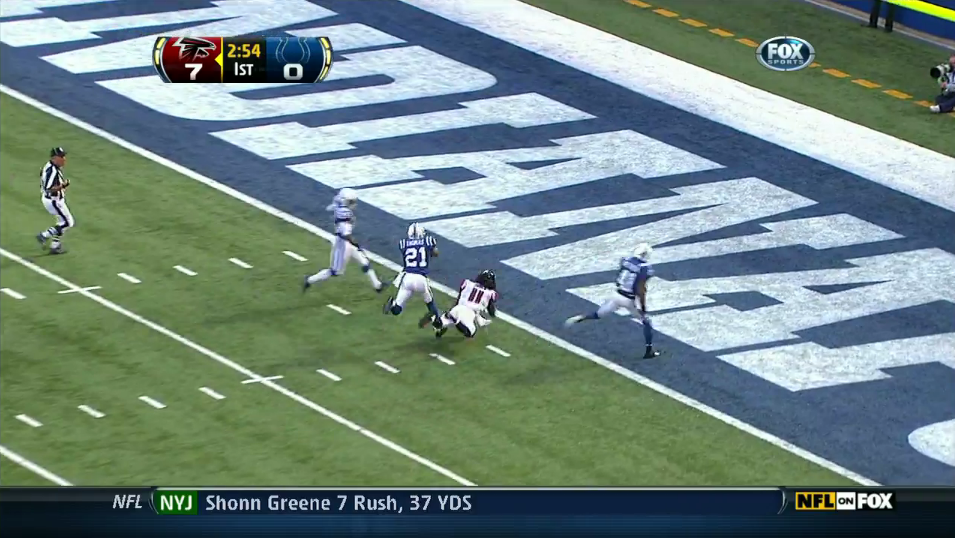 Thomas makes a last ditch dive for the ball, but Bethea's woeful effort on the play has him totally at the mercy of Julio Jones. I love Antoine Bethea and I think he's been incredibly underrated, but he needs credit where it's due and by the same token, criticism. When a defender has deep responsibility and acts as if he's in control, it's going to make things incredibly difficult for his teammates.
It's an incredible catch by Jones but whilst he had a big day, I'm reserving judgement for now. I don't think it's unreasonable at all to suggest that he faced better defenses last year in the SEC, and I'm not trying to be hyperbolic. This secondary group in particular is nothing short of a joke, and having watched 'Bama-LSU on Saturday night, I would take LSU's secondary over ours, all day long.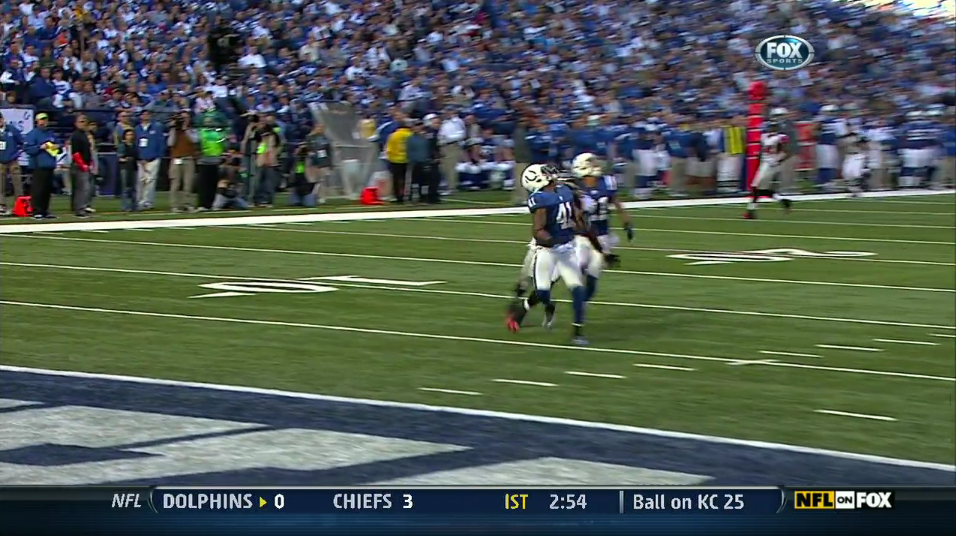 Here we can see the inside position Bethea holds over Jones, which combined with the presence of Thomas should be enough.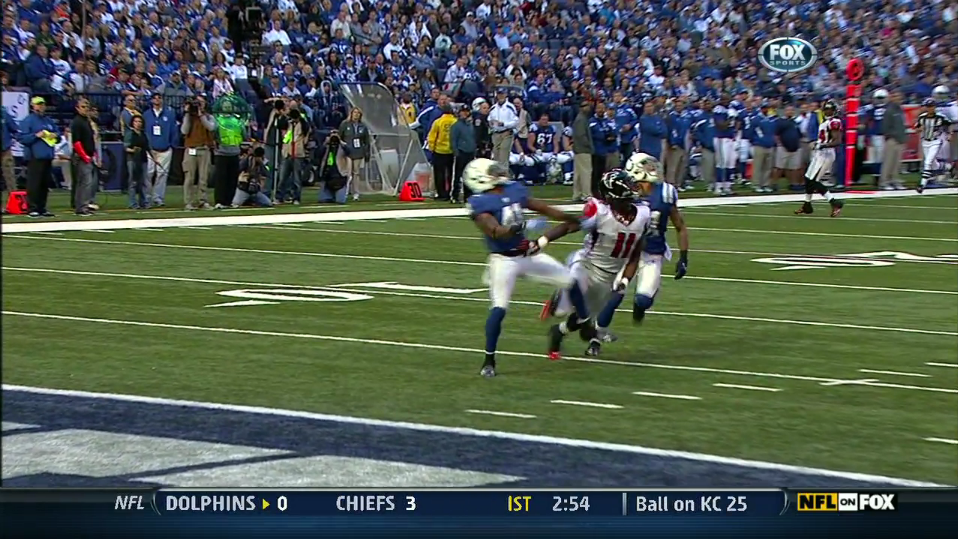 It does appear that Jones makes a small amount of contact with Bethea, but having examined it in detail, I don't consider it to have a big influence on the play. Jones is trying to clear space for the catch, and Bethea is already off balance at this point. His inadequate tracking takes him off track, otherwise simply getting in position would be enough to possibly draw an OPI penalty.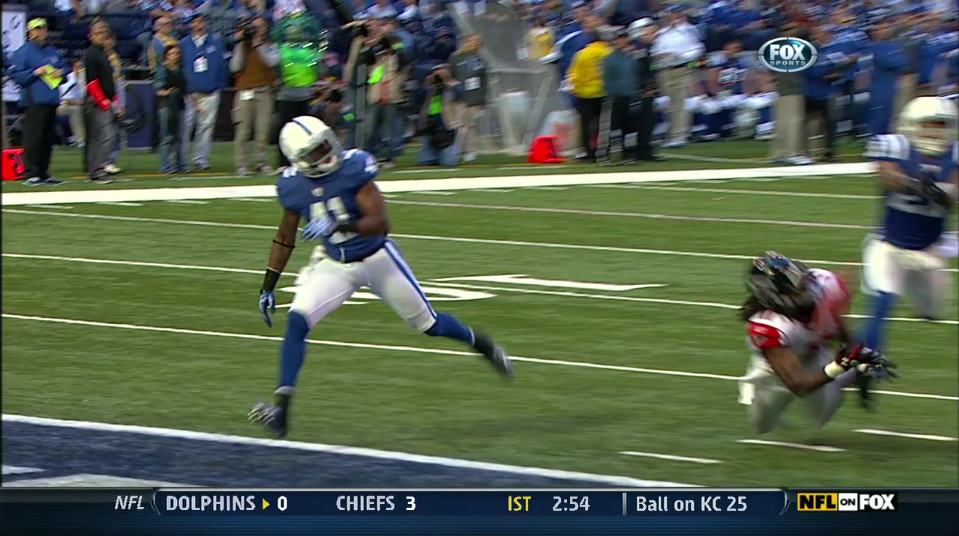 As you can see, Jones does an exceptional job locating the football and making the grab, but it's not good enough from the Colts secondary, which requires an infusion of talent in the draft and free agency.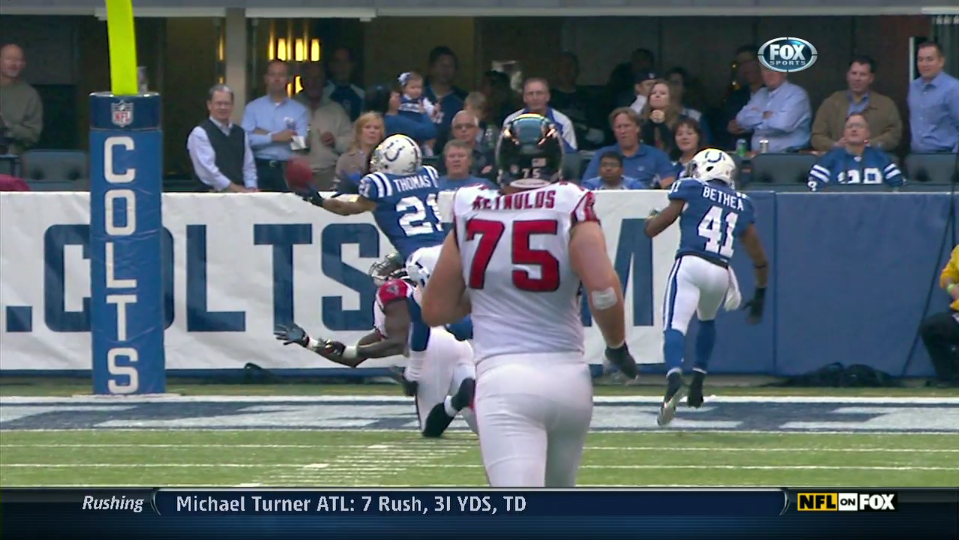 As I said before, I don't place any blame on Kevin Thomas here. Asking him to break up this pass when he has full knowledge of help over the top is unreasonable.
It's just a fantastic grab and awful play from the FS. At 14-0, it's curtains.
Play #4 – 3rd and 3 from the ATL 20 – 12:08 in the 2nd Quarter – Colts 0 – Falcons 14
The following play is an interesting one for a few reasons. It of course involves a breakdown in the secondary, but there are a few nuances which I'd like to point out.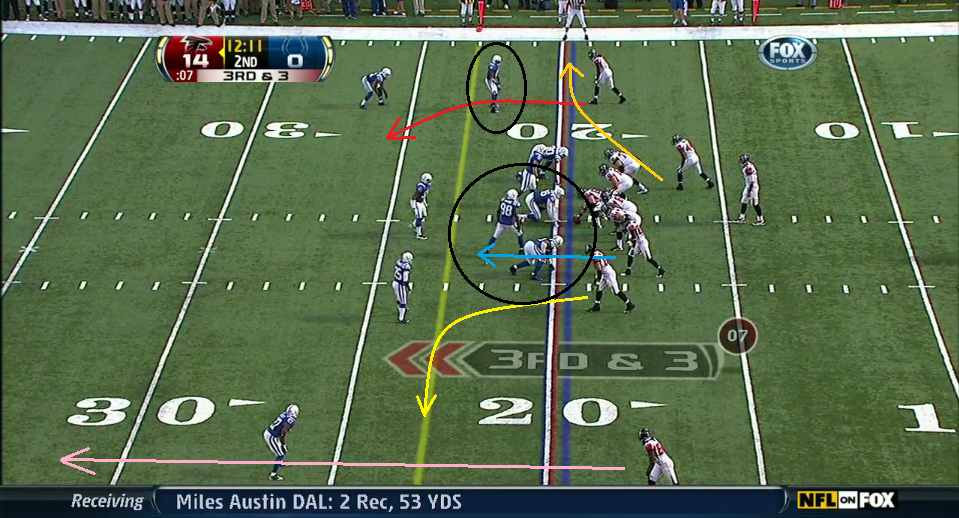 The Falcons are lined up in a 2WR, 2TE, 1RB set – but instead of countering this with a usual personnel set, the Colts switch it up. The black circles indicate variables which aren't usually in place.
Firstly, Antoine Bethea at the top of the screen is going to lurk in a short zone to try and deter the slant pass and also the quick out from the RB in orange. The other black circle shows something I've wanted to see for a long time – Robert Mathis and Dwight Freeney next to each other, the former in a standup rush stance. What I like about this is the fact that the defensive staff are switching it up to try and get results, even with the putrid state of the secondary. In any case, Julio Jones (red) again proves to be too much for the secondary.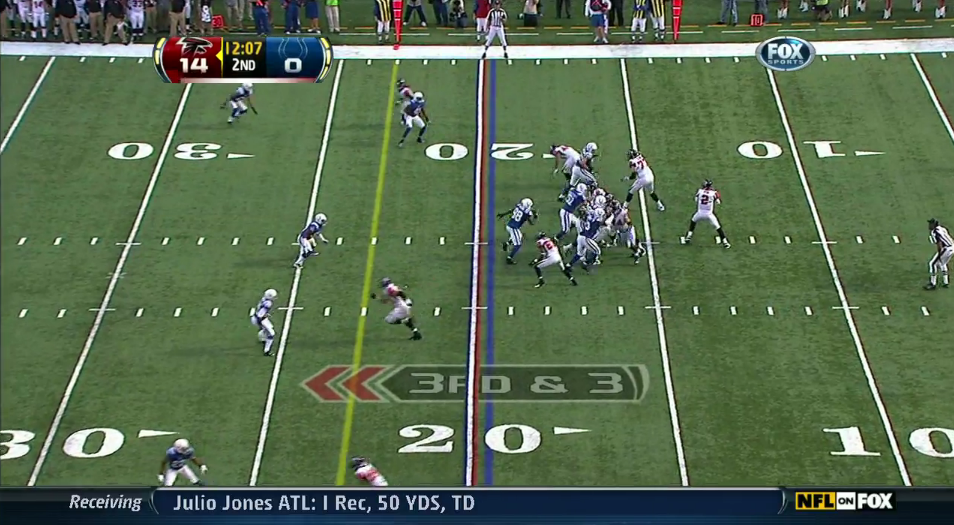 It's a 3 step drop slant route, and Bethea's lack of movement and sideline responsibility combined with Kevin Thomas' large cushion provides a perfect opportunity for the slant. The play is very reminiscent of Dwayne Bowe's long touchdown catch earlier in the season, and I apportion the blame in a similar fashion.
At this point, the argument could be made that it's already too late. The ball is well placed and Jones is in the right spot, but it shouldn't be any more than a 10 yard gain. Unfortunately, Kevin Thomas has given Jones sufficient room to maneuver after the catch, which means he can turn upfield against a single high safety.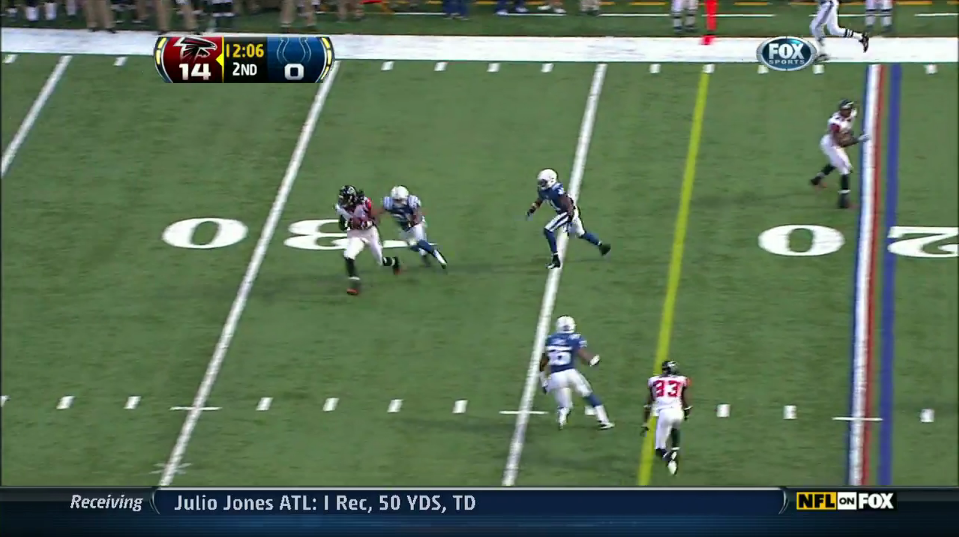 Thomas overcompensates for his cushion by lunging for the tackle, which only further compounds the issue. Jones' superior speed and agility lead to him breaking away, and at this point you have to expect a touchdown.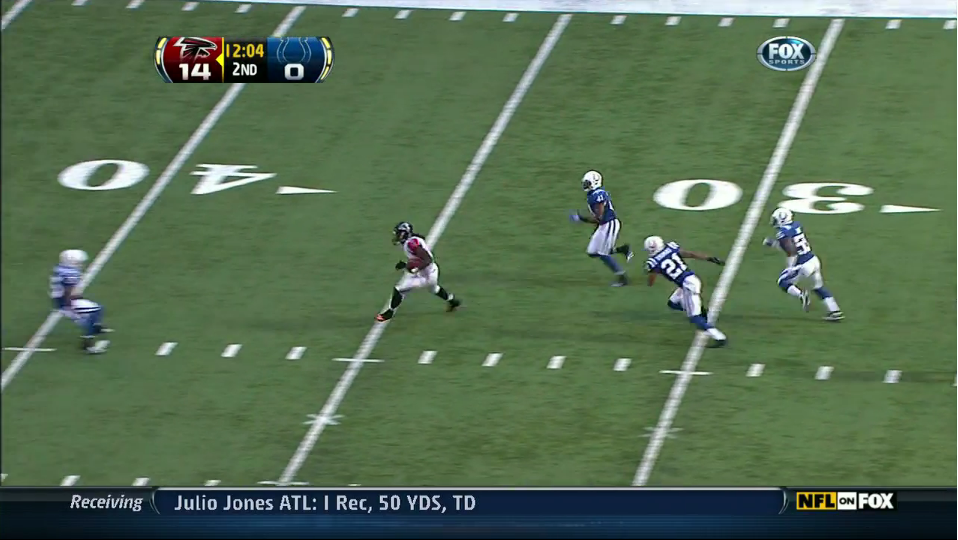 My rationale for not blaming Lefeged is this – I don't consider it reasonable to expect him to make this tackle in the open field against a physical specimen like Jones. If he has help closer to the play, then my opinion changes – but there aren't many safeties that can make this open field tackle in the NFL. Much as Bowe did earlier in the year, Jones plants on his right foot to hook Lefeged before breaking left, which leaves Joe flat-footed.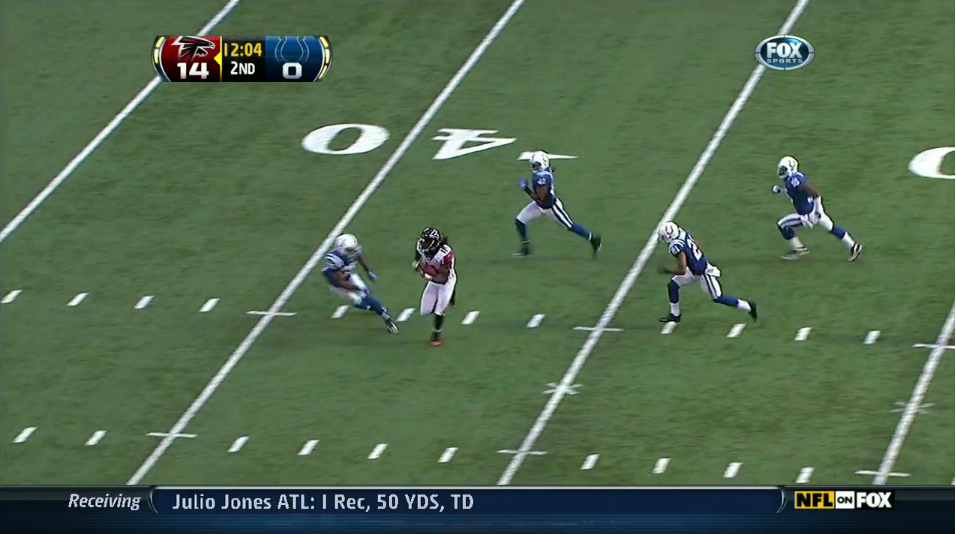 As soon as Jones turns the corner, it's game over.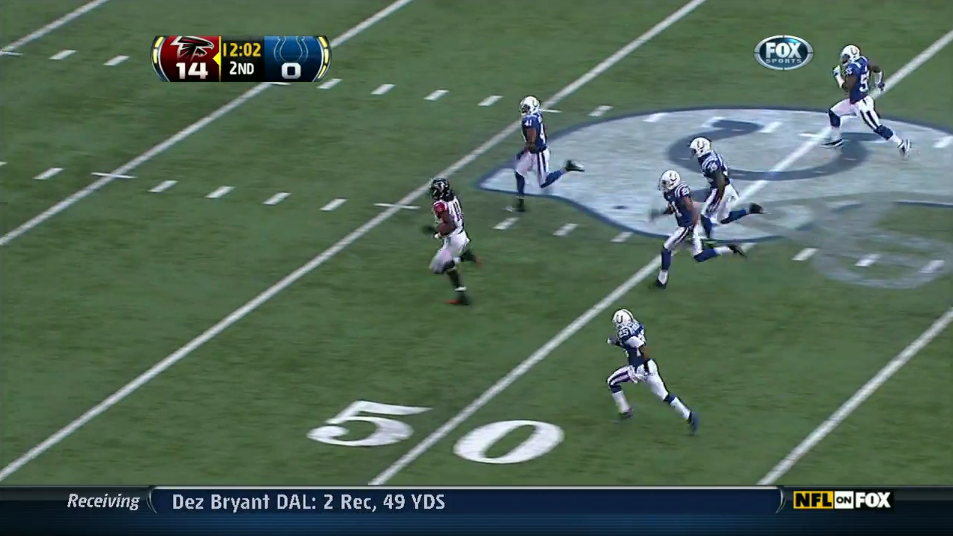 This sort of big play wouldn't have happened in previous years, with the penchant for Cover-2 within the organization. A switch to more variable man coverages can lead to this sort of big play – so those of us (like me) who asked for variation and man coverage from the staff can't really complain. Again it's a case of large cushion acting as the bane of good defense however, and I'd like to know whether it's the prerogative of the corner or coaching to determine the cushion on each play.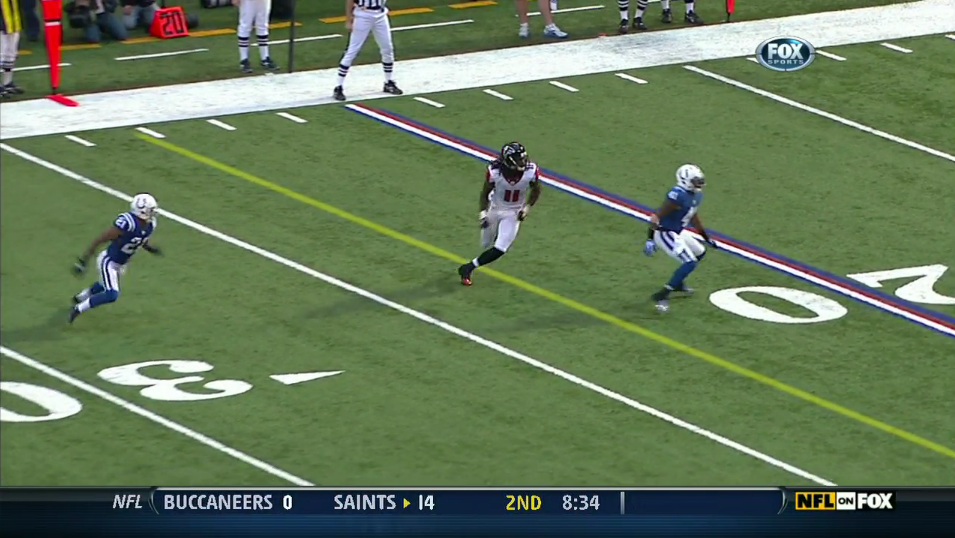 You can see how quickly Thomas realizes his error, but it's a combination of his inexperience and Jones' athleticism which makes the play. I'd like to think Bethea could do more, but in all fairness he does have sideline responsibility on the play.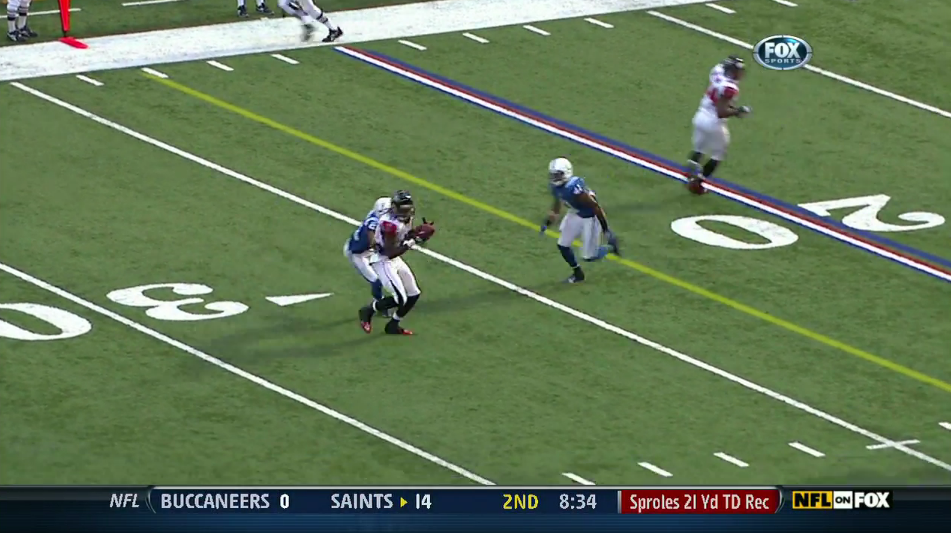 Thomas simply doesn't do enough.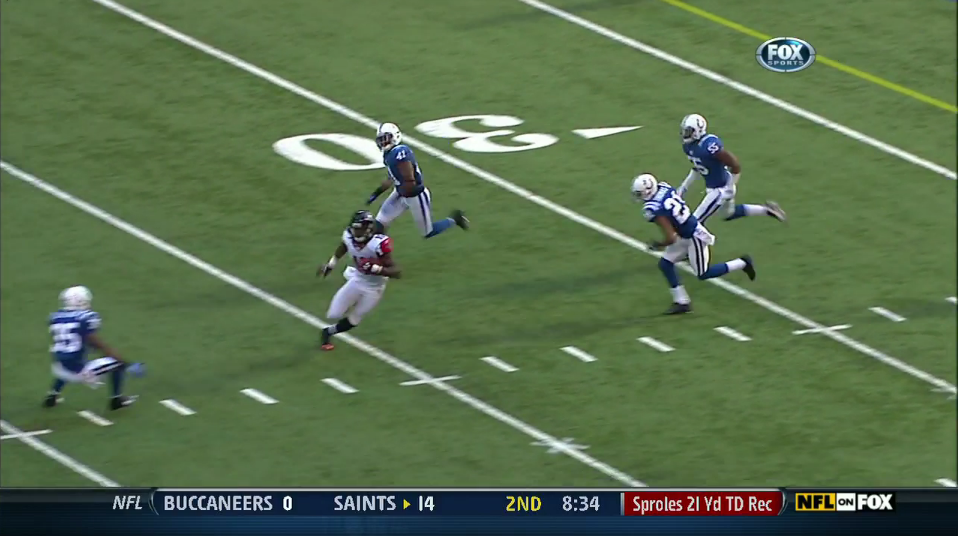 As mentioned previously, I don't consider it reasonable to expect Lefeged to stop Jones in a single high alignment in the open field. With the lack of investment in the secondary, 'you reap what you sow' has never been more pertinent.
Play #5 – 2nd and 9 from the ATL 2 – 7:53 in the 2nd Quarter – Colts 0 – Falcons 21
After all the horrendous play, how about a feel good moment? I've been railing on the secondary for what feels like weeks now, and it's nice to be able to give someone praise after being so down on the group as a whole.
The Falcons after an unsuccessful run on first down line up in a 2WR, 1TE, 2RB set, with Roddy White (red) and Julio Jones (yellow) on the outside. What you're going to see is a predetermined slant route on a 3-step drop (similar to the early Jones play) to Roddy White. Thanks to a great play by Powers and an appalling throw from Ryan, this doesn't come to pass. The Colts are going to drop into a zone coverage which looks ominously like Cover 2.
Ryan stares down White from the start of the play, and Powers, thanks to an adjustment he makes pre-snap (more on that later) is in perfect position to jump the route for an easy interception.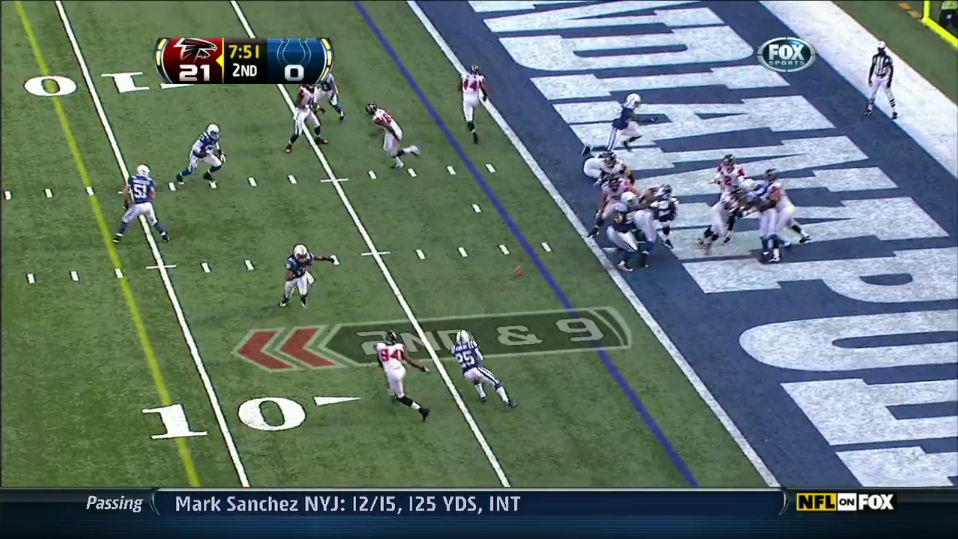 The throw is way behind White and exactly where Powers has decided to sit.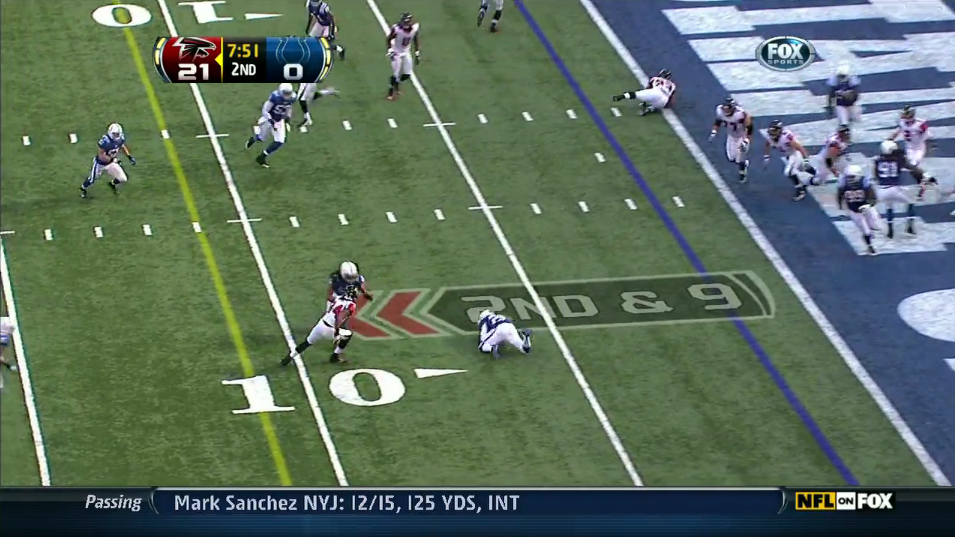 Powers makes the easy pick, and is untouched thanks to a great little block by Phillip Wheeler.
Powers waltzes into the endzone and fires up the crowd with the Colts first turnover since Week 3. Truly a sobering thought, and a ringing indictment of the current coaching staff and personnel. Nonetheless, praise where it is due.
You can see how easily Powers watches Ryan, who seems to have eyes only for #84. By gaining inside leverage, Powers ensures his dominance on the play and anticipates fantastically well.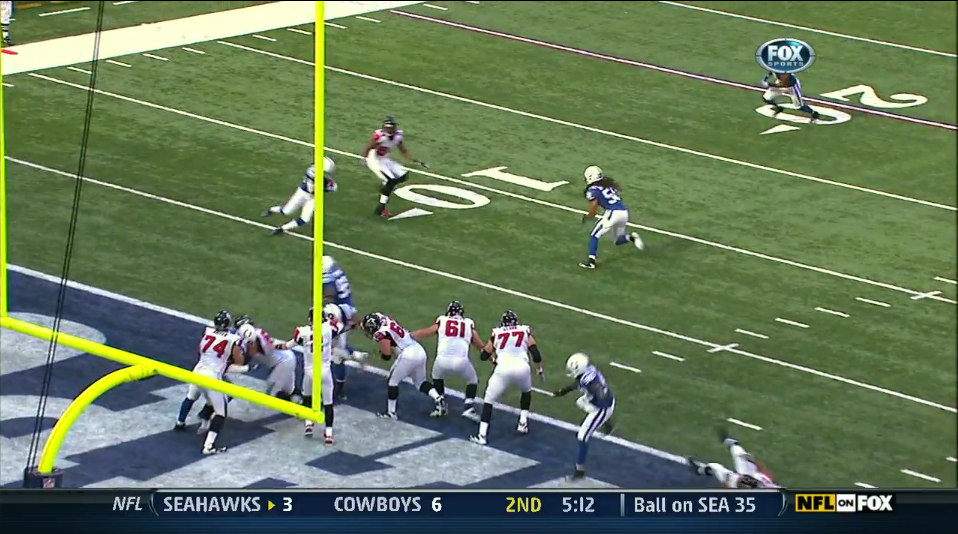 It's nice to see a Colts DB take advantage of an opportunity, too. Powers dropped another pick in the game and we've seen all too often how stone hands can haunt a team – Kelvin Hayden last year against the Jaguars and David Caldwell this year against the Buccaneers to name a couple of examples.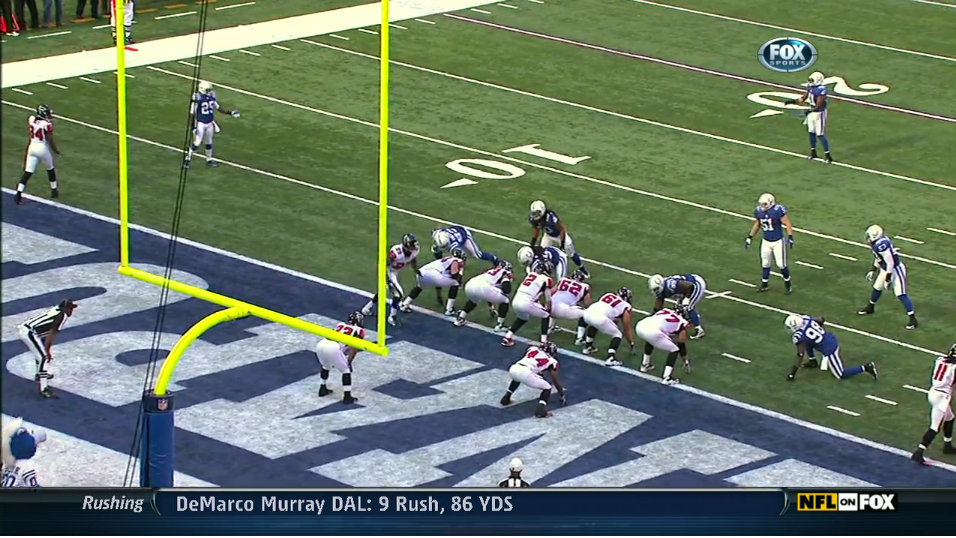 My favorite part of the play is this, also pointed out by Jim Mora on the broadcast. You can see Powers gesticulating to Bethea on the play having seen a specific motion. He's telling Bethea of his intentions to jump the route pre-snap so Bethea can make the adjustment and move over to help in coverage. It shows a cerebral aspect to Powers, whether it's intuition or something he's seen on tape.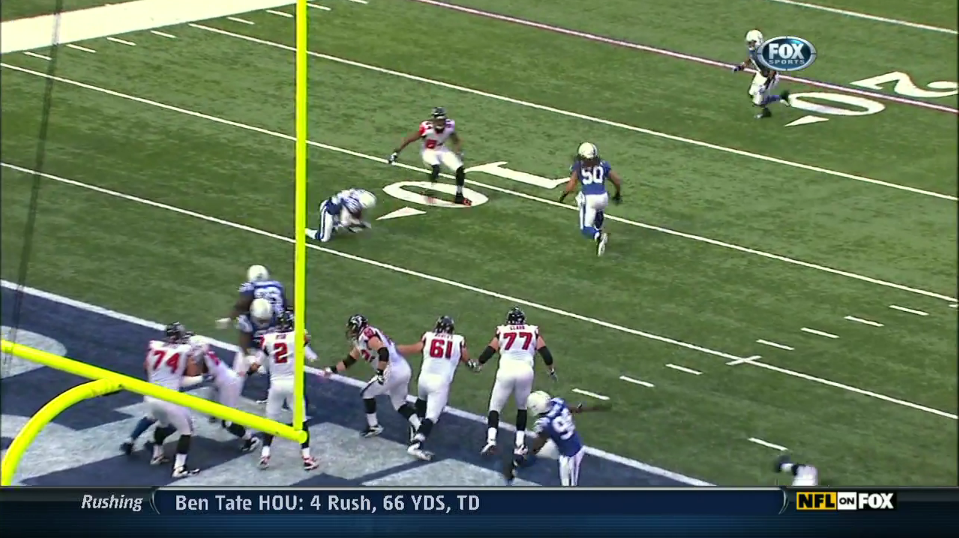 And whilst it's a bad throw by Ryan, who can begrudge us a little celebration. I think this play speaks to the importance of varied coverages, which is something we've been experimenting with for weeks now. When the opposition knows you'll be in Cover 2 for 70 percent of the snaps, they can plan accordingly. Mixing it up with man coverage and blitzes creates confusion in the mind of opposing QB's, which can result in plays like this. Good job, Jerraud.
Conclusions:
It's the same old story for the 2011 Indianapolis Colts. Though not overly enamored with the play of our defense, I consider it to be not that much worse than during the main Manning era – indeed in some respects before injuries struck, it appeared to possibly have improved.
The play of the offense has become a real issue however, and a lot of the blame has to rest with Curtis Painter. The offensive line is doing a reasonable job in protection and a great job run blocking, and his ineptitude at the QB position is costing us games.
Furthermore, and on that note, we need to run the ball more. The argument can be made that we're getting 4 yards a clip because we're playing against the prevent defense – and whilst there's legitimacy to the argument, you can see with your own eyes that better running lanes are evident along with tougher running from Carter and Brown. Until we address the offensive balance and come up with a solution, we'll continue to lose games.
I'd like to editorialize further, on the subject of the front office and the dysfunction that seems to be plaguing the organization. Much has been made of Bill Polian's 'rant' post-game where he mentioned rats and the need to get rid of them (ridiculously inviting comparison to despots in the Middle East in some quarters).
I can understand entirely where Polian is coming from, and like Nate Dunlevy, Kyle Rodriguez, and Brett Mock, I consider the Kravitz article to be absolutely irresponsible and sensationalist. Clearly, Polian has issues with the local media and that doesn't make for an easy relationship, but Kravitz's motivations in writing that article are clear as day, and anything he writes should be taken with a heavy pinch of salt.
Polian's radio show on Monday after the Falcons game seems to have been entirely reasonably conducted with legitimate arguments at every turn. I might not like his personality, but I respect his record.
The draft record in recent years has been questioned and explored thoroughly by many, so I'll leave it for now, but what I will say is this – we've had the lowest draft position in the past decade when you look at averages. If the main aspects of the Polian transition have been handled in the past couple of years, I have absolutely no issue whatsoever with Chris Polian taking charge. In our highest draft position in years in 2011, we drafted a pair of OT's that have looked impressive when on the field, a DT who immediately became our best impact player at the position, and a running back who has been running hard and looks to be useful in an area in which we've struggled previously (3rd and 1). If that's the first draft of the Chris Polian era, why are there complaints? We seem to have hit on our top 4 picks, for crying out loud.
Up next are the Jaguars at home – our most winnable game of the year. At this point I'd like for us to get the #1 overall in order to rebuild, or potentially choose a franchise QB if Peyton is — God forbid — unable to come back. It would be unbelievably typical for Jack Del Rio to screw us out of it, but I still can't want a Jags win at the Luke. Freeney and Mathis are going to make Gabbert's life a living hell, mark my words.
Go Colts.