Greetings.
You may have noticed I'm a new face on the writing staff on CZ – and I'm very happy to be here. This is my first piece since I've shifted to Coltzilla at Brett's invitation, and I'd like to thank him in particular for making me feel welcome since initial communications begun a while back. I've been writing elsewhere for awhile, doing my 'Five Plays' series, and I hope to continue to provide a decent story each week which will provoke and stimulate analysis from all quarters.
I've previously had questions as to what my criteria is on each individual piece – my answer is this: I like to choose plays that had a large impact on the game, first and foremost. I'll often complement these big plays with more focused examples which illustrate either a positive or negative of a particular player's game. Furthermore, an additional factor to consider is picture quality, which is wholly dependent on the broadcast. If you dislike my choice of plays, or would like to request something in particular for next week, please don't hesitate to comment.
To the analysis. . .
Coming into the game on the back of a 62-7 annihilation at the hands of the New Orleans Saints, this contest was an opportunity for the Colts to rebound and show signs of life against a Titans team shorn of their best offensive threat, themselves reeling from a 41-7 defeat at home to the divisional rival Houston Texans. Unfortunately, and as has been the theme so far this year, the team showed itself to be inadequate to the task at hand. Defensive frailties, offensive stagnation, and perennially awful special teams work combined to make Sunday a very difficult watch. Nonetheless, we begin. . .
Play #1 – 4th and 19 from the IND 6 – 9:58 in the 2nd Quarter – Colts 0 – Titans 3
Awful special teams play has been a feature of the Colts for as long as I've been watching. I'm sure some of you have much more experience watching the failures of Colts ST units and are conditioned to expect it – nonetheless, Sunday's efforts were particularly grim on a few counts. The return game was awful, and the coverage units were as bad as you'd expect. The following play takes the cake.
There's very little I can add to the images you're going to see, initially. I've circled Patrick Bailey (#57) in red as he's the main person of interest on the play given his block. He's lined up across from Jerry Hughes (#92). Also of interest on the play is Anthony Smith of the Titans, circled in pink (#25, DB). He's going to crash the middle of the line and challenge the Colts personal protectors.
Smith gets lost among the mess, but you can see the progress of Bailey crashing through the line. As McAfee takes the snap, Bailey has already made it past Hughes, and given the confined space of the end zone, will prove problematic.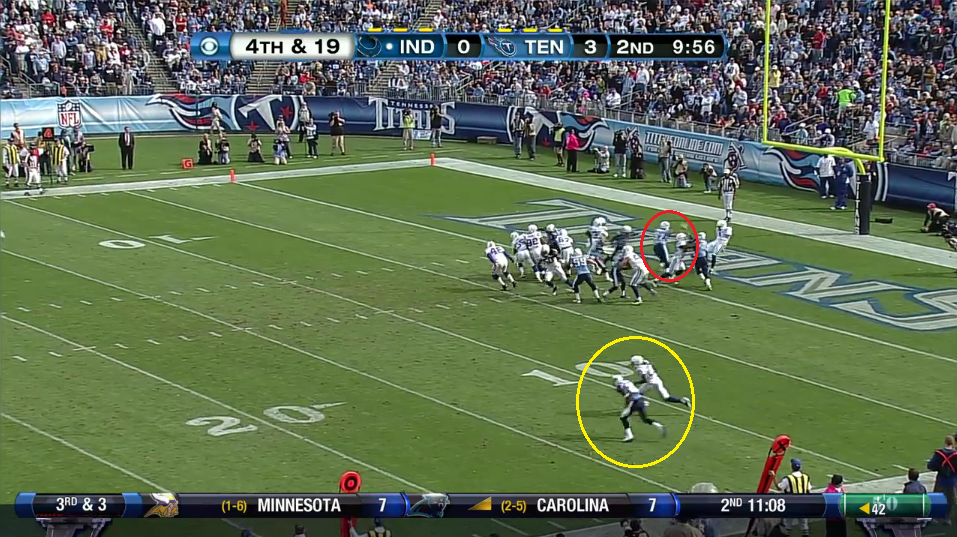 At this point, Bailey is going to block the kick and there's little McAfee can do. I've also highlighted the 'attempt' at gunning down the punt by Terrence Johnson (#23) – he hasn't moved five yards in the seconds since the ball was snapped to the attempted kick.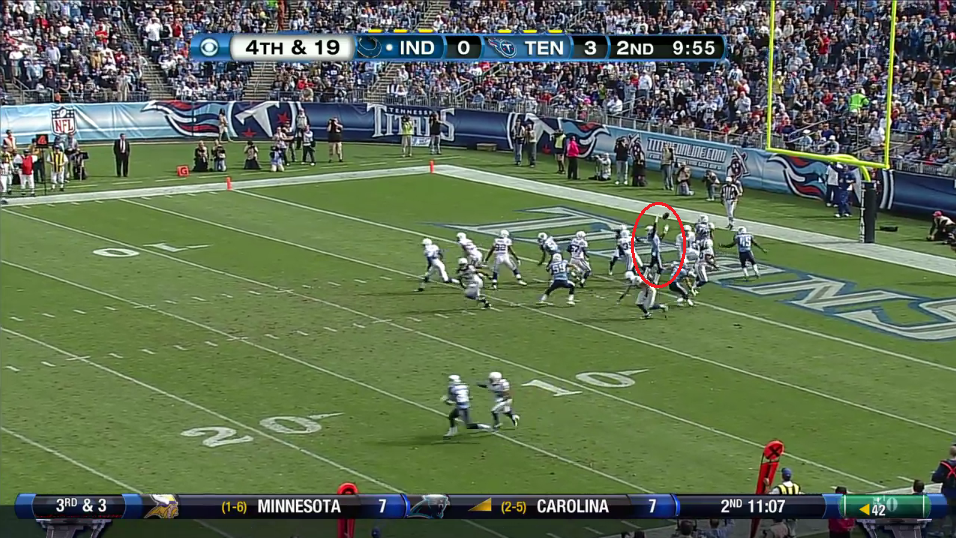 I've highlighted Jason McCourty (#30) in red here, as he recovers the ball for a touchdown. It's a fortunate bounce for the Titans, but when you're an 0-7 team you can't expect Lady Luck to smile upon you. (See what I did there?) In any case – there isn't much analysis that can be done from these faraway slanted images, so let's take a look from behind the end zone.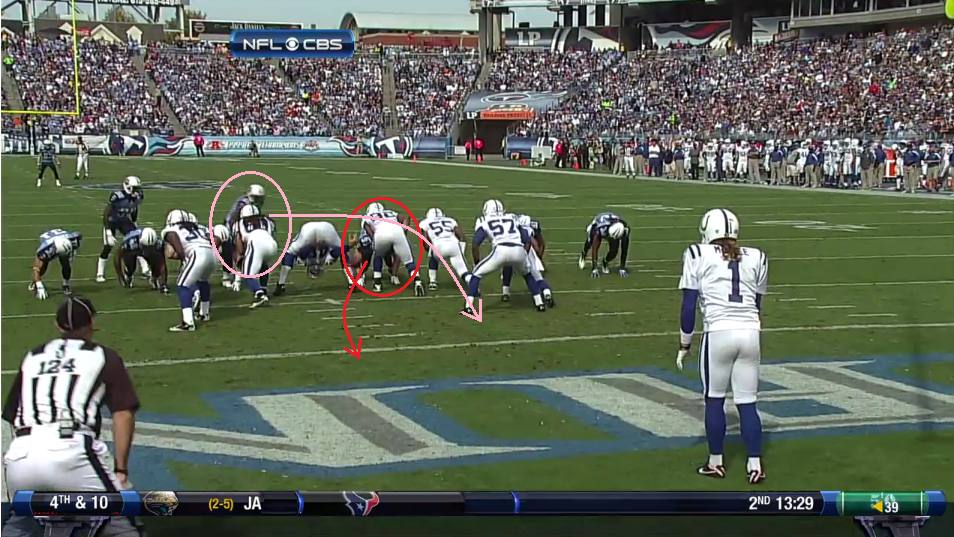 Right – this view is much improved, and we can see the assignments for each individual on the play. I've shown Bailey's assignment and intended route in red, and you can see he's matched up to Hughes. Anthony Smith's route is highlighted in pink, and he should be getting picked up in theory by Adrian Moten (#57) who is acting in a personal protection capacity.
Here it becomes a bit of a cluster, but you can see how easily Hughes gets beaten by a straightforward rush from Bailey. Moten is standing back waiting for Smith to crash, but he can't help but notice how badly Hughes has whiffed.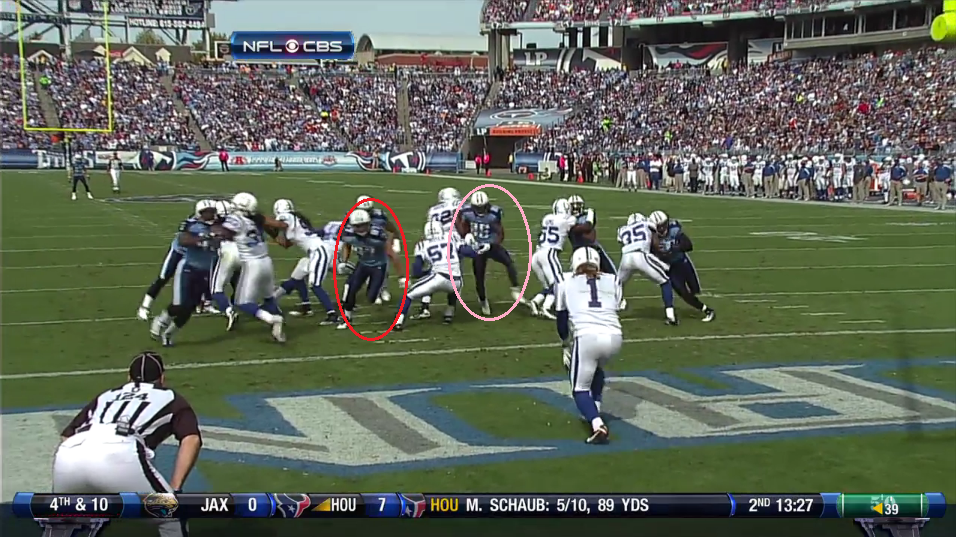 At this point, Moten decides he has to try and make up for Hughes' mistake, and starts to move left. Hughes entirely abandons Bailey and tries to block Smith, but ends up doing nothing productive. Moten is effectively stuck in no-man's land having abandoned his initial post, though it's important to emphasize that the crucial blown block is Hughes' fault.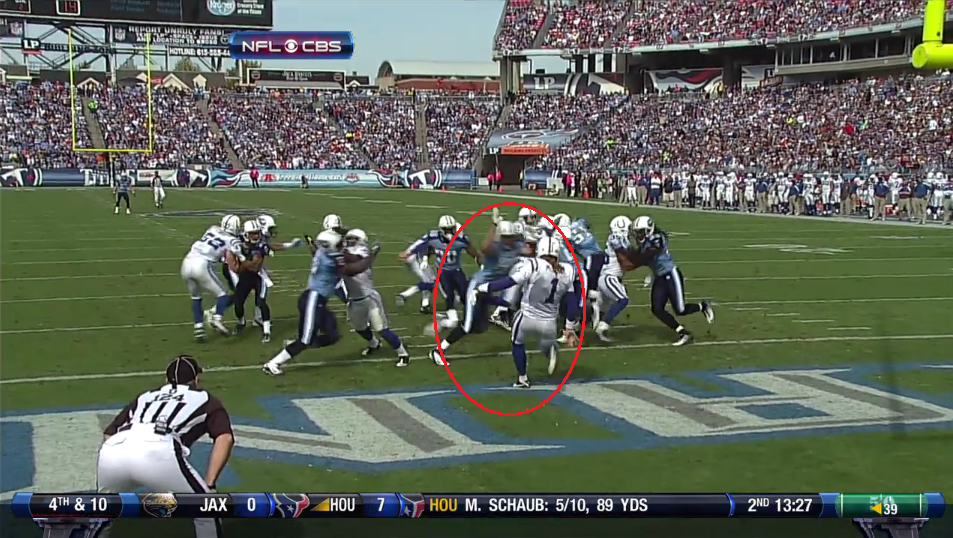 The game is up. Bailey is right in front of McAfee, and the entire line is being pushed back as you'd expect. The kick is blocked, and the Titans recover for a pivotal TD.
A quick look to the side shows the impossibility of getting a kick off from McAfee's perspective. This isn't his fault in any way, shape, or form. It's the first blocked punt of his career, and he deserves better. It's unfortunate that Hughes was at fault given his status as whipping boy of some sections of the fanbase, but at the end of the day – he should be doing better. I don't feel we've utilized him as well as we could have on defense, but he's certainly edging his way to 'bust' status.
Play #2 – 1st and 10 from the IND 37 – 1:56 in the 2nd Quarter – Colts 0 – Titans 13
The following play was perhaps the most significant in the game. Down 13 with 2 minutes to go in the half with a full arsenal of timeouts, the Colts could've made it a 6-point game and seized the initiative in the game. Instead, an interception results in a Titans touchdown a few plays later, and dooms the Colts to defeat once again.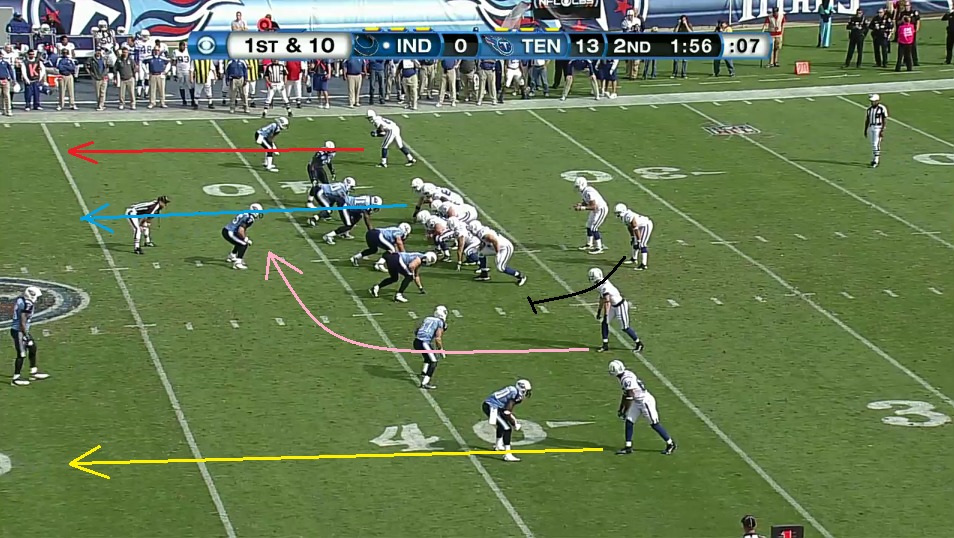 The Colts line up in a 3WR, 1TE, 1RB set, with Reggie Wayne (yellow) and Austin Collie (pink) split out left, Pierre Garcon (red) and Dallas Clark (blue) to the right, and Donald Brown (black) in pass protection. On 1st and 10, I like the call – it's suitably aggressive, with an underneath route from Collie as the emergency-valve for the play. The Titans appear to be in man coverage on the outside, with Cortland Finnegan blitzing from the slot and the safety taking up the slack on Austin Collie.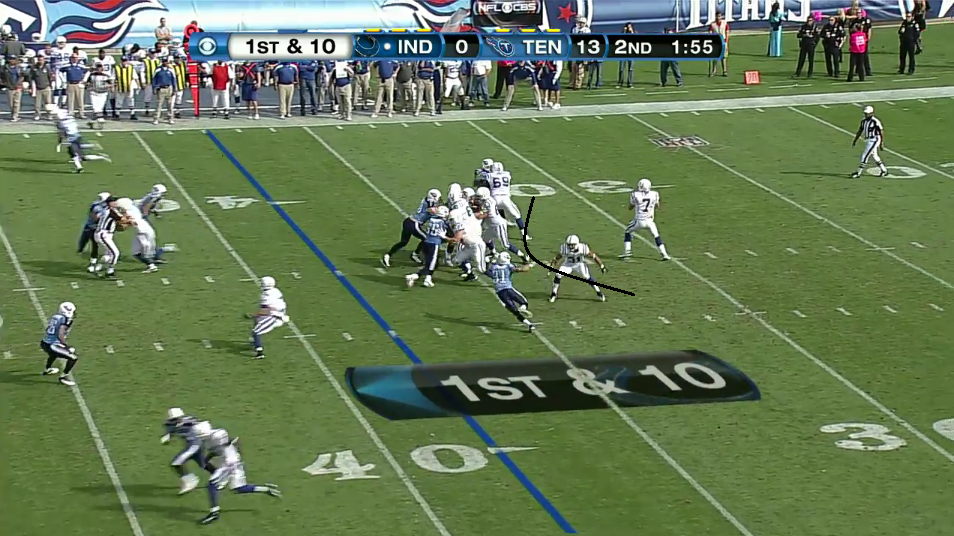 Painter has a good pocket to work with, and he stares down Garcon from the start of the play. Collie is open underneath, but Painter only has eyes for his main man.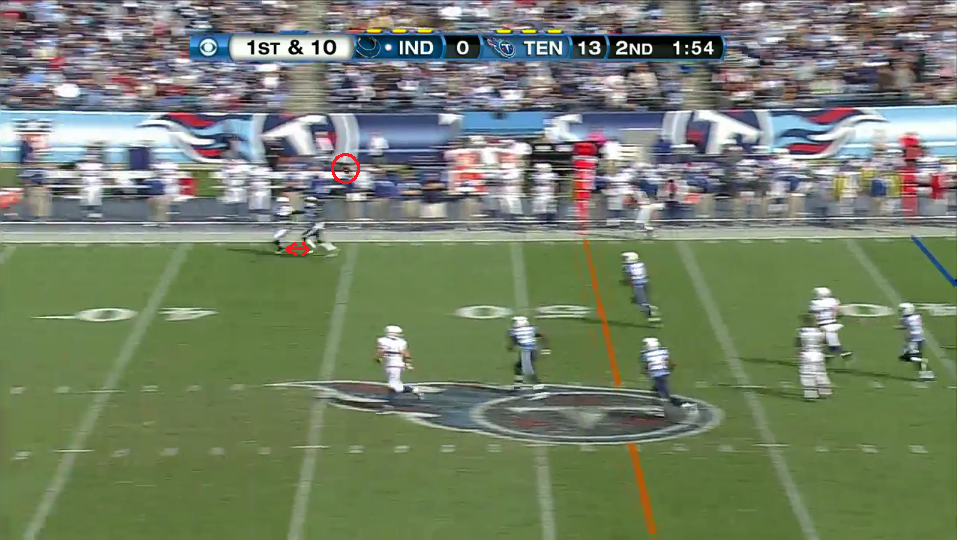 Painter makes the throw, but the separation just isn't there. Jason McCourty (#30) does an excellent job keeping up with Garcon, and he locates the football and tries his best to make a play on the ball. I have to question Painter's decision-making process on the play – I like the call, and the throw isn't as bad as it could've been, but I don't think he should've been going there with three timeouts and that amount of time on the clock.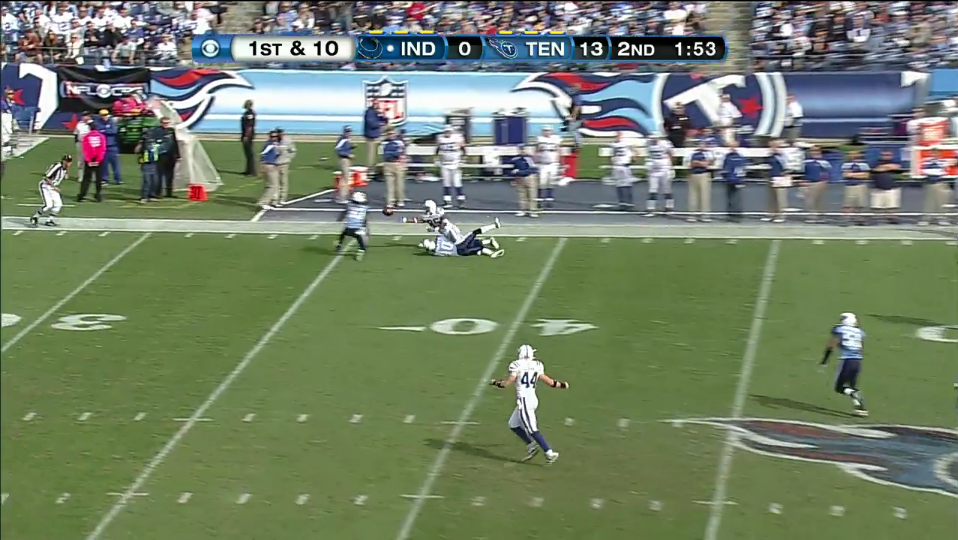 McCourty jams his arm into the basket of Garcon, and tips the ball up. Michael Griffin (actually doing his job) is there to provide help over the top, and is in the right place at the right time to make a crucial interception.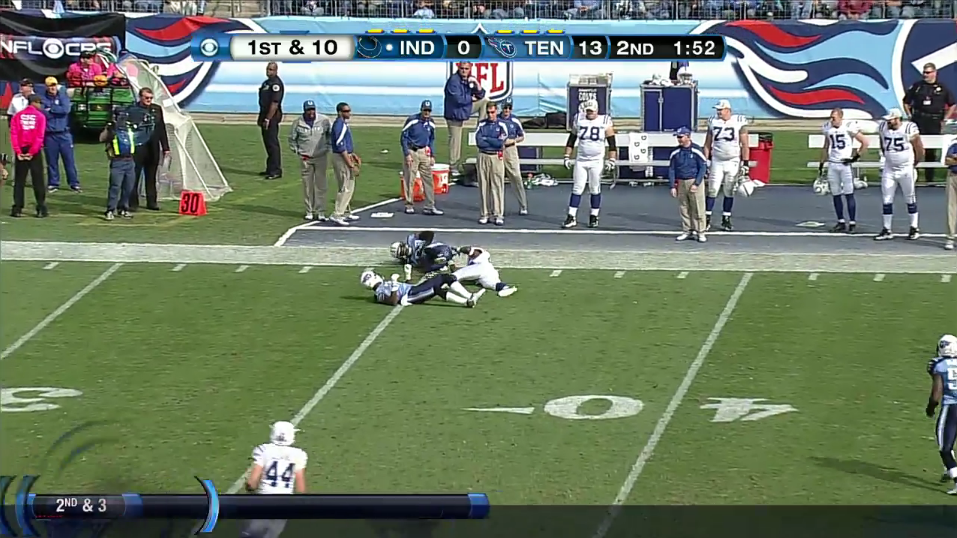 Griffin mops it up with relative ease, and the Titans are in position to go down the field and capitalize.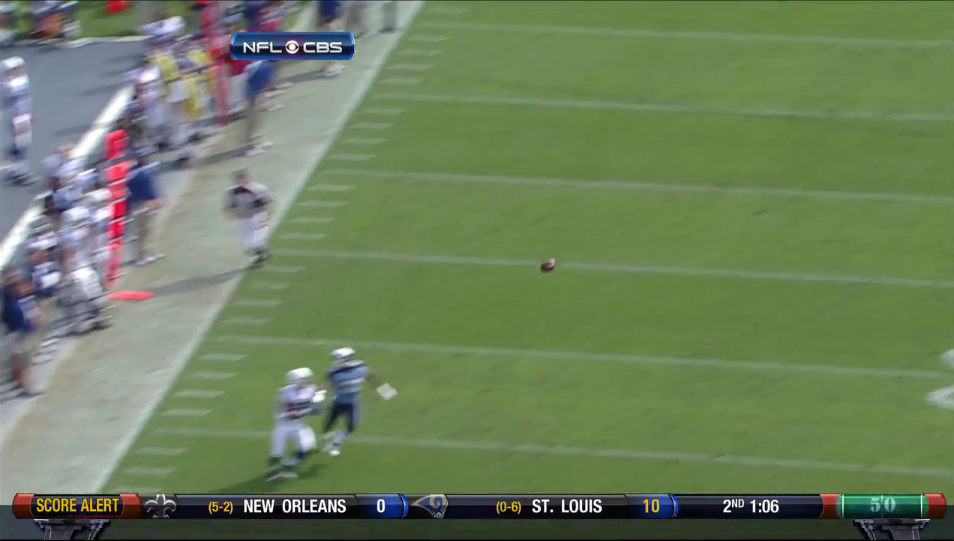 If we take a closer look – the separation was never there – this ball is going to have to be on an absolute postage stamp for the play to succeed, and that's without the excellent play of McCourty. Solomon Wilcots on the broadcast was at first insistent that the ball bounced off Garcon's hands, but it's clearly not the case.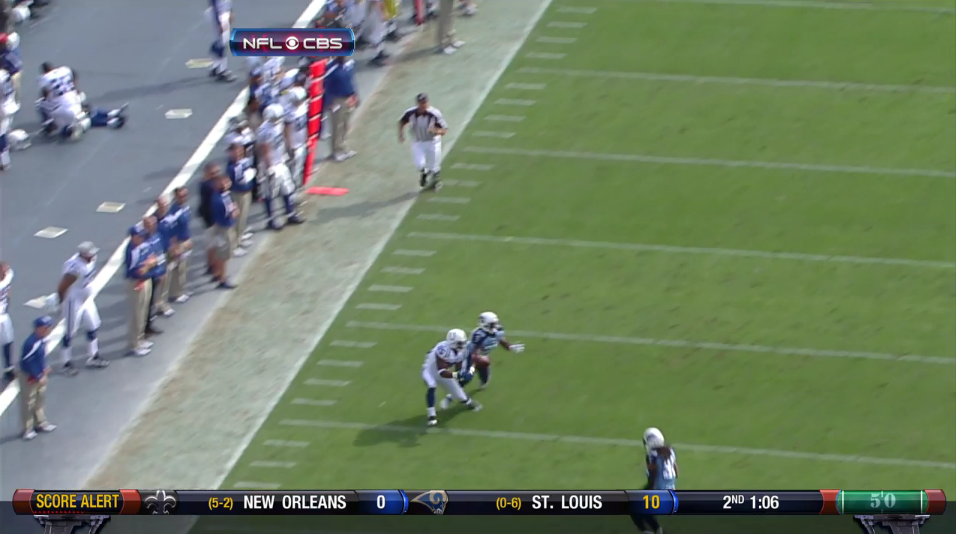 As previously stated, McCourty does an excellent job of putting his arm right where Garcon's hands are. You can see just how ridiculous the throw is going to have to be against this coverage, particularly with a safety over the top.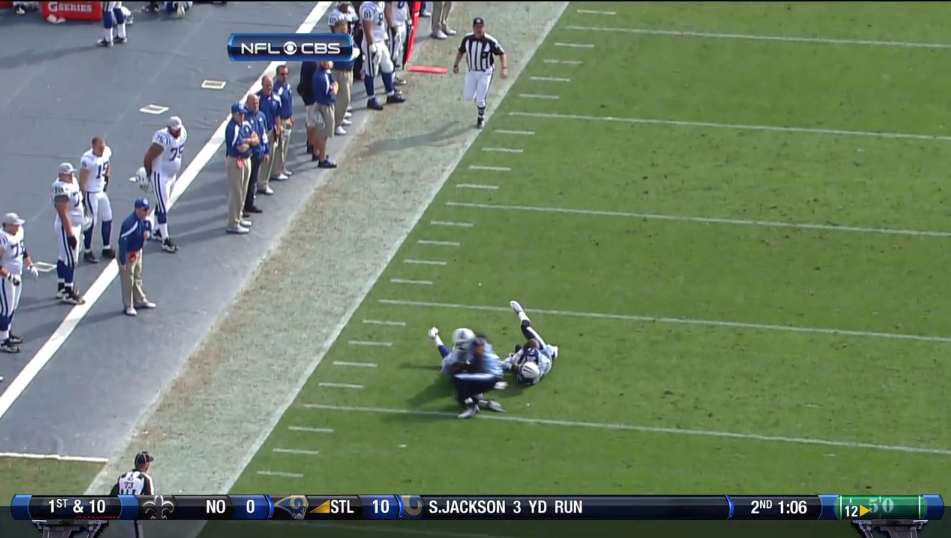 I'm still stunned that Michael Griffin was in the right place for once – and I think it's true evidence that the gods are conspiring against us.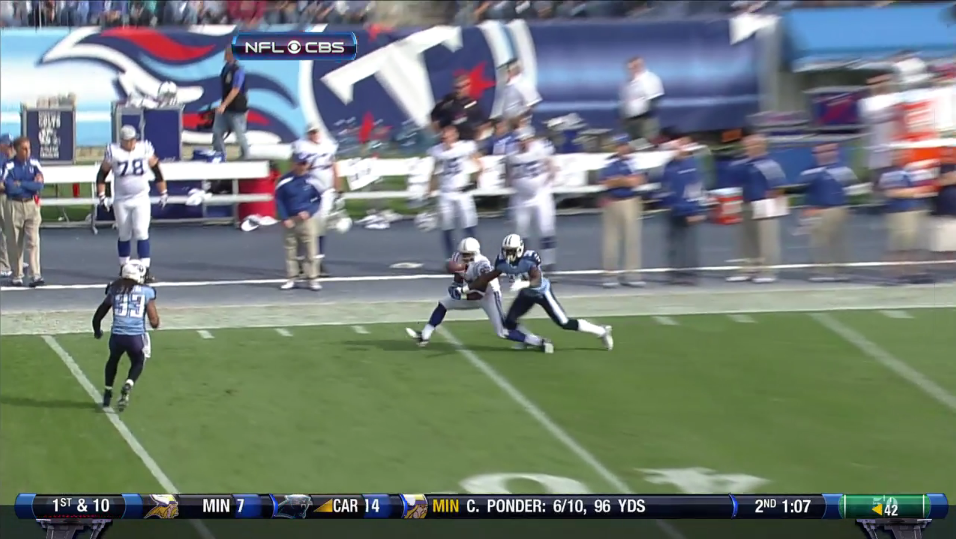 But, you have to give great credit to both defenders on the play. McCourty does a great job, and Griffin shows good instincts in locating himself near the play. Solomon Wilcots, you are clearly wrong my friend.
Play #3 – 3rd and 6 from the TEN 39 – 1:11 in the 2nd Quarter – Colts 0 – Titans 13
The following play is on the ensuing Titans drive – it's not a touchdown pass or an interception though – instead, it's an absolutely massive third down conversion on a great play by Matt Hasselbeck in tandem with his TE, Jared Cook.
The Titans line up in a 3WR 1TE 1RB formation, with the primary route on the play that of Jared Cook (red). The Colts are lined up in man coverage across the board with a four man rush – the routes are drawn on for your benefit, and i've circled the helmet of the appropriate player assigned to each player. There are two deep safeties on the play, so there's enough there to think that long pass plays shouldn't be easily completed.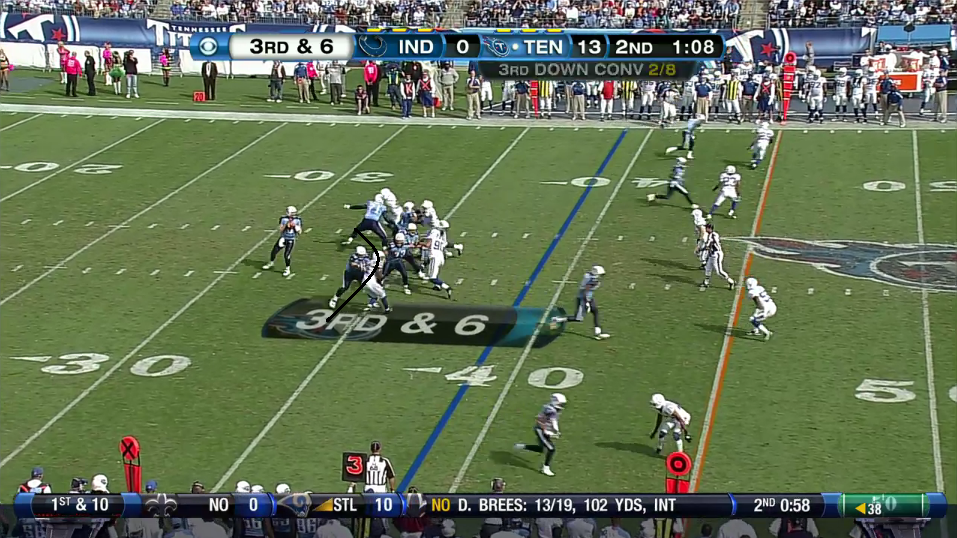 Hasselbeck has a nice pocket to work with, as was the case for most of the day. He's identified the man coverage and takes full advantage.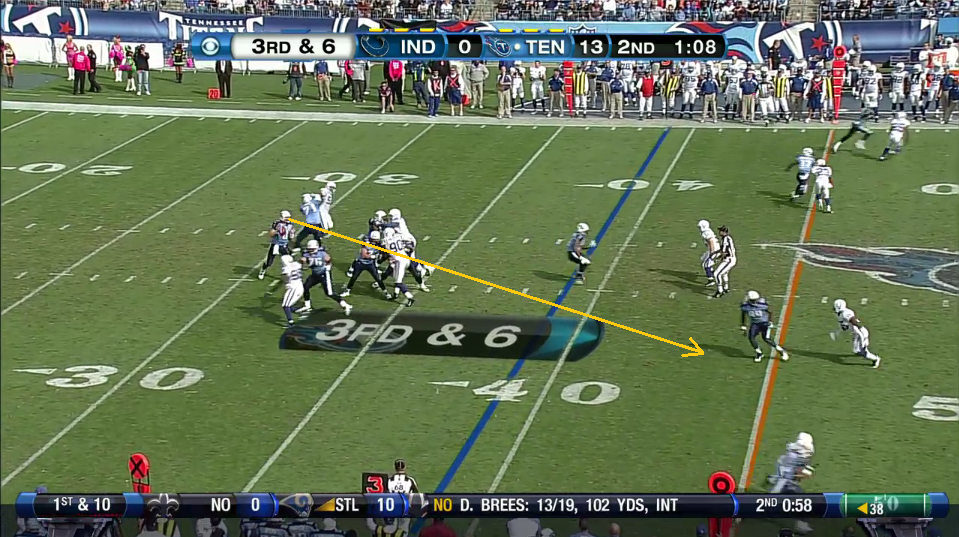 Cook fakes as if to stop at the first down marker, and Hasselbeck complements it perfectly with a fake pump which totally throws Sims. Good pass protection is crucial on the play, and the pass rush was somewhat disappointing all day.
You can see just how badly Sims bites on the play, and Hasselbeck is totally ready for it. Cook makes a very smooth transition, but it doesn't excuse the awfully lazy play by Sims.
It's a fairly easy throw to make, given that Cook is in acres of space – the real work on the play came in the pump fake and the pass protection.
Antoine Bethea makes a great hit and eventually Cook gets brought down at the 30 yard line for a 30 yard gain.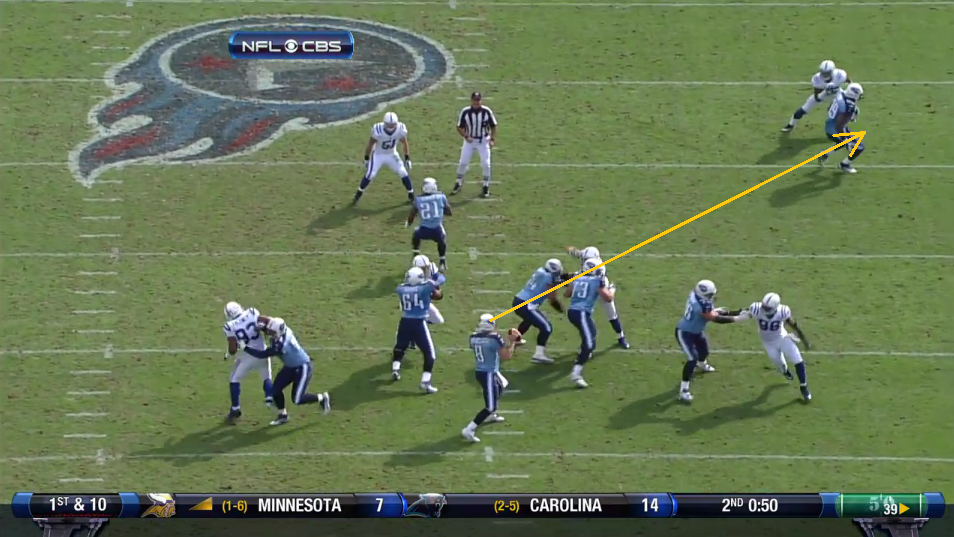 Hasselbeck does a great job controlling Sims with his eyes and the fake pump. Fair play to Sims in terms of his trying to read the QB, but his reactions are too obvious to predict.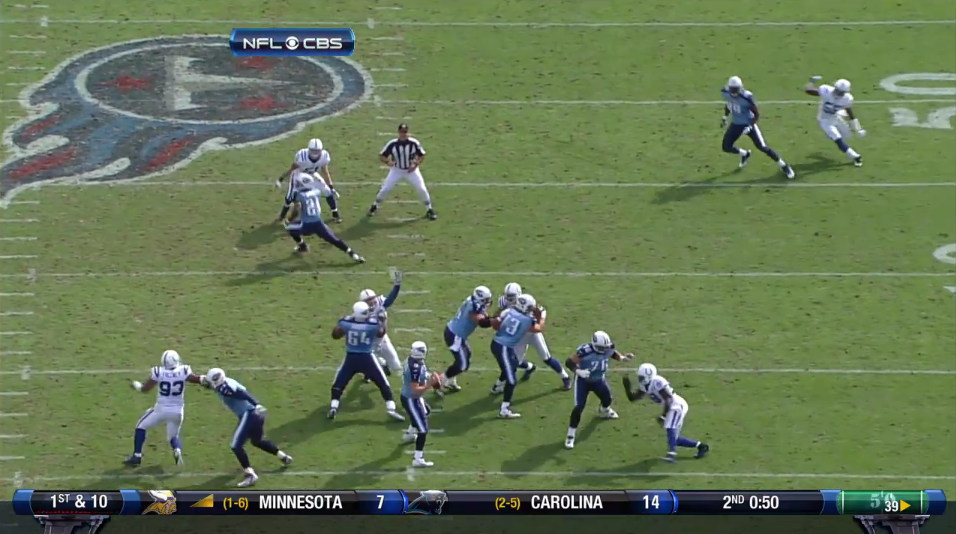 As I said earlier, Cook's turn is a very fluid one and he deserves credit for it, but the attempt at coverage isn't good enough.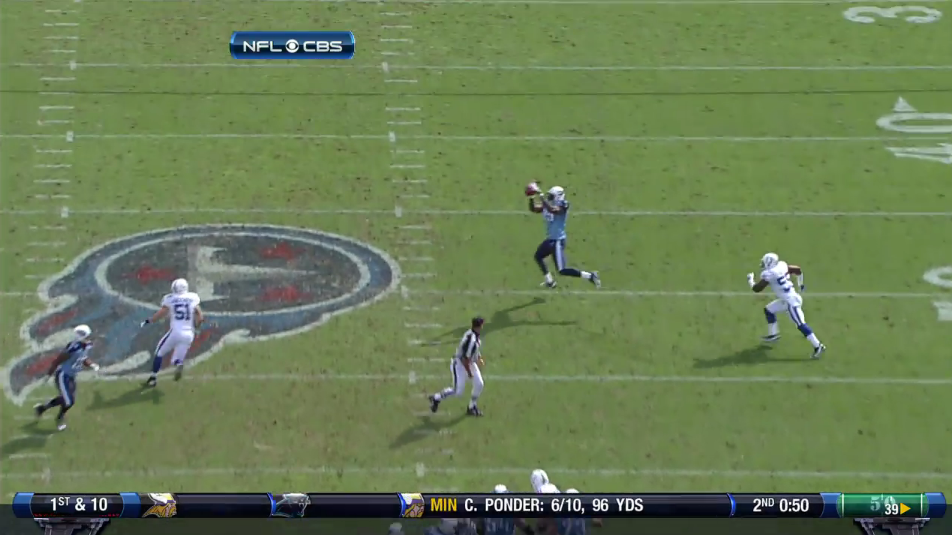 The play is a monumental one in the game, and essentially guarantees the Titans a minimum of 3 points from the drive. In the event they grab 7, and it's enough to put the Titans in clear control, which they don't relinquish for the rest of the game.
Play #4 – 3rd and Goal from the TEN 4 – 13:40 in the 4th Quarter – Colts 3 – Titans 20
Finally, something positive! The Colts' revitalized running game has been one of the very few positives so far this year, and within that is a semi-renaissance for Donald Brown, who has benefited from better run-blocking and attention to the run game, and has been used in roles which fit his skill-set. This isn't necessarily one of those plays, but it's important to highlight something we can get excited about for next year.
Whether it's Delone Carter or Donald Brown, the Colts should have a reasonable running game to either welcome back Peyton Manning or greet Andrew Luck (cross out as you prefer, I make no judgement here).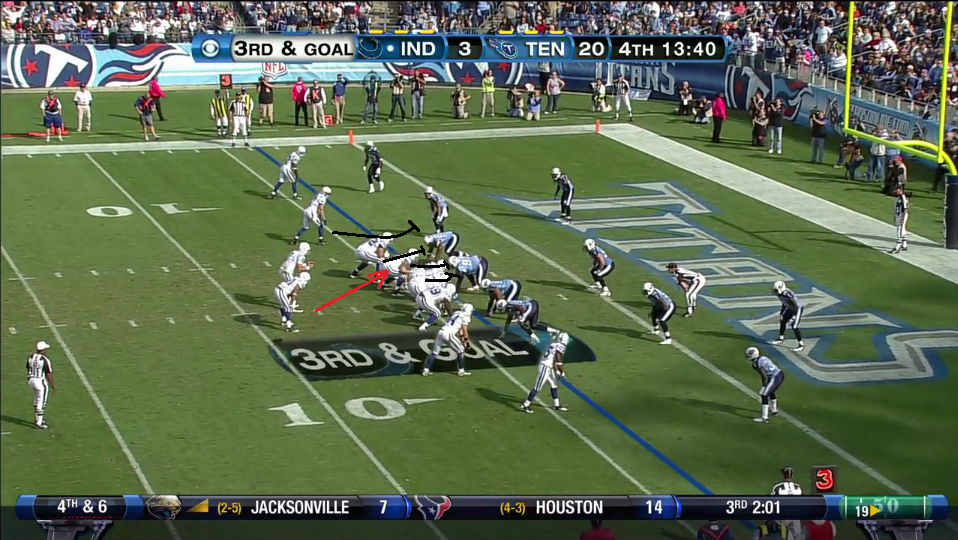 The Colts come out in their base 3WR, 1TE, 1RB formation, with Wayne and Collie to the left, Garcon and Clark to the right, with Brown in the backfield. Collie is the only assigned blocker in the designed area of the run, and he's responsible for Cortland Finnegan in the slot. Jeff Linkenbach is left on an island against the Titans lineman Malcolm Sheppard (#96), and Jeff Saturday and Jamey Richard at C and LG, respectively, are teamed up on Titans lineman Shaun Smith (#93). These three blocks are enough to make a sufficient hole for a touchdown run.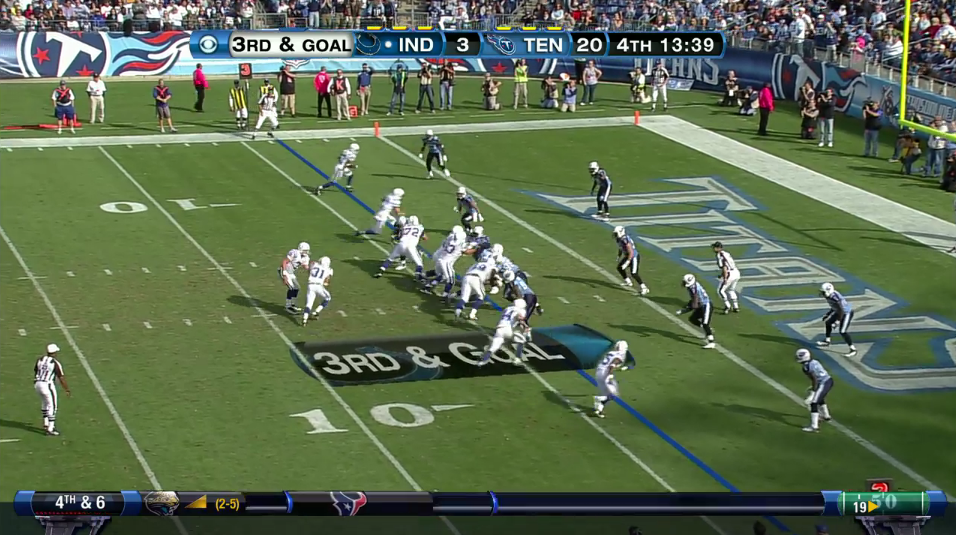 As Brown takes the hand-off, Collie rushes to make his block, and the OL starts to make their blocks.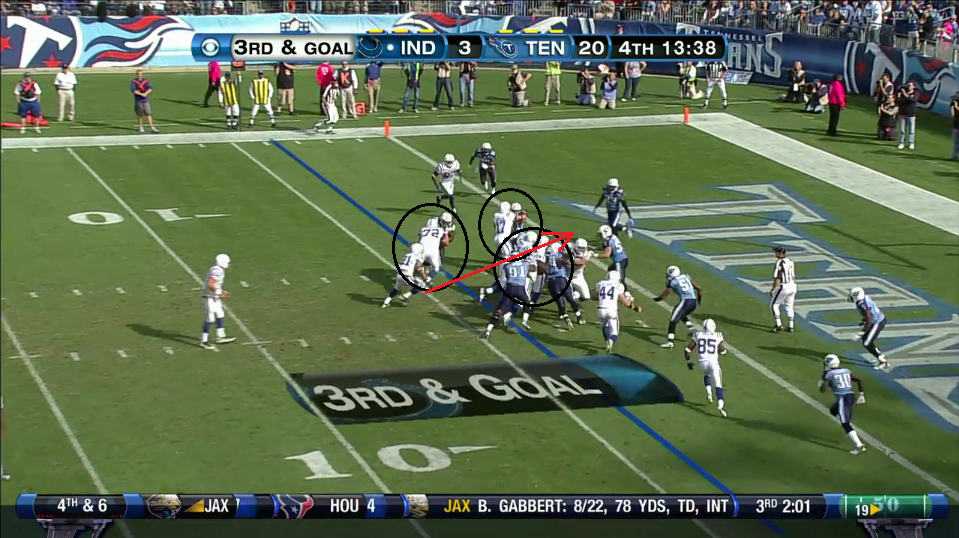 As you can see, the three blocks are enough for Brown to have sufficient room to make a run for the end zone. The back end of the line does a reasonable job of holding up the rest of the Titans linebackers and DL.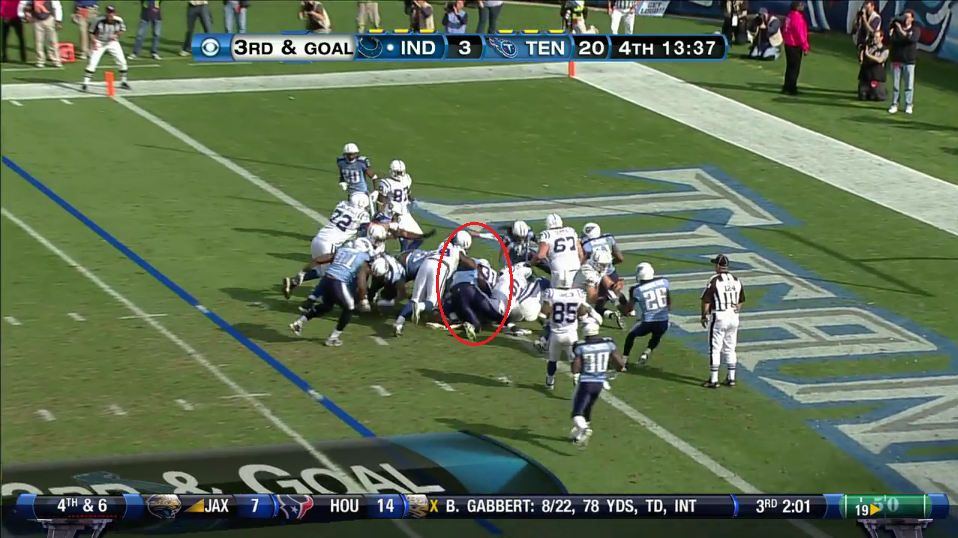 Brown hits the hole and bounces around into the end zone, doing just enough to fall forward for the touchdown.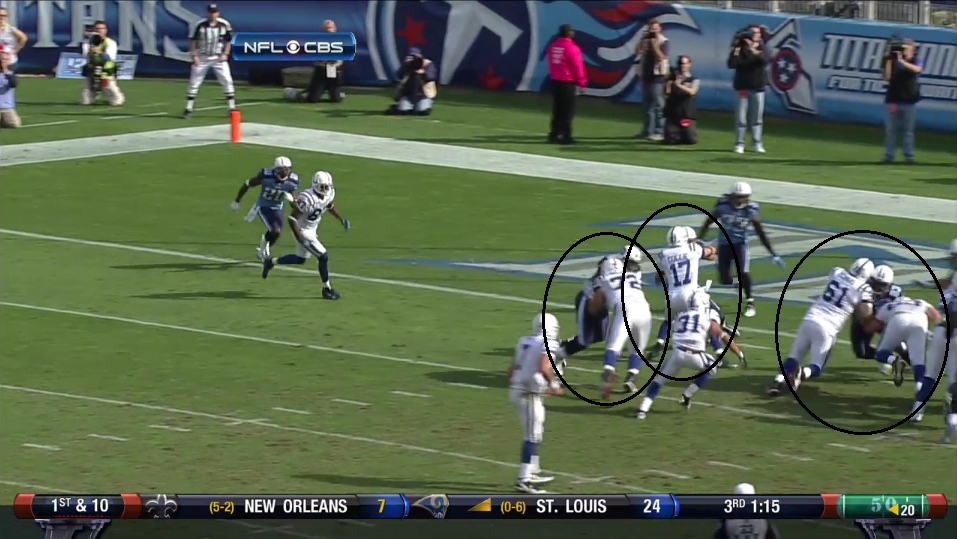 Here's a closer look at the room Brown is afforded – Linkenbach does a great job 1-on-1 and the same can be said about Collie on Finnegan. Saturday and Richard do just enough to stop the play getting totally blown up. You can see the hole, and any one of us could probably run through it for the touchdown, but at least he's not running into the back of his linemen and hitting the floor.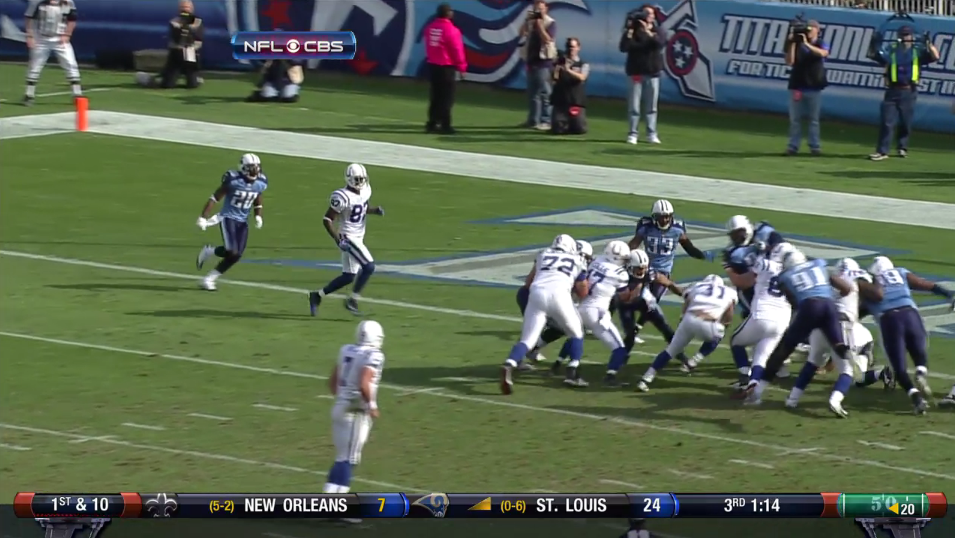 All Brown really does is just put his head down and hope for the best, but it does the job for now. We'll see in a second just how interesting his goal-line running style is.
He doesn't look where he's going at all, so perhaps his famed 'run into your O-lineman' style is alive, after all. He doesn't have any kind of bowling ball attribute to him whatsoever, so he just gets crushed and pushed about, fortunately into the end zone.
Indeed, he falls back onto his O-lineman and enjoys the ride. You can just about see a little bit of Donald there. The play itself was fairly significant in that it set up the possibility of a Colts comeback with almost a full quarter remaining. It snapped the Colts futile stretch on offense and could have been a turning point in the game. In this event, it wasn't.
Play #5 – 3rd and 4 from the IND 38 – 8:29 in the 4th Quarter – Colts 10 – Titans 20
And so, to the play that finally killed off the hopes of the Colts on the day. Another deflected ball from Painter, another fairly easy pick, and it's curtains for the Colts. The play again shows Painter's propensity to stare down Garcon in particular, and if you do that then you certainly risk players deflecting the ball at the line, as is the case.
The Colts again line up in the 3WR, 1TE, 1RB set, with Reggie Wayne (blue) alone out left, Dallas Clark (yellow), Austin Collie (pink) and Pierre Garcon (red) out right, with Donald Brown (black) in the backfield running a typical RB route. The Titans are in man coverage with 2 over the top. It's a pretty vertical set of routes for a 3rd and 4 with Collie running his typical underneath route, but desperate times mean desperate measures.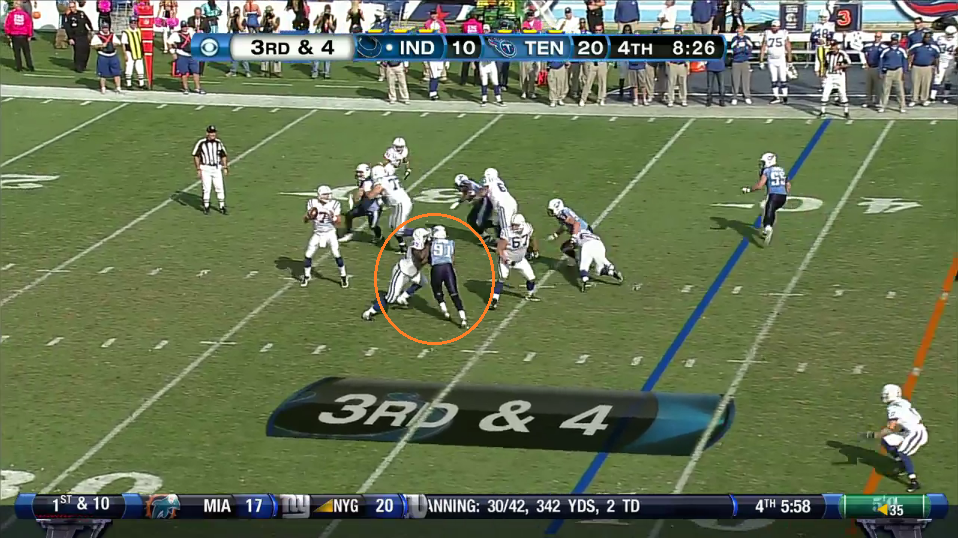 The match-up which causes all the problems here is Quinn Ojinnaka at RT against Jason Jones (#91). Painter does have enough time to complete a pass, but instead stares downfield at Garcon. You can see here he's exclusively looking to that side.
Painter throws it, Jones throws up a long arm and deflects it, and it just so happens to fall straight to Barrett Ruud, who's keeping an eye on Donald Brown out of the backfield.
Ruud picks up the easiest INT he'll ever receive, and it's game over for the Colts. Unfortunate in some respects, but you can't stare a receiver down like that and expect nothing to come of it. Jones is a tall man at 6'5, and that isn't exactly unique around the league.
Ruud doesn't do anything stupid with it, and falls to the floor, having gained about 5 yards.
Painter clearly wants to go downfield with it, and Garcon has obviously been his primary target since his accession to the starting role. Pierre's ability to gain separation using his speed and agility is unlike anything else we have on offense at the moment, and it's natural that he's started to fall back on it.
Nonetheless, the sheer amount of time he spends gazing down the field is counter-productive – he needs to learn to control players with his eyes, much as we saw with Hasselbeck earlier on. If he can do that on a regular basis (and he showed the potential against KC with a beautiful long TD to Garcon) , he'll immeasurably improve as a QB.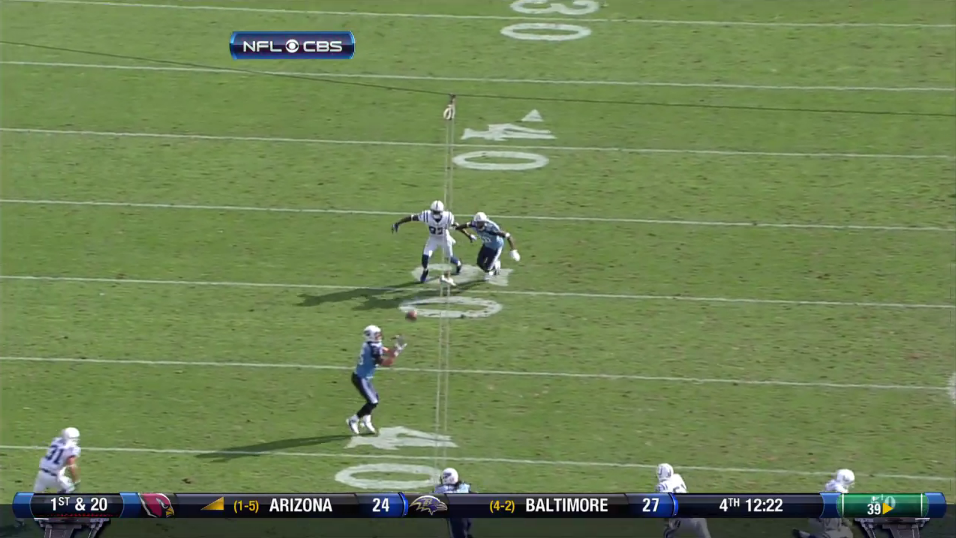 Hopefully he'll look at the tape and realize his errors, and I have confidence that he'll do so. He hasn't been great this year by any stretch, but I've seen enough to consider him a reasonable backup at the NFL level – and if Peyton comes back, I'd be happy for him to be retained in that backup role.
Conclusions:
The Colts again fell to a defeat in disappointing fashion, primarily as the result of woes on offense and special teams. It seems that our units take turns to fail – one week it's defense, the next it's offense, the next it's special teams.
It's clear that there isn't much talent on the roster at this point, having been worn down by years of late-drafting and unsuccessful picks in the first few rounds. The struggles of Gonzalez, Ugoh, Brown, and Hughes are well documented, but I do feel that Polian is the man to take us forward.
The play of Pat Angerer has been very good this year, and I was very happy with what I saw from Castonzo and Ijalana before their injuries. Nevis was nothing short of a revelation, and Delone Carter is the best running back on the team at this point.
Kevin Thomas also hasn't looked out of place, despite our struggles in the secondary. Drafting early and restocking in what would appear to be the deepest draft in recent memory is something we can look forward to – and whilst the permutations of getting the #1 overall can be discussed ad nauseum, the possibility of having Peyton Manning alongside a ton of new talent gained by trading the #1 pick is mouth-watering to say the least.
Schematically, we've been mixing it up with a lot of different man coverage looks alongside our more traditional zone based efforts. A statistics box popped up in the game on Sunday, with CBS's statistics as to our defense. It looked like this:
Man Coverage – 43 plays, 56 percent completion percentage
Zone Coverage – 72 plays, 71 percent completion percentage
Tampa 2 – 124 plays – 79 percent completion percentage
As to the veracity of their claims, I can't vouch. However, those statistics seem reasonable to me given what I've seen, and whilst you obviously can't take completion percentage as a sole indicator of defensive performance, it does seem that Coyer has been switching up on defense much more than he had been previously. I don't think it'll be enough to save his job, and nor should it be – but if it prepares our defense for a more varied scheme in future with the potential to pretty much do anything (whether that's switching to the 3-4 or simply a more man-based 4-3) as part of a rebuild, I'm in favor.
Jerraud Powers in particular has been disappointing from a defensive perspective, but we have to see what we have. Until we ascertain exactly what is on the roster, we can't judge exactly what we'll need to do in the draft or free agency. That's the message I give to you – whilst watching us lose each week is understandably frustrating, use this time as an opportunity to watch our guys. That's what I'm doing, and I'm somehow still interested.
That's it for this week, and I hope you enjoyed what will be a regular weekly feature.
Go Colts.