Not much to say this week, on the back of that defeat. Simply out-muscled by one of the better teams in the NFL away from home, we weren't in the game at any stage. 24-10 makes it sound a lot closer than it was, to be frank.
On offense, the Colts could never get to grips with Terell Suggs and company, and on defense the corners were simply unable to deal with the Ravens WR's – whether on comeback routes, crossing routes over the middle, or anything else that they wanted to do.
Watching the Colts get dominated like this wasn't enjoyable in any way, shape or form. I found it difficult to get engaged with the game when we were getting blown off the ball every snap, but on the positive side, we should compete in the next few games.
My opinion of Dan Orlovsky has been slightly revised by this experience, however I still firmly believe that he's our best option moving forward. Better teams than ours have struggled against this defensive unit, and it shouldn't be the yardstick with which we measure our own success. We were never going to win this game.
Before proceeding, I'd like to thank etid5353, pierrezombie (as ever), thejoshbaker, yadda1, my colleague Kyle Rodriguez, fergusonsarah, and mshah9008 for their comments on the last piece, obliging my request for feedback. Keep it up guys, and thanks a lot.
To the analysis..
Play #1 – 2nd and Goal from the IND 6 – 10:13 in the 2nd Quarter – Colts 0 – Ravens 10.
As I mentioned previously, there isn't much for me to talk about in this game. We were dominated on short passes, short outside, inside, whatever. I'll see what I can scrape out of this Ray Rice touchdown run, which effectively put the game out of reach for the Colts.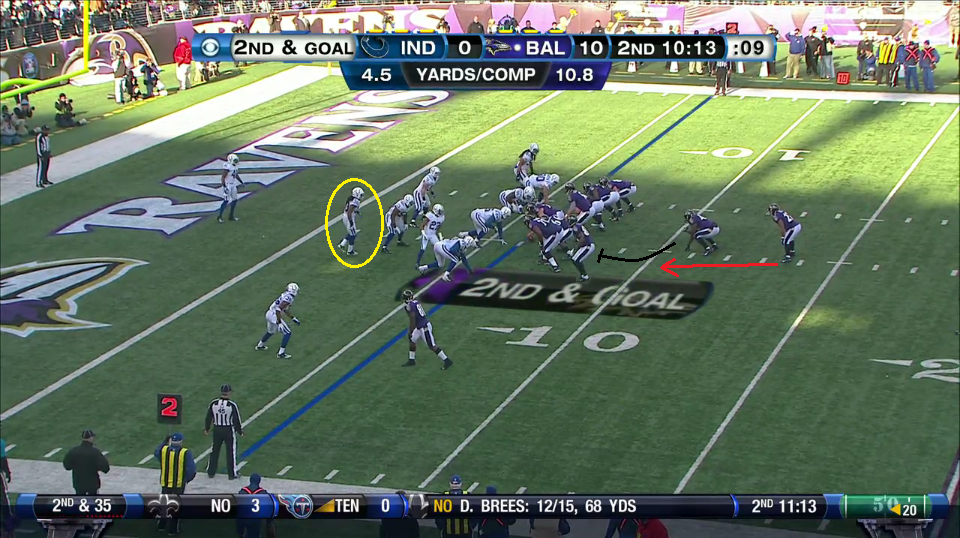 The Ravens line up in a 1WR, 2TE, 2RB power formation. Anquan Boldin is wide left, matched up against the rookie Chris Rucker. Dennis Pitta (#88, TE) and Ed Dickson (#84, TE) are attached to the line, right and left respectively. This leaves us with Vonta Leach and Ray Rice in the backfield, and that quite frankly is scary.
It's a simple designed run behind the FB on the play, which will head behind left guard. I've circled David Caldwell (#30, S) on the play not to pick him out as a specific weak link (though it might be true), but merely because his participation on the play seems to have such a non-impact.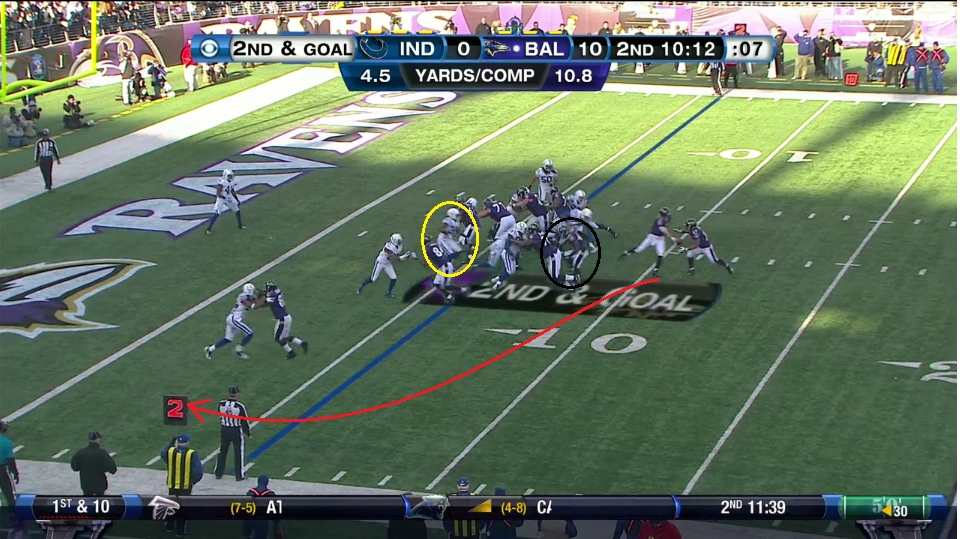 Caldwell plunges straight into a mix of bodies, while Vonta Leach reinforces the offensive line and prevents any penetration. Watch Anquan Boldin on the outside for a masterclass in WR blocking, though we see it every week from Pierre Garcon as well.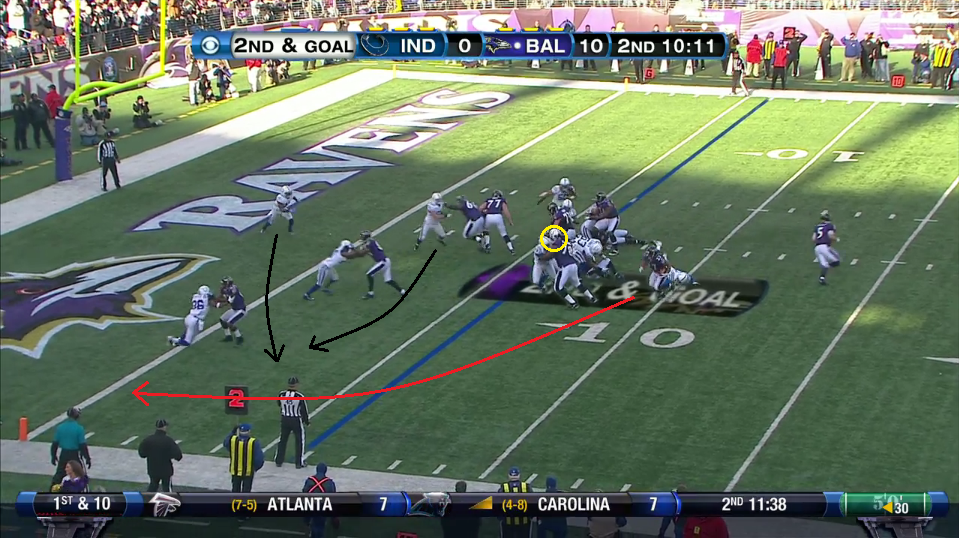 Caldwell is still stuck in the middle of the pile, and at this point Bethea and Angerer realize that they have to do something to rectify the situation. Their pursuit is in vain, because Ray Rice is too agile to deal with. Anquan Boldin is still locked up on Rucker on the outside, whilst Ed Dickson is inside on Jacob Lacey also dominating.
Rice remains untouched as he crosses the 5 yard line, and Rucker doesn't even seem to know that Rice is incoming given his epic battle with Boldin on the outside. Rice strides in for the touchdown, easy as pie.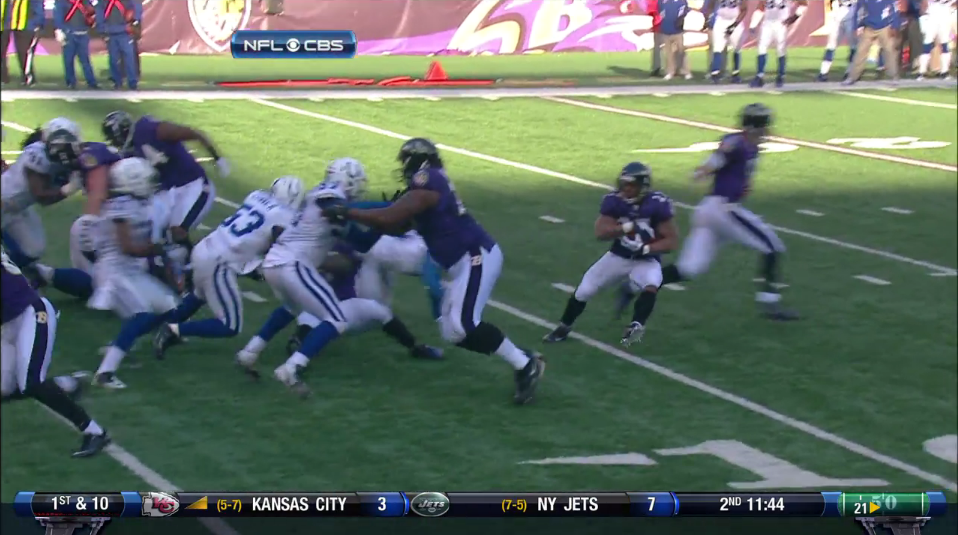 With a single jump cut, and due to Bryant McKinnie's mountainous frame on the outside, the entire Colts front 7 is made obsolete. Thanks to great blocking on the back end, it's an easy touchdown.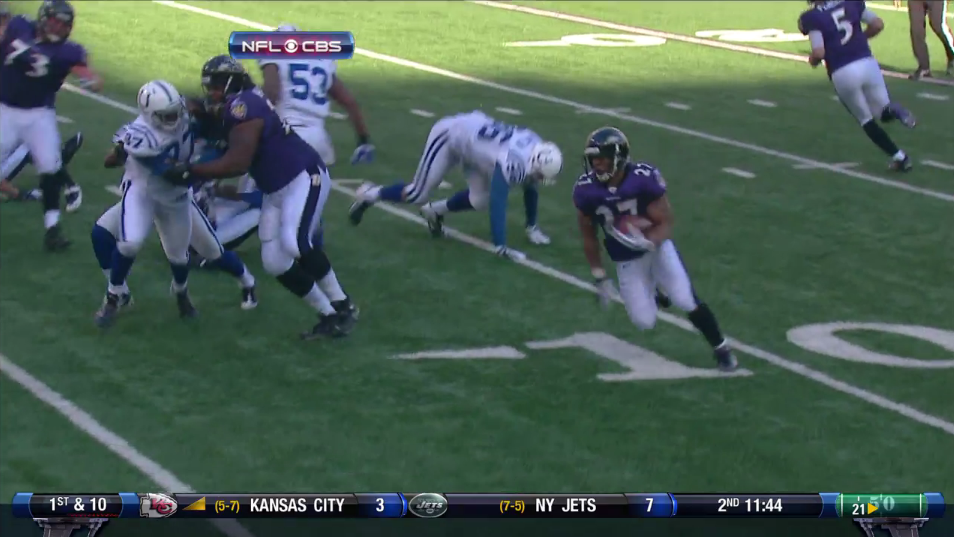 The fact that Rice remains untouched until the end zone speaks to just how badly the Colts were outmatched in a physical sense. While the play isn't particularly huge in content or connotations, I think it works as a metaphor for the whole game. Dominated up front, dominated everywhere.
Play #2 – 3rd and 7 from the BAL 45 – 1:03 in the 2nd Quarter – Colts 3 – Ravens 17.
Except, it would seem, in pass protection.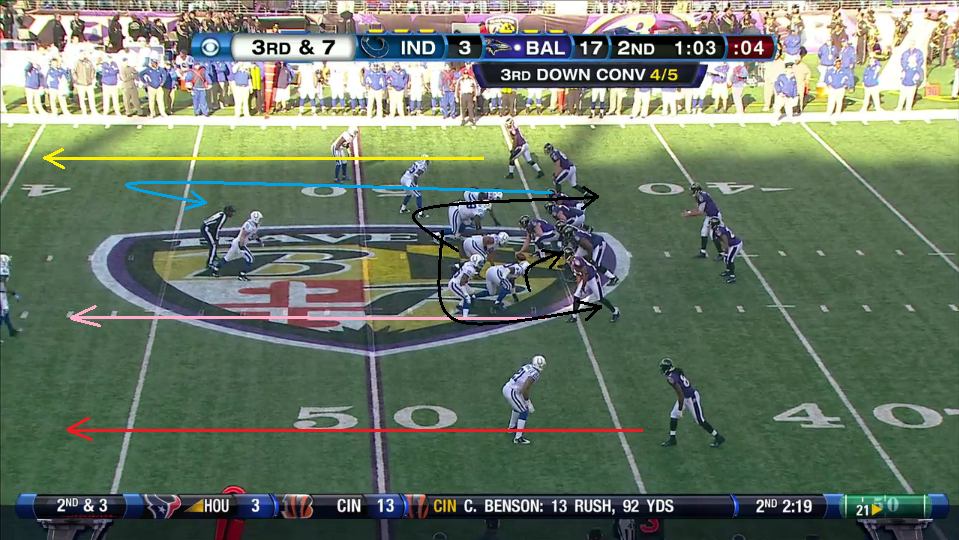 On 3rd and medium distance to go, the Ravens decide to go for the big one. Lined up in the 2WR, 2TE, 1RB set, the play call was designed to  go down the field – something to be encouraged against the Colts meager secondary. The Colts are going to stunt the Defensive Line on the play, which for those who're unsure as to what this means, simply requires the DT's to rush outside of the DE's, who try to get to the Quarterback from the inside – matched up against OG's rather than OTs. It doesn't usually work, but in this case we have a winner.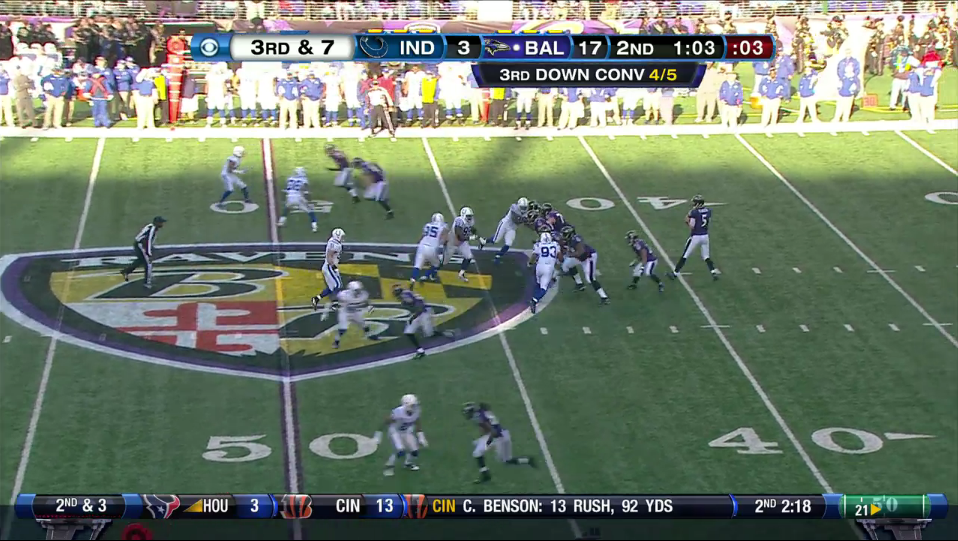 It isn't necessary for me to circle Dwight Freeney (#93, DE) on the play, given that he's clearly in view from his RE spot. He's initially matched up on Bryant McKinnie at LT. The pass protection seems initially to be holding up.
McKinnie then passes him off to Ben Grubbs (#66, LG) as Antonio Johnson (#99, DT) stunts to the outside. Grubbs against Freeney is a mismatch you really don't want to occur from a Ravens standpoint.
Freeney bull rushes him literally into the air, and Grubbs hits the deck. Uh oh.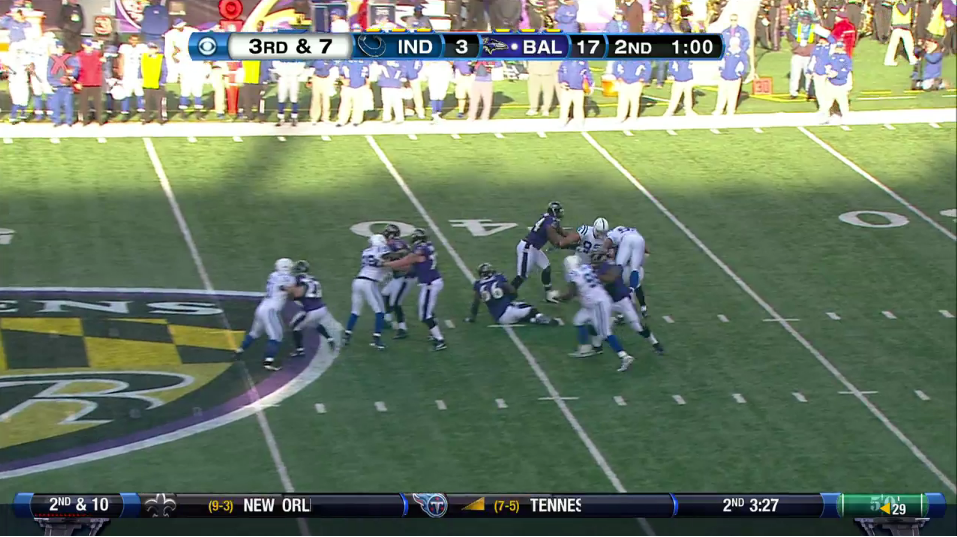 Freeney jumps onto Flacco's back, who at 6'6 and 250lb is a big, big quarterback. Momentum eventually takes Flacco to the floor, and Freeney gets his sack.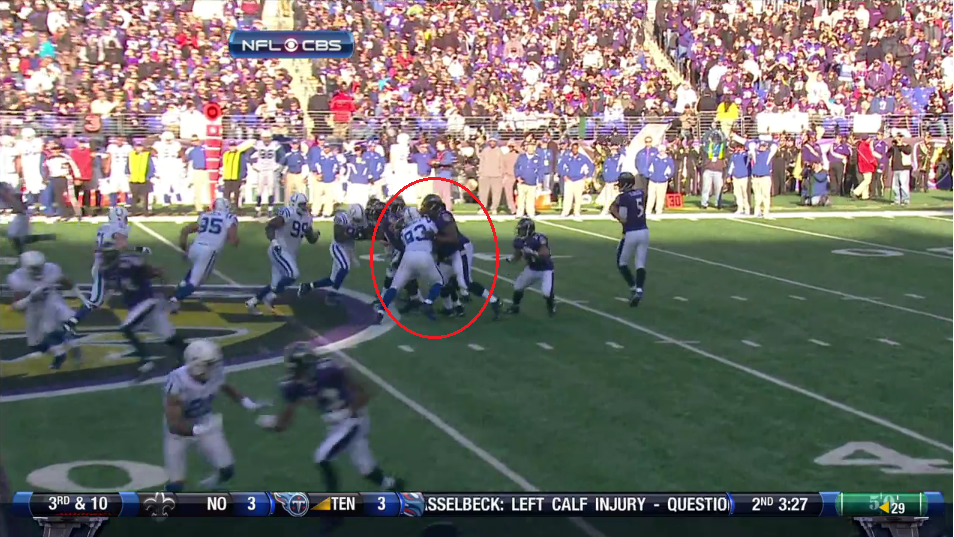 You can see here how initially Freeney is lined up against McKinnie, whilst Ray Rice is sitting in the backfield waiting for the outside rush.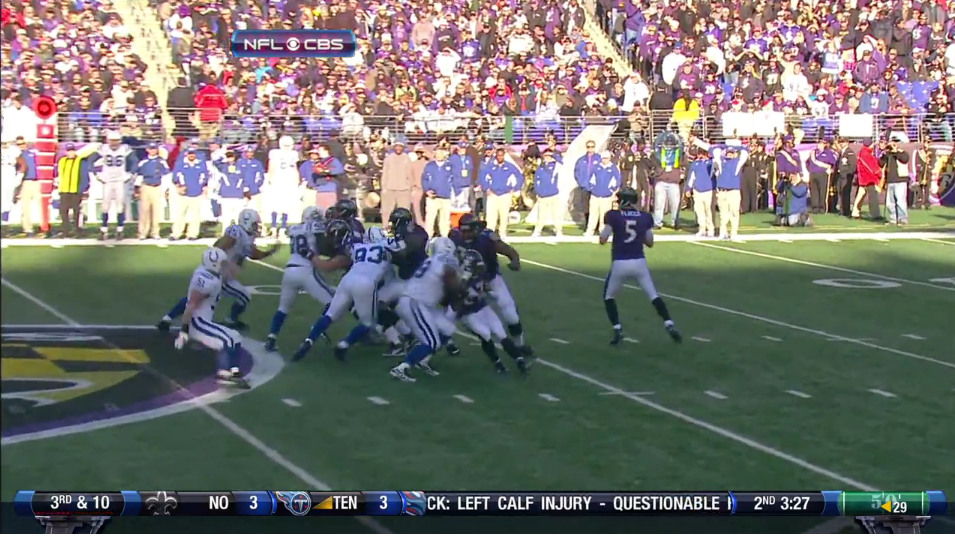 As Johnson comes in from the stunt, he's blocked by McKinnie and Rice. Freeney is on the inside, as we've observed.
Grubbs is at this point off the ground entirely – the power of Freeney's bull rush combined with a stray leg here or there in the mix results in him being propelled and tripped up, with a long way down.
While Grubbs looks around disconsolately for his manhood, Freeney jumps on the back of Flacco in an attempt to bring him down. Freeney's limpet-like attachment to Flacco amused me during the game, but it undeniably does the job. The Colts stop the Ravens before halftime, and can seek to regroup and rebuild at only 14 points down. Excellent work from the seasoned vet.
Play #3 – 3rd and 3 from the IND 48 – 11:13 in the 3rd Quarter – Colts 3 – Ravens 17.
After witnessing the power of Dwight Freeney off the edge immediately prior to the break at the half, the Ravens obviously didn't learn their lesson. On the series commencing after the break, they decided to single block Freeney on a 3rd and 3. Madness.
The Ravens are in the 3WR, 1TE, 1RB set, with Lee Evans wide left, and Torrey Smith, Ed Dickson and Anquan Boldin in the bunch formation to the right. Ray Rice is sat to Flacco's left, and will jump out on a little wheel route.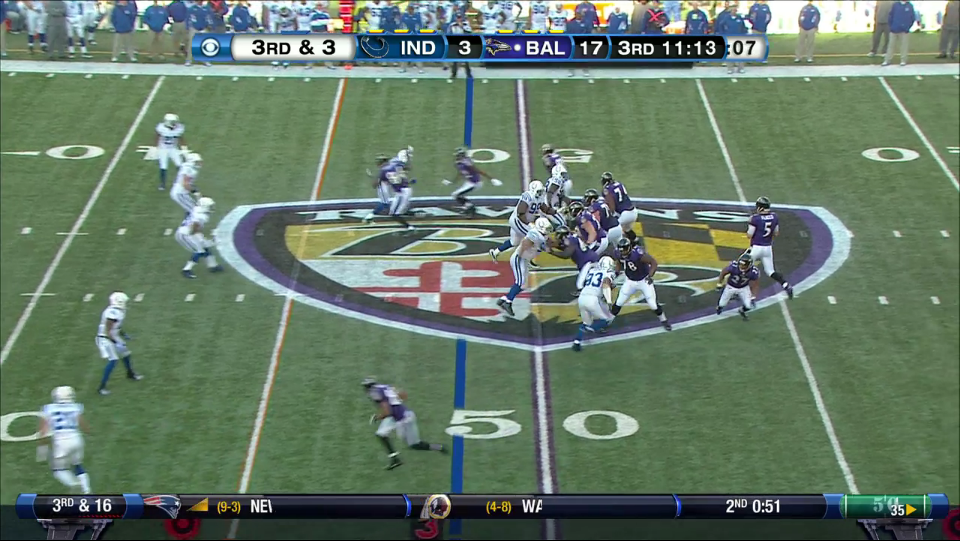 As Flacco takes the snap, Freeney has an adequate amount of room between himself and Bryant McKinnie at LT. He's lined up in the 9-technique with no TE present, which can only be bad news for McKinnie.
#93 fakes the speed rush around the outside, before utilizing his trademark spin move to get inside the tackle. The total isolation of McKinnie is absolutely baffling to me, but more on that later. Given the cavernous hole between LT and LG, it's only natural that Freeney wants to move into there.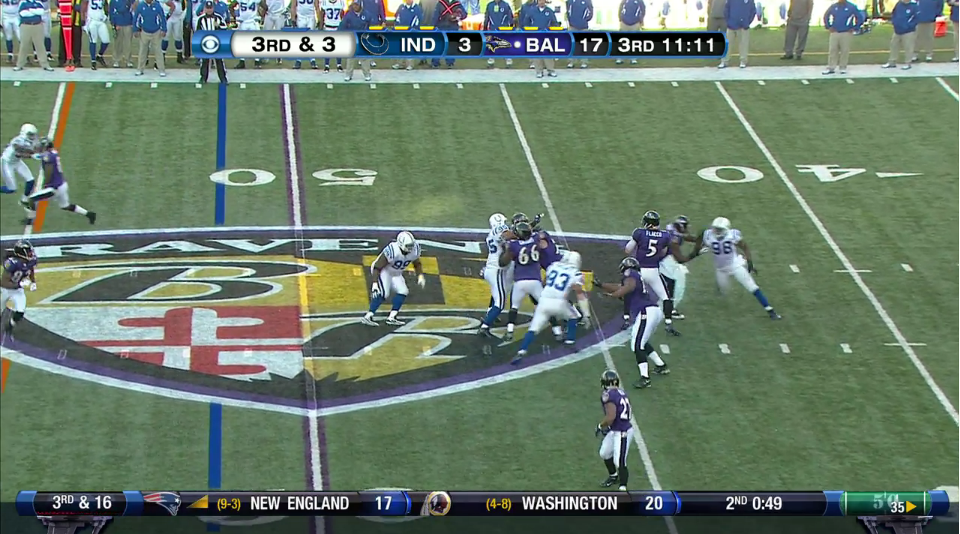 McKinnie is left for dead, you can see the LG Ben Grubbs (#66, G) focused on the interior line. Robert Mathis is also sniffing around Flacco on the play, but it's Freeney who'll act as the primary guy on this play.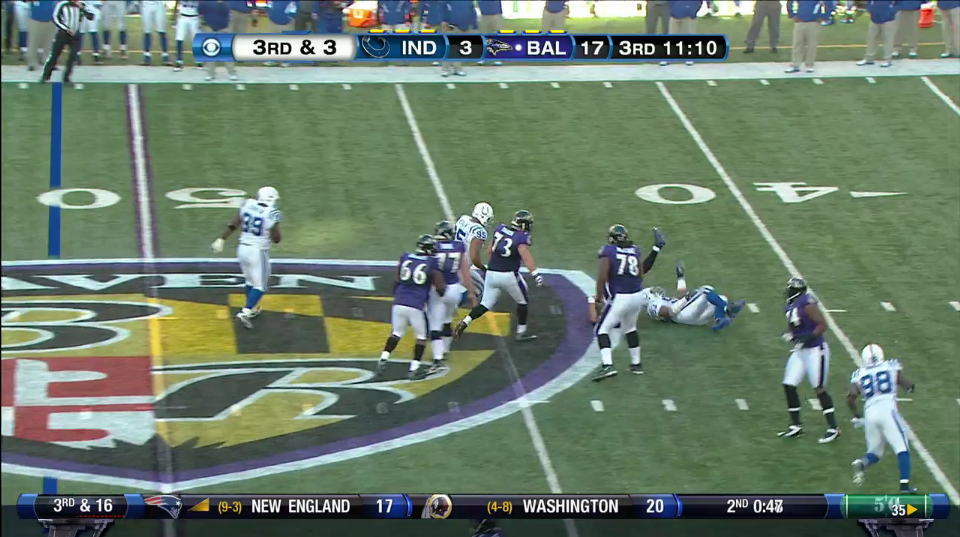 A second or two later, and boom. Freeney is on the floor, Flacco is on the floor, and Bryant McKinnie is slumped, realizing his error.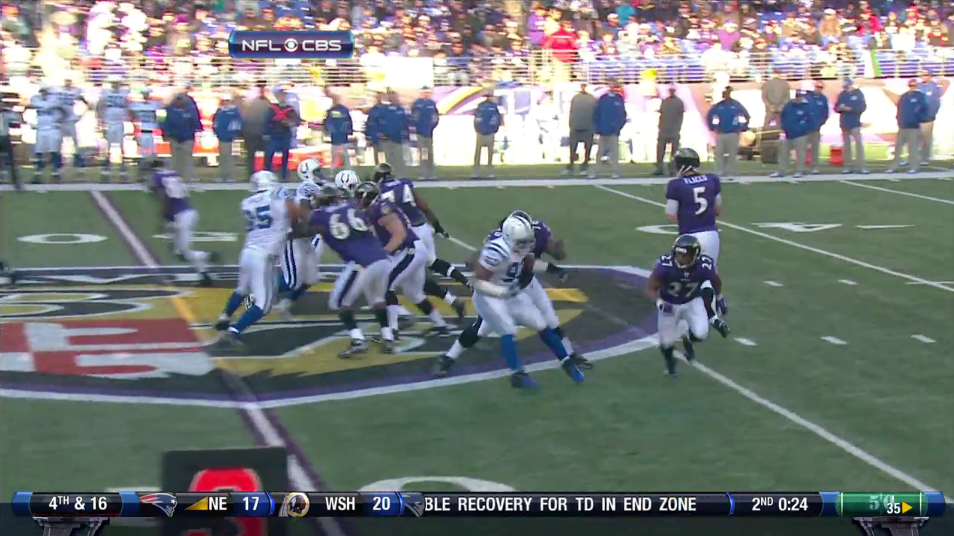 Here's the issue I have with the play design – if you know you're playing the Colts, you know about the DE's. You know that if your QB has a 'hold onto the ball' type of nature, you're going to be in trouble if you don't grant the OL any extra help. Ray Rice could've been the designated chip block man to the outside of McKinnie here, but instead he's running a straight pass route. McKinnie thus has to overcompensate, and it allows Freeney to get inside for the sack. You can't single-block #93 on third down, you simply can't.
If you do, you'll be made to look foolish. I think McKinnie qualifies here.
Play #4 – 1st and 10 from the IND 27 – 3:34 in the 3rd Quarter – Colts 3 – Ravens 24.
I know I'm banging on about this, but when questions remain about your supposed 'Franchise LT', a bit of reinforcement is required. Again, Anthony Castonzo's susceptibility to speed rushers remains a lingering issue, and it's again compounded by the crazy drop-backs our QBs seem to be taking.
The Colts line up in a 2WR, 1TE, 2RB set, and they're going to be faking the play action to go down the field. Castonzo is assigned to deal with Terell Suggs, and that isn't a match-up I'd ever wager him to be successful in at this point in his career.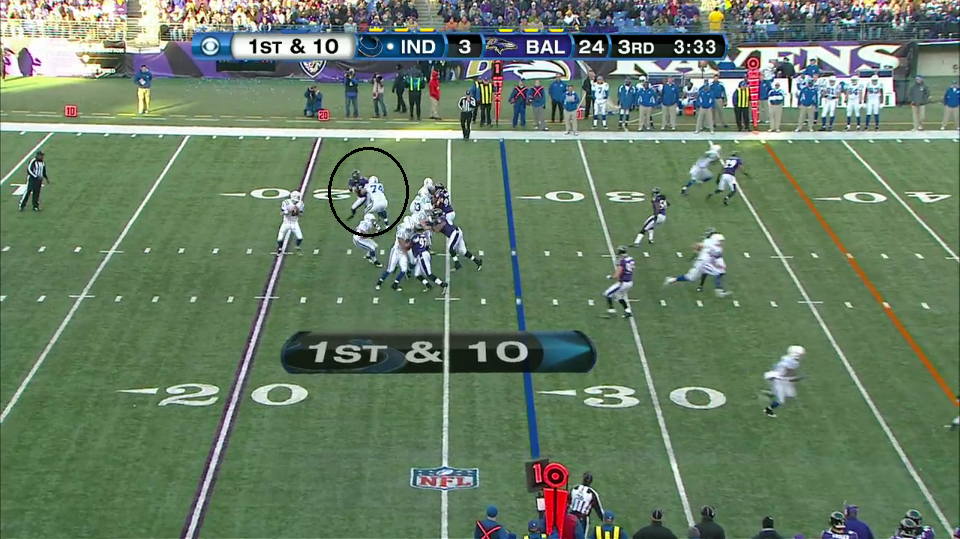 Just as we were talking about Freeney being singled up, the same stands for Suggs. We've got 2 RB's in on pass protection, and not one of them is keyed to look that way? In any case – as Orlovsky takes the snap, he backpedals about 7 yards and Suggs comes on the rush. Castonzo immediately finds himself having difficulty with the lateral movement aspect of pass protection, as we've seen previously.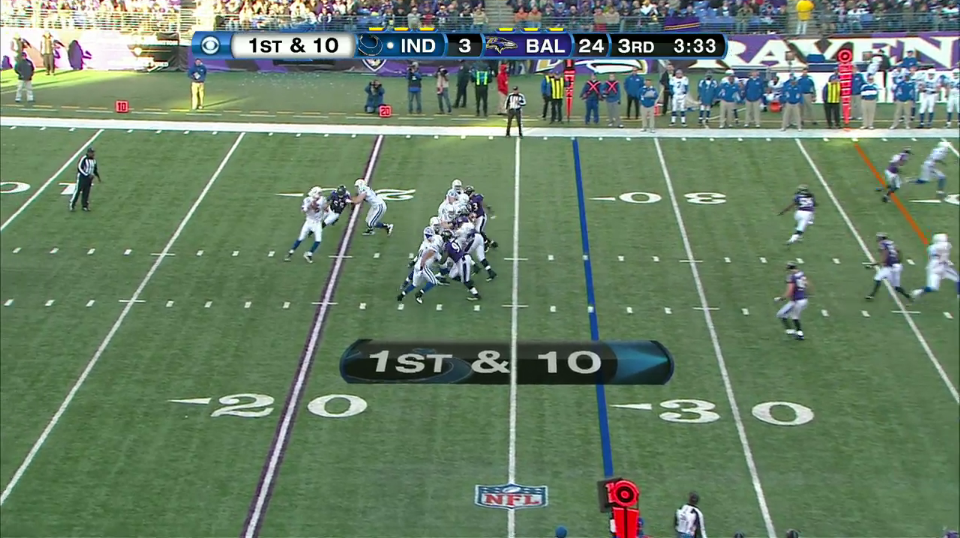 Suggs presses the advantage, and by this time Orlovsky is 9 yards behind the line of scrimmage. The rest of the OL holds up admirably.
Suggs gets the strip sack, and the ball bounces away. It's a carbon copy of what we've seen from Freeney and Mathis over the past few years, only it's against us.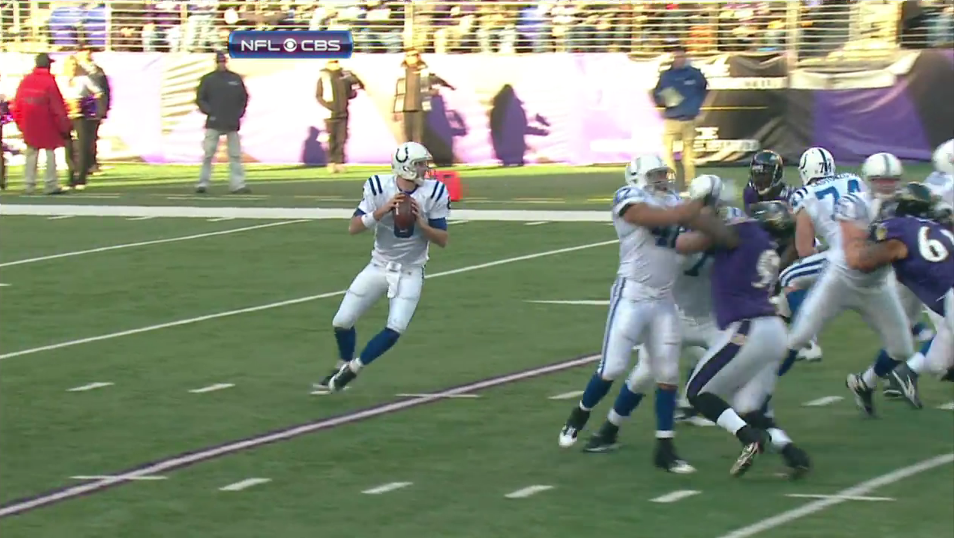 Orlovsky is dropping back too quick, too soon. It compounds Castonzo's lack of agility against the quicker rushers, and only causes us a lot of issues in protection.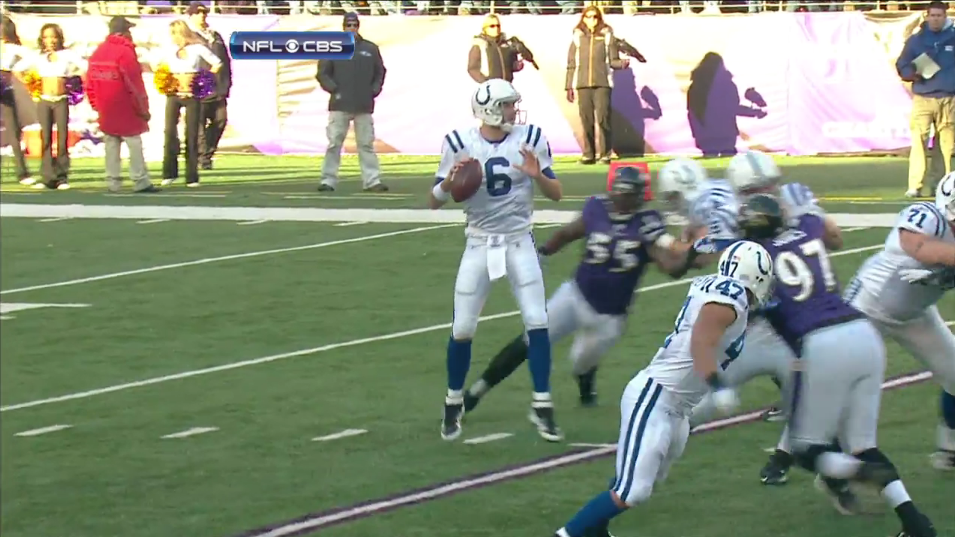 And quite frankly, Terell Suggs is a hell of a player. The inflexibility of offensive game planners to deal with pass rushers is a pet peeve of mine – it's simple to chip block someone like DeMarcus Ware or Dwight Freeney and totally ruin their prospects on any given rush. We've got 2 RB pass protectors in on the play, and they don't give him a second look? Absolutely ridiculous. Suggs ended the day with 3 sacks and 3 FF.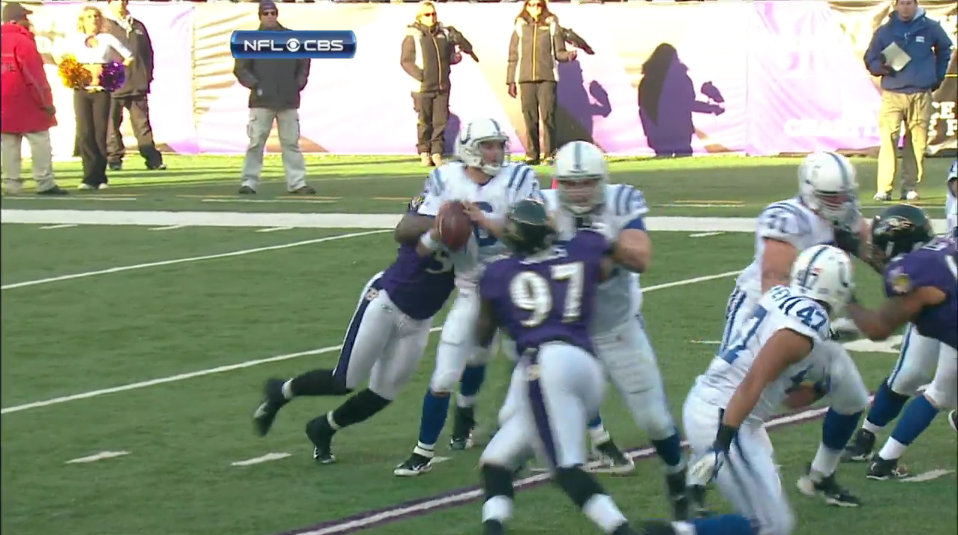 Orlovsky – stop dropping back so deep. Castonzo – sort your issues out against the speed rush, even if it takes all summer. Offensive Coaches, collect your possessions.
Play #5 – 3rd and 8 from the IND 21 – 13:35 in the 4th Quarter – Colts 3 – Ravens 24.
The continuing mystery of why on earth David Caldwell starts at S is an ongoing irritation to me. Joe Lefeged has shown a penchant for making a couple of plays, whilst Caldwell has shown the opposite. On Sunday, Lefeged was one of two players to walk out with his head held high, due to a long kickoff return which set the Colts up in Ravens territory earlier in the game, along with the following well-executed interception.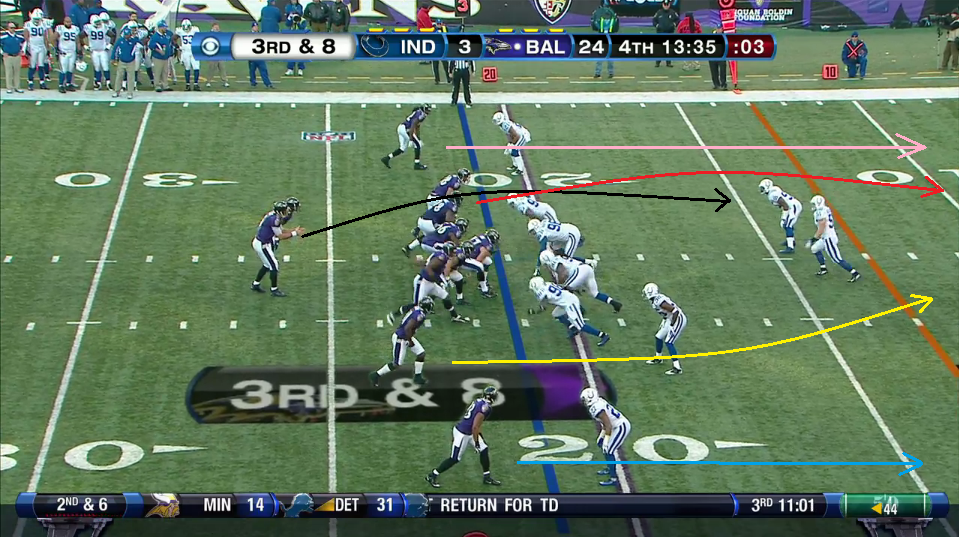 The situation is 3rd and long inside Colts territory, and the Ravens decide to opt for the All-Go play. Ray Rice will skip out from the backfield and hover around the first down line, while the rest of the WR's and TE's sprint to the end zone. The Colts are playing the simplest defense there is – man coverage on everyone, 2 deep safeties. 2 deep is a difficult formation to throw against, though the Ravens don't seem to care.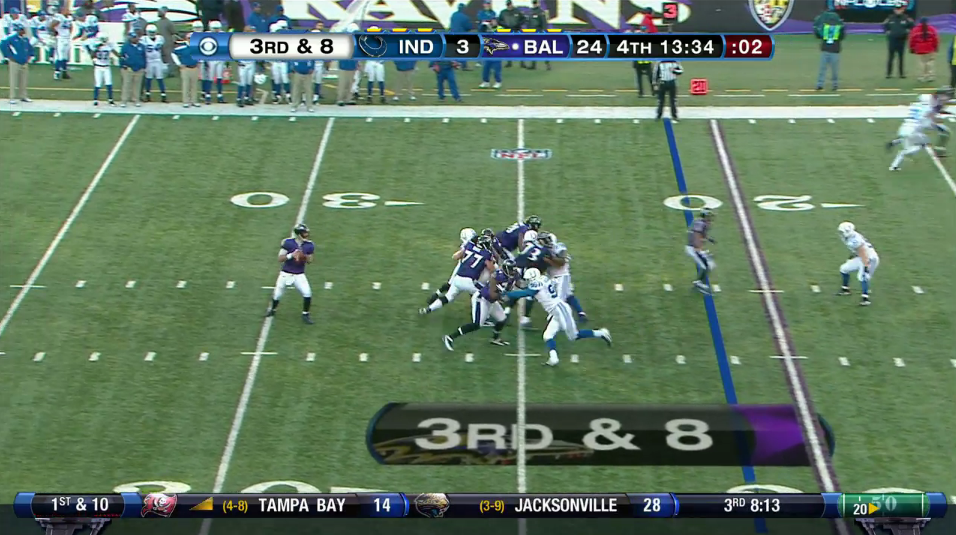 The Defensive Line stunts (as we looked at earlier), with much less success. The Ravens OL just condenses and squeezes the defensive players into a big crowd. Flacco has the time to look deep and evaluate what he sees.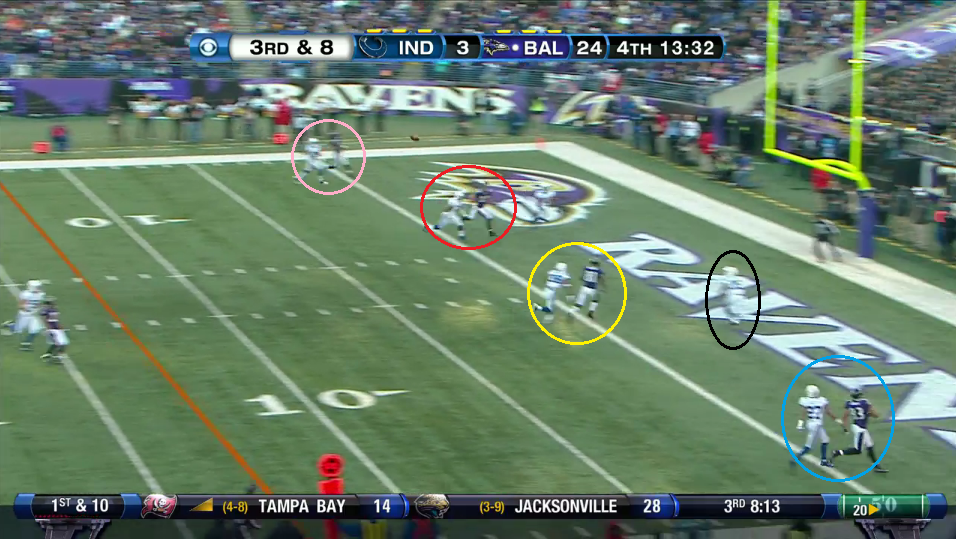 I've highlighted the match-ups and the reasonable effort from the Colts DBs to keep up in man coverage. I've also circled Joe Lefeged in black. His positioning on the play is exactly what is required.
After making a simple grab out of the air, he does very well to maintain control and go to ground.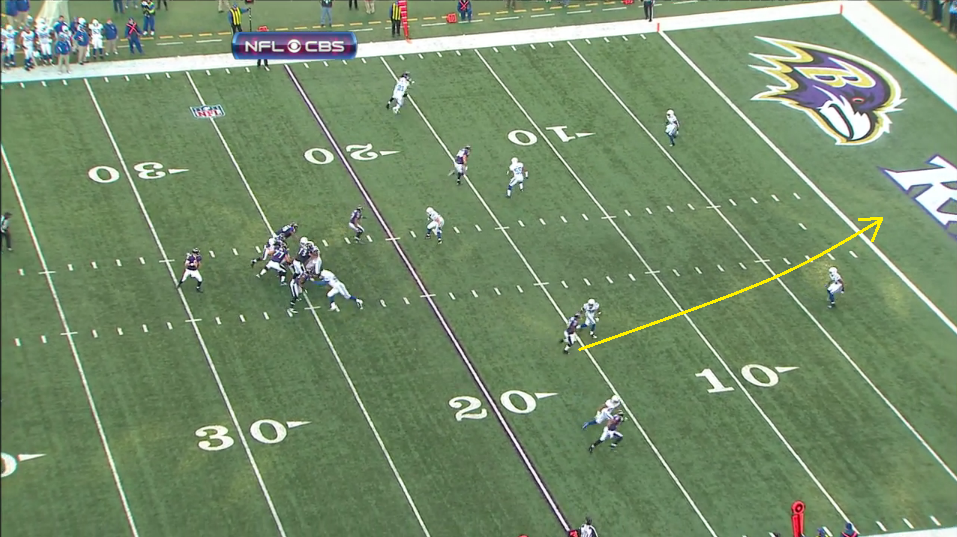 Not particularly sure what Flacco sees, or whether he simply doesn't regard the Colts DBs as worthy of disrupting the play – which would be fair. Lefeged's positioning here is interesting to watch – he has Jacob Lacey struggling on the outside, so he has to maintain position in between the two routes. He's reading Flacco's eyes at this point in the play.
As Flacco releases the ball, Lefeged drives on the inside route to where he anticipates the ball will end up.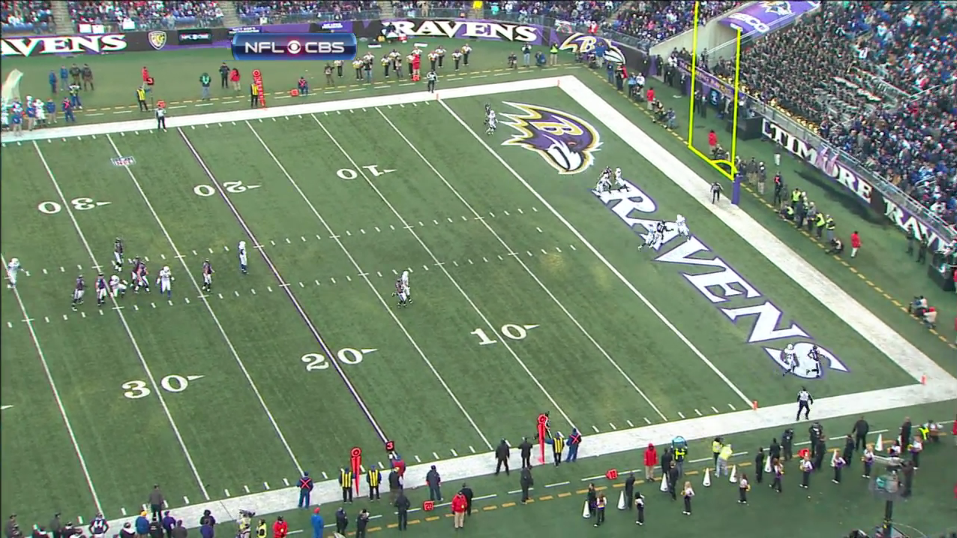 And he makes the comfortable INT. The real plaudits he deserves on the play come from his positioning. He manages to cover two routes at once, and while that's what the play design is about, we haven't seen anywhere near enough in terms of execution on the back end this year, so I think a thumbs up for Joe is in order. I'd like to see him as a full-time SS for a while ahead of Caldwell, instead of just in nickel packages.
Conclusions:
Again, there isn't too much to say. The Colts were blown off the ball in all phases, and when you can't control the line of scrimmage you're going to struggle in terms of time of possession, field position, and basic protections. The performance of Dan Orlovsky was a poor one, but against a formidable Ravens defense I can't say I expected much.
Dwight Freeney remains dominant when you allow him to be, and Robert Mathis got some fairly consistent pressure as well. If opposing OC's are willing to be so stupid as to risk their QBs health, then carry on with the single blocking. Please do.
I was disappointed with the disappearance of the run game, but when you're vying with Haloti Ngata for room up front, it's not going to be easy.We need to regroup for Tennessee next week, and on the back of some explosive passing and consistent running, I'm hopeful we'll record our first win of the year. Okay, maybe it'll be a scrappy, turnover-prone affair, but we have the potential to scrape it. Something to look forward to.
Game Ball: Joe Lefeged, Dwight Freeney. Again I have to share it, because both of these guys made plays on Sunday, unlike the rest of the team.
Go Colts.