Pathetic. That's the only word I have for the organization this week, after watching the worst Colts home performance I've ever seen.
The Saints loss was one thing, but to collapse in such fashion to the detested Jaguars at home with Blaine Gabbert starting at QB. Wow. The ineptitude witnessed on Sunday is inexcusable, and no one should escape the blame – the front office, the coaching staff, and unfortunately the players as well.
The majority of our woes stemmed again from the offensive side of the ball, with Curtis Painter the protagonist in the sad story of the 2011 Colts.
My initial thought on him this year was that he was inept and unfit for the job – then the games against Tampa Bay and Kansas City flew past, and I was forced to admit I was wrong. It appears that I should've stuck to my guns on this one, because he truly is not an NFL caliber quarterback in any way, shape or form.
I don't expect much improvement with Orlovsky at QB (as the decision must surely be to bench Painter now), but for reasons of posterity and for the fans, it must be shown that we are not accepting this level of play at the QB position. I'd like to thank everyone for their kind comments each week on the pieces, as always – keep the comments coming.
I'm having a busy time at the moment, but I'll try my best to comment on any queries or requests you may have.
Play #1 – 3rd and 11 from the IND 20 – 14:44 in the 1st Quarter – Colts 0 – Jags 0
I've pondered leaving this play out, but I don't think I can. It's one of the more indicative plays of the game, but the CBS broadcast crew were clearly not focused at all whilst doing their defensive lineup routine, leading to the ball being snapped without an appropriate angle. Nonetheless, I'll try and highlight just how hideous this throw was from Curtis Painter.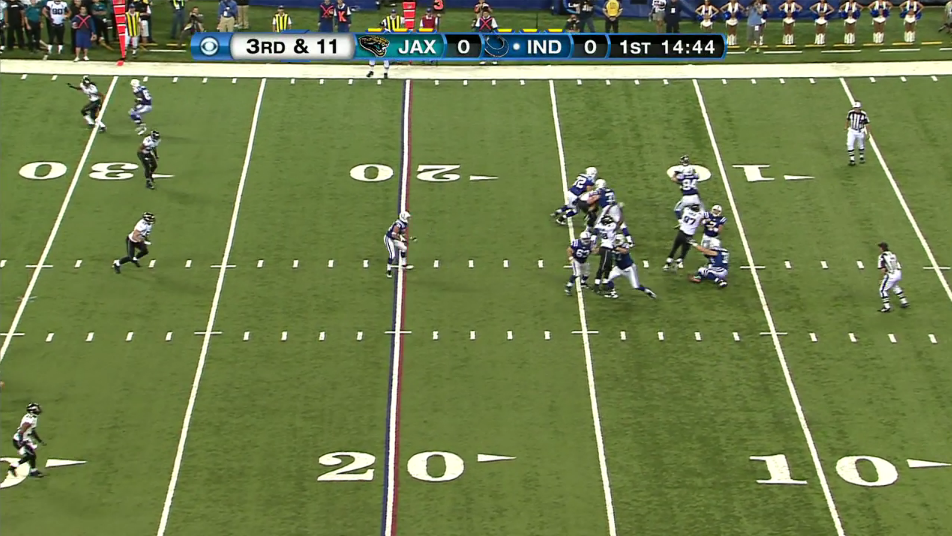 The Colts have lined up in a 3WR, 1TE, 1RB formation with Wayne and Collie out left and Garcon out right. Tamme is attached to the line and stays in on a blocking assignment, and Donald Brown is there for a minor check at pass protection before going out on a little dump-off route across the middle. Because I don't have any pre-snap images, you'll have to trust me when I say that Reggie Wayne is running a 10-yard out just past the marker.
This is probably the most obvious play in the playbook when you have Reggie on your side, and as such the Jags have a safety snooping around the first down marker. You can see Painter is under duress when he throws the ball, but we'll get into that in a second.
You can see from Reggie's body language that he realizes he's bracketed, so I can't imagine his thought process when he turns around and sees that this ball has been thrown. Drew Coleman jumps the route, as easy as you like, and it's an INT on the third offensive play of the game.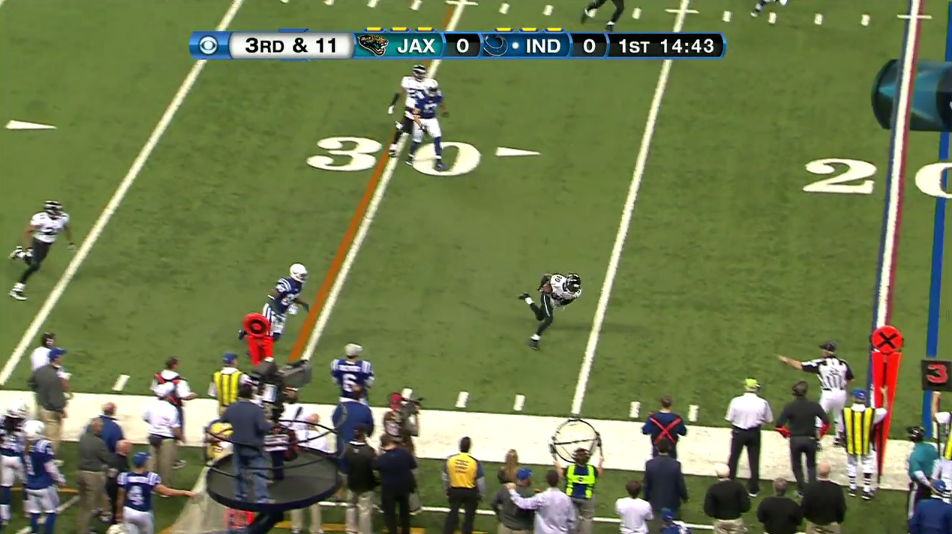 Reggie taps him down at around the 20 yard line, finishing the play.
The aforementioned images don't show us much, thanks to the shoddy work of the CBS crew. Now we can really examine the actions of Painter, his decision making process and also the play of the OL. Castonzo is at LT, matched up against of all people, John Chick. Chick is lined up in the 9-technique as is his opposite number – they're pinning their ears back to get to the QB, much as we see most weeks with Freeney and Mathis.
Chick bull rushes from the 9-technique, which may have surprised Castonzo who likely would be expecting a speed rush. He gets caught flat footed, and from here on in, it's a world of hurt. Painter is already staring at Reggie Wayne immediately post-snap, again showing his lamentable lack of realization that defenders are actually allowed to watch the QB.
Castonzo is getting pushed back like he isn't even there – a bull rush like that is incredibly difficult to stop once you're caught flat footed, and this example is no different. Painter is still staring down at Reggie Wayne, not even giving Austin Collie or Pierre Garcon a cursory look.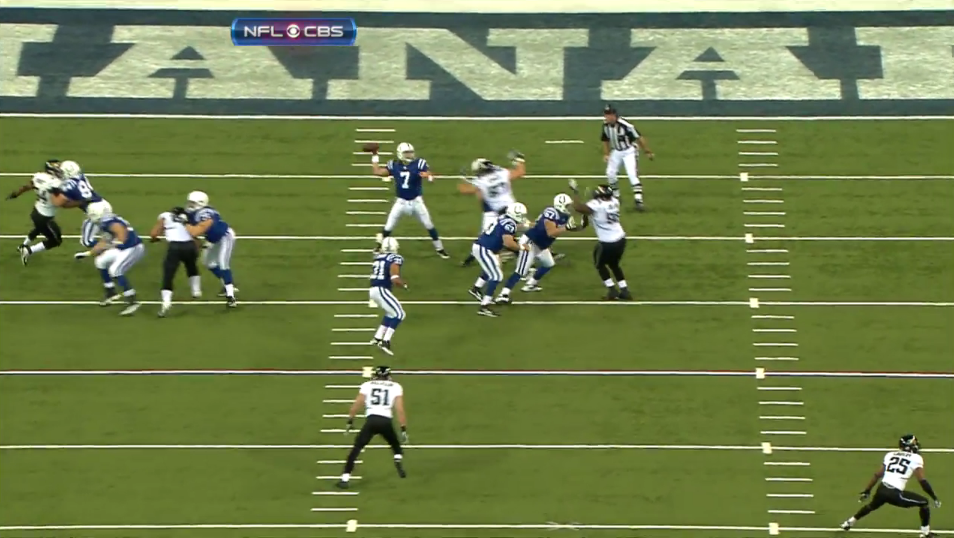 At this point, Chick has got in the face of Painter, affecting his decision making process. Castonzo has been cast aside like a child's toy. Painter of course has not deviated from Operation Stare at Reggie Wayne, so any watching DB on that side of the field has a great chance to get in position.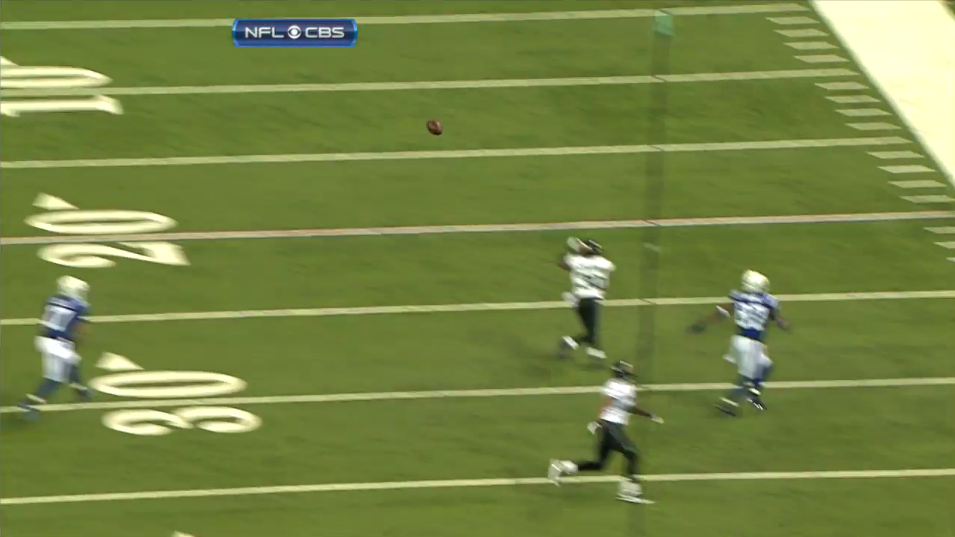 .Which of course, Coleman does easily. An interception and fantastic field position for the Jaguars. The ease with which Castonzo was pushed back is a slight concern, but we'll get to that later on.
Play #2 – 2nd and 12 from the IND 21 – 13:57 in the 1st Quarter – Colts 0 – Jags 0
So continues the improvement of Jerraud Powers. It seemed for awhile this season that Antoine Bethea was the only individual worth his salt in the secondary, but Jerraud has shown play making potential in the last few weeks. His size will work against him against larger receivers, but he's undoubtedly at this point our best at the position.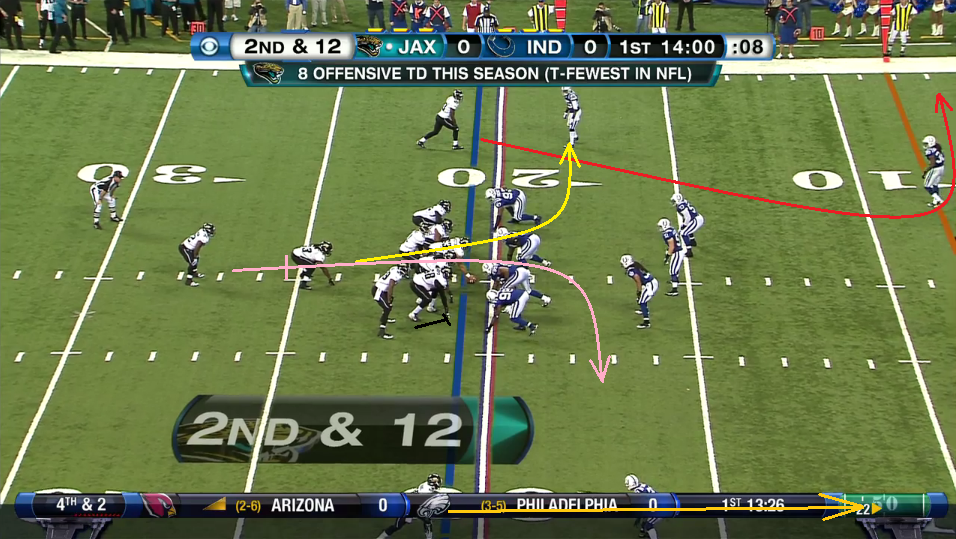 After an unsuccessful run on first down immediately after the Coleman INT, the Jags decide to put the ball in Gabbert's hands down near the red zone. The Jags line up in a 2WR, 1TE, 2RB set, with Greg Jones and Maurice Jones-Drew in the backfield, Jason Hill wide left, Mike Thomas wide right and Marcedes Lewis attached to the line on a blocking assignment. The Colts are going to drop into Cover 2.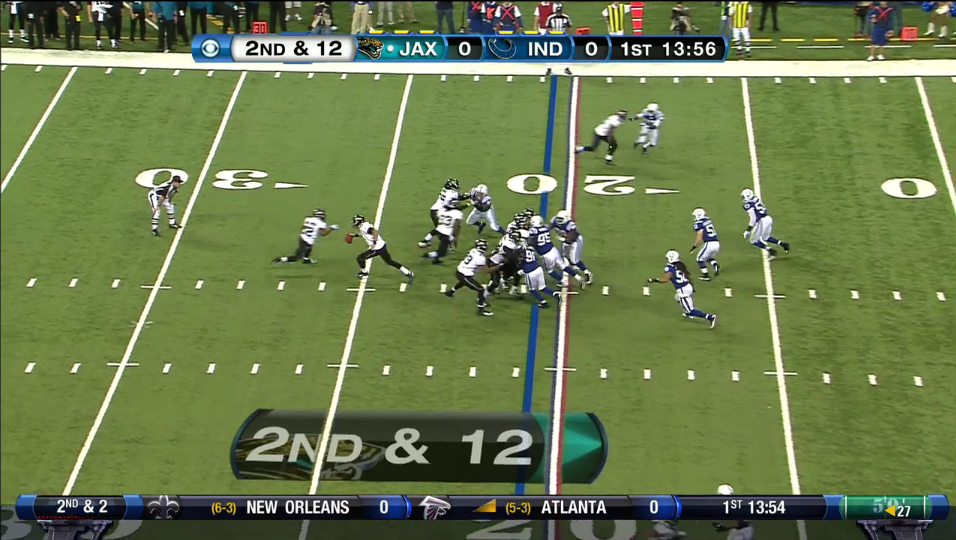 Gabbert fakes the play action to MJD (a decent idea, given their I-Form formation on the play). You can see Phillip Wheeler bites a little bit on the PA, but fortunately enough that doesn't come back to haunt us.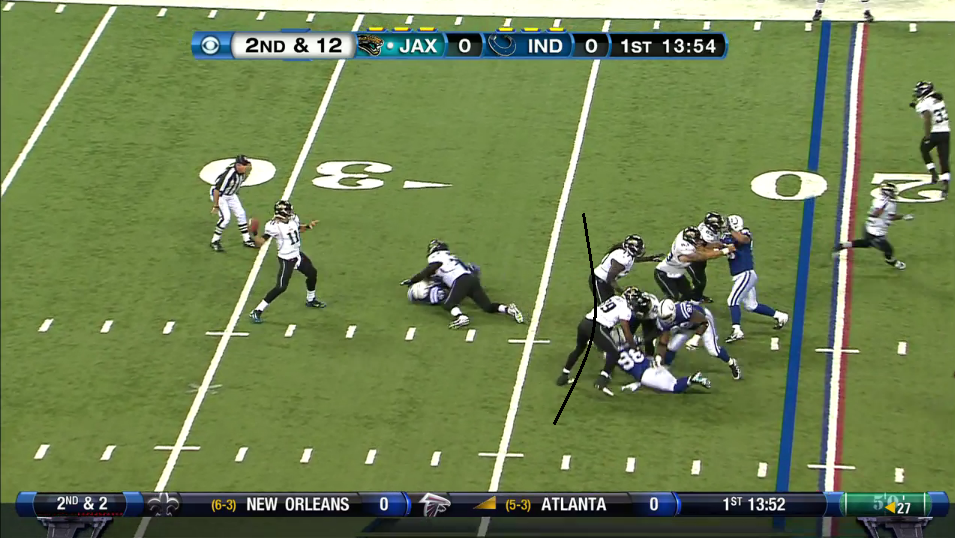 Freeney and Mathis have come up with nothing in a regular four man rush, so when Gabbert turns back around after the fake, he has a good pocket to work with.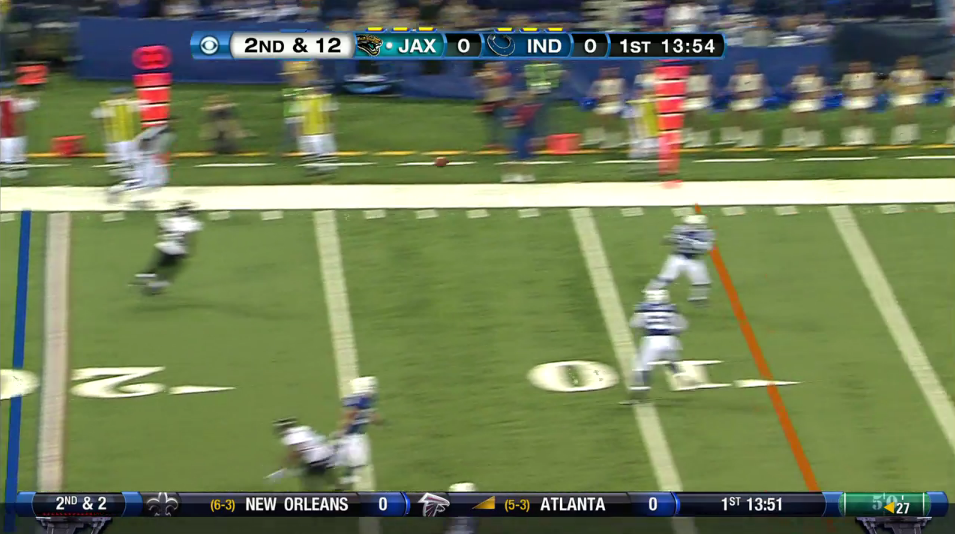 Unfortunately for Gabbert, he either misdiagnoses zone coverage (something I don't see), or he throws an absolutely awful ball straight to a stationary Powers.
Powers does a nice job extending for the ball, taking it in the air. He cushions it and starts running, and is eventually brought down around the Colts 15 yard line.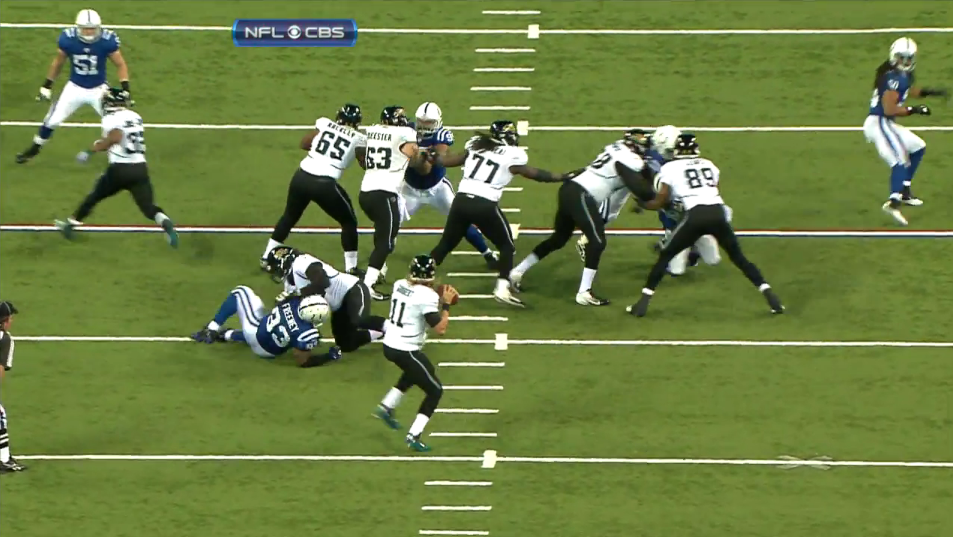 You can see Gabbert's nice intact pocket, he's got enough room to step into the throw regardless of where he wants to put it. He, like Painter, has a tendency to stare down his receivers, and it manifests itself on this play as well – his eyes don't leave Jason Hill.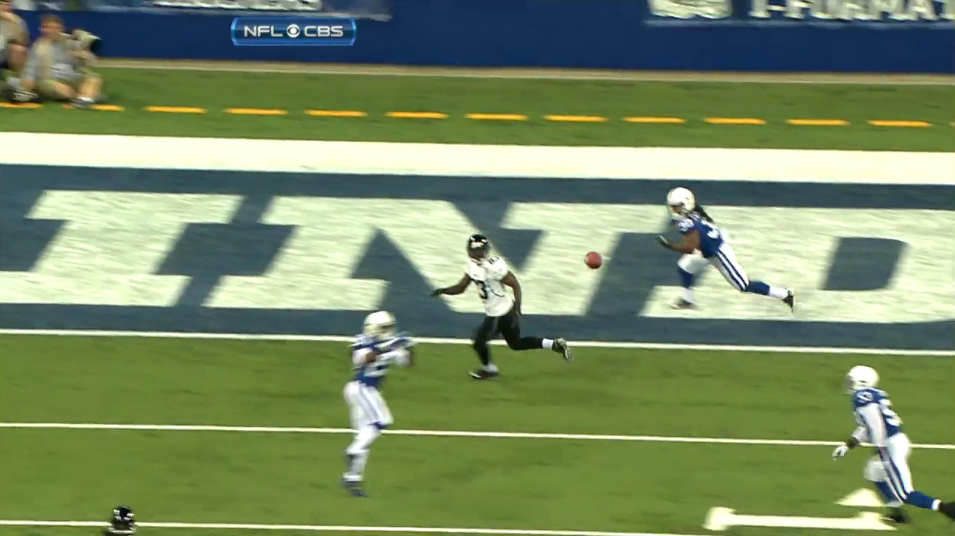 If he misreads the coverage, then it's inexcusable and terrible from Gabbert. If he just makes a bad throw, then he deserves a longer leash. A well acknowledged weakness of Cover 2 is along the sideline behind the corner and in front of the safety, and in theory if he gives this ball a bit more air and aims it towards the sideline, it could be a completion. That said, that's a throw that I think only three or four QB's in the league can make, so why he's trying it, I'm not too sure.
As I mentioned previously, it's a nice take by Jerraud – all too often (particularly with this Colts secondary) you see opportunities go begging. Seems he's making a case to be a cornerstone on defense for next year. Keep it up.
Play #3 – 1st and 10 from the IND 18 – 13:45 in the 1st Quarter – Colts 0 – Jags 0
And so we proceed onto the curious case of Donald Brown. Having done absolutely nothing in his first two years on the roster, Brown has been performing well above expectations this year and has certainly made a case for his retention going into next season. Attributing his improvement solely to him might be a stretch too far given the improvement on the OL in terms of run blocking, but it's undeniable that he has gotten better at the core skills you need to be a viable back in the NFL.
The Colts line up in a 2WR, 2TE, 1RB formation, with Garcon and Wayne on the outside as you'd expect. The twist here is that Jacob Tamme is in position in the slot on a blocking assignment. He's assigned to take Dawan Landry (#26, S) out of the play. Another nuance of the formation is the fact that (as we did all day), Quinn Ojinnaka (#69, T) was lined up as eligible in the TE position. Making best use of the resources available, much as we did with Jacques McClendon last year.
As Brown takes the handoff, Tamme is making a beeline for Landry. The line is designed to flow to the left to allow for a cutback, and Brown takes advantage of good blocking from the interior line.
Displaying agility that would probably break my leg, he cuts back to run off Ryan Diem's great seal block at RG.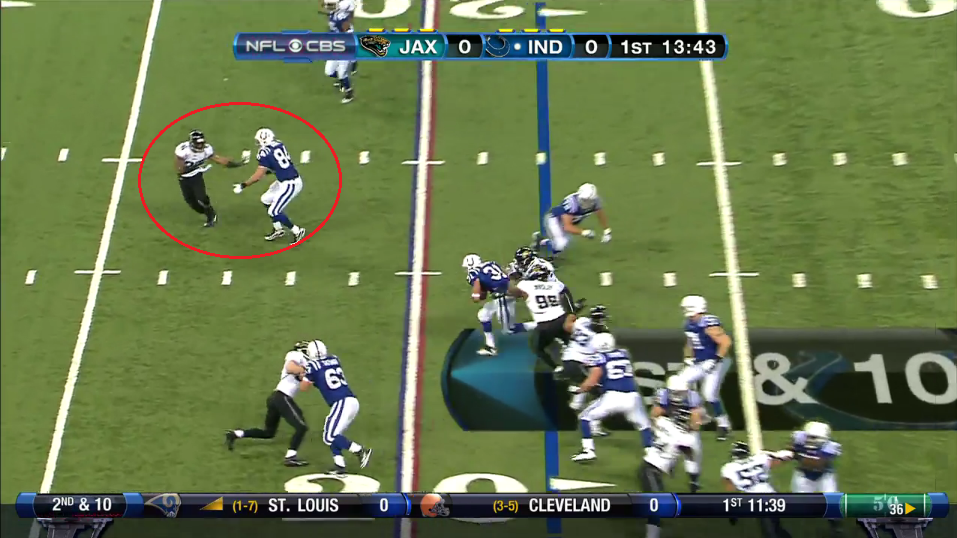 Brown somehow manages to squeeze between C.J Mosley (#99, DT) and Matt Roth (#90, DE)  and finds a hole. It is here that Tamme's block becomes pivotal, turning a 5 yard gain into a much longer one.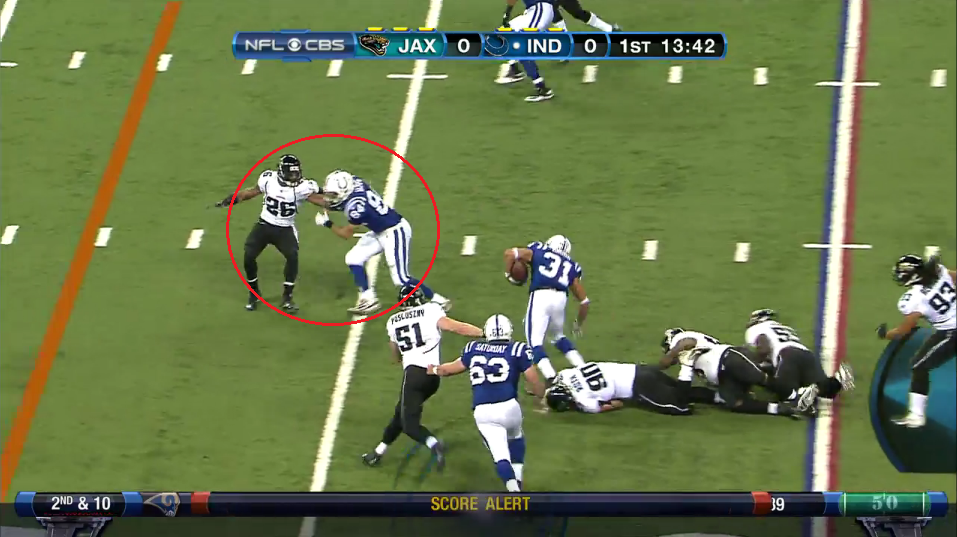 As Brown shakes his way loose, Tamme is doing just enough to stop Landry coming in on the play. Pierre Garcon is also doing his bit on the outside.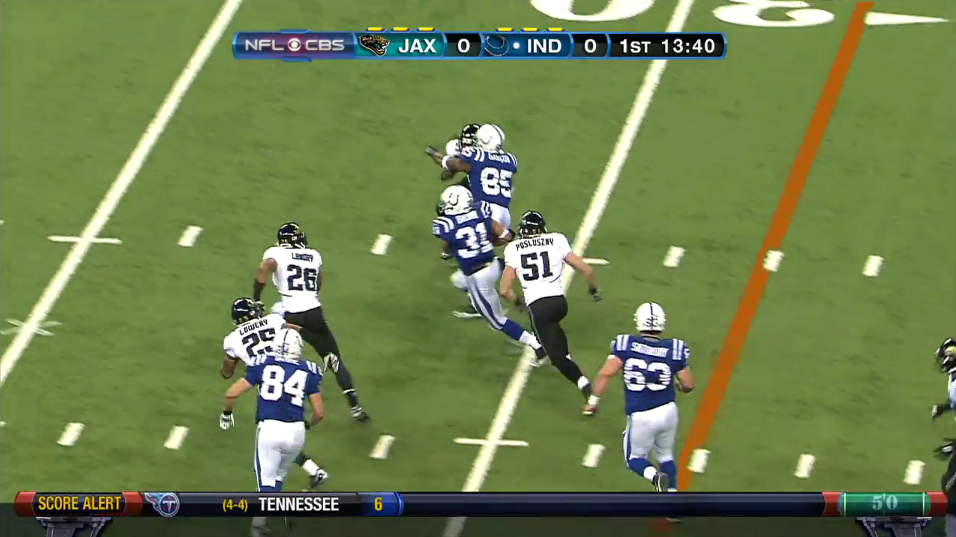 Garcon does a brilliant job blocking the Jaguars CB which further allows Brown to take advantage of open space in front. At this point the run has already gone for 15 yards and can be judged a success, but Brown takes it further.
Ultimately, there are too many defenders for Brown to break it away for a massive touchdown, but it's signs of real progress from the third year player. You can see just how well Garcon has done in blocking to keep the corner away from the play entirely.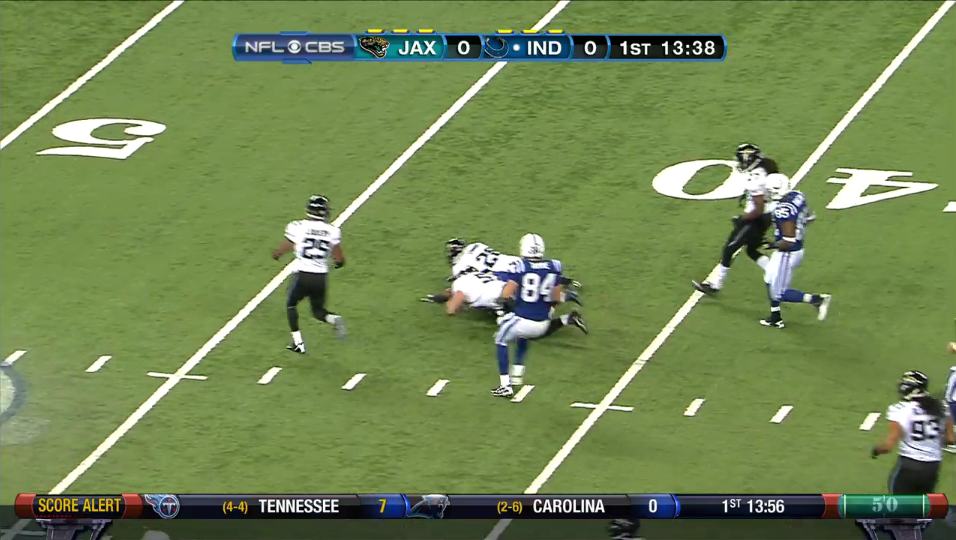 Brown is eventually brought down for a 24 yard gain.
Three pivotal blocks on the line do enough to make the play successful, ignoring Tamme and Garcon for a moment. Ojinnaka and Castonzo double team Jeremy Mincey at RE, Mike Tepper singlehandedly deals with Tyson Alualu at LG, and Ryan Diem blocks CJ Mosley out of the play for enough time to allow the cutback. Jeff Saturday moves to the second level to deal with Paul Posluszny.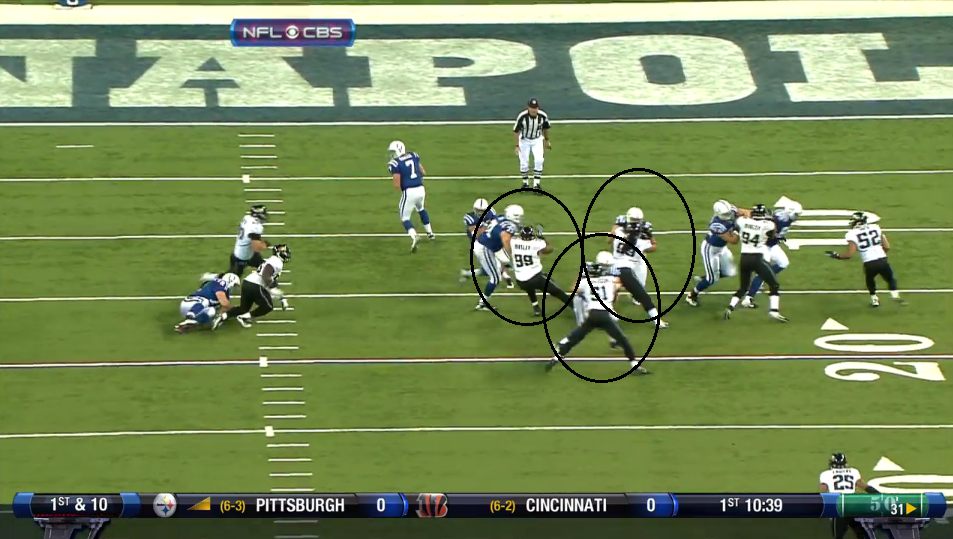 Diem's block is the crucial one on the play, but Saturday's athleticism at the spritely age of 36 is still evident, getting to the second level quickly and effectively, stopping Posluszny from making an impact on the play. Great job all round from the offense.
Play #4 – 1st and 10 from the JAX 32 – 11:40 in the 4th Quarter – Colts 3 – Jags 10
On we continue, to the play which might prove to be Painter's last in a Colts uniform. His awareness, pocket presence and decision making have all been questioned one hundred times before, but here we go again.
The Colts line up in a 3WR, 1TE, 1RB set, with a curious arrangement. All three receivers are stacked to the right side of the formation, with Jacob Tamme and Donald Brown to the left of Painter. To combat this congestion on the right side, the Jags are going to drop into zone coverage.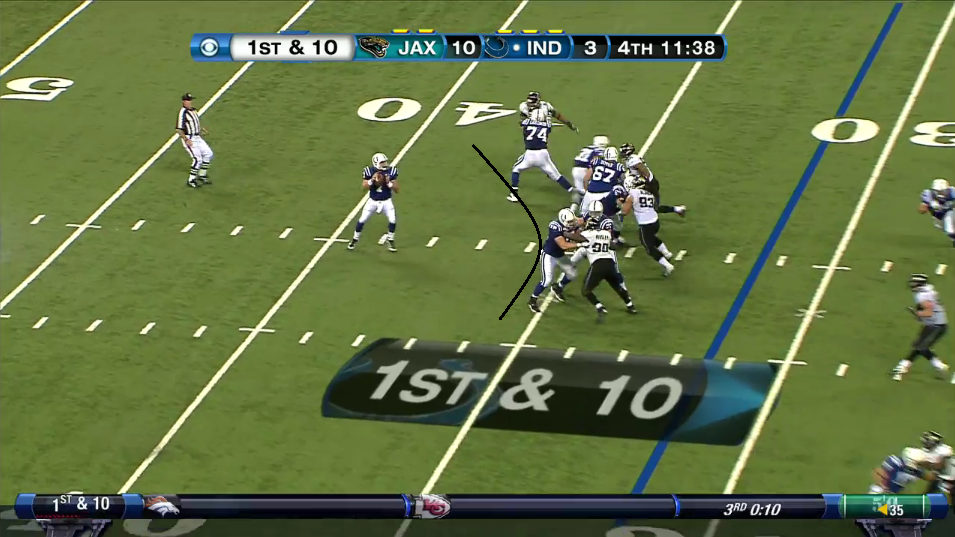 Initially after the snap, Painter has a good pocket to work with. He can step into the throw or consider his position against a normal 4 man rush. Painter is again totally locked on to Reggie Wayne, and doesn't look anywhere else.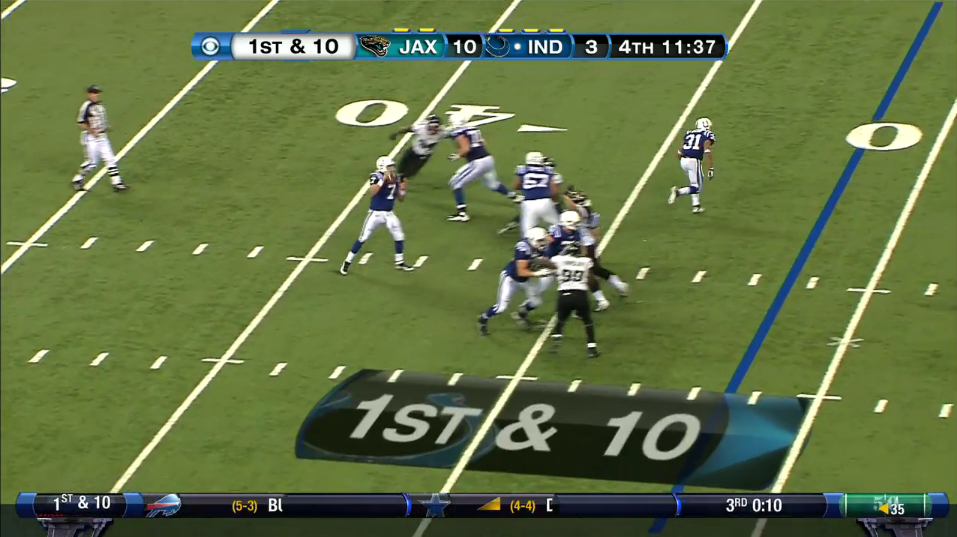 Castonzo is having a little bit of trouble at LT, but he manages to deal with it in due course. Donald Brown is open for the little dump-off, but Painter is still staring lovingly at Reggie Wayne.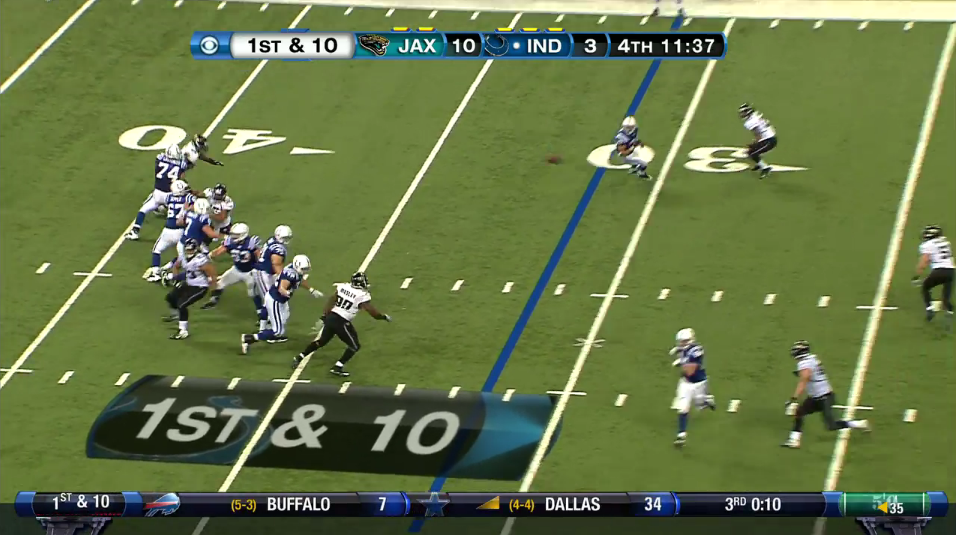 When he eventually comes around to throwing the ball, Mike Tepper has been collapsed backwards by Daryl Smith (#52, LB) causing pressure on Painter. Posluszny is waiting for the ball having been watching Painter from his short zone, and the throw is absolutely woeful in any case.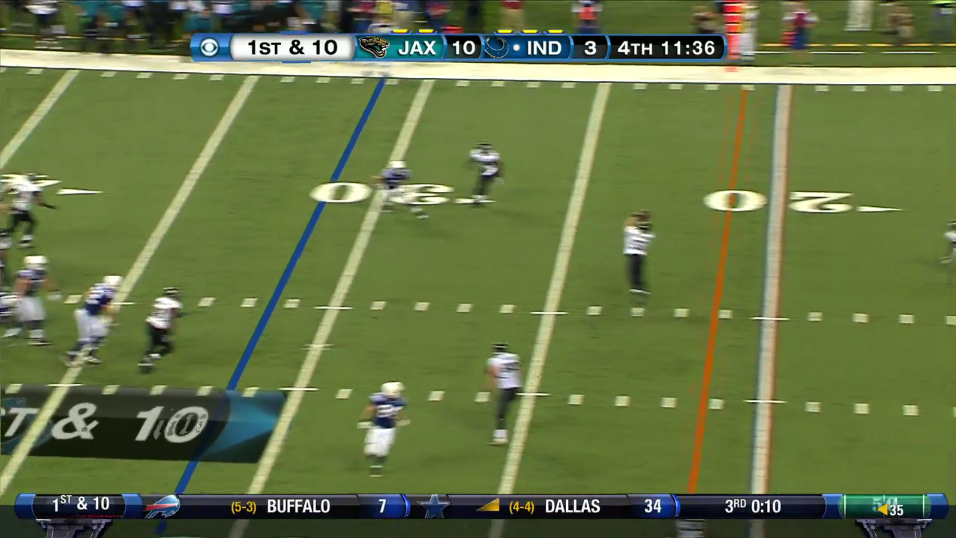 It's a pretty tasty catch from the Jags MLB, but the throw is questionable at best – the decision making, the execution, everything. Behind Posluszny you can see another Jags player waiting for the ball to sail past him as well.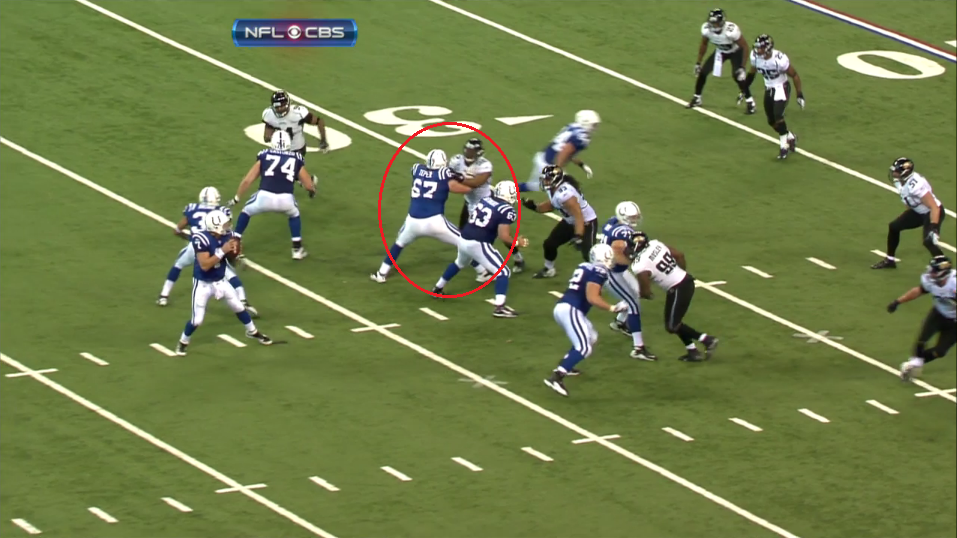 You can see here post-snap that the pocket is intact, and he has enough time to evaluate the situation.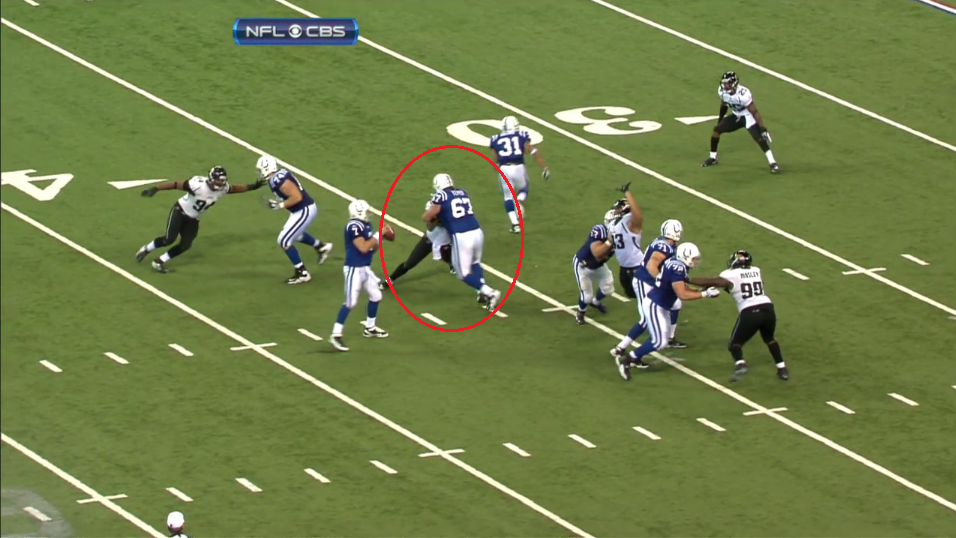 Tepper then begins to struggle with Smith, and Painter is still holding onto the ball, despite having had a few seconds of pass protection.
Tepper eventually gets pushed back into Painter, and it's curtains for #7. I don't think the Colts stood much of a chance after this point – the drive to get into Jacksonville territory had been a good one, with Painter involving Collie to move the chains. Unfortunately, his old demons came back out for all to see, and consequently he threw an interception.
Play #5 – 3rd and 3 from the IND 20 – 4:55 in the 4th Quarter – Colts 3 – Jags 10
I'm starting to get quite concerned about the level of play and the development of Anthony Castonzo. Here again is another example of subpar play from the rookie LT – and whilst I know there will be bumps in the road with young linemen, he's been getting beaten too frequently around the outside for my liking.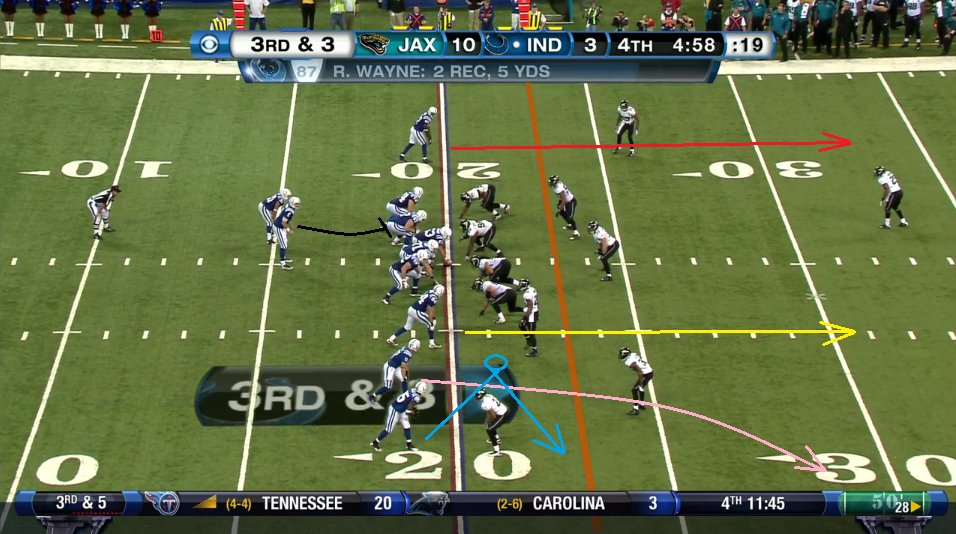 The Colts line up in the typical 3WR, 1TE, 1RB set, with Reggie Wayne out left, and Jacob Tamme, Austin Collie, and Pierre Garcon out right. Donald Brown is going to stay in the backfield on pass protection. One caveat for the play – Orlovsky is already five yards deep in the shotgun. Watch his movements.
Orlovsky takes the snap, and Castonzo engages his block. Orlovsky is backpedalling at this point in time, and continues to do so. I've caught the frame here as Jeremy Mincey (#94, DE) begins a swim move to get past Castonzo.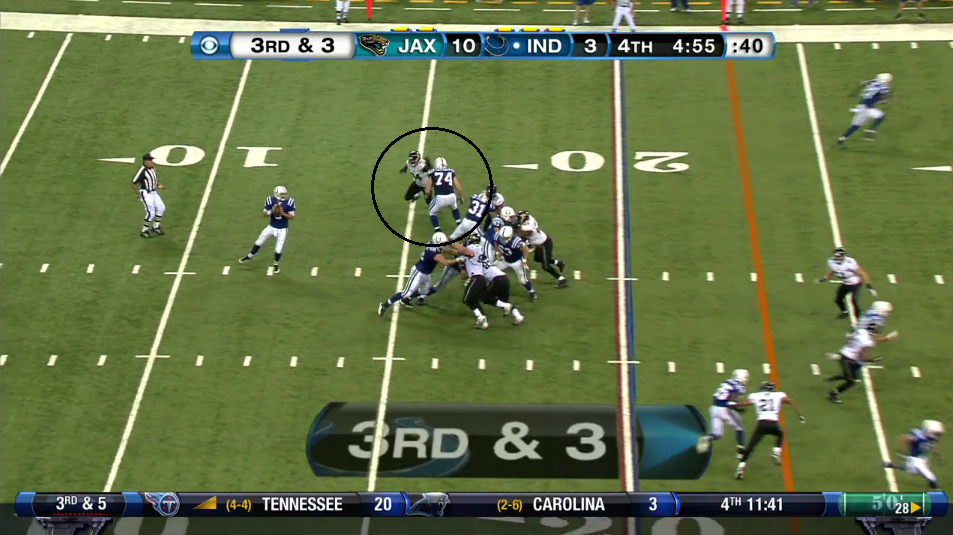 Orlovsky backpedals until he's a full 9 yards back from the line of scrimmage. This obviously can cause problems for the OL if they expect something different, given the ease with which DE's can speed rush around the outside. Mincey takes full advantage of this, whilst the rest of the Colts OL does a good job.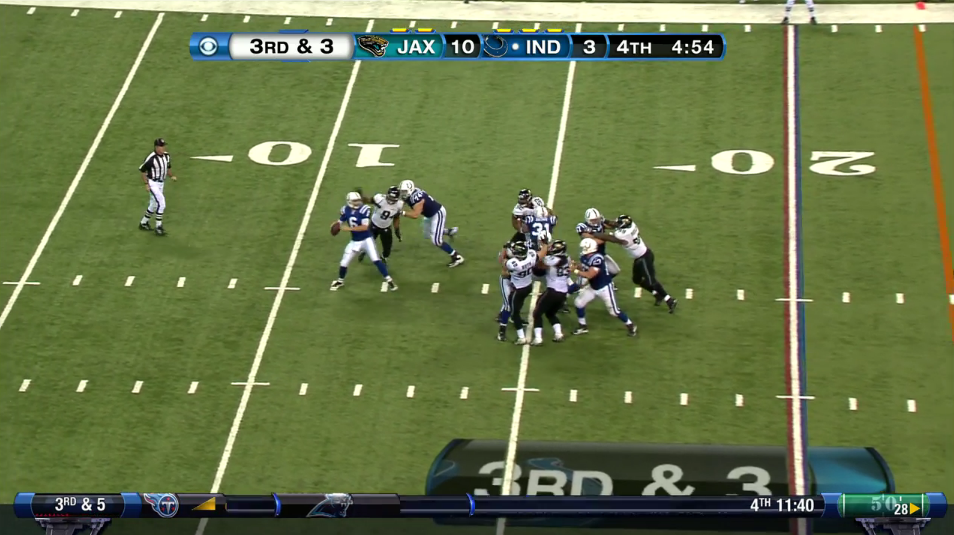 By this time, Orlovsky is in serious trouble. On 3rd and 3 he should be looking to release the ball fairly quickly, and he's kept hold of it effectively 10 yards back. Given the fact that we're starting a few new faces on the OL, Orlovsky should be well aware of the fact that he might not have a lot of time.
The ball is forced loose, and Tyson Alualu (#93, DT) catches it straight up. He's tackled for a 3 yard gain near the 10 yard line. Game over.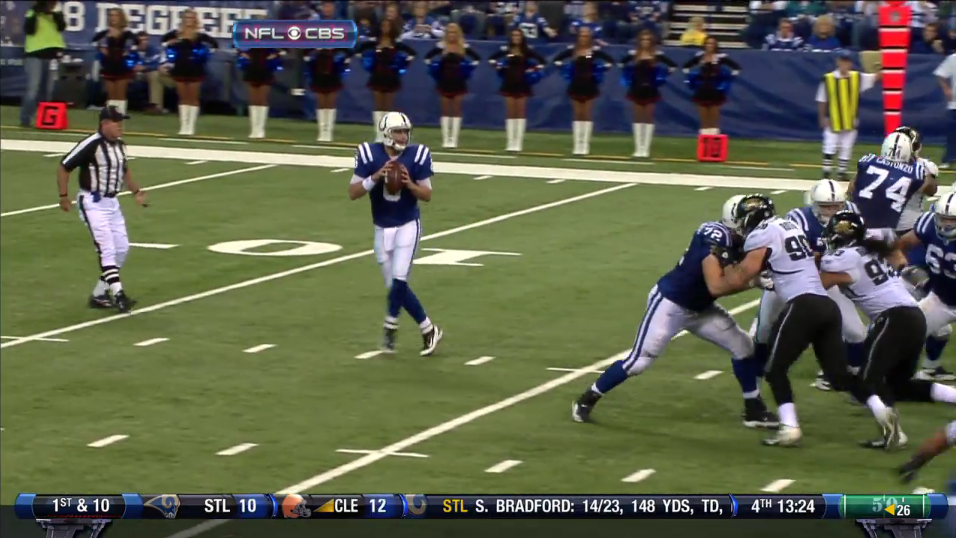 You can see Orlovsky has a nice clean pocket, although with the benefit of hindsight you can also see that Castonzo is too far inside to deal with the positioning of Orlovsky behind him.
Mincey disengages from Castonzo and makes his way around the outside, whilst Matt Roth (#90, DE) does his best to hold the attention of Orlovsky.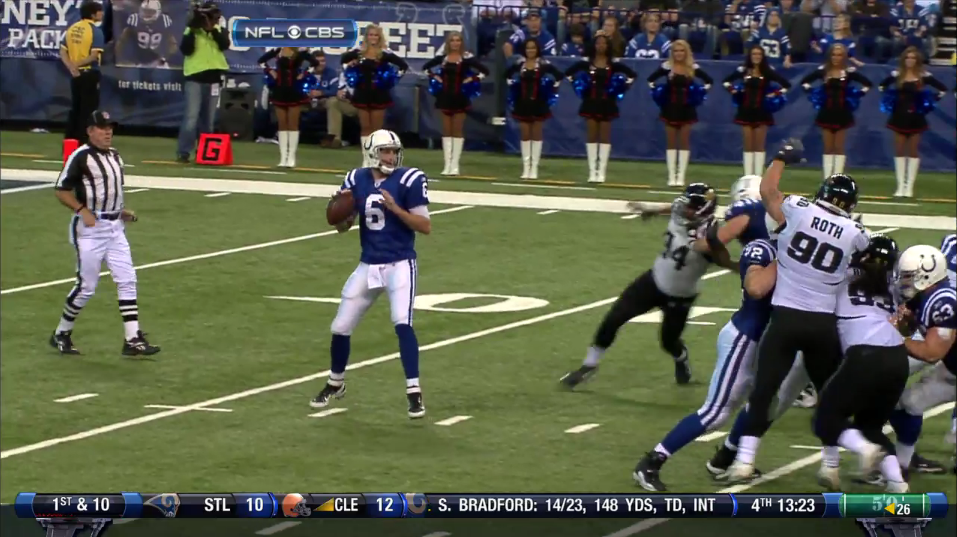 To give credit where it's due, the concern pre-draft with regards to Castonzo was his lateral movement. We've seen on a few occasions now this year his susceptibility to be beaten by straightforward speed rushes, and it's something he's going to have to seriously work on over the off-season. Lining up against Dwight Freeney must surely be a help in that respect.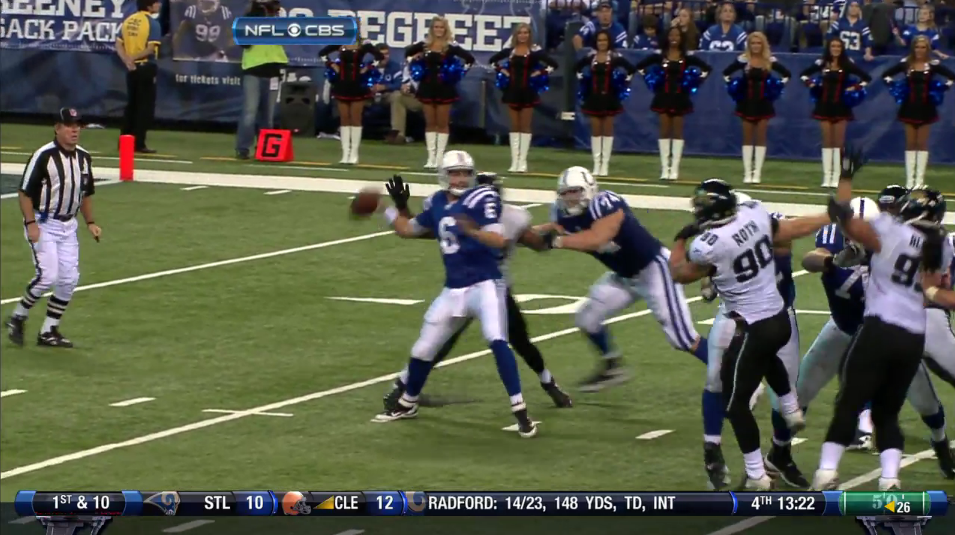 Orlovsky didn't help him, but the rest of the OL fared well, so Castonzo has to be questioned on it.
Conclusions:
This was an incredibly disappointing game to watch as a Colts fan. The Jaguars (who I absolutely detest) came into Lucas Oil Stadium, played a pretty poor game and yet still ran out comfortable victors.
A lot of that has to do with the play of Curtis Painter, but responsibility falls also on unassertive coaching from Caldwell (sticking to a conservative game plan even though we're 0-9) and also on pass protection from the OL. Positives to fall back on are the renaissances we're seeing from Jerraud Powers and Donald Brown, along with the run blocking for the latter.
Amidst the controversy of the recent Kravitz article, spurned coaches on the offensive side of the ball were mentioned alongside the notion of Chris Polian's 'toxic influence' – well, for me the improvement in run blocking and the performance of our RB group comes down to those changes, and I couldn't be happier with that decision. Gene Huey and Howard Mudd are obviously titans within recent Colts history, but that doesn't mean a fresh injection of ideas is something that should be rejected just because of an individual's long tenure.
Looking onwards and upward – The Rams and Dolphins both won on Sunday, leading to a 2 game buffer for our #1 overall pick prospects. We're clearly in the lead, and it's a sizable consolation prize.
I've been watching Andrew Luck so far this year, and I can certainly see why he's heralded as the best prospect in years – he makes every throw despite concerns about arm strength, his accuracy on the run is Aaron Rodgers-esque and I'd say he has better wheels than Rodgers, too. Concerns about him in terms of decision making on a few throws are legitimate, but he often comes back after an interception with a massive drive down the field for a touchdown – despite having no top calibre receivers on the team.
If we were to trade the pick (an outside chance at this point, but something I'd be very interested in us exploring), there are some fantastic players on the offensive line (Jonathon Martin from Stanford, Matt Kalil from USC) and at the skill positions (Justin Blackmon – WR – Oklahoma State, Alshon Jeffery – WR – South Carolina, Morris Claiborne – CB – LSU, Dre Kirkpatrick – CB – Alabama) that would clearly improve our team. Blackmon is a personal favorite, given his status as the top college receiver over the past two years – indeed, he won the 2010 Biletnikoff Award over a certain A.J Green, who seems to be making a lot of waves in the NFL.
Ultimately, that's what we have to look forward to – college prospects. This season is a write-off, and I'd be surprised if we won a game. 0-16 will be a humiliation, but perhaps we need to go through it to overhaul the roster and the coaching staff for another decade of success. At the end of the day, our QB situation will be resolved come May one way or another – with the best college prospect in at least a decade, or with possibly the greatest player of all time coming back to his rightful place. And the Jags are going to still be awful, which is something we can all toast.
Go Colts.