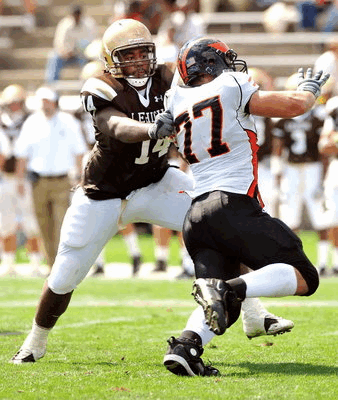 Will Rackley
College: Lehigh
Age: 22 Years Old
Experience: Senior (4 years)
Starts at LT: 16 games
Starts at RG: 37 games
______________________________
Height: 6 feet 3 inches
Weight: 309 lbs.
Arm Length: 33.25 inches
Hand Width: 10.37 inches
_______________________________
Projection: Offensive Guard
Projected Round: Third Round
Combine Results (Pro Day Results)
40 Yard Dash: -.– seconds
3-Cone Drill: 7.91 seconds
20-Yard Shuttle: 4.94 seconds
Bench Press: 29 reps
Vertical Jump: 23.5 inches
Broad Jump: 99 inches
_______________________________________________________________________________________________________________________
Speed: Rackley did not run the forty at the combine, but his projected forty time was in the 5.4 range, which is similar to most other mid round lineman around his weight. Scouting reports indicate that Rackley actually has rather good speed, is an exceptionally capable down field blocker, and works very well in space. The reports also indicate that Rackley is very keen off the snap and has a very quick reaction time, putting him in good positions on a regular basis.
Agility: Rackley's agility falls short of an NFL tackle prospect, but not short of potential as a guard, who will be called upon to cut back and pull in most schemes on running plays. Rackley appears to have good enough agility to be a very good guard and game film review is constantly praising his ability to move in space. There is no direct mention of how well Rackley can move inside a line, but he was dominant in the Patriot League and should have enough confidence to overcome most problems he encounters from not having amazing agility measurements at the Combine.
Experience: Rackley was the first freshman starter his coach Andy Coen had on the offensive line at Lehigh. This is a huge compliment because Coen was a 20 year coaching veteran. Rackley started every game in college but moved outside to LT just before the end of his junior year. Where his experience falls short is in his level of competition. While talent can come from anywhere, playing in the Patriot League will knock his draft stock down.
Size/Build: Rackley is built like a guard. He has insufficient height to be a hybrid tackle, but is built solidly enough to be considered a true guard. His stout physique and dominance against power defensive linemen all point to his overall strength. This is surprising in some regards as he tested rather poorly in leg strength drills at the Combine, but showed excellent upper body strength. His workout numbers do not match his tape with regard to his lower body though, Rackley withstands bull rushes and other power plays rather well. He may require some strengthening in his legs at the next level, but his size and weight are a good match.
Pass Blocking: While Rackley is only a small school prospect, he is considered to be an exceptional pass blocker. Whether he can withstand the increased level of competition is a mystery, but he was dominant on passing plays at Lehigh, and showed everything a good guard should. He has a quick reaction to the snap and hits opposing linemen hard, putting himself in a good position, and knocking defenders back on their heels. Rackley is also noted for his ability to withstand bull rushes by some of the biggest power linemen in the Patriot League. Again, that may not be saying as much, but his strong anchor stance, strong arms, great snap reaction, and impeccable technique all add up to a player who could become a very very good guard on a team that really utilizes the pass, like the Colts.
Run Blocking: Rackley is considered an excellent run blocker. Not so much for his dominance in this case, but more for his proficiency. He isn't a road grader, and his lack of leg strength becomes rather apparent as he is generally unable to push linemen off the line following the initial hit. That said, Rackley has impeccable technique and can control defenders to open running lanes and provide excellent blocking down field. He does struggle at times to identify where or who he should block, but not often enough to be a major concern. He may not do as well in a zone blocking scheme that relies on players to pick up blocks in their zone, but the common consensus is that Rackley has enough drive and potential to play in any scheme.
Health: Rackley is considered to be a very durable player and never missed a game due to injury. He opted out of running the forty yard dash at the NFL Combine, but fully participated in all other drills. His absence from the forty does not seem to have been the result of any injury and was more a personal decision.
_______________________________________________________________________________________________________________________
OVERVIEW: Overall, Rackley seems to be an excellent option as a guard. He has the technique down already and could likely start in place of RG Mike Pollak from day one, but he has a number of things working against him as an option for the Colts. Given the need for an offensive tackle, the best two rounds to obtain that tackle are in the first with Solder and Carimi, or in the 3rd with Carpenter, Gilbert, and Boling, While having another guard to pair alongside standout Kyle DeVan would be good, the likelihood of the Colts picking up a pure guard in the 3rd with players like SS Tyler Sash and DT Ian Williams likely to be around is rather poor. Unlike Boling who projects as a good hybrid lineman, Rackley will more than likely be unable to move further inside to center, or outside to tackle, making him less valuable. If he were to fall into the 4th, though, he may have a much better shot, especially if only one other lineman has been taken by that point. That is rather unlikely, though as Rackley's stock has been rising in recent weeks, and plenty of other teams can use a pure guard to augment their line and are willing to take Rackley in the late second and early third round. All in all, Rackley is a very nice prospect but he seems to be a case of his value to the Colts and his availability will simply not match up.