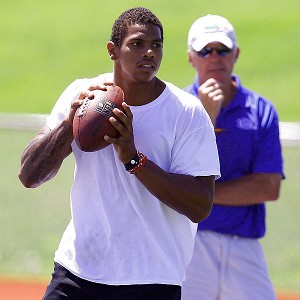 [
In today's NFL Supplemental Draft, there was very little activity, none by the Colts, but one newsworthy event did happen. Former Ohio State quarterback Terrelle Pryor was selected by the Oakland Raiders in the 3rd round, meaning that the Raiders forfeit their 2012 third round draft pick for the troubled QB. Pryor ended up being the only player taken in the draft. This will finally put to rest the silly Pryor to Colts talk, which persisted despite Jim Irsay's tweet discrediting the rumor. The Raiders likely selected Pryor due to his 4.36 and 4.41 40 yard dash times, and, as Adam Schefter noted on Twitter, they have drafted the players with the fastest 40 times in the last three drafts:
Raiders drafted players with fastest 40 times at the past 3 combines — DeMarcus Van Dyke, Jacoby Ford, Darrius Heyward-Bey — plus Pryor.
Schefter also noted that the Raiders have used three of their top four picks in the 2012 NFL Draft already:
Quiet draft ahead: Raiders traded 2012 2nd-rd pick to NE on draft day, used 3rd on Pryor, traded 4th in 2012 to WASH for Jason Campbell.
For those three picks, the Raiders now have: QB Jason Campbell, QB Terrelle Pryor, RB Taiwan Jones, and OL Joseph Barksdale. It's times like these that I'm glad I'm a Colts fan. Al Davis and his love for 40 times are insane, and are driving the Raiders to the ground. In other news, the sky is blue and Peyton Manning is starting Week One.