One of the earlier Colts moves on Tuesday evening was to sign former Arizona Cardinals cornerback Greg Toler to start the rebuild of the defensive backfield – a unit which descended to atrocious levels of play last year. He signed a 3-year, $15m deal to in theory join Vontae Davis as a starter. In keeping with our rundown on the Colts acquisitions thus far, here's the lowdown on Greg Toler.
An initial look at Toler doesn't yield a great deal of information – his 6'0, 193lb frame is fairly typical for the position, though he'll undoubtedly provide a clear length/reach upgrade on the now-departed Jerraud Powers (ironically enough, to Arizona). This was one of my primary issues with Powers – he couldn't easily match up with receivers in excess of 6'2 and expect to win in man coverage – Toler provides a more physical presence.
I've chosen three plays to highlight Toler's game – I know it's a small sample size. The fact is that his highlights (5 career INTs) weren't particularly helpful in terms of camera angles and the plays themselves being bad quarterbacking as opposed to great work on the back end.
I'll start with the most recent play I've chosen from Toler – taken from the Cardinals vs. Lions game in Week 15 of 2012. It's a 4th and 2 from the ARZ 2.
Firstly – context. It's a 4th and 2 with less than 6 minutes to go in a 2 score game. Toler is lined up at RCB opposite Kris Durham, Matthew Stafford's own version of Brandon Stokley. It's straight man coverage across the board.
A quick run through of the play from the wider angle shows the man coverage, Toler's matchup on Durham – in which he places a forceful hand on Durham and then proceeds to watch the quarterback – and the terrible throw from Stafford.
The throw comes in and Toler makes a leaping interception. The position of the ball bang in the middle of two receivers deserves to be questioned, though a closer examination of Toler shows that it's a great play on his behalf.
For posterity, I should make clear that he took it all the way to the house for a 102 yard game-sealing touchdown.
Anyway – from this angle we can really get an idea of Toler's role on the play. You can see how much of his attention is focused pre-snap on the quarterback, and from watching tape he seems to favour the 'eyes in the backfield' approach'. Durham's running a fairly simple fade on the outside.
Toler takes his eyes off Stafford to focus on what's in front of him, and he's evidently confident of his ability to lock down Durham.
As soon as he's able to decipher Durham's route, he sticks out a hand to limit the receiver's progress and steals a quick peek at Stafford in the pocket. This glance lays the foundation for everything which takes place afterwards.
He's able to see Stafford staring down the right corner of the endzone, and he's able to quickly track the progress of the football leaving Stafford's hand. He sits on the route – much in the manner of a zone corner with safety help over the top – and waits for the ball to arrive.
A clean interception with a flash of ball skills is first consequence, with a game-sealing touchdown the ultimate end result.
Relying so heavily on watching the quarterback can however have disastrous consequences. Here's an example, from the Cardinals vs. Rams game from Week 12 of 2012.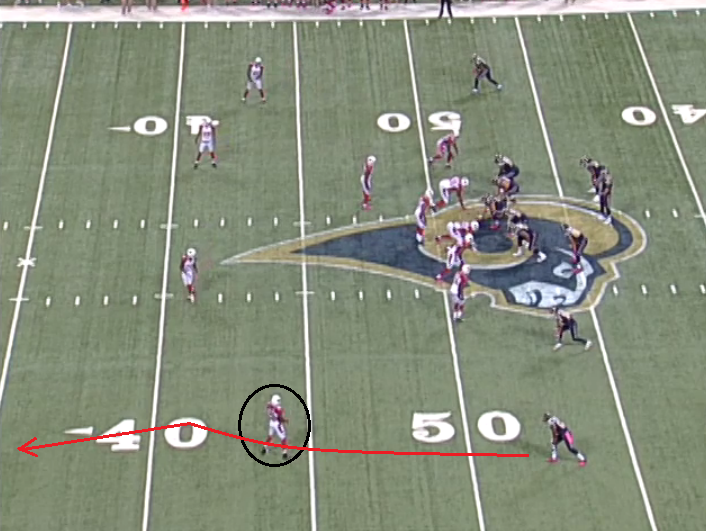 Toler again lined up at RCB, matched up opposite the rookie WR Chris Givens of the Rams. Givens is running a double move on the play – with solid protection, Givens is tasked with faking a move inside before breaking back up. A typical double move.
The ball is snapped and Givens gets a quick release off the line. Toler's adequate cushion is augmented by a slight backpedal. In the pocket, Bradford has all day to survey the field – and he's well aware that he has a route developing on the back side.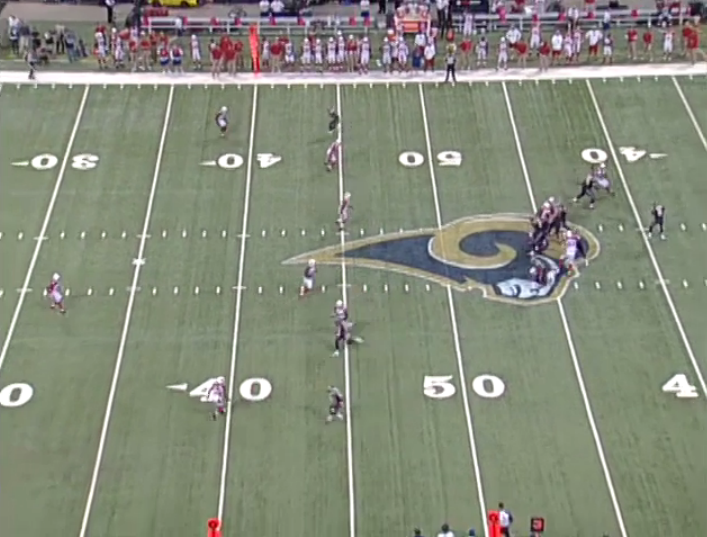 Givens makes his fake move inside with a few quick steps, and Toler gets beaten all ends up.
Toler ultimately trusts his eyes and instincts too much, as with a lot of corners that are beaten on double moves. On the plus side, it shows the desire to anticipate and make plays on the football. The downside comes when teams start to notice this tendency and deliberately plan against it. Toler breaks inside, Givens takes it up.
And despite the terrible cameras in use in St. Louis for the All-22, you can see how swiftly the separation opens up.
From the broadcast frames we can see everything develop from a closer perspective. Givens is about to make his double move, and Toler is intent on staring into the backfield to his heart's content.
In his peripheral vision, Toler notices the shift in momentum from Givens and adapts to it. He's still looking into the backfield at this point, completely running on autopilot.
Eventually, his mind catches up with his body and he catches himself, acknowledging it's a double move. All i'll say is this – any time your corner looks like this, it's bad. Very bad.
What I find amazing is that his attempt to backpedal – both to widen Givens' route and give himself room to accelerate down the field – is complemented by the fact that he's still staring into the backfield. He's either stubborn or extremely confident in his own abilities.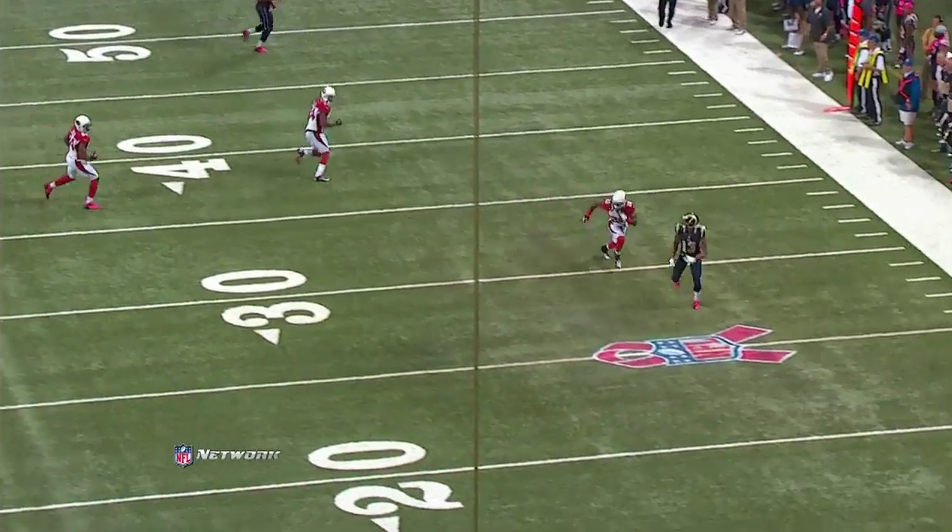 By the time he eventually turns round and locates Givens probably, it's curtains. The receiver is in full flow while Toler has to accelerate, virtually from a standing position. He can't make up the ground, and the throw from Bradford is a good one.
Toler on toast. He grabs his hamstring 5 yards from the goal-line, and he may well have hurt himself by contorting and accelerating in such a way.
After watching a few games of Toler's play, I'm not unhappy with his signing from a coverage perspective. While he's not a ballhawk, he's competitive in coverage and provides a clear size upgrade from Jerraud Powers. He might be overreliant on his peeking into the backfield – but in a division with Gabbert and Locker, I don't mind him having a look back there once in a while. They'll stare down receivers, and opportunities will be there as a result.
The next play I've chosen comes from the Cardinals vs. Chargers game of 2010, a blowout in favour of the latter, though with highlights for our man Toler.
The play design is a simple one – a toss play to Darren Sproles, who's tasked with taking advantage of stacked receivers and a pulling LT for blocking. Toler is at RCB and has to deal with typical cornerback issues on the play – primarily contain.
As Sproles receives the pitch, the Cardinals defenders do a good job of flowing laterally to that side of the field. Toler recognises his responsibilities along with the aim of the play and moves into position. He's aided by the Cardinals linebacker who moves off his blocker and takes up the LT's attention.
Toler is able to see two defenders inside – one occupying a blocker, the other occupying the inside lane. He's thus able to gear up for a showdown with Sproles, knowing that the diminuitive RB will take the path of least resistance.
Toler takes the outside route and sizes Sproles up one last time.
He absolutely lays the wood, targeting the ball with his shoulder. He cleans out the ball with ease. Great hit.
Noone really knows where the ball is for a minute, before Kerry Rhodes scoops it up and is aided by Toler in a path to the endzone. A potentially game changing play.
While the eventual camera angle for the hit isn't great, you can nonetheless see Toler's concentration and physicality in making the hit.
I take satisfaction from Darren Sproles and a negative outcome anyway, given the Chargers/Colts history. From a pragmatic perspective, perhaps he can do the same to MJD.
Conclusions
While I haven't used my typical range of plays to highlight Toler's play, perhaps it's appropriate given the largest question mark over him is regarding his injury history and lack of availability.
What I do know is this – having watched Toler a fair bit since news of his signing broke – he's a competitive corner willing to involve himself in the run game. He can play man on the back end and given his ability to watch the quarterback and sit on routes, I'd be willing to wager he's more than comfortable in zone relative to our other corners as well. While he doesn't have a flashy interception total, he's shown an ability to take the ball to the house – 2 of his 5 INTs have been returned – and help others get there with intelligent blocking, too.
$15m for 3 years certainly doesn't break the bank, and given our woes at the position I think he'll be a considerable upgrade. The difficulty lies in the aforementioned durability concerns – I'm inclined to think that we let Jerraud Powers depart for two reasons. Injuries and size, with the latter being less of a concern. Moving from Powers to Toler might not solve anything if injuries flare up, and given today's signing of LaRon Landry (i'll get to him on Monday) at S, it becomes even more of a concern.
The Landry signing also raises another question which Toler is a part of – why are we so geared towards stopping the run on the back end of the defense? Antoine Bethea has shown his quality in terms of making tackles and stopping the run. Vontae Davis is clearly adept in that part of his game, and it's something that Toler is fairly renowned for as well. The addition of Landry makes our theorised starting defensive backfield complete – and every component is a superior run defender compared with their work against the pass. I hope this isn't a manifestation of Chuck Pagano's 'run the ball, stop the run' mantra, but it sure looks like it.
Ultimately, you can look to Toler as the replacement for Jerraud Powers. If he can replicate his 2010 Cardinals form, it'll be a fair to considerable upgrade. If he isn't able to improve on the durability score – 38/64 games played for the Cardinals – then it's a sideways step at best.
It may be fair to question other moves Ryan Grigson has made up to this point, but this isn't one of them. Hope at the cornerback spot, thank the lord.
@CA_Savage