Taking a leaf out of my colleague Todd Smith's book – after his breakdown of whether the Colts should keep Donnie Avery – it's time to consider free agency. In this case I'll alternate the focus to the defense, and specifically pending free agent cornerback Jerraud Powers. The Colts woes in the defensive backfield have been well-documented by all and sundry throughout this season, and thus the question becomes – is Powers worthy of retention?
Firstly, it makes sense to consider the defensive backfield as we look towards free agency and the draft. We have an entrenched quality safety in Antoine Bethea who is more favoured towards run defense than pass coverage. At cornerback, Vontae Davis can be considered at least a #2 with the size and speed to be coached into a #1, while the rest of the backfield is a complete wreck. Joe Lefeged has shown some aptitude on special teams and appears to be a better fit for the defense than Tom Zbikowski – though I question whether a Bethea-Lefeged tandem can work, given the lack of skills in coverage.
Unfortunately for Jerraud, he doesn't possess the strict cover skills we're looking for on the back end at this point in time. A proficient tackler when healthy, Jerraud was a good fit for the Cover 2 under Dungy and Caldwell, where his size wasn't an obstacle to potential success. With the hiring of Pagano & Manusky, the defense has changed completely – blitz happy and man-heavy on the outside, the aggressive 3-4 hybrid is the very antithesis of the Cover 2.
As such, I feel obliged to detail the following, for it sticks too prominently in my mind to ignore when considering Powers and whether he fits in the new system we're looking to institute on defense. It's from the Colts-Bengals game in the Year of the PaintOr, and it's AJ Green against Powers in man coverage – a rare prospect considering the Colts were still co-ordinated by Coyer and co.
Powers (5'10, 190lb) is circled in black, with AJ Green (6'4, 210lb) opposite him running something approximating a dig route, with the schematic design of a pick play adding something to the mix – Green's route should help his follow WR in that he'll obstruct the path of the other cornerback.
Now, Powers vs. Green clearly isn't an ideal matchup, and perhaps some will say it isn't fair to highlight this one play. My response would follow the lines of how many tall receivers we face on a regular basis – Kenny Britt (perhaps for not much longer), Andre Johnson and Kevin Walter are all 6'3 and above, and on teams who we face at least twice a year.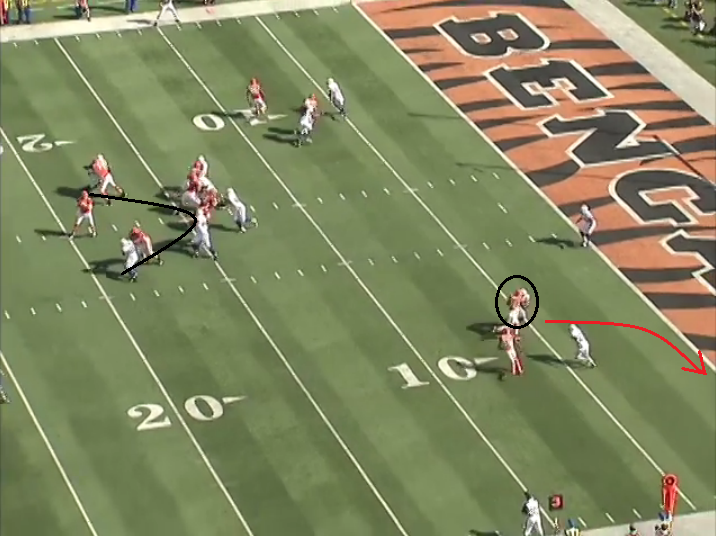 Powers attempts to bring physical play to the party, though his attempt to redirect Green only has limited success given the frame of the individual he's up against. Fast forward to the reception and the proper broadcast as opposed to the All-22..
The ball is floated by Dalton, who's looking to take advantage of Green's superior wingspan and reach. If Green can manage to catch the ball at it's highest point, Powers doesn't have a chance. The latter seems to have a rough idea where the ball is at this point, and that's a positive with Powers – he's always been relatively aware of what goes on around him on the football field, and he frankly looked like Revis at times compared to some of the scrubs we were throwing out there in the past couple of years.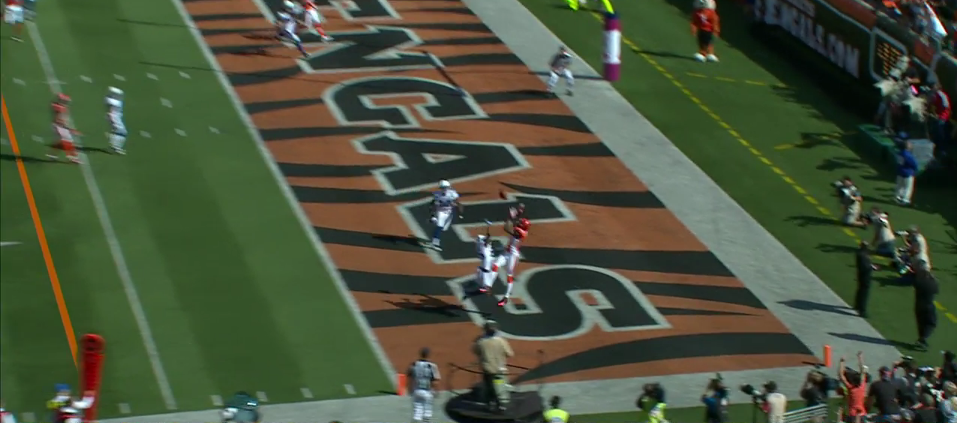 The above frame sums it up – Powers leaping for the ball and trying in vain to make a deflection while Green jumps and is able to high point the reception, thus leaving the ball out of reach of the Colts cornerback.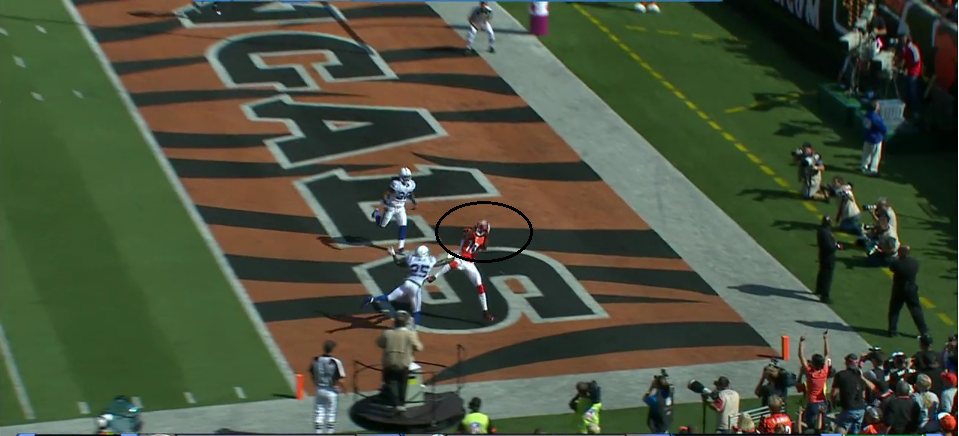 Green then uses his superior frame to shield the ball from Powers and complete the reception. Not overly much that Jerraud could do, but a snapshot of the reality we face each week regarding matchups. Next year in the 6'3+ bracket, we face the aforementioned Britt x2; Johnson x2; Walter x2. Add into the equation the non-divisional opponents we're due to face, and the list includes Larry Fitzgerald; Sidney Rice; AJ Green (again, and I don't think Marvin would have forgotten); Decker and Demaryius.. I could go on all day.
Another issue I have with Powers is the lack of turnover potential – he's not a Charles Tillman turnover machine despite his prowess in the tackle, and his ball skills are hit and miss to say the least. I can remember with frustration occasions on which Powers found himself in the perfect position thanks to his football awareness, only for his hands to let him down.
The following play – taken from the Packers game in Week 5 of this year – really displays to me the way that Powers plays when on the field. Physical and surprisingly strong for his frame, with a natural awareness of what's going on around him.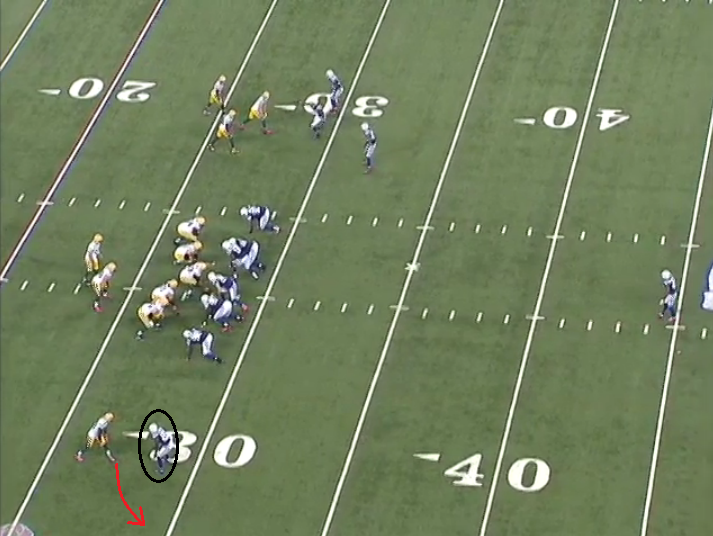 He's matched up on James Jones of the Packers – previously known as a manufacturer of drops like no other, Jones has upped his game this year in the absence of Greg Jennings to become a primary threat for Aaron Rodgers. He'll run close to the sideline in an attempt to create the right angle for the back shoulder fade, a concept which the Packers seem to absolutely adore. For the observant amongst you, it's worth watching the Packers bunch formation at the top of the screen – the Colts attempt to sort out assignments between themselves and fail miserably, eventually leaving Randall Cobb completely uncovered on a potential screen.
Powers stays in tight to Jones, really complicating the entire process for Rodgers and Jones. The latter is still trying to manufacture separation as he makes his way toward the sideline, but Powers sticks in close and isn't having any of it. Powers keeps a close eye on Jones, which bears fruit in due course.
Jones tracks the ball through the air and upon release must realise that it's a pretty atrocious throw from Rodgers. Powers' focus on Jones allows him to estimate when he thinks the ball will arrive by reading the receiver's body language, which Jerraud does excellently here.
He flips his hips and turns around to compete for the ball. As referenced, the throw from Rodgers leaves a lot to be desired. He doesn't throw it out toward the sideline, failing to give Jones the room he needs to make the catch and protect the ball from Powers' attention. It becomes a competition for position, and Jones doesn't seem particularly keen to get into a physical battle.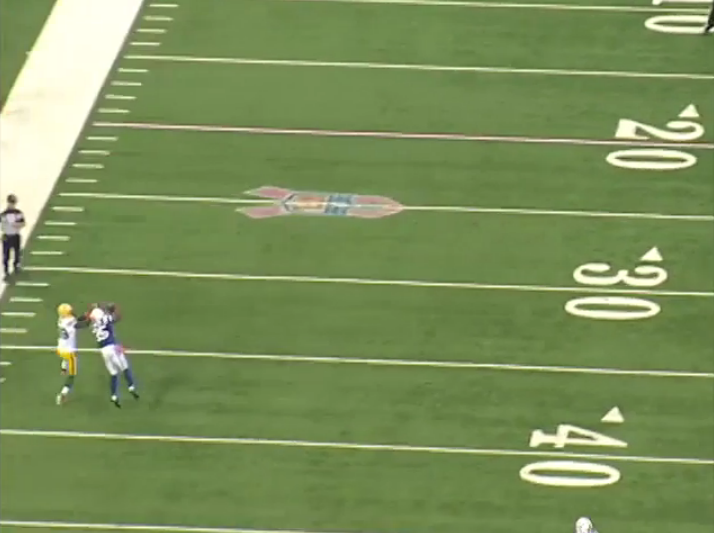 Powers is able to step in front of it after jostling for position, and he reels in the Madden-esque interception.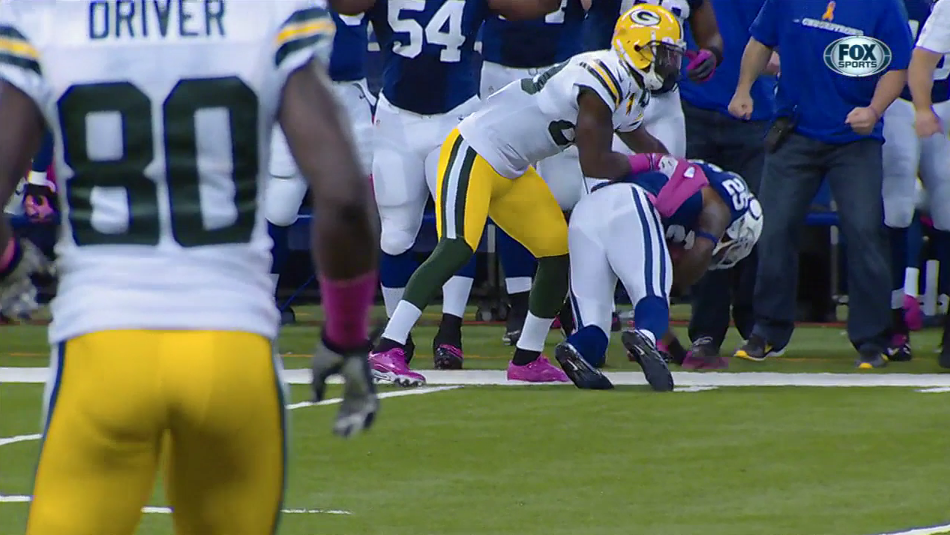 Finally, he does a nice job of concentrating on keeping himself in-bounds to make the turnover. Poor throw or not, it's a fantastic play from Powers. The stare-down from Rodgers even with another receiver wide-open simply shows that even the best can make mistakes – though we saw enough of that on Saturday.
Ultimately, any Colts fan who has watched Powers in the past few seasons is likely to associate him with positive thoughts, such was the difference between #25 and any other individual we were putting out there at cornerback. Measurables be damned – and PFF's metrics, for example, haven't ever really liked him – he passes the eye test, even if he's nowhere near a shutdown corner.
If the decision was simply based on his play on the field, I'd be inclined to explore the possiblity of him returning – I think he's a fairly versatile player who could play in a variety of different roles, though he perhaps lacks the speed and agility to play in the slot. He brings a physical presence to the defensive backfield and never shirks a tackle – the only issue with this being our already run-predicated secondary. Davis and Bethea have both shown themselves to be willing helpers in the run game, so I'm inclined to suggest that we pursue pure cover men in the near future.
Unfortunately, the decision isn't just about that, or about my feelings as a fan. It's about the financial health of the Colts long-term, and about building a solid, reliable defense which isn't ripped apart on an annual basis by injury. Powers' track record of 42 games played out of a potential 64 indicates that he simply isn't durable enough to be relied upon, with 20 of those appearances coming in the past two seasons. Missing over a third of your team's fixtures isn't a recipe for success, and as such I can't advocate that he be re-signed.
The length of time it took Pagano and staff to notice Cassius Vaughn's ineptitude necessitates us going after durable corners. Powers doesn't fit the profile.
Pros:
+ Willing and proficient tackler
+ Relatively good football awareness and IQ on the field
+ Disproportionately physical in pass defense
+ Good locker room presence by all accounts
Cons:
– Real durability issues, with over a third of games missed since he was drafted
– Better run defender than pass defender – as is already the case with Vontae and Bethea
– Concerns over height/weight (5'10, 190lb) relative to the receivers he'll be facing regularly
– More suited and experienced in zone compared to man, with the Pagano Colts defense shifting towards the latter
– Questionable ball skills
For as much as I like Jerraud as a player – particularly the punch he packs for a shorter guy – this is a fairly obvious verdict for me to arrive at. As an unrestricted free agent, he should be allowed to test the waters.
Verdict: GO.