Sunday's 28-16 win over the Houston Texans was the perfect end to a great season from a Colts fan perspective. This was the game where the Colts truly put it all together – a consistent product on offense, defense and special teams resulted in a convincing win over our main rivals, putting a severe dent in their playoff hopes while imbuing our own with a fresh dose of Chuckstrong.
Even the Colts' reticence to pick the ball off disappeared on Sunday, with Vontae Davis picking up two interceptions thanks to some good positioning and smooth ball skills. To me, this was a tale of two quarterbacks headed in two different directions. Andrew Luck again showed how fantastic he really can be with an adequate supporting cast, while Matt Schaub was the primary reason Houston failed to muster any sort of challenge on the day. His physical limitations (arm strength, speed, agility) really limit the Houston offense considerably, and if I may continue banging the drum, Houston won't go to the next level until he is gone.
Concentrating strictly on the defensive performance, Arian Foster again had his fair share of success with 16 carries for 96 yards, with a long of 39 yards. Take that one run out of the equation and it's 15 carries for 57 yards – so props to the run defenders and the front 7 for stepping up when they had to.
The major performance worthy of praise on D was of course Vontae Davis, who has continued his recent improvement. Perhaps it's coincidence, but I can't help but consider the return of Chuck Pagano as a potential reason why – a DB coach by trade, he knows how to coach these guys up. Having Coach Pagano back at the helm will help in a multitude of ways, the foremost of which I'm hoping will be a patch-up job on the defensive backfield in time for the playoffs.
In any case, I digress.. Let's get to the good stuff:
It's a 1st and 10 for Houston from the IND 43, in a 7-0 Colts game. There are roughly 4 minutes on the clock in the 1st Quarter, and from here on in Schaub faces a world of pressure and hurried throws. Let's see the introductory blow.
I've highlighted the routes to show the Texans' intent – clearly a deep shot to try and gash the Colts in the opening exchanges. Arian Foster runs a short curl route straight up the gut, though there must surely be some chip assignment which he's disregarding – i'll get to that. The Colts playmaker on this example is Clifton Geathers, an unfamiliar name to most. I haven't highlighted him yet, so perhaps an element of surprise remains for you, the reader. In the event, the Texans are running a jazzy 1WR 3TE 1RB set with all three TEs stacked to the left running verticals.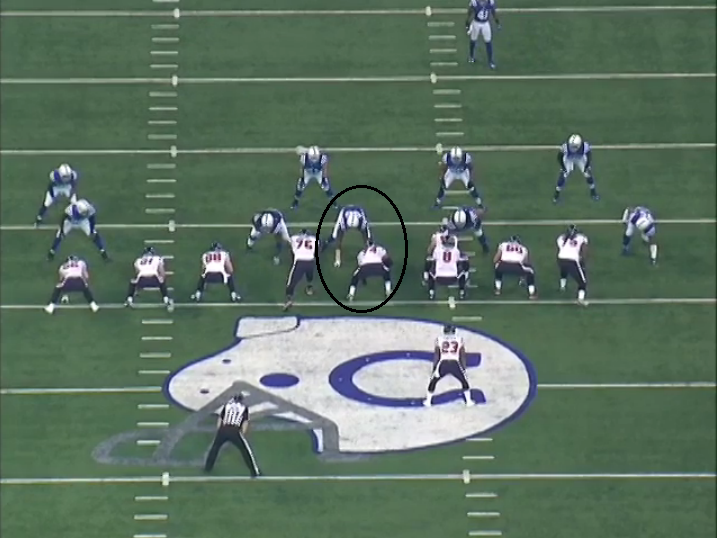 Ah, the surprise is ruined. Geathers (#66 – DL) is lined up over Wade Smith (#74 – LG) on the play.
While the Colts do have a 9-man box, Smith from the very moment of the snap seems far too preoccupied with goings-on elsewhere on the field. He's got enough of a problem on his hands with Geathers, and yet all he seems to want to do is help All-Pro Duane Brown (#76- LT) to his own detriment. He can also see Pat Angerer dropping off into coverage and hence can remove him from his threat radar, but he agan neglects to consider Geathers.
So, Smith moves to assist Brown (who by this point looks like he could use some help, in fairness) and completely abandons his man. Arian Foster seems blissfully unaware of the huge lineman about to impale his QB, and continues on his merry way. By this point Dwight Freeney has also made a fool of Derek Newton (#75 – RT) and is marauding towards Schaub in his typical fashion. The Texans end up with a spare blocker, Ben Jones (#60 – C), with a free man well inside. Someone made a considerable error, and I'm putting it on Smith and possibly Foster.
Geathers mops up with Freeney nearby for a statement sack, and the Colts are able to imprint some fear into the mind of Matt Schaub.
The following play surprised even me when it happened, given the Colts' lack of propensity to pick the ball off when it presents itself. Vontae Davis seems to be in a class of his own in the defensive backfield in this regard, as you can see here.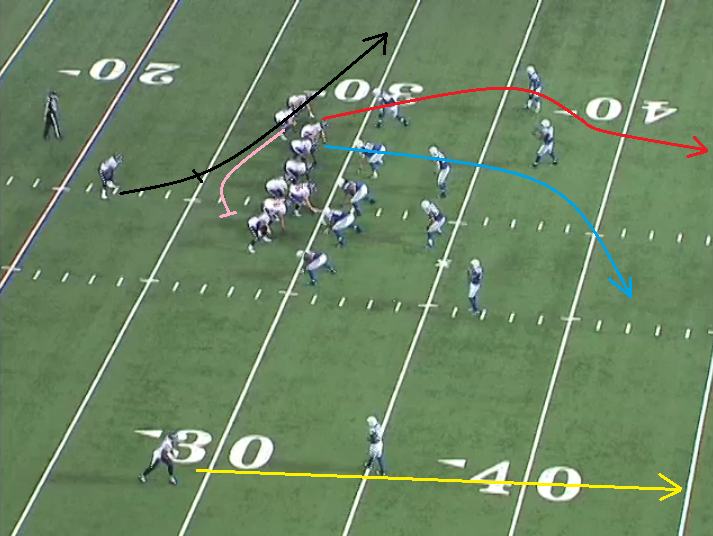 It's a 1st and 10 from the HOU 30 with the score at 7-6 Colts, roughly 4:20 on the board in the 2nd Quarter. The Texans are going to run their zone stretch play-action, off which James Casey (#86 – TE/FB) – route highlighted in red – should be receiving a long touchdown.
As Schaub fakes the handoff, the entire Colts defense strives to pursue, while some defenders manage to retain their assignment. Irrespective of play call, it ends up being Casey against Vontae on the outside, though the crucial action takes play when Casey moves inside on the vertical route.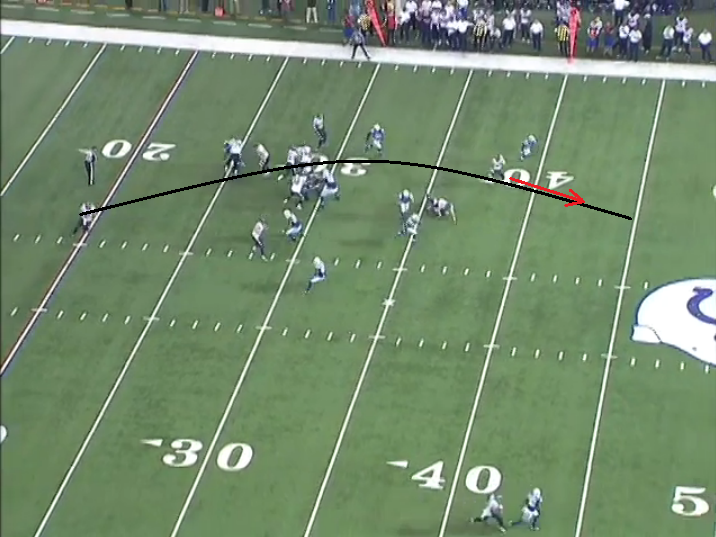 Schaub has acres of space to step into the throw or move around as desired. As an example of what he should be looking to do, it's look ahead and lead the receiver. This isn't a 'where the ball should go' illustration, but rather an illustration of mental processing. Casey has inside position on Davis with noone inside deep. It's a fairly routine throw-and-catch for a top drawer QB.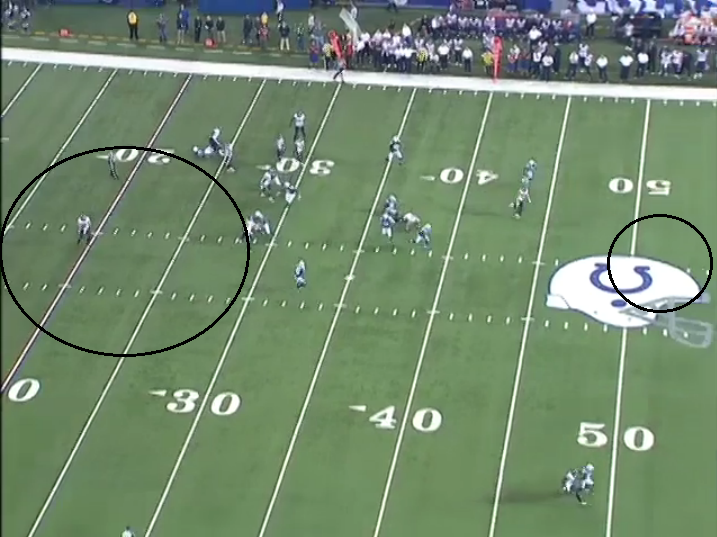 The problem is that he has almost too much time. Again, he should be looking to lead his receiver, though he's allowed to process what's going on for too much time and as a result overthinks it and underthrows it. He has even clearer separation by now, though Vontae is lurking with great recovery speed lest the throw be inadequate.
Schaub releases the ball far too much to the inside of Casey and it's underpowered to boot. Davis does an admirable job tracking the ball in the air and has the natural balance and quicks to move into position. You can see by the foot placement of Casey that he's had to stall for position on the underthrown ball, and it completely throws his momentum, and he's unable to affect the play.
Vontae makes a nice play on the ball upfield, and a long return is on.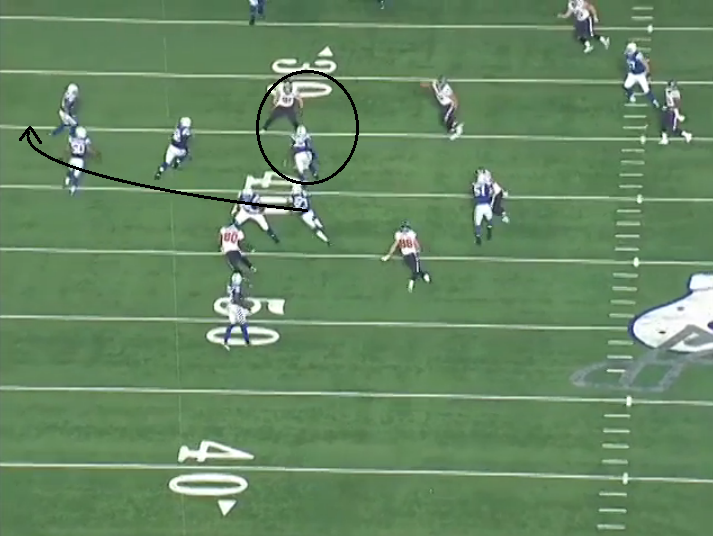 I'm choosing to continue the frames to express my irritation with Joe Lefeged (#35 – S) here. Vontae's made a great interception and he's running dangerously, and is one of the more dangerous runners on the team, i'd be willing to wager. Block for your guy, and it's potentially a touchdown.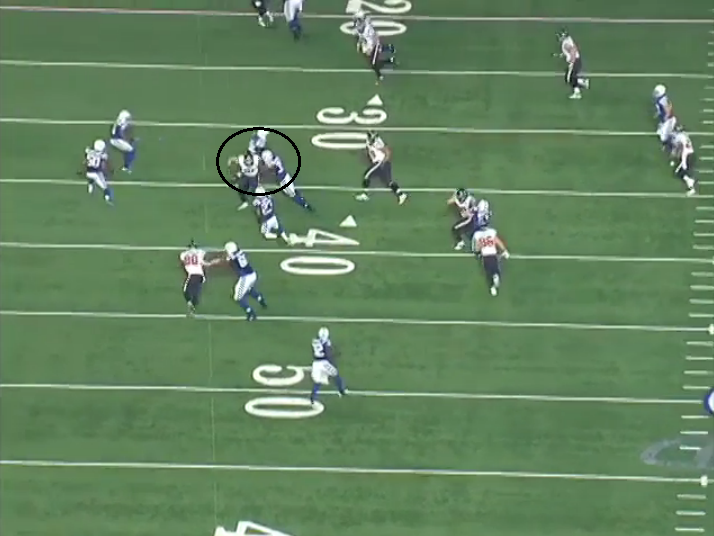 Instead, he whiffs completely and Vontae's in prime position to take a brutal hit for wanting to return the ball.
At the end of the day, if he's picked the ball off, it's more than Lefeged can say for himself. In a meaningless game, at least block for your guy isntead of letting him take a shot like that – clean wiped out in Week 17. With our previous injury luck, something here would've been no surprise, and I hope he's been flagged up for it.
Moving on to more demolishing of Schaub's confidence.. this time, it was the turn of old favourite Dwight Freeney, with a typical Freeney sack. It's a 1st and 10 from the HOU 23, with roughly 5:00 left on the clock in the 3rd Quarter. It's 21-16 Colts, so the Texans need to get something going at this point.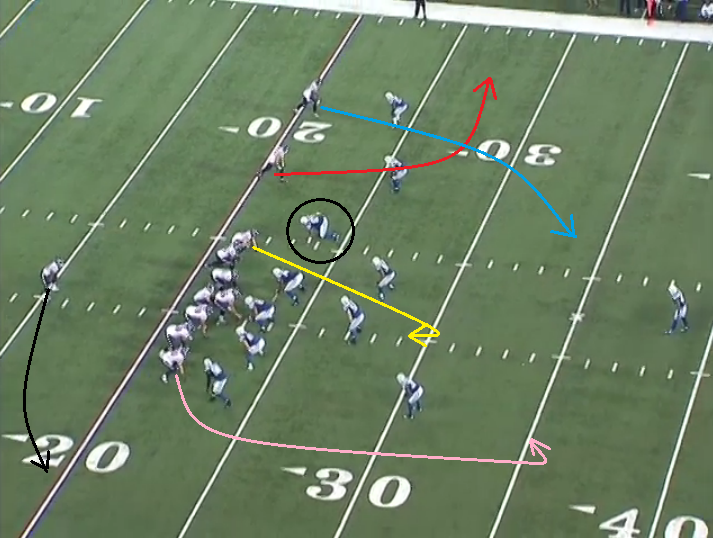 Freeney is lined up in the 9-technique spot at RE. I've drawn on the Texans' receivers routes for posterity, but on this occasion – as is so often with Freeney – the routes don't matter because he's there so quickly.
Owen Daniels (#81 – TE) is lined up inside Freeney, but will prove to be no bother as he releases on a short receiving route. As such, it's Dwight Freeney against Duane Brown, center stage.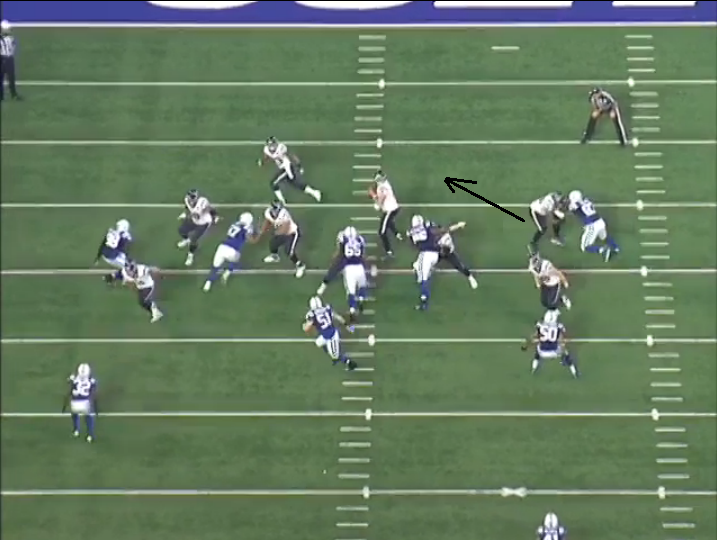 As Schaub begins his dropback, Freeney uses his peripheral vision to locate and thus begin his move. He has Brown back on his heels from the off and opts for a bull rush backwards into empty space, which leaves him free to disengage and launch as is his trademark.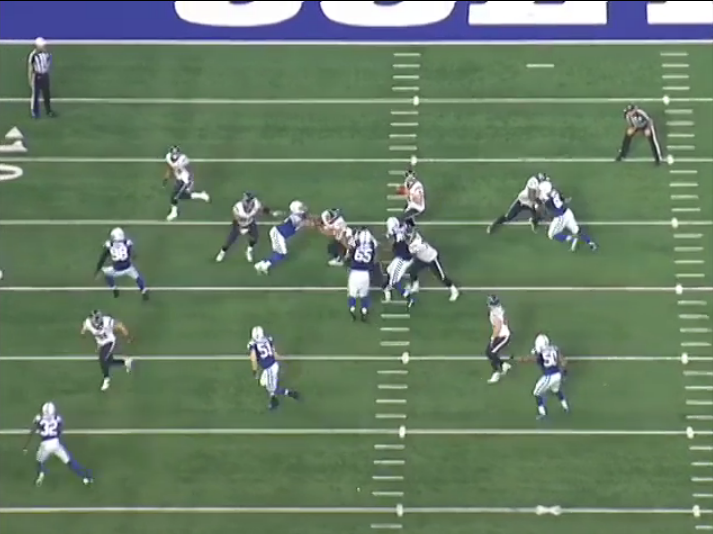 Schaub finally steadies himself, by which time he's able to sense Freeney on an impending tear. #93 has no problem pushing back the All-Pro Brown at LT and turns on the homing instincts.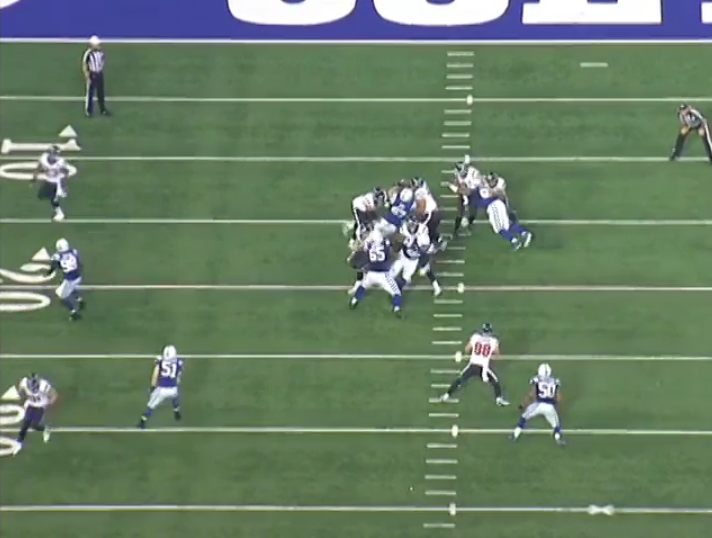 As aforementioned, Freeney disengages and launches onto Schaub, destroying any prospects for the play. Schaub wisely protected the football in anticipation of such an assault, and the Texans live to fight another day. Homage paid to Freeney, we can move on.
To early in the 4th Quarter we go, with another member of the Colts thrown-together DL making a huge play to completely destroy any Houston momentum. It's still 21-16 Colts, though as mentioned, it's now in the 4th Quarter with approx. 14:00 on the clock. It's a 3rd and 4 from the IND 28, with the Texans in FG range.
The Texans run a 2WR 2TE 1RB formation with a blocking TE assigned to Dwight Freeney and Arian Foster lurking to deal similarly with the threat of Freeney. The other options for Schaub are running either deeper routes to the outside or an inside curl from the TE to his right. Lawrence Guy (#67 – DE) is lined up over Brandon Brooks (#79 – RG).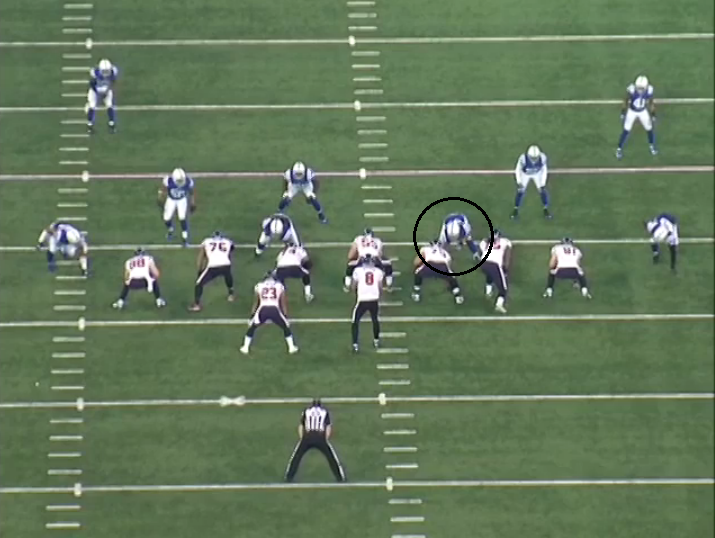 However, the routes again prove to be irrelevant given the confusion and dominance up front. Guy faces Brooks in the trenches, and the results are appropriately brutal.
Initially, Brooks seems to be coping well with the threat of guy and keeps him bottled up, all the while engaging him in a furious hand-to-hand combat to try and maintain his block.
Guy proves simply too lively to handle and disengages Brooks with a vicious shove. From now on, it's a beeline to the QB.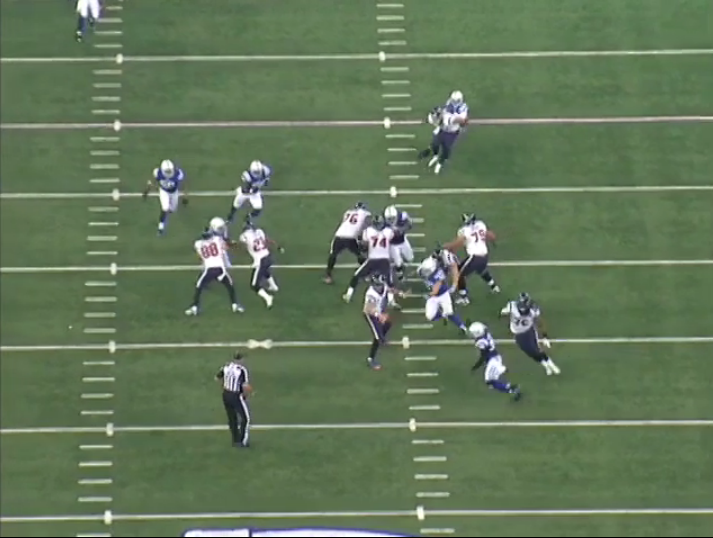 ..this being a 'this is going to hurt in the morning' type of moment.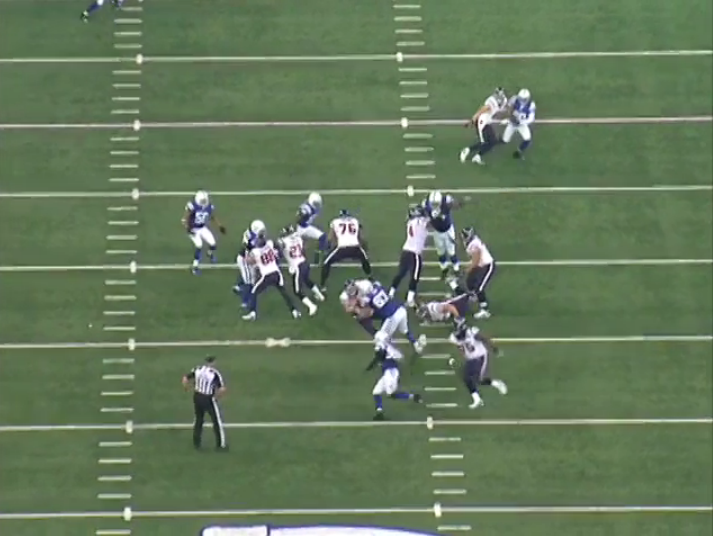 Guy absolutely levels Schaub and takes him backwards for a loss of 8 yards. Crucially, this makes the subsequent FG attempt by Houston a 52 yarder with the shaky Shayne Graham. Indeed, he missed, and the Colts had their field position platform from which they'd launch their conclusive touchdown drive (and what a throw by Luck, incidentally).
On a day where the defense showed it's true potential, it was perhaps only fitting to see another turnover miracle in the form of a second Vontae Davis interception. It's 9:53 in the 4th Quarter with the scoreboard 28-16 Colts. It's a 2nd and 10 from the IND 30, with Schaub looking for a deep play to resurrect Houston's flagging bye-week hopes.
The route you want to watch is that of Andre Johnson (#80 – WR) at the bottom of the frame. He's matched up on Vontae and he's running a fade down the field.
Given the context of the play, Davis knows the Texans are likely to make a strike downfield to try and repair the damage inflicted earlier by T.Y. Hilton. He gets a good inside position on Johnson and simply strives to get upfield with every fibre in his body.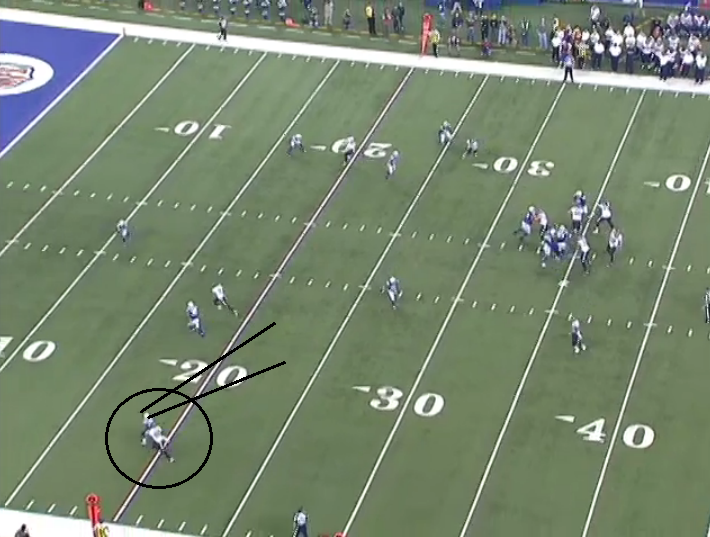 Schaub releases the ball under little duress for once, though little separation exists on the outside between Vontae and Johnson. The latter is about to break inside in frustration at not being able to separate vertically, though Vontae is unaware of that at this point. He takes a peek back toward Schaub and begins to track the ball.
As aforementioned, Johnson breaks inside while Vontae pursues the true location of the ball, in the endzone. It's an absolutely horrific throw by Schaub, though at this point I wasn't surprised given his limitations and performance on the day.
Vontae makes a clean pick inbounds and it's a great day for the Colts.
As I've mentioned earlier, I was ecstatic with the performance from the Colts and couldn't have hoped for more leading into our playoff game in Baltimore. The defense rose up and forced a jittery quarterback (hello, Flacco) into mistakes, and it's something I can certainly see us repeating next week. From then on, the path turns dark in either Denver or New England, but let's not get ahead of ourselves. A great weekend awaits with the Colts back in the playoffs, and we should just enjoy the prospect of that for now.
The renaissance of the Colts under Chuck Pagano and Bruce Arians has been a pleasure to watch all year-long, though the return of the former offers real new prospects to the defense for his defensive awareness and prowess and the offense for the now-freed Arians to concentrate his efforts.
I'll leave accolades and such for specific end-of-season pieces, which hopefully won't be for a while yet. I hope everyone's had a good Christmas and a Happy New Playoff Year to you all.
@CA_Savage