Heading into the game with the Seahawks, the Colts defense found itself in a fairly strange place. Lauded by most due to above average performances against the 49ers and Jags, the game against the Seahawks offered a true barometer as to where the unit is from a league-wide context. Pain on the ground was always going to prove likely, and with Russell Wilson and Marshawn Lynch both breaking the 100 yard barrier that was indeed the case. The lack of defensive integrity was frustrating at times, though just enough plays were made from a defensive perspective in the passing game to give the Colts a chance at a win.
Particularly worthy of praise is Jerell Freeman, who looks to be coming on leaps and bounds with every week – with recent weeks an exhibition of his pass rushing abilities. Similarly worthy is the perennial monster that is Robert Mathis. Freeman and Mathis together contributed a ton of pressure on Sunday, and it completely impacted the result of the game, masking some pretty poor coverage on the back end. Erik Walden even deserves plaudits for his play.
I've taken three plays from third down in the second half to show what I'm talking about.
The first play I've selected is a 3rd and 8 in the 3rd quarter – Seattle lead by two with 11:30 left on the clock.
The two primary players to watch are Greg Toler and Erik Walden, the former lined up across Sidney Rice (red) with Toler intersecting the yellow route line at LOLB opposite #73, Michael Bowie. Another individual worth a watch is Darius Butler – opposite the TE running the aforementioned yellow route.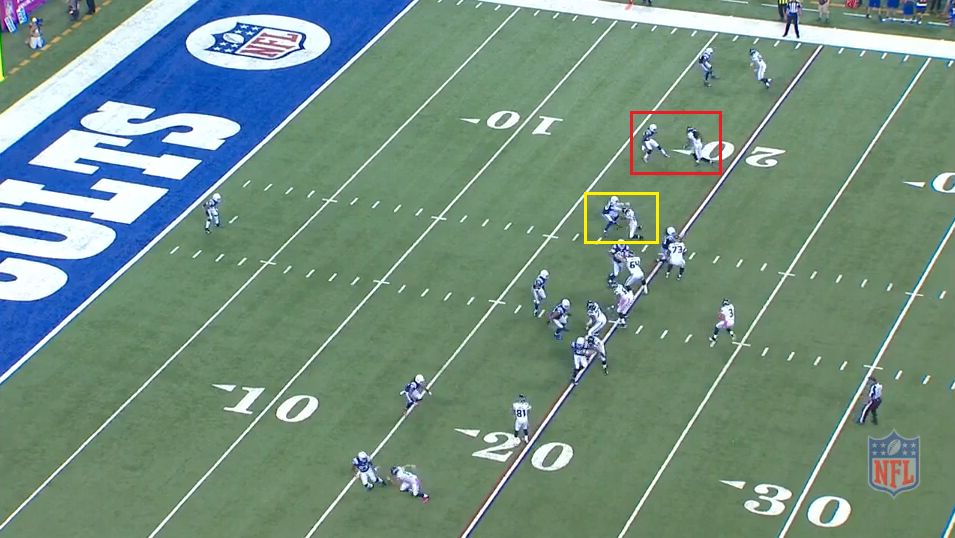 I'll zoom in on Walden and Bowie in the next play, though suffice to say, it's absolutely appalling blocking. Combine it with a predetermined throw to Sidney Rice and it's a very tough completion. With regards to Butler – he tries to jam the TE at the line, forestalling an outside move. In the event, it's an inside route – and Butler gets killed.
Walden (in black) has separated himself from the atrocious RT at this point, and is bearing down on Wilson. The latter is obviously aware of this, though unfortunately for him he doesn't pick up the crossing route of the TE, eschewing 5 yards of separation for a tougher throw to Rice.
With Walden intent on laying the wood, Wilson is forced to make the throw. In my opinion, if he throws this to the TE it's a first down and a touchdown. The separation and lack of safety help over the top (Single-high in the form of Delano Howell) leads me to that conclusion.
As Wilson is contacted, he releases the ball to Rice – who has inside leverage on Toler and a slight advantage in terms of distance. Nonetheless – the ball would've had to have been perfectly thrown, and in this case it isn't.
The ball goes clearly over Rice's head, and Toler initiates contact to preclude the reception being made.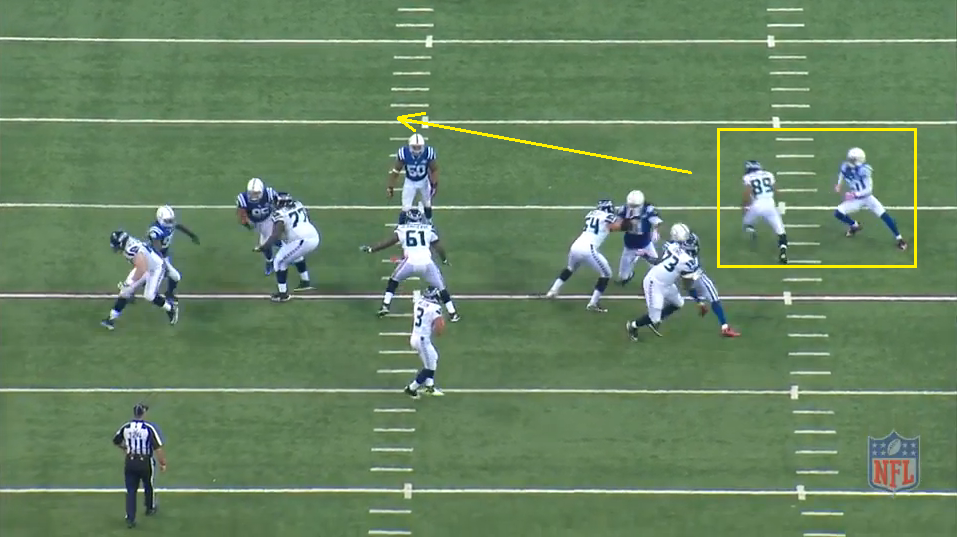 I don't blame the Seahawks for targeting Toler, who's looked vulnerable in a Colts jersey thus far. I do however take issue with Wilson's reads on the play – he's far too locked in on Rice and not conscious of what's in front of him. Butler screws up at the snap badly enough to warrant punishment, and he gets away with it, fortunately for us.
The theme of getting away with it continues in the second play I've chosen. It's a 3rd and 9 with 9:00 remaining in the 3rd quarter – Seahawks 22, Colts 17.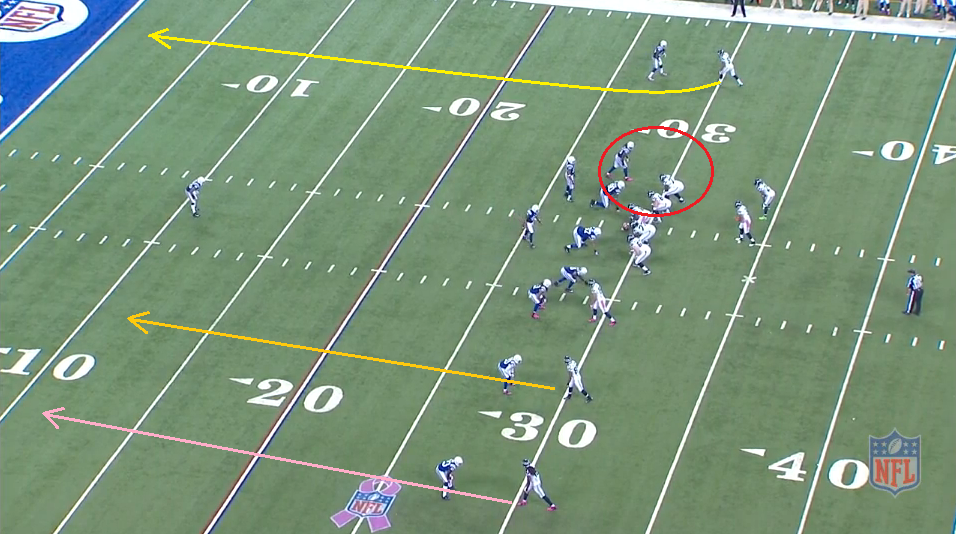 The play in question is a 3rd and 9. I've circled the Seahawks RT and Erik Walden in red, while routes of interest are drawn on as well. The route to watch is Greg Toler vs. Golden Tate in yellow at the top of the frame.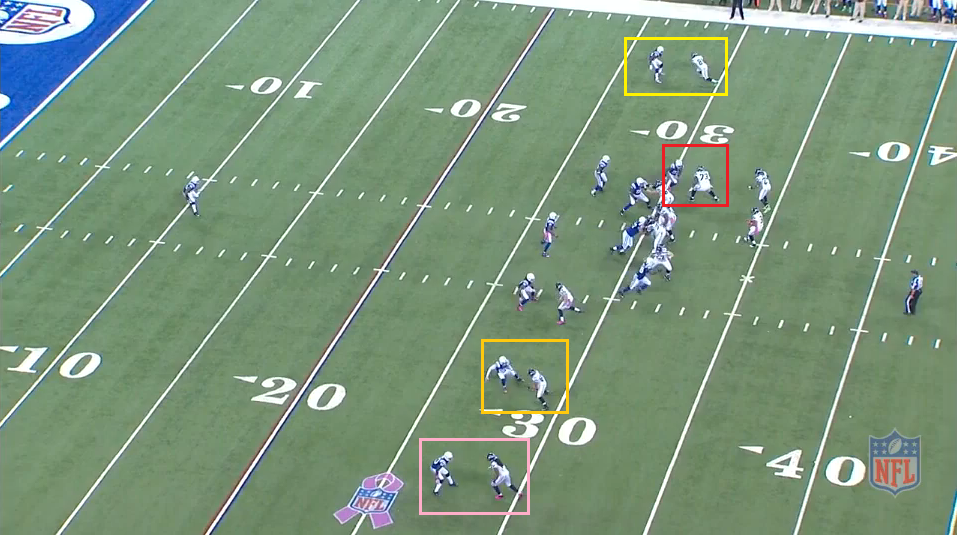 As Wilson takes the snap, he's already in trouble. Bowie at RT has contrived to screw up his block, to an even greater degree than the previous play. At the top of the frame, Tate's release isn't anything to be too worried about, though Toler makes up for this later.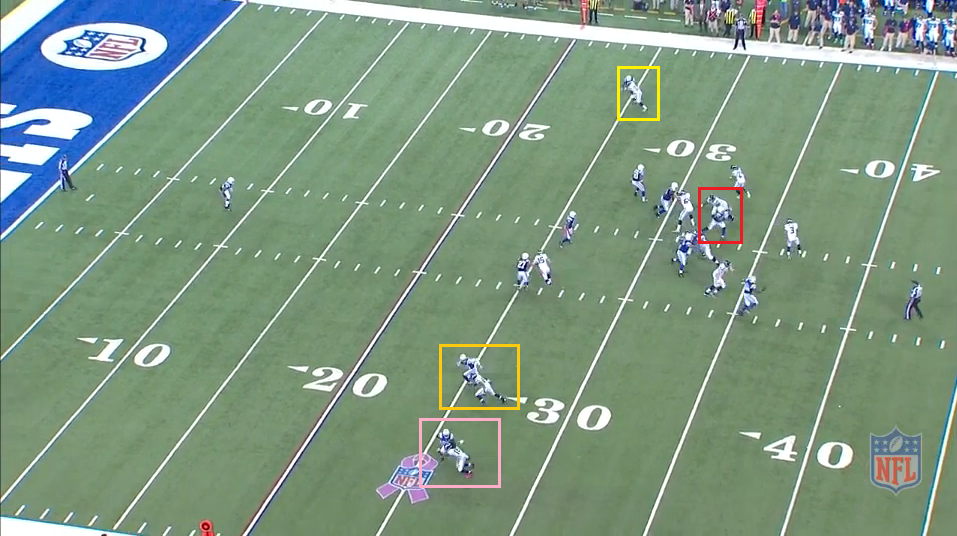 I've got frames for the Walden matchup from a different angle coming up – but i'll try to describe as succinctly as possible what's occurred. Walden takes a false step outside to signify the Mathis-esque speed rush, which instigates a ridicuously wide kickback from the tackle. Walden knifes inside through a hole the size of a mack truck, and bingo. Again, at this point, Toler doesn't seem in too much trouble.
Here's where the separation becomes evident. For a quarterback the calibre of Wilson, this is a surefire touchdown throw if he isn't under duress. The OL sees to that, and he's got Walden in his face.
As time passes, the separation only becomes more evident. Wilson utilises his escapability to extend the play longer than is warranted considering the screwup, though he unfortunately (for the Seahawks) doesn't see his receiver downfield as he's too busy scrambling for his life.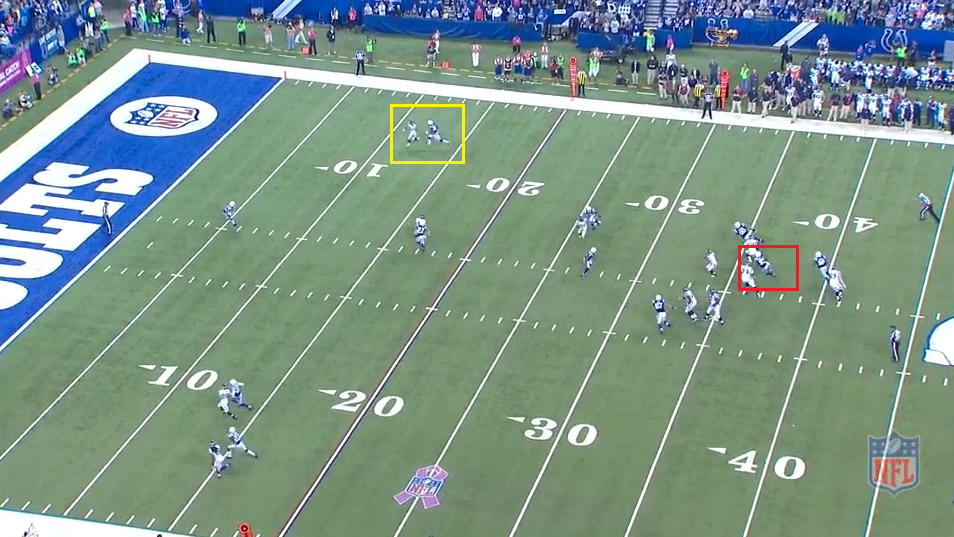 Wilson desperately looks around for options, though by this point the separation isn't so evident and he's clearly a bit frazzled in any case. Walden lurks behind and hustles to finish his play, to his credit.
Walden ends up taking Wilson down for a 6 yard gain on 3rd and 9 – an absolutely massive play in the grand scheme of the game, with Seattle leading in the 3rd quarter. Let's take another look at the blocking.
The aforementioned fake outside step is circled, though I'm going to struggle to highlight X's ineptitude in a couple of frames.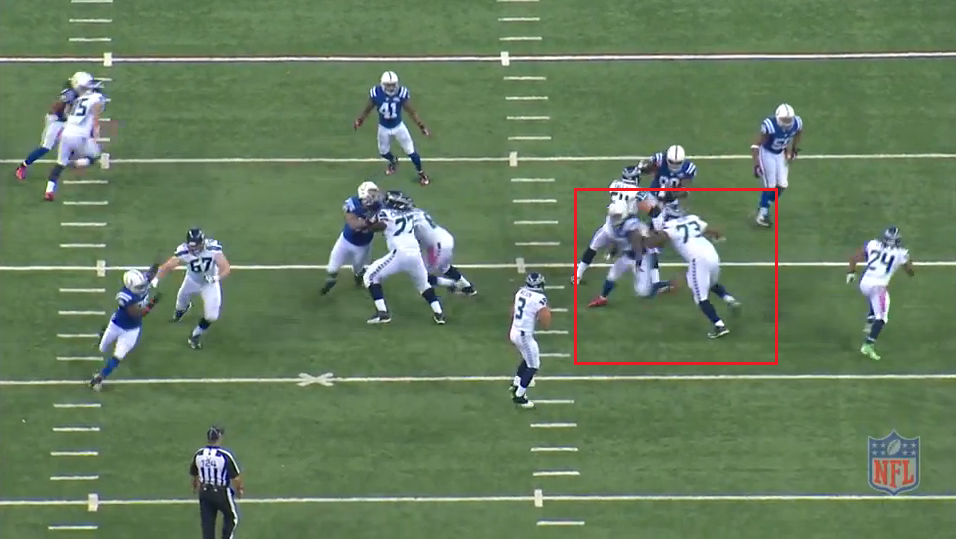 It's hard to convey without a multitude of frames, though if you look from the first image to this one, you'll see enough. The kick outside from the tackle is so disproportionately wide as to beggar belief. I question whether the tackle knows anything at all about Erik Walden and his outside speed rushing – and that's context an offensive lineman absolutely has to have in his head.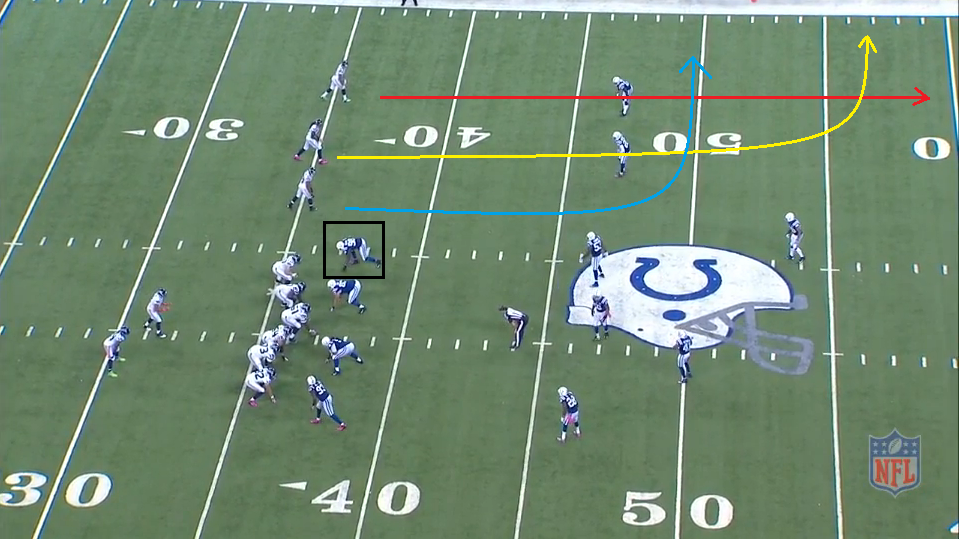 The third and final play I've chosen again illustrates how the pass rush can make up for deficiencies on the back end, and it comes from the final drive with the Colts leading by 6 – the play is a 4th and 15 with roughly 1:30 left on the clock. I've highlighted Mathis in black, with the three outside receivers of the Seahawks in appropriate colours. The basic premise of the play – considering it's the 4th quarter, they don't have timeouts, driving for the game etc – is for the outside receiver to run a clearout route for the two guys underneath. One of whom is Sidney Rice, in yellow.
Mathis executes his spin move, and it's reminiscent of the very best of Dwight Freeney. You can see his numbers in this frame as he has his back to the camera, mid-frame. Up the field, the coverage of Kavell Conner leaves something to be desired on the slot receiver.
Mathis finishes his spin and leaves poor Pat McQuistan in his wake. He's completely destroyed him here, all ends up (I'm writing this with a smile on my face having watched the play a shedload of times. Pure poetry). Wilson barely has time to execute the play-fake before Mathis looms in the headlights.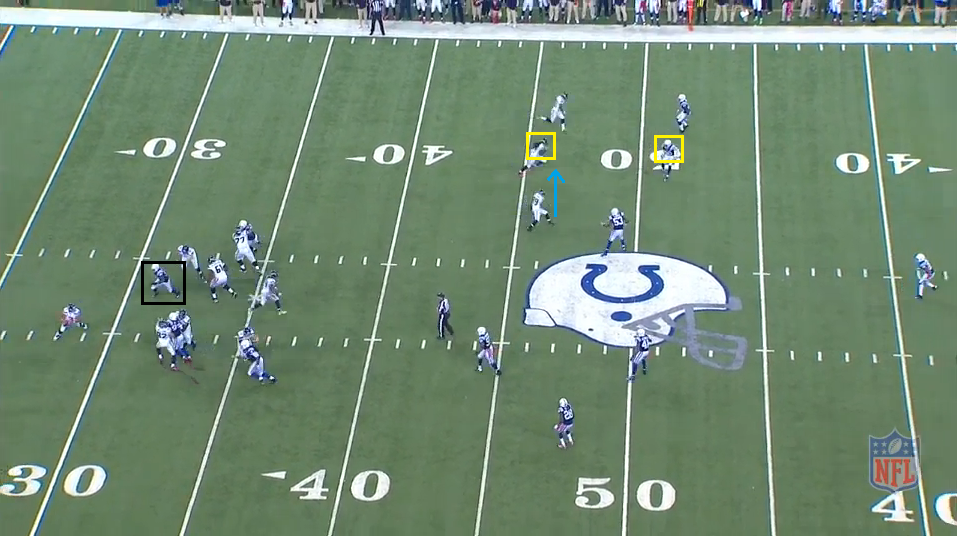 Wilson rolls to the right to elude Mathis, with complete knowledge that he's going to have to make an awkward throw across his body. The slot receiver begins his cut.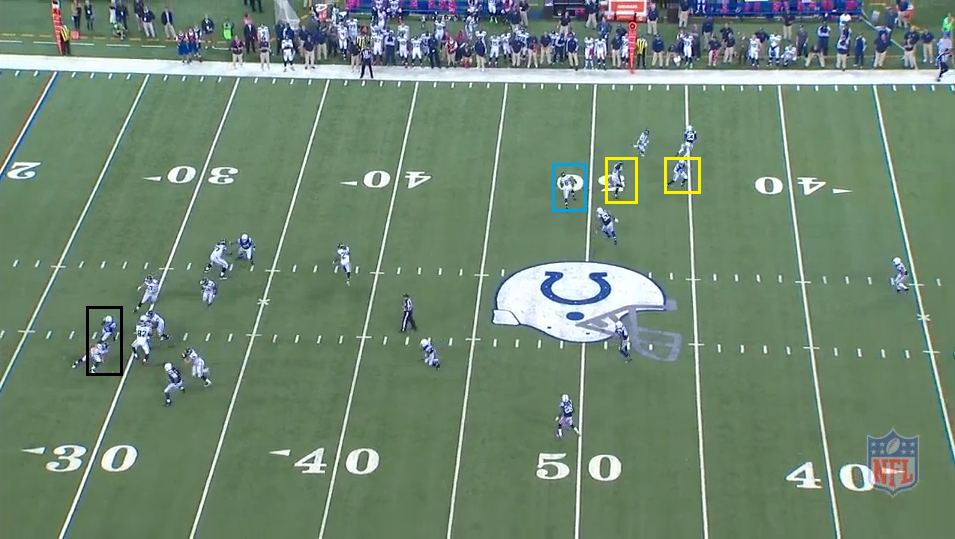 He carefully eludes the blitz, as always. Upfield, the slot receiver has clear separation from Kavell Conner with a clear path to the sideline and a stoppage of the clock. Mathis stops that possibility in its tracks with his pressure, while Rice also begins to make his move to the sideline.
Wilson moves up into the pocket and has a moment of freedom as Mathis and Freeman (behind and in front respectively) aren't close enough to make an immediate impact. He scans the field quickly before making a decision. In the secondary, Butler is having a catastrophic play thus far, with his eyes firmly fixated on the QB with little awareness as to what's going on around him. (He isn't baiting. He isn't good enough.) Rice breaks to the sideline with Butler in front of him – the latter with his back completely turned to the receiver and at least five yards of separation between the two. The slot receiver has been and will remain wide open.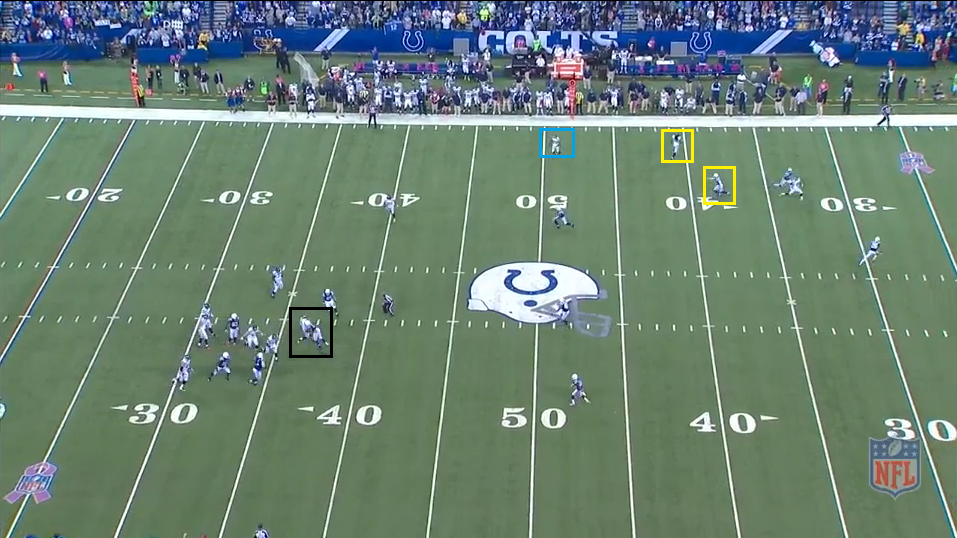 Wilson sees Rice and steps into his throw, taking a brutal hit in the process. As a result of the pressure and hit, the ball is severely underthrown.
Butler's look at Wilson affords him the time to recover, and he makes a break on the ball.
And that's that – the Colts get another W. Honestly, having viewed this play repeatedly I'd have expected Wilson to make the shorter completion to the slot receiver. He just seems to spend that iota of a second (when he could be scanning the field) locking on to his preferred target, which seems predetermined in many cases.
I'm a complete pessimist when it comes to this secondary – but I'm taking the positives out of this game. The symbiotic nature of defense always means that you'll need pass rush to help the coverage, and if you're an avowed hater of Butler/Toler/Davis as I am, this is the best case scenario. The pass rush is more than making up for deficient coverage on the back end, so the talent level back there isn't hugely relevant.
However – the next person to praise Darius Butler for his good work in the secondary needs a foot up their ass. His complete haplessness when it comes to initial reactions and coverage is clear for all to see on the tape, and has been for a while. He seems to excel on poorly thrown balls, and intercepts them fairly frequently – but this doesn't give him a free pass the rest of the time, even if he isn't targeted. If I'm at times laughing at Butler's attempts to keep in synch with the receiver, what's Peyton Manning going to be thinking when he watches the tape 10 or 15 times over with a football intelligence I can't comprehend?
This team is good enough to compete deep into the AFC playoffs, as much is evident from their play this season. As a result, I think everyone needs to start viewing through a Peyton prism – to get where we want to go, we have to beat Peyton. That means our secondary has to be a strength (or at least not a huge weakness) by the time the playoffs roll around, and I don't think that's particularly near. Where we're exceeding expectations is in the pass rush, with variable formations, excellent playcalling and outstanding play in the Front 7 all responsible for the defensive solidity exhibited thus far. One question – do you think a good pass rush can stop Peyton Manning?
Oh, and one more. Would like feedback regarding who to choose for a more in-depth piece, Vontae; Butler or Toler?
..and before I finish, I believe Marcus Dugan of CA has just been nominated as a SNF Fan of the Week for Week 7 – it was tweeted by NBC Sports as I wrote this. If it's as awesome as I think it is, be sure to drop him a congrats or a curse at @MarcusDugan depending on your outlook. I'll be back next week with a more in-depth look at the wider defense – a few less work commitments on my end.
@CA_Savage