Ben Savage breaks down five plays for Colts free agent Pro Bowl defensive end Robert Mathis.
After last week's Free Agency review in which I examined the credentials of Pierre Garcon (as the highest priority Free Agent, in my mind), we move this week onto another player who I deem crucial to potential future success. Along with Dwight Freeney, Robert Mathis has been a terror rushing the passer for teams having to face the Colts.
As with Garcon, I've tried to display different aspects to Robert's game – though given the nature of the DE spot and Mathis' effectiveness at the primary aspect of 4-3 DE play, it's a tad more difficult to come up with clear 'negatives'. His 39 forced fumbles since 2003 ranks highly in the league, and you can thus expect to see a couple of sack fumbles, perhaps the most devastating play to an offense aside from an INT return TD.
Garcon and Mathis are both 'necessaries' in my mind as to whether they should be re-signed. On that premise, let's dive in.
Play #1 – Patriots @ Colts – Week 10, 2009.
While I prefer to begin pieces on explosive plays, the following play jumped out at me when examining Mathis' film. The hustle displayed in Pierre Garcon in last week's piece is mirrored within Robert Mathis – and is one of the primary reasons why I am advocating his re-signing.
Mathis lines up at the LE spot as is standard. The Patriots are in the 3WR, 1TE, 1RB formation, and the play-call in this instance is an inside draw, designed to take advantage of Mathis and Freeney rushing upfield.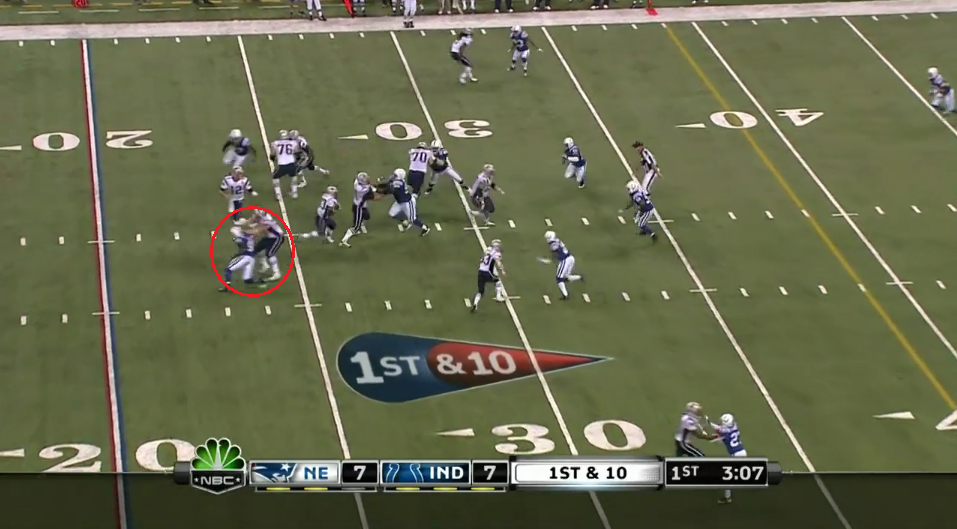 Mathis gets upfield with a great burst — he is allowed to by the Patriots RT Sebastian Vollmer. In rushing upfield, he leaves the Colts DTs and LBs vulnerable to an inside run, and it transpires as designed.
Kevin Faulk takes advantage of the situation, breaking a tackle at the line of scrimmage in order to proceed onward. Normally, this would be a situation in which the Colts would be seriously struggling.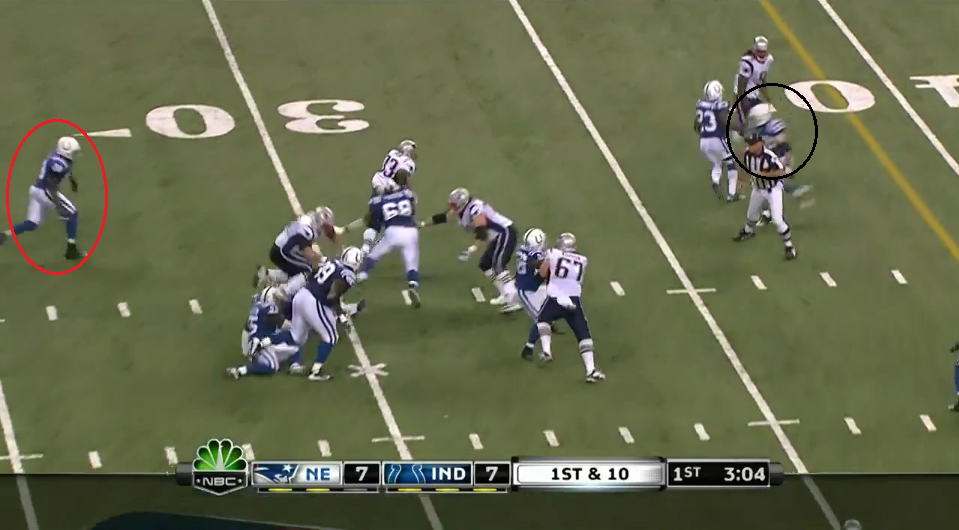 However, this is not one of those occasions. Mathis runs around the pocket entirely and circles around to follow the ball carrier – his awareness and reactions can't be understated. I've also circled Melvin Bullitt in black for those that want to see a typically Bullitt-esque awful tackling angle.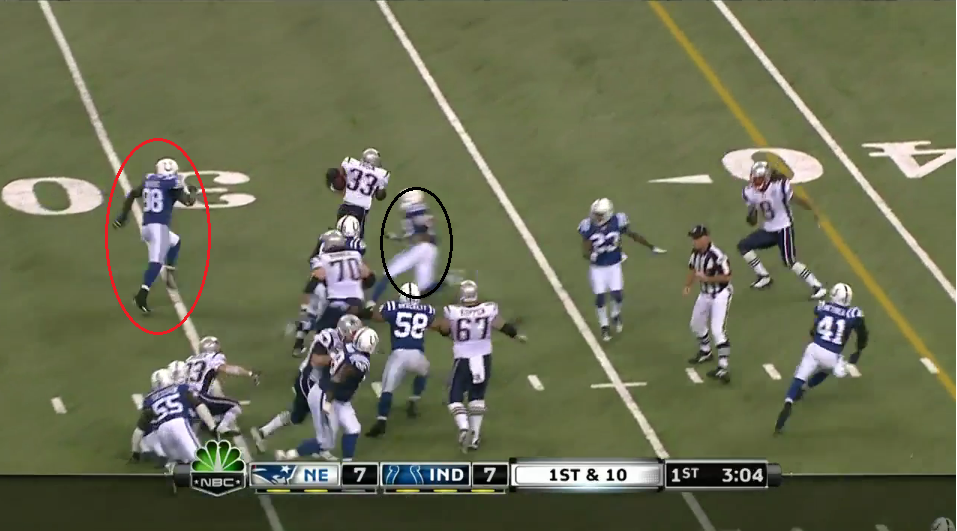 Bullitt whiffs entirely, leaving Faulk a ton of open field down in front. There are very few players on the DL that possess the closing capability of Mathis, which the Colts can be thankful for on this occasion.
Faulk accelerates into the open field, and you simply cannot expect a lineman to keep up with a RB in the open field.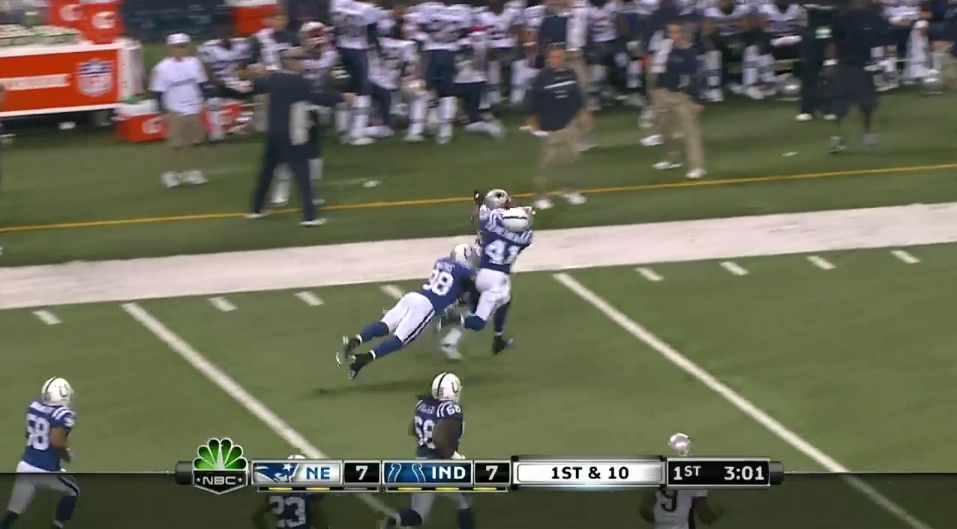 Mathis says 'to hell with that', and accelerates, catching up with Faulk in the process. Realizing that he may only have a single chance, he dives like a missile for Faulk's legs, bringing him down in conjunction with Antoine Bethea.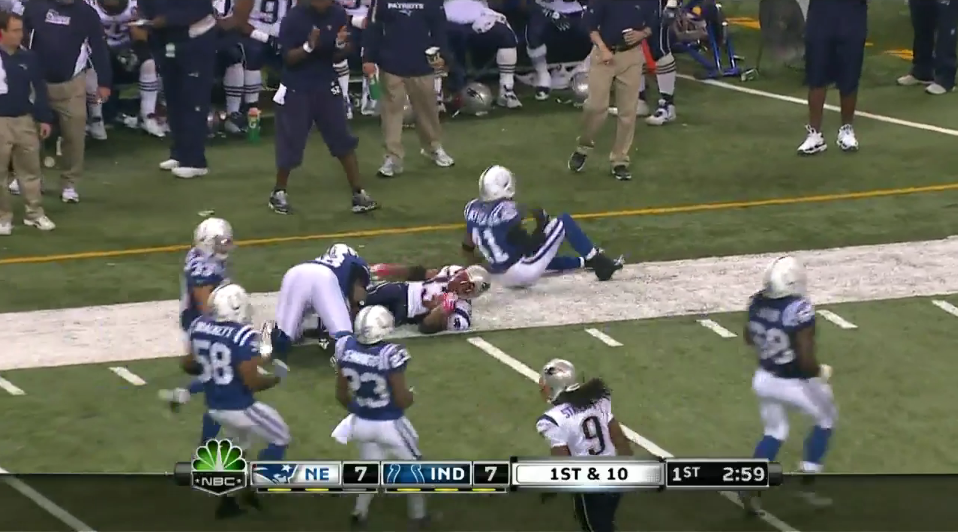 Mathis and Bethea limit the gain, and Mathis' speed and athleticism is on full display, complemented by some real hustle for the football.
Mathis realizes exactly what has occurred by the time he reaches Tom Brady. It's important to emphasize the gameplanning of the Patriots here – given the utter lack of presence at DT, this is symptomatic of Colts defensive problems. Mathis and Freeney can't be expected to carry the entire Front 7, and for too long they have been in that position.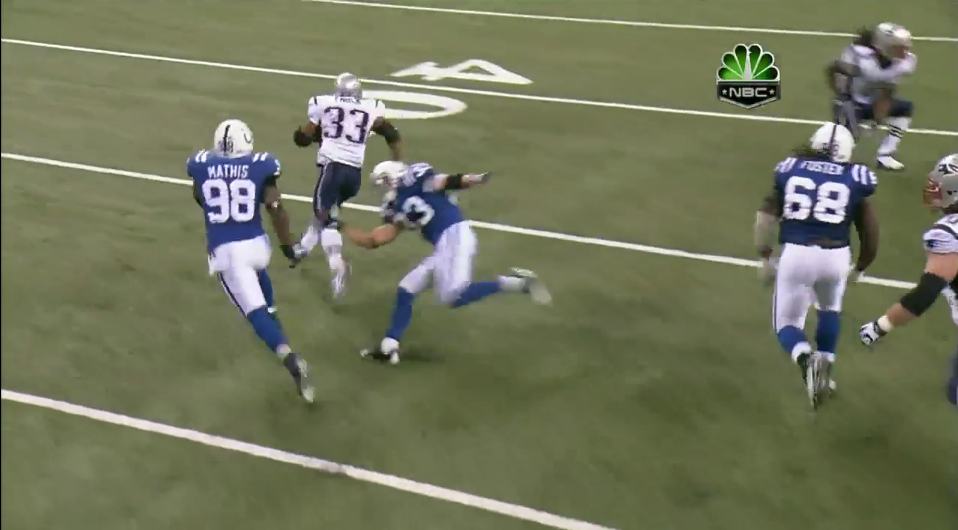 A real presence at DT moving forward complemented by Freeney and Mathis would be terrifying for opposing offenses, and would likely lead to less plays like this – tackles by a DE 20 yards downfield. The hustle from Mathis is highly laudable, but allowing a premiere pass rusher to tire himself out in such fashion on a regular basis is short-sighted, and has cost us continually with injuries to Freeney and Mathis at key points during the past few years.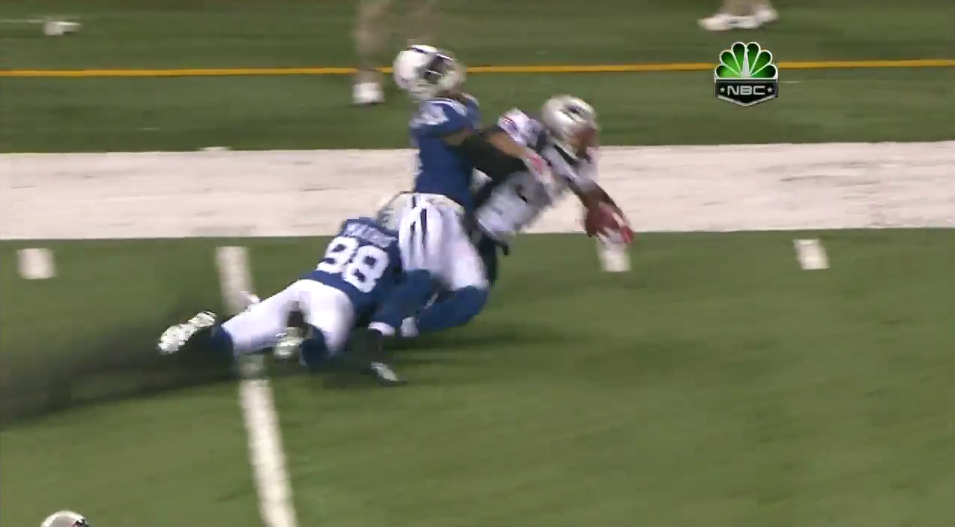 Great mop-up work, nothing more needs to be said.
Play #2 – Giants @ Colts – Week 2, 2010.
The following play sums up what we've received from Robert since drafting him – game changing turnovers. This Week 2 game was foreshadowed by a frankly awful performance in run defense the week before in Houston, and came with all the fanfare that one would expect with the 'Manning Bowl'. I recall Freeney & Mathis' proclamations in the media in the week running up to the game, which revolved around the pair getting a lack of credit when compared with Peyton and the offense. They did exactly the right thing in this game and absolutely terrorized the Giants and Eli Manning.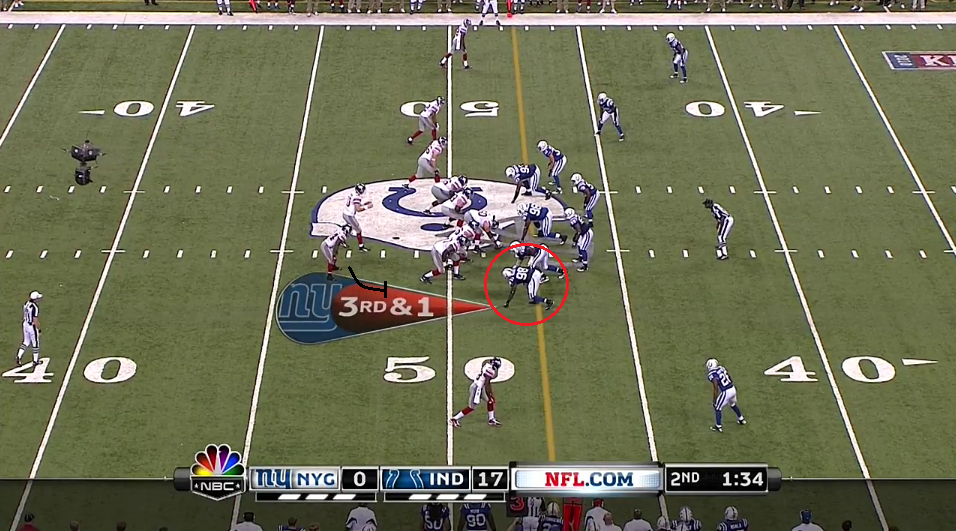 Mathis sits at his LE position as is standard, and faces a double team of Kareem McKenzie and Ahmad Bradshaw at RT and RB respectively.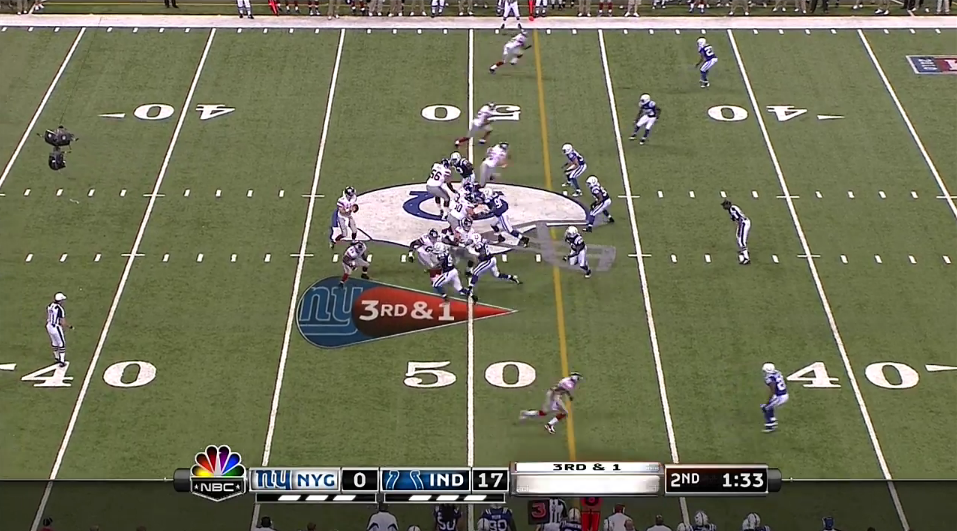 Mathis gets an excellent release as is standard, and beats McKenzie initially to the outside. Unfortunately for Robert, Ahmad Bradshaw (possibly the best pass-blocking RB in the league) is lurking to stop the outside speed rush.
For reasons I cannot fathom, and having seen his RT struggle with Mathis, Bradshaw decides to move inside to prevent any delayed blitzers. This frees up a rush lane for Mathis who takes full advantage, having unbalanced his blocker already.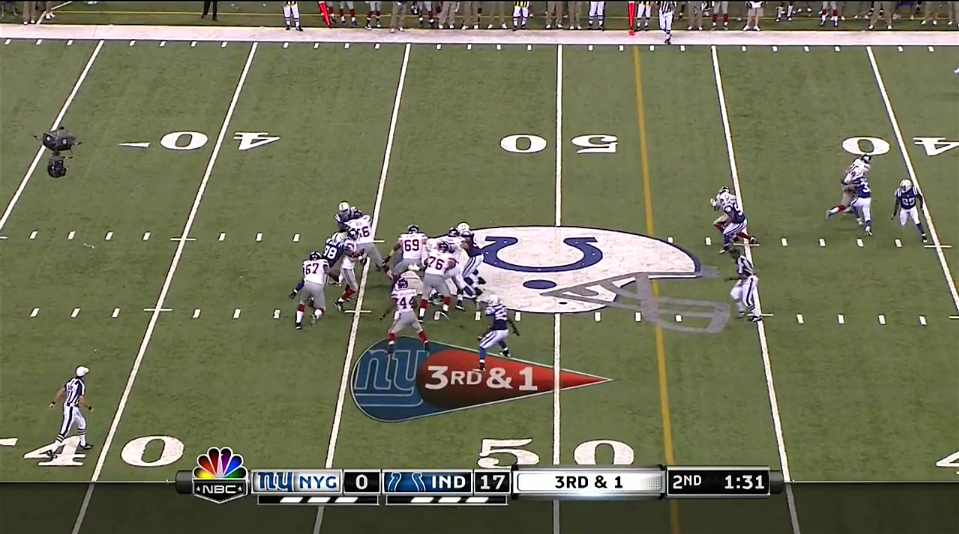 Mathis locks on to Eli Manning and forces the ball from his grasp.
Mathis even manages to fight for his own forced fumble, and it leads to a Colts turnover which effectively iced the game before halftime.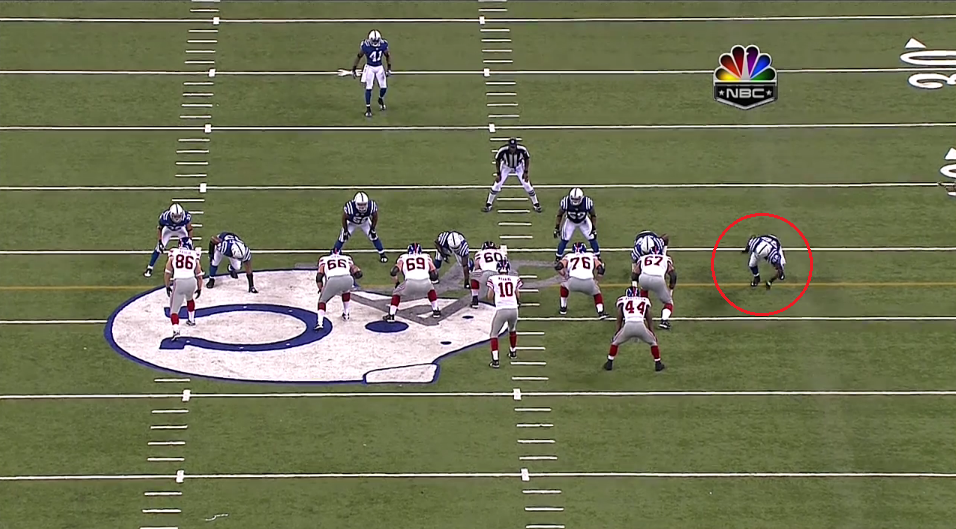 Mathis lines up in the 9-technique on the outside shoulder of a non-existent TE, as is frequent with the Colts DEs.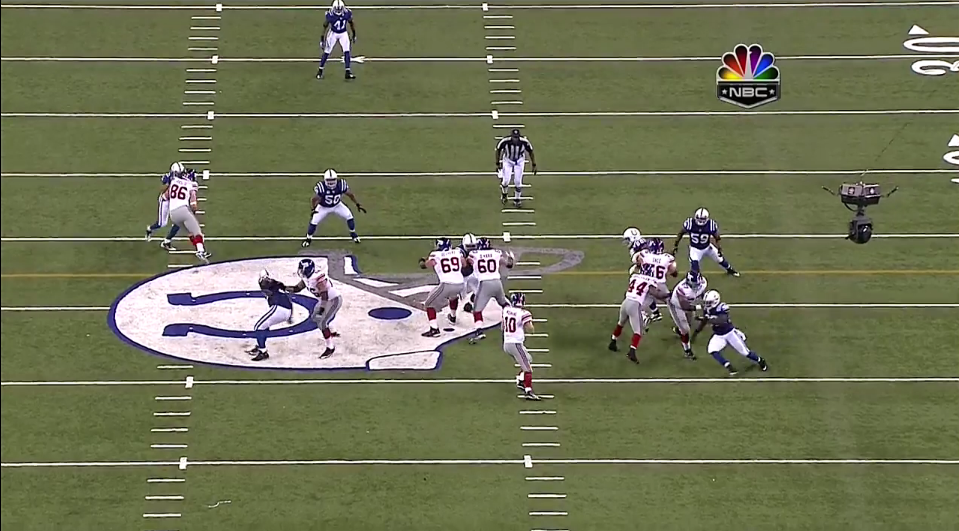 I really don't understand Bradshaw's move inside, but again it highlights the necessity of adequate gameplanning against Mathis & Freeney. If I were an opposing OC, I'd be chip blocking both of these guys on every single pass play, and I'd make it clear that shirking blocks like Bradshaw does here is unacceptable against marquee DEs.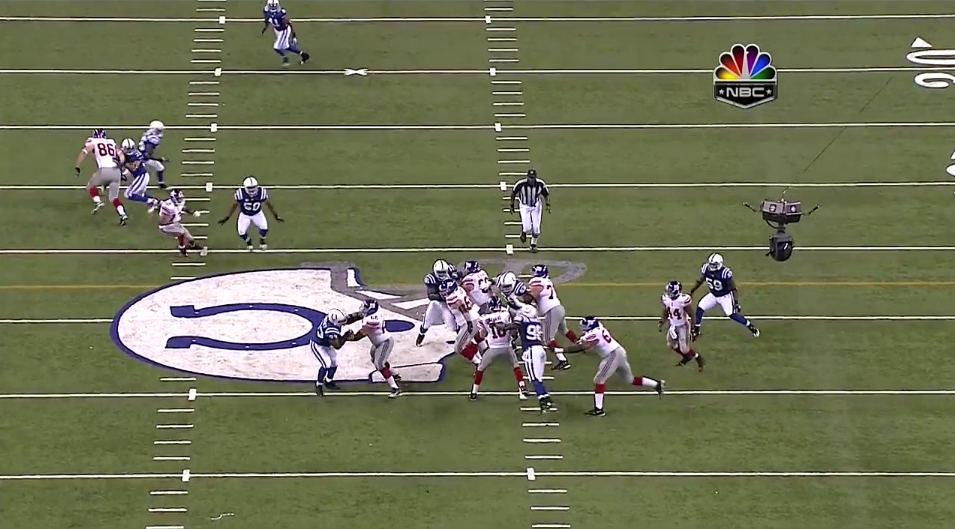 Mathis' ability to force fumbles on sacks is something to be lauded, and it sets him apart from many other sack artists who don't seem to be able to force fumbles with such frequency. Perhaps Mathis' smaller frame allows him to get into spaces larger DEs cannot.
Play #3 – Colts @ Patriots – Week 11, 2010.
Difficult as it was to find a play which illustrates Mathis' weakness and susceptibility in the run game, I've managed to find one which adequately displays it.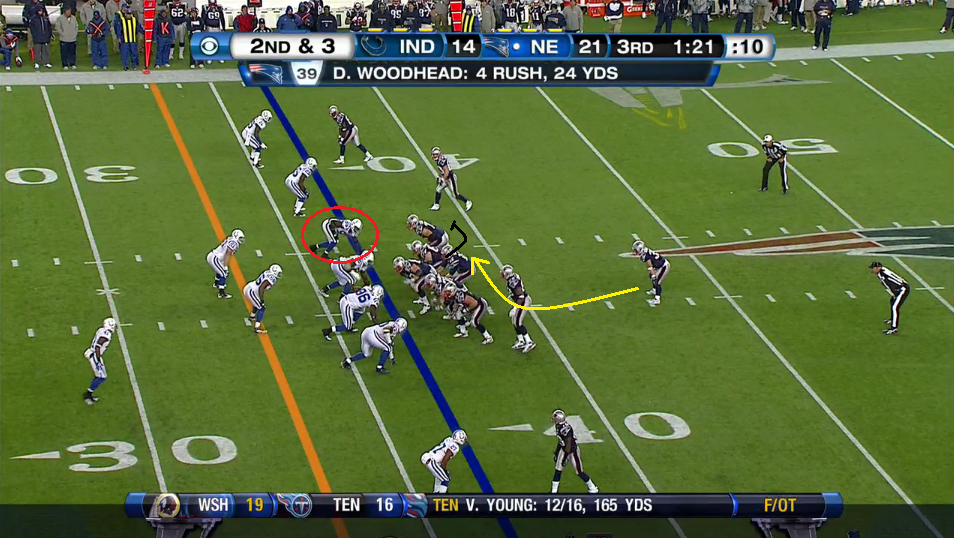 Down by 7 with the clock trickling into the 4th Quarter, the Patriots are set on manipulating the weak and tired Colts Defense on the field. Mathis lines up at LE, and in this instance will be blocked by Dan Connolly (#63, G), as opposed to the tackle.
Mathis attempts to knife inside, reading the OT and diagnosing run. Unfortunately, this is where Mathis' smaller 6'2, 245lb frame becomes a disadvantage.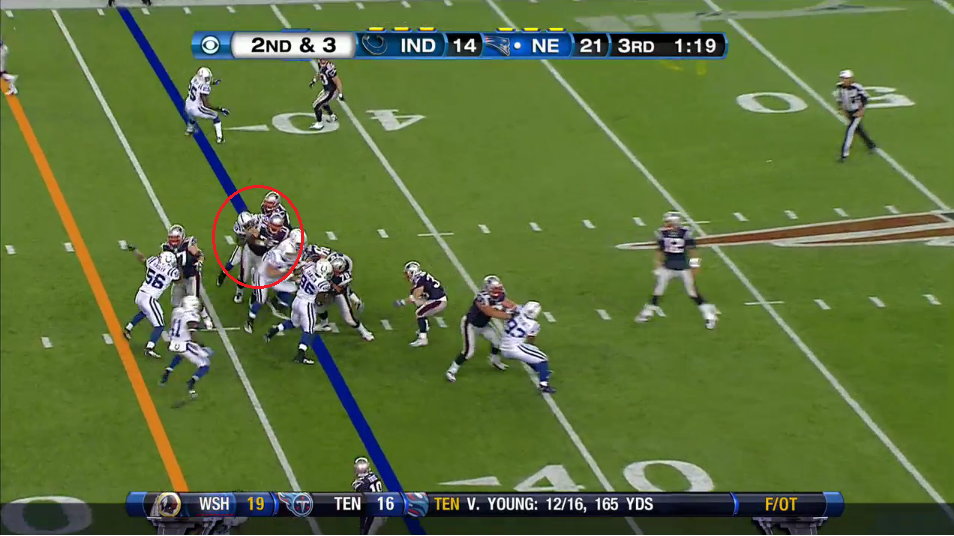 His attempt to knife inside allows Connolly to absolutely maul him into the rest of the line, leaving a huge cutback lane for Danny Woodhead.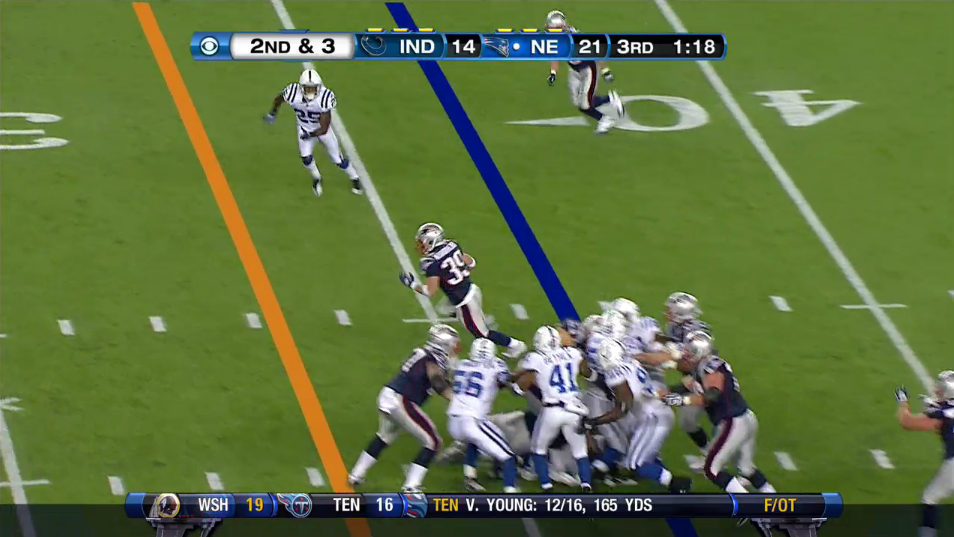 By this juncture, Mathis is embedded at the bottom of the pile, rendering him helpless on the play. The fact that Woodhead is running through Mathis' position as of two seconds ago isn't lost.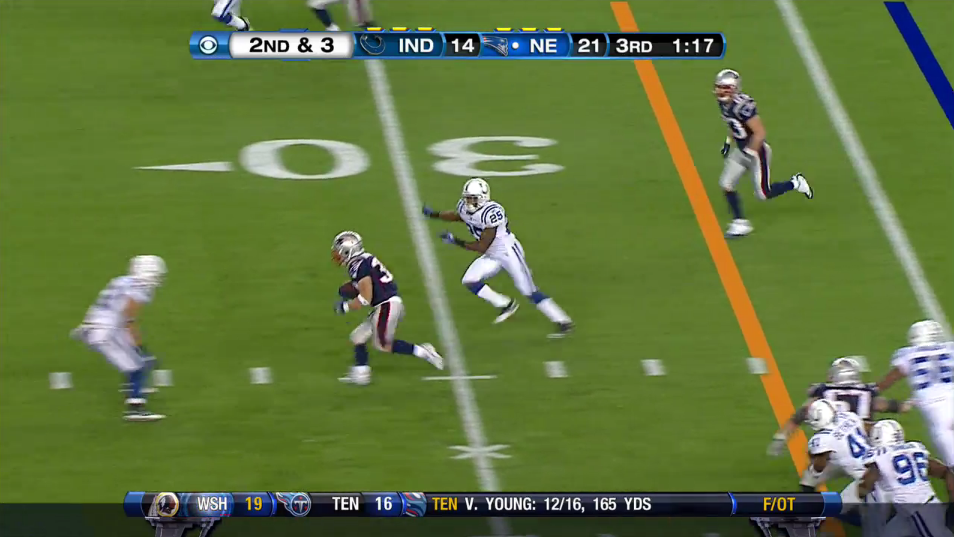 Woodhead's release allows him to juke the cleats out of Aaron Francisco at SS, and he successfully bounces out of a Jerraud Powers arm tackle.
Woodhead gets to the corner, takes it to the house, yadda yadda yadda.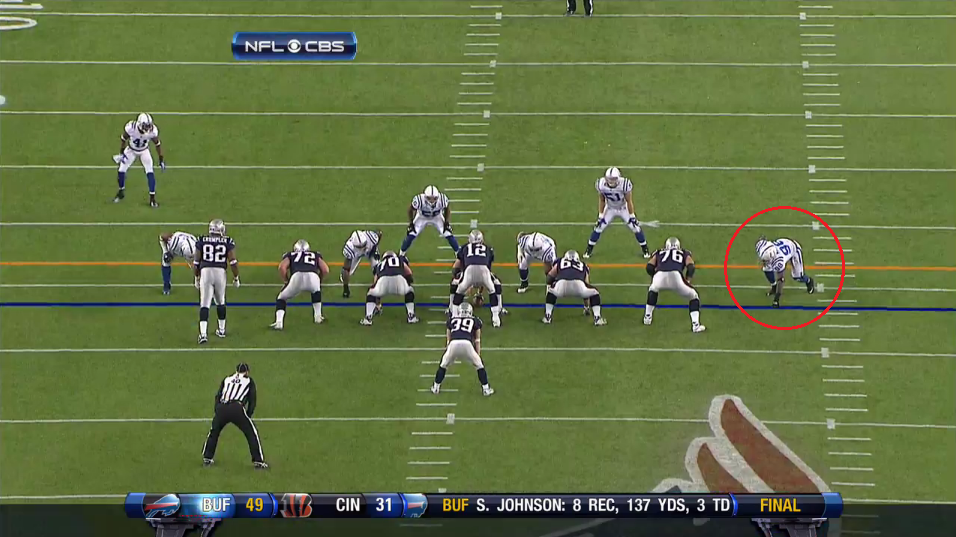 Again, it's good gameplanning from the Patriots. Sebastian Vollmer's move to the second level to deal with Pat Angerer is diagnosed by Mathis as a run indicator, and I think it's likely that the Patriots specifically designed Connolly's kickout block to maximize Mathis' weakness and tendency to diagnose and shift early.
The manner in which Connolly absolutely manhandles Mathis is a slight concern, but it must be pointed out that yet again the inside presence is lacking. As a result, Mathis deems it necessary to knife inside and make up for inadequacies elsewhere.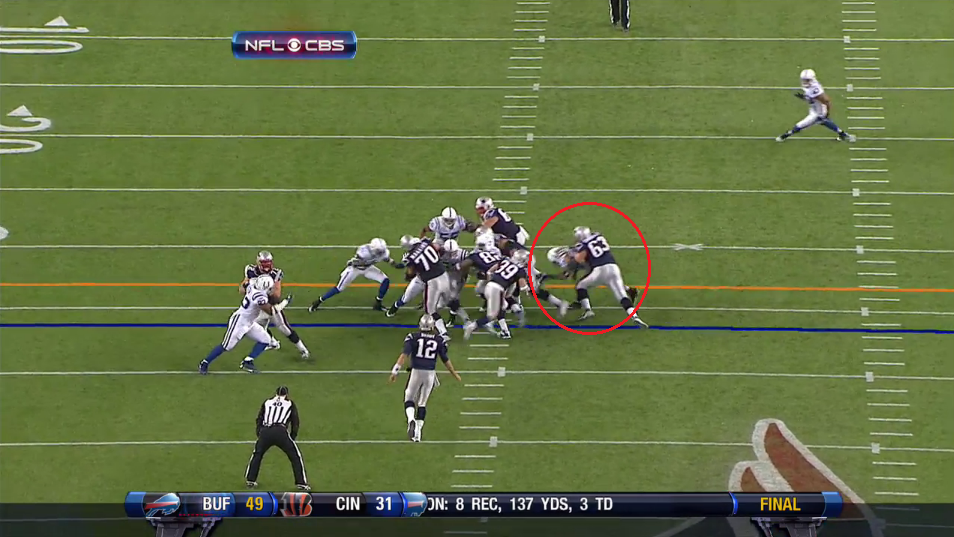 However, getting washed out in the run game is something that Robert is undoubtedly susceptible to. He's shorter and lighter than every Offensive Lineman in the league, and he's occasionally beaten on the scales by opposing RBs, of all things. If we are to re-sign Mathis, plays like this show that further attention needs to be paid to the interior line.
Play #4 – Titans @ Colts – Week 17, 2010.
Pressure comes in many forms – and has many different consequences. Sack numbers may be flashy, but QB pressures are just as — if not more important — in the grand scheme of things. A single sack isn't worth 3 QB pressures in most instances, as any sort of pressure usually tears up pass plays and allows for playmaking on the back end.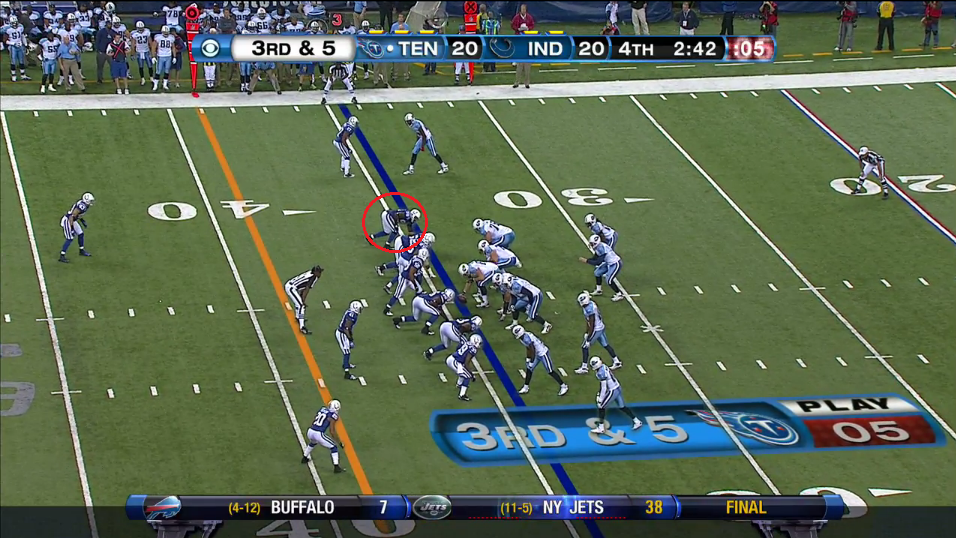 In this end of season scenario, the Colts are on the field on 3rd and 5 with a couple of minutes left in the game. A sack keeps the clock running, while an incomplete pass stops the clock and allows the Colts more time on the ball post-punt.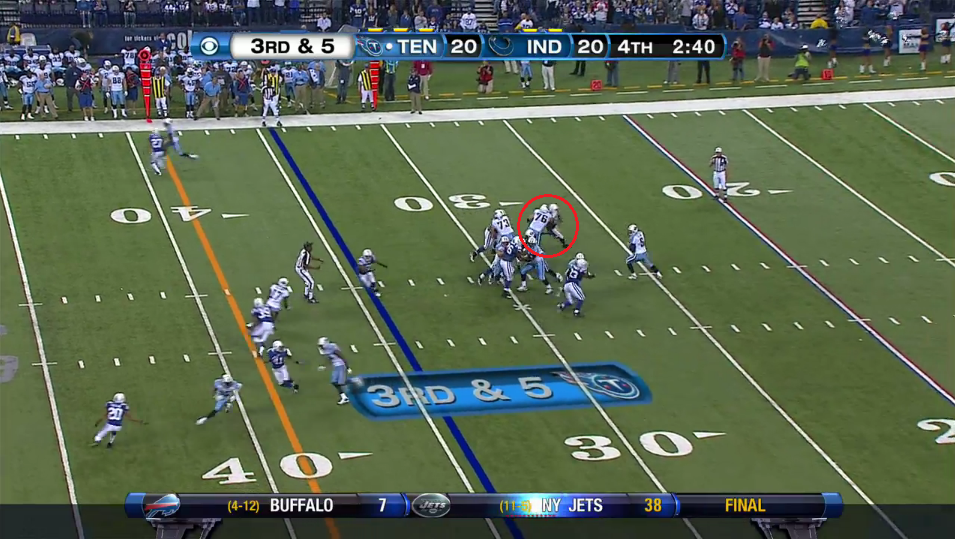 As is becoming increasingly familiar, Mathis simply beats his man to the outside. His ability to get low and harness the power of leverage and angles defines his play.
Much as with the Eli Manning sack fumble earlier in the piece, Mathis pokes a hand into Kerry Collins' bread basket, attempting to dislodge the ball.
Collins releases the ball just in time, but the disruption from Mathis has ruined any chance of success. The ball comes out like a wounded duck, and goes nowhere.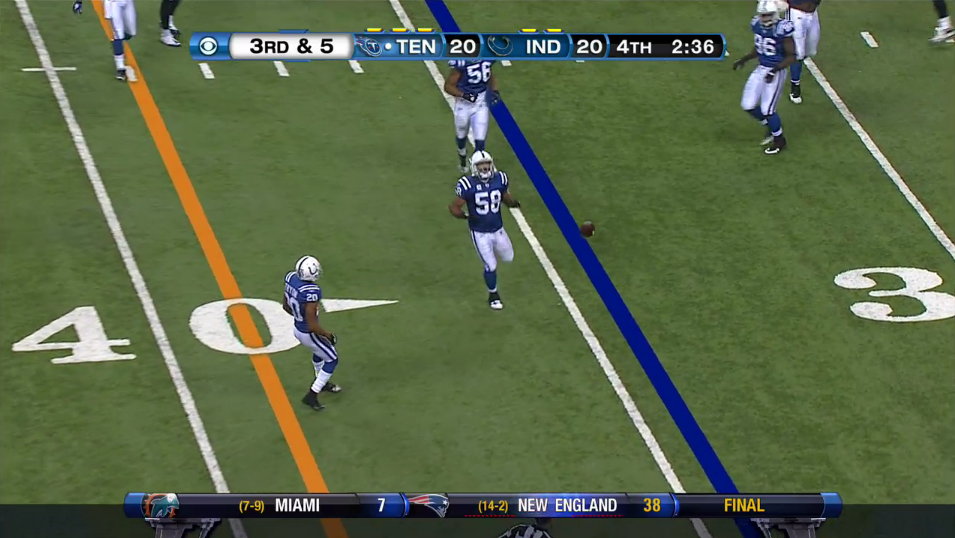 Gary Brackett is unable to close for a crucial INT, but Mathis' impact was clearly pivotal. In a tie game in a must-win scenario (for the division title), he came up with a crucial play which put the ball in Peyton's hands, leading to another AFC South title.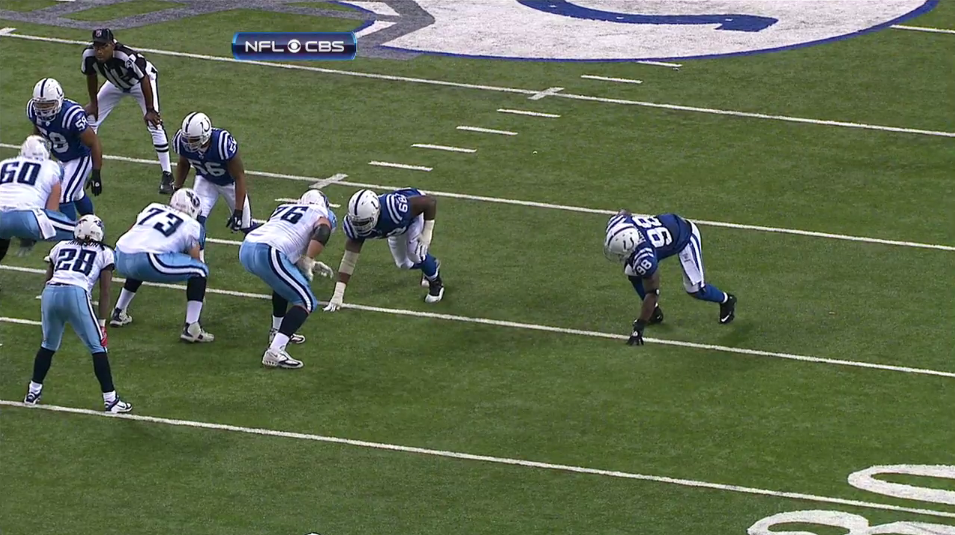 Again he sits out at the 9-technique spot. It's almost unfair on the RT – there isn't a RT in the league with adequate lateral quickness to deal with speed rushes all day long, particularly when the riposte of a spin move is always around the corner.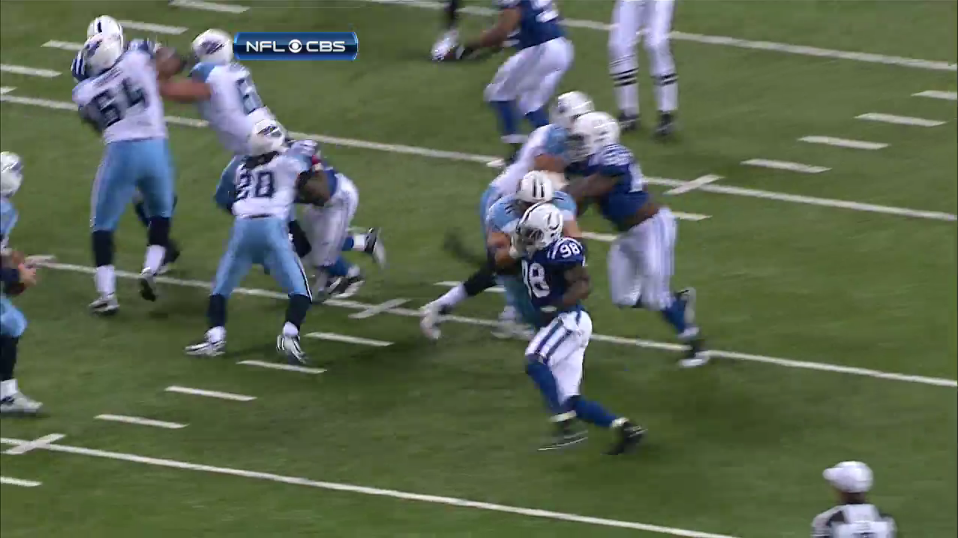 Mathis simply accelerates, turns inside, and he's victorious.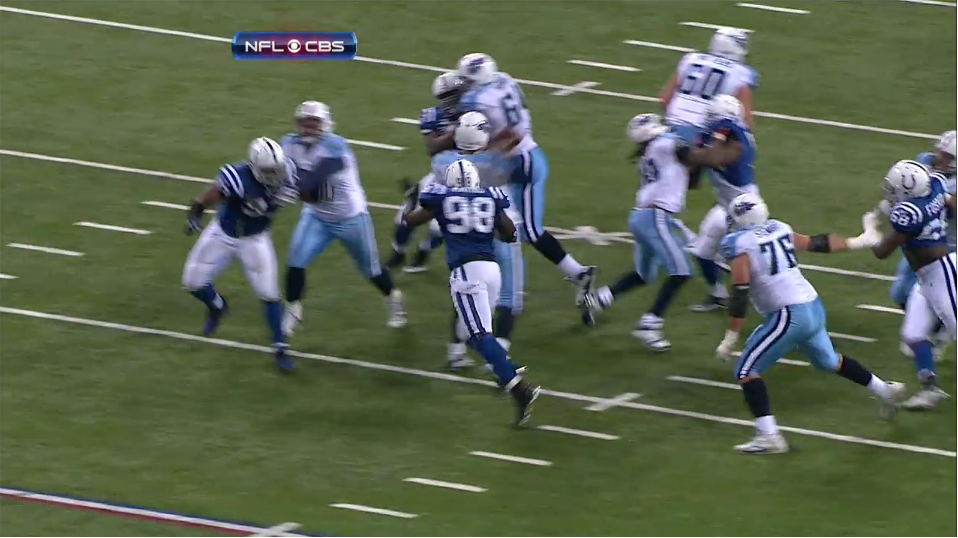 The pressure on the play is adequate, and the Colts win.
Play #5 – Steelers @ Colts – Week 3, 2011.
The following is the only play I've taken from the Manning-less Colts era, and was perhaps the only game where Freeney and Mathis exhibited their true game-wrecking abilities.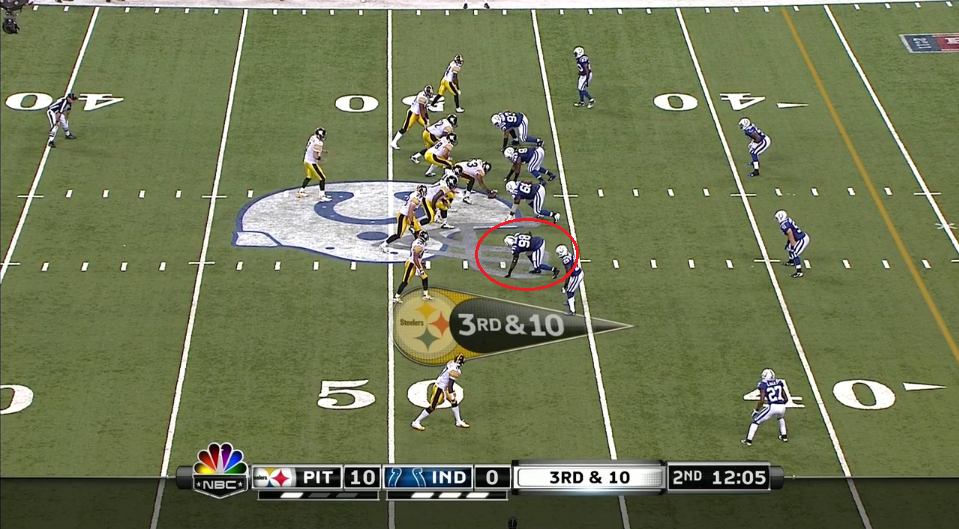 Lined up at the LE spot as normal, Mathis and the Colts find themselves 10 points down with the Steelers advancing into Colts territory.
Mathis finds himself isolated, matched up on (I believe) Marcus Gilbert at RT. Dwight Freeney's stunt has allowed for some room in front of Big Ben.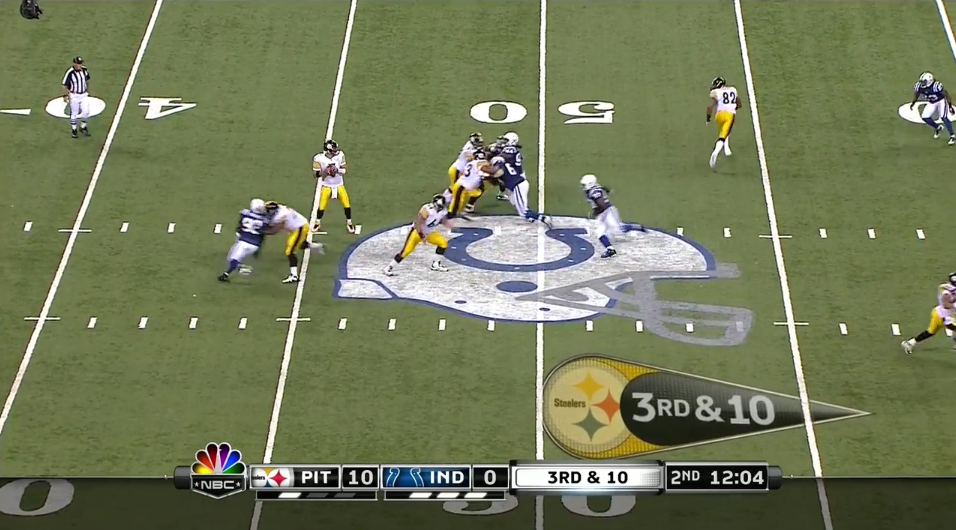 Mathis is blocked fairly well by Gilbert. However, Roethlisberger's penchant for 'extending the play' comes into full effect. Against the Colts, that's a terrible idea.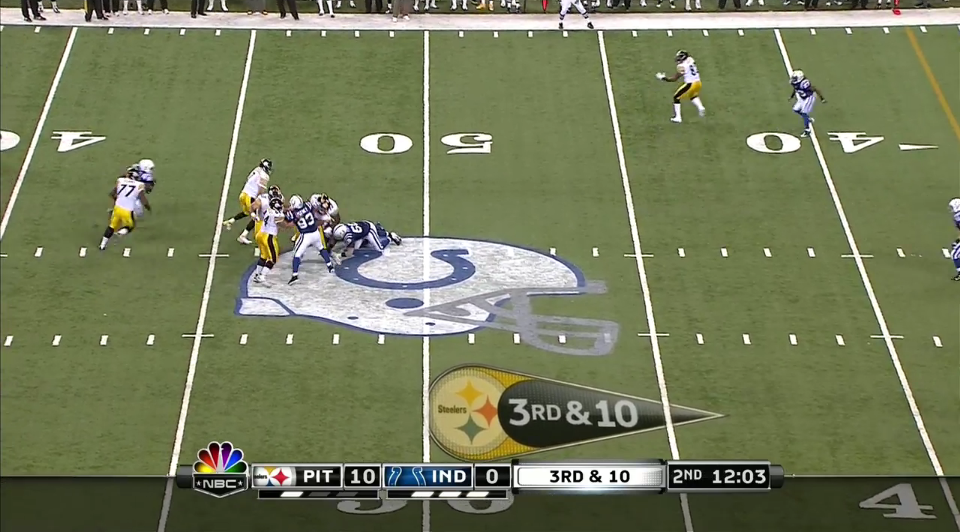 Ben tries to scramble, and Mathis' 'run around the pocket' hustle comes into play again.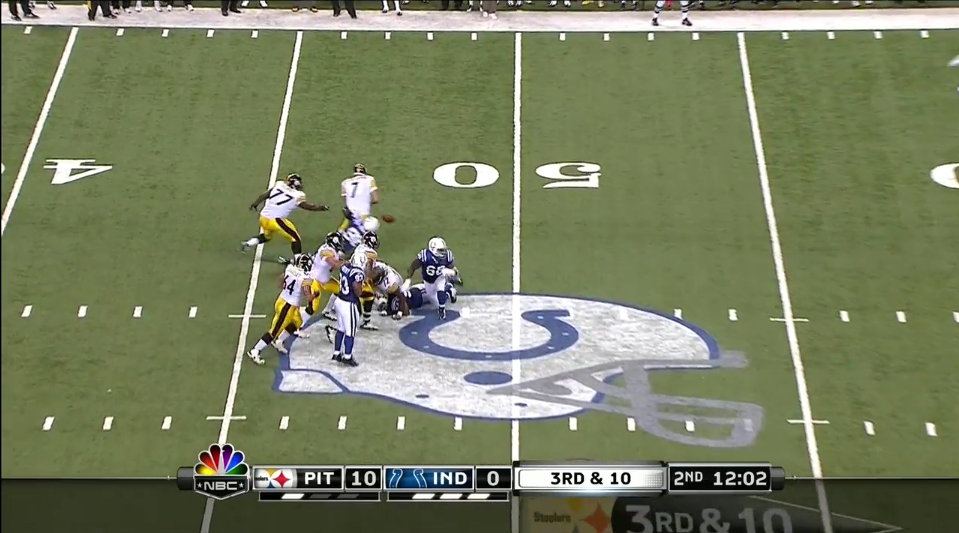 He chases Ben down and forces the ball from his grasp, again displaying his instincts and reactions on Primetime.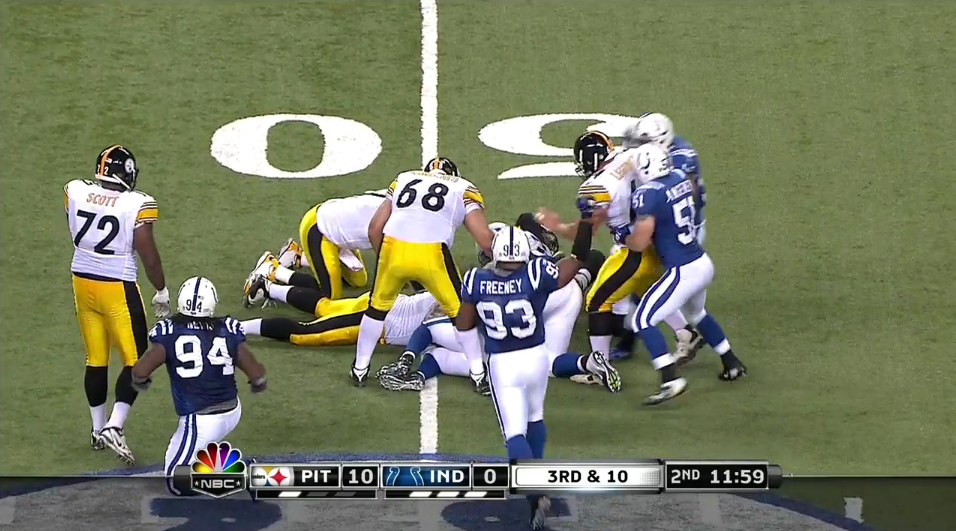 He even manages to recover the forced fumble himself, resulting in a crucial turnover at a really important stage of the game. The Colts subsequently rallied and made the game interesting until the very last play, and I credit this fightback at least in part to this change of momentum.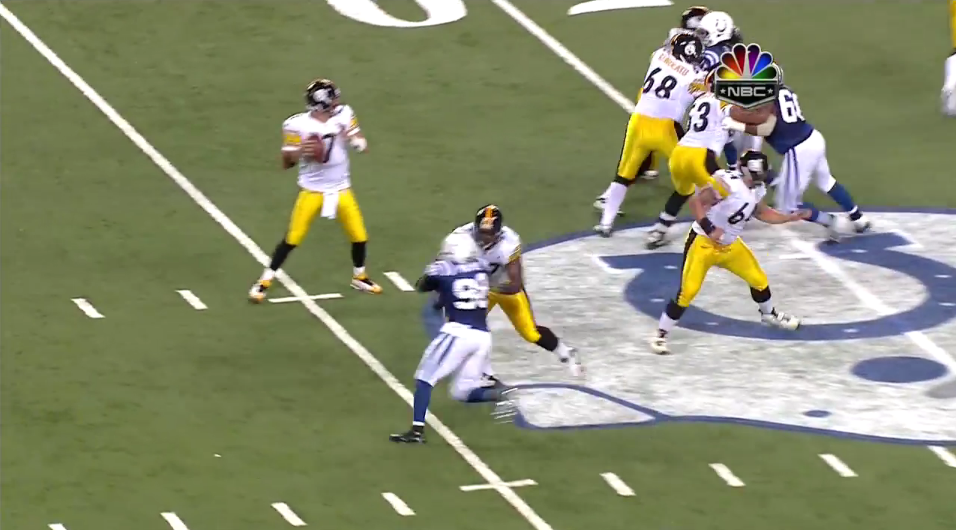 Gilbert does a fine job in blocking the outside rush, and the utter failure from the Colts DTs (familiar?) allows for an untarnished pocket with some clear throwing lanes.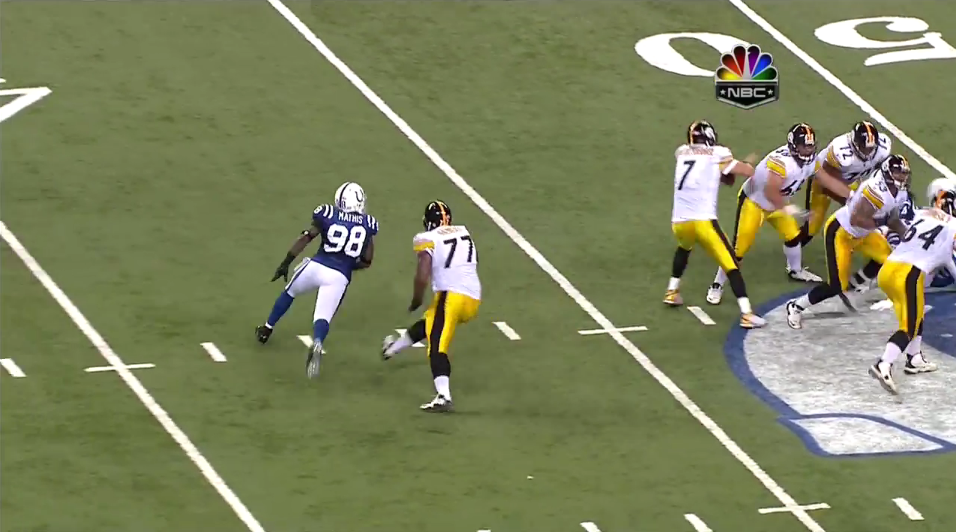 Thankfully, Ben Roethlisberger declines the clear invitation and wants to scramble and cause mayhem. Having seen Mathis chase down Kevin Faulk in the open field, there's only one real winner here.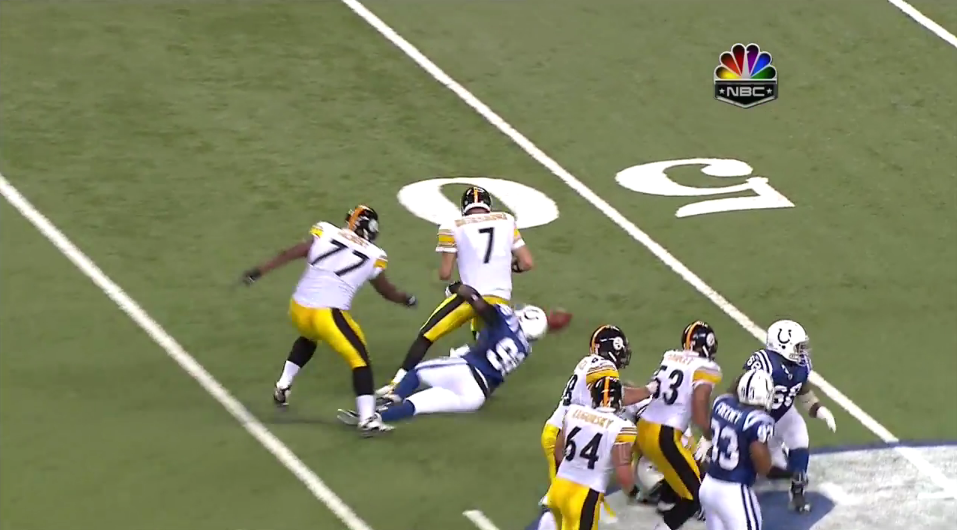 Sack, fumble, recovery. Huge momentum shift in the game, entirely attributable to Robert Mathis.
Conclusions:
Robert Mathis displays superior athleticism in his speed and reaction time, which combined with an intelligent football mind and great natural instincts result in a real playmaking presence from the LE spot. When one considers his tandem with Dwight Freeney who possesses similar instincts and the most devastating pass rushing repetoire in the NFL, it's certainly the best in the league – though much credit goes to the Giants pass rushers who possess superior depth.
In terms of weaknesses, Mathis has a tendency to be washed out of the running game frequently, and this is only compounded by Mathis' clear desire to impact every play, given the lack of talent in the LB Corps and interior DL. As a result, Mathis tends to leave his spot when he diagnoses running plays, which opens up holes in his previous position.
He displays a clear willingness to give 100% on the field, and it's been exhibited with several hustle plays throughout the years. Off the field, he's as clean as they come, and has represented the organisation in a fantastic fashion ever since his draft selection. Whilst other pass rushers blessed with similar talent can be dramatic and embarassing (read: Osi Umenyiora), Mathis has never shown himself to be anything other than a great player and role model.
How much would Robert cost? The franchise tag for DE's is projected to be around $10m, and that's a cost the Colts can't really avoid given their financial predicament. That said, a 3-year $25m deal with a middling guarantee would be suitable from my perspective. Robert will require a reasonable guarantee given he'll enter next season a 31-year old, but I'd have no qualms in obliging. If it's the choice between a few million dollars on the cap or a productive pass rusher who can potentially end his career where it began here in Indianapolis, there's no choice for me.
Go Colts.