Things are a-changing in Indianapolis. The search for an appropriate candidate to fill the Head Coaching vacancy has proceeded through the dangerous waters inhabited by Jim Tressel and Brad Childress, the savage jungle of Mike Zimmer and the utterly confusing decision to interview Jerry Gray — the only rational purpose of which would be to indulge the Rooney Rule. We're no closer to any sort of indicator about potential free agents, but alas the show must continue.
This week's edition of Five Plays focuses on Reggie Wayne – a perennial 100 catch, 1000 yard receiver up until this year (when the QB play fell off a cliff).
Never particularly reliant on physical attributes, Reggie carved a niche as a reliable catcher of the ball, complemented by perhaps the best route-running skills in the entire NFL. Such attributes tend to decline at a slower rate than for example, speed and acceleration, though Reggie is now 33 years old. With the looming questions at QB and elsewhere on the roster, just how much room do we have for someone perhaps perilously close to the end of his career?
Having addressed Pierre Garcon and Robert Mathis in previous weeks (along with my cast iron certainty that they should be re-signed), it's now time to get into the nitty-gritty, where the tough decisions absolutely have to be made. And so, let's dive in to the Reggie Wayne edition.
I will however warn people – there is a severe kick in the stones on Play #3 of the piece. If you didn't like the Garcon drop from a couple of weeks back, you'll want to zip right by on Play #3.
Play #1 – Week 3 2009 – Colts @ Cardinals.
Continuing along the 'DRC is an awful corner' path which I laid out in the Garcon edition a couple of weeks ago, here's some more footage to convince you.
The Colts line up in the 3WR, 1TE, 1RB set, with a twist. Austin Collie is out wide left, while Reggie Wayne, Dallas Clark and Pierre Garcon are out right in that order. Clearly having seen something on tape to indicate DRC's weakness, they set about tearing him apart from the word go. It's zone coverage, which means that while Cromartie is matched up on Garcon, he has responsibility to hold the outside zone regardless of whether Garcon stays in it or not.
The pocket collapses from the outside, but fortunately with Peyton Manning at QB such worries are merely irksome.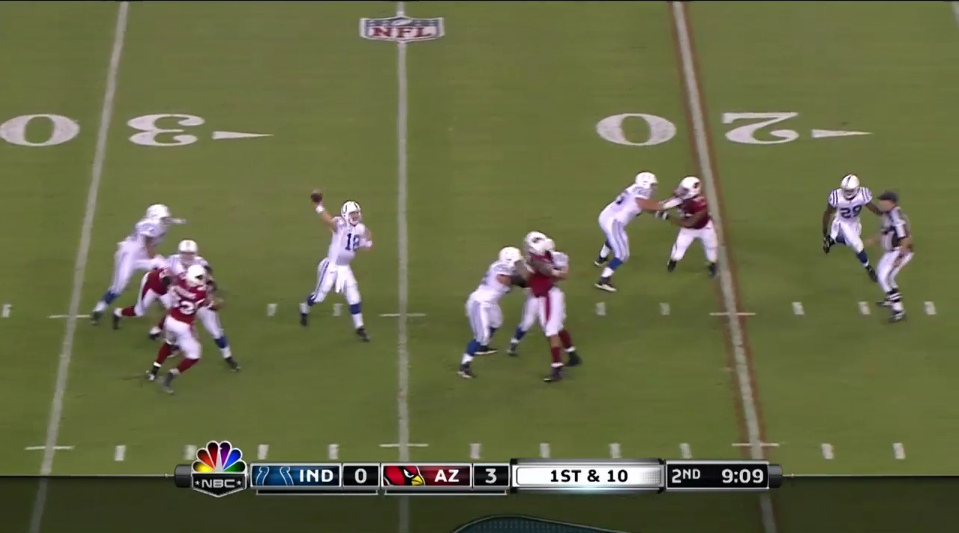 Peyton releases the ball and is allowed to step into the throw, and his patience in the pocket (thanks to good pass protection in the interior line) allows him to make a relatively simple throw.
Reggie's lack of height and pace might have come back to haunt him here – he's wide open for a pretty simple touchdown.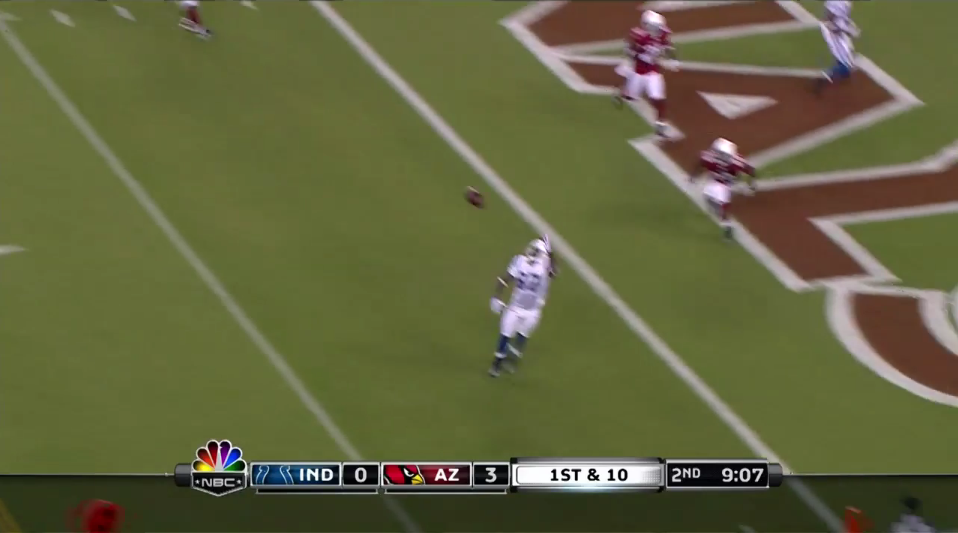 This is however the story of Reggie's career. He sticks out a paw of his to try and make the snag.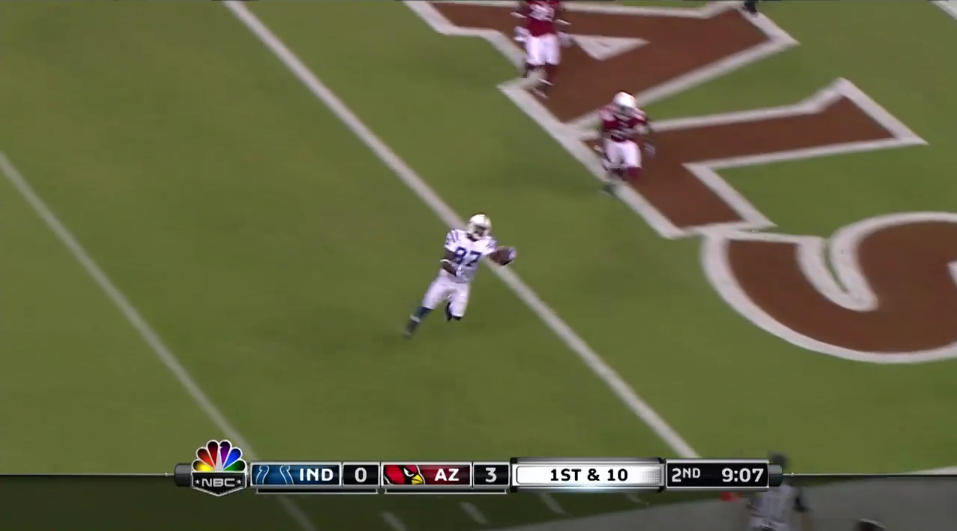 He reels it in with his left hand, and with his awareness he knows how close he is to the endzone. His priority is however to make the catch.
He somehow manages to make the catch and switches the ball from his left to his right hand, all in the millisecond before he crashes into the pylon.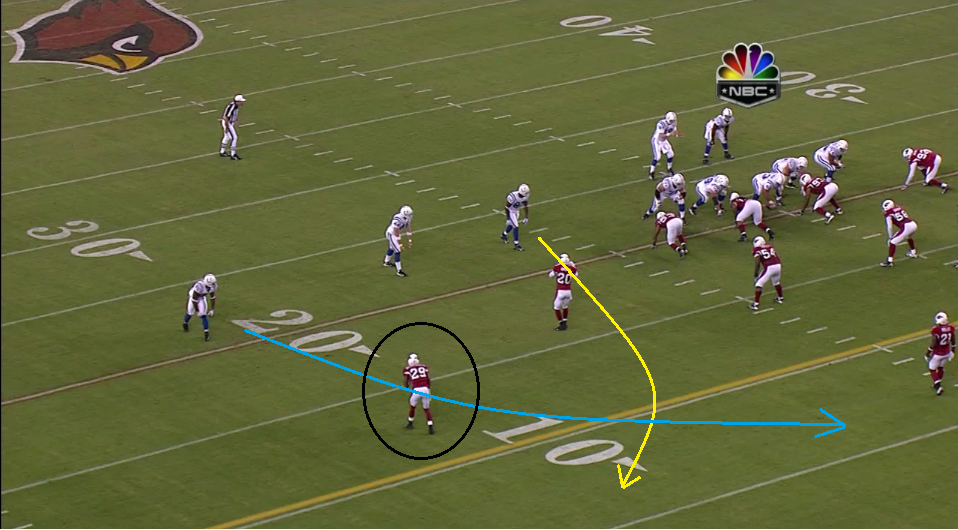 From this angle we can clearly view the quandary of Rodgers-Cromartie. Wayne is in an unfamiliar position in the slot (from which it always seems to be an outside pass play), and DRC isn't disciplined enough to deal with three receivers on his side of the field.
He tracks Garcon reasonably enough, though Wayne's stride straight through the safety and linebackers causes a few issues schematically. DRC's decision making becomes crucial.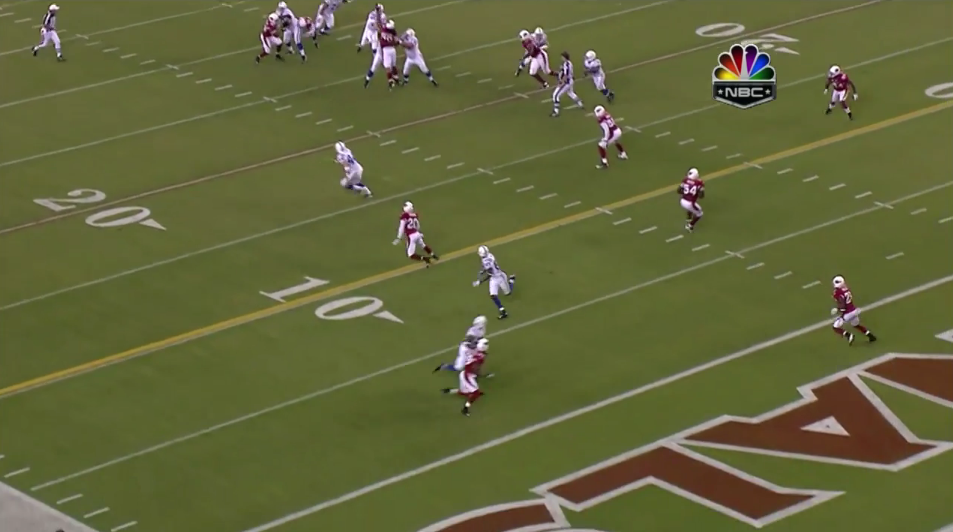 He decides to take Garcon, and the last-level safety (Adrian Wilson, I believe) is over 10 yards away from Wayne, utterly helpess.
And by the time DRC realizes, it's too late. It's an absolutely fantastic catch from Wayne, though one could argue that a bigger, taller receiver would've made this look much more routine.
It is however a play that just sticks in my mind – great design and execution from all involved from a Colts perspective.
Play #2 – Week 10, 2009 – Patriots @ Colts.
Ah, the good old days. Peyton Manning against Tom Brady and Bill Belichick, and one of the better regular season games in recent Colts history.
You'll all recognize it, I'm sure. It's the followup drive to the 4th and 2 fiasco, and the play that put the nail in the coffin for the Patriots on the day. Reggie Wayne is matched up against Jonathon Wilhite out left, while Austin Collie runs a rub-route with the aid of Pierre Garcon on the right side. Dallas Clark and Joseph Addai stay in on pass protection.
Reggie sets Wilhite up with an outside move, before using his arms for leverage and jolting inside. It's a 3 step drop from Manning, and there isn't a chance the play can be disrupted from a pass rush standpoint. Joseph Addai's acknowledgement of this and his taking a play off here is something I found amusing.
Peyton throws it to where only Reggie can grab it, which he does so – at the furthest point from his body, as usual.
He cushions the ball against his body on the ground before a bounce-up and run to Reggie's Corner. I'll never forget Lamey's call – "COLTS WIN! THEY WIN!"
Someone the caliber of Wayne shouldn't be matched up on Wilhite, but such are the nuances of a Bill Belichick defense. The hard outside move puts Wilhite on the back foot, from which he never recovers.
Reggie puts everything into his little shove, which as it's within 5 yards is entirely legal.
To be fair to the man, he does the best job he can in terms of recovery. The throw is just too well-placed, and the catch is immaculate.
Cushions the catch as you'd expect, and the Colts reel off a huge win at home to keep their undefeated season going.
Play #3 – Superbowl XLIV – Saints @ Colts.
Yeah, look away now if you don't want to see it. My preconceptions before doing the play were that it was a reasonable read and an incredibly poor route by Wayne. After examination, the latter might be correct in essence but a little too harsh, and there are some other things I'd like to point out in due course. Another thing I hadn't ever remembered was that on 1st and 10 (two plays before the Pick 6), the Colts and Reggie ran exactly the same route – 5 yards and in, for a completion in that instance. Running it again so quickly afterwards is a highly questionable call in my book.
The Colts are running the usual 3/1/1 formation, though at first glance Reggie Wayne is in the slot while Collie is outside. Collie however motions to come underneath on a quick route past the marker.
As the ball is snapped, the Saints bring the heat. Collie's motion does enough to create some separation from the corner, while Tracy Porter is just sitting on whatever Reggie is running at the top of the screen. Look at his posture – he's in essence just waiting for a short route, expecting nothing over the top due to the blitz.
Considering the fact that the Saints are bringing 6, it's a reasonable job in protection. Peyton sees a couple of yards of separation and decides to try and gun it in there. However – Reggie takes far too long in his attempt to decelerate and make his break. Porter, having sat on the route, is now in prime position.
If seeing the play again wasn't enough of a low blow, look at Austin Collie. He's past the marker with a good 3 yards of separation. That's a first down – the chains move, the clock keeps going, the Colts are on a big drive. Unfortunately it wasn't to be, and you can see just how slow and off-balance Reggie is as he makes his cut.
Porter closes the gap and Reggie's poor attempt leaves him in the clear. He isn't even able to stop Porter as he makes the interception despite being all of a yard away.
I have absolutely no inclination to show the whole play, so here is enough. If you don't see it all, it doesn't hurt as much. Hopefully.
And now I can't stop looking at Austin Collie's route, in the hope that history will somehow change. The protection is clearly adequate for Peyton, and he absolutely had enough time to make more of a considered decision.
So as Reggie starts to break, Porter is watching his feet and starts to close. Whether it's an indicator of older age or simply a sign that the best route runners can't be relied upon every single play, I leave it up to you.
The ball is where it should be, if that route was the aim. Wayne's outstretched and flailing arm gives the game away.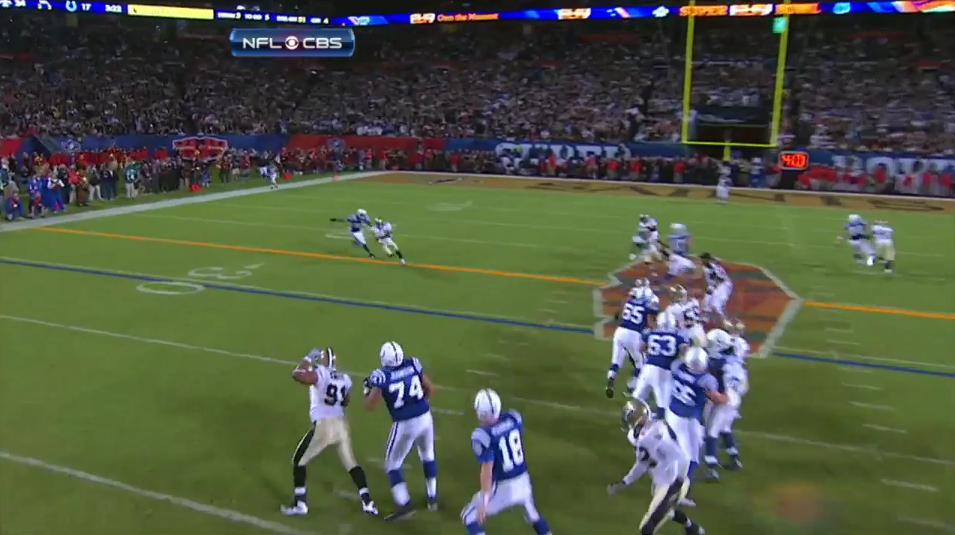 And Porter makes a clean pick to kill his hometown Colts. Enough of that.
Play #4 – Week 14, 2010 – Colts @ Titans.
The following play may seem somewhat unremarkable. I chose it to highlight the difficulty Reggie has in getting straight separation, and the limitations that his speed and size put on his ceiling as a receiver at this point in time.
Reggie is out left as the Colts run their typical 3/1/1 formation yet again. He's matched up on Cortland Finnegan, who doesn't seem to hold Wayne's speed in the highest esteem.
It's 3rd and very long, so the routes are all vertical down the field. He ignores Garcon from the off (who's being watched carefully by a safety over the top) and looks straight for Wayne. Finnegan tries to watch Peyton to possibly make a break on the ball.
18 shuffles around for a long time in the pocket as he waits for Wayne to get open. Fortunately enough, Finnegan's hard concentration on the QB rather than the WR pays off, as he slips and totally loses his stride.
A beautiful ball over the top is all Wayne needs.
He catches it and unfortunately has to go to ground to make sure of the catch. This is where the declining physical attributes of Wayne do come into focus, despite his lack of reliance upon those very same facets. He's lost a yard of pace, and that yard is the difference between a 50-yard completion and a 65-yard touchdown.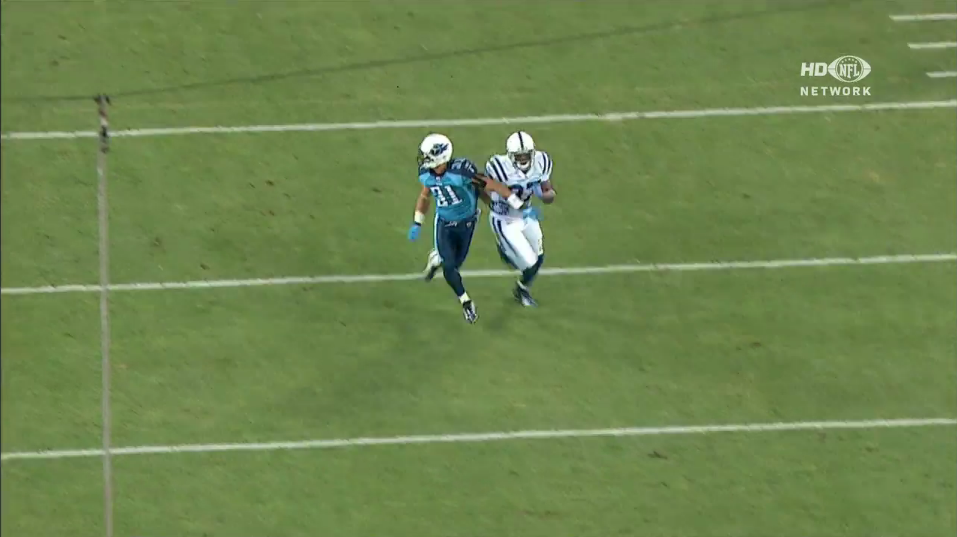 Finnegan tries to keep Wayne with him by pressuring him with his left arm.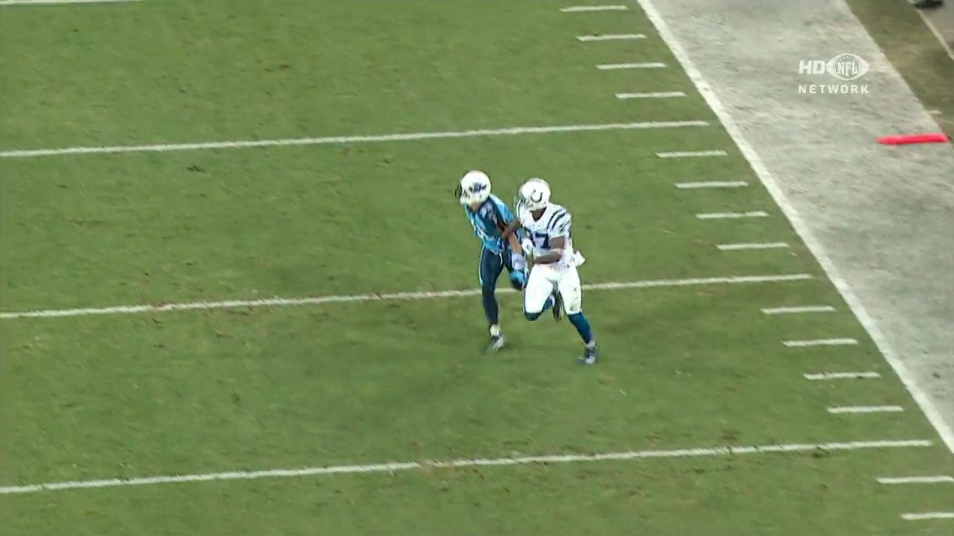 Whether by luck or design, Wayne manages to trap his arm and utilize it against Finnegan, which leaves the latter totally off-balance and unable to make a play on the football.
There's clearly enough separation here for Wayne to be able to make the catch and stay on his feet, but his physical tools don't allow him to do so.
While it may seem odd to bemoan a 50-yard pass play, I have conviction in what I've said. A lot of receivers in the NFL turn that into a touchdown.
Play #5 – Week 1, 2011. Colts @ Texans.
I like to think I've expunged a lot of last season from my mind, so i'm a little upset that anything from this year jumped to mind. Nonetheless, the following play shows that certain skills don't decline, foremost among them the awareness and ability to stay in bounds while simultaneously making a ridiculous grab.
The Colts are running the 3/1/1 as normal with Kerry Collins behind center, the twist being Reggie Wayne as the closest receiver to the line. Garcon and Collie are on crossing routes which allows Wayne to go in behind the coverage and in theory make a touchdown catch.
This image should have been enough to make me realize the folly of ever believing in Kerry Collins. Not exactly the ideal posture from your QB, but there you go.
Due to the pressure around the outside, he has to release the ball before Wayne is even out of his break – not only that, it's a throw off the back foot.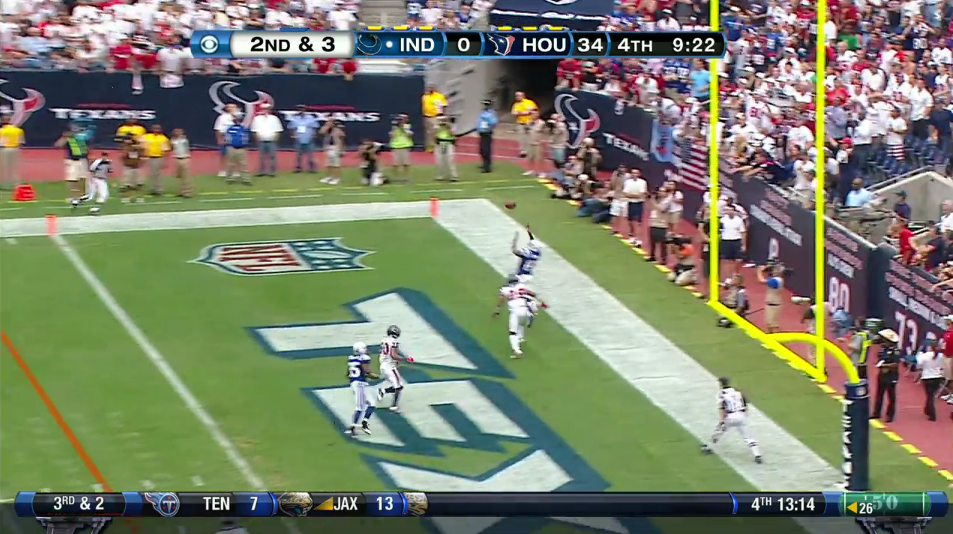 Considering the circumstances, the placement is excellent. Reggie manages to separate at the last minute which puts him in the position to make a stunning grab.
He catches the ball with one hand and somehow manages to stay in-bounds, thanks to an emergency toe tap.
After some deliberation, it's called a touchdown. Look at the skill involved with this catch, though. With the tip of his right hand he stops the ball and holds it in place, at which point his attention must switch to the question of remaining in-bounds.
He clearly has full control of the ball and as such there can be no question about possession, but I wager there are only a few receivers in the NFL capable of making this snag.
A nice note to finish on, I think.
Conclusions:
Reggie Wayne is 33 years old. He possesses superior ability in terms of making difficult catches, and retains the rare awareness to stay in bounds at any point in a pass play. His rapport with Peyton Manning is well-documented without ever reaching Marvin Harrison levels, and to an extent his lack of speed and relatively indifferent physical attributes have been covered up by the accuracy and brilliance of his quarterback. In Manning's absence this year he flashed his consistent route-running and hand skills without ever being the first option on the offense – his lack of speed precluded him from ever being involved as the #1 receiver and is something which must be taken into account when considering potential changes at the QB position.
As with Robert Mathis and Pierre Garcon, Reggie has always represented the organization well and perhaps unlike Mathis has stayed healthy for the vast majority of his career. In terms of character the only slight concern I'd have with him is the moaning we witnessed after the Jets Wildcard Game in 2010 – he was matched up all night on Darrelle Revis and consequently didn't receive many looks, finishing with 1 reception for 1 yard. Perhaps he correctly feels that he should be a part of the gameplan against any team, but in such a scenario where a truly unique defensive player has to be taken out of the game, it was disappointing to see his reaction.
Superior route-running isn't a skill which will be the same every time, unlike for example superior height. His poor route in the Super Bowl and the ease with which Porter strode past him will stick long in the memory, despite all of the great moments we've had with him.
Ultimately, he's going to want to get a couple of years good money while he still can, and to be paid and acknowledged as a #1 receiver. I don't feel that such an investment would be worth it, and while sentiment lives long, Pierre Garcon is more of a priority. If he's willing to take a #2 role and perhaps take a lower amount of money than he has been paid recently, then the option should be thoroughly explored. However, I don't consider such a scenario likely, and I think that it might well be time to say goodbye to #87. He'll take his rightful place in the Ring of Honor some day, I'm sure.
Let me know your thoughts.
Go Colts.