After a 2-3 start which included some notable highs and lows, the Colts on Sunday moved to .500 with a mediocre victory over a poor Cleveland Browns football team. Deficiencies in personnel become starker by the week, with the lack of splash plays a direct result of it. There were positives – the return of Pat Angerer; the revival of a previously dead running game; Andrew Luck's ability in the red zone.. but in truth, I don't feel like I learned an awful lot on Sunday about this team, particularly when it comes to the defense.
The loss of Trent Richardson early on for the Browns was a death blow from which they were never particularly like to recover. The sterling work of Josh Gordon was notable for the spark it provided the Browns offense, but the fact is that they face many of the same limitations as our very own Colts at this point in time. The manner in which Weeden began the game – consistently checking down to Richardson – initially made me think it would be a long day. Richardson's clear limitations as a result of previous injury fortunately prevented it being too bad.
But I guess having absorbed the coverage over the past day or so, I can devote a bit of time to examining the play of one Jerraud Powers on Sunday. He's come in for considerable criticism for ostensibly giving up two deep balls to the aforementioned rookie, Gordon. I know I railed on Zbikowski last week – and while he deserves praise this week, don't be fooled – and some may expect me to do the same with Powers. Nope. Not going to happen. Jerraud Powers is a 5'9, 190lb corner who's a seasoned tackler and is competitive to the last. I'm a firm believer that with the right surrounding pieces and defensive philosophy, he can make plays in both the pass and run game. On Sunday, he wasn't put in a position to succeed. Josh Gordon may well be a rookie, but he's a 6'3, 225lb rookie. Powers is outmatched considerably in height and weight, he's playing a lot more man coverage than he's been used to for his entire career, and there's absolutely nothing to help up front because of an anaemic pass rush.
So when I see comments from the Brad Wells' of this world to the effect that Powers should not be beaten like that by a rookie – really? Because for me, seeing that type of physical mismatch on an isolated route, he probably should be. Powers didn't have a good game by any means, but I feel that he should be given appropriate latitude for his performance. He's had to endure complete incompetence surrounding him in the defensive backfield – much the same as Antoine Bethea – and he's being handed the toughest assignment each week in straight up man coverage. I've said it before – I don't want Powers to be covering A.J Green, Calvin Johnson, Andre Johnson – it simply isn't his strength.
In any case, let's have a look. I'll jump straight in at the 3rd quarter, where the Browns face a 1st and 10 from the IND 38. It's 12:02 on the clock, with the scoreboard showing 14-6.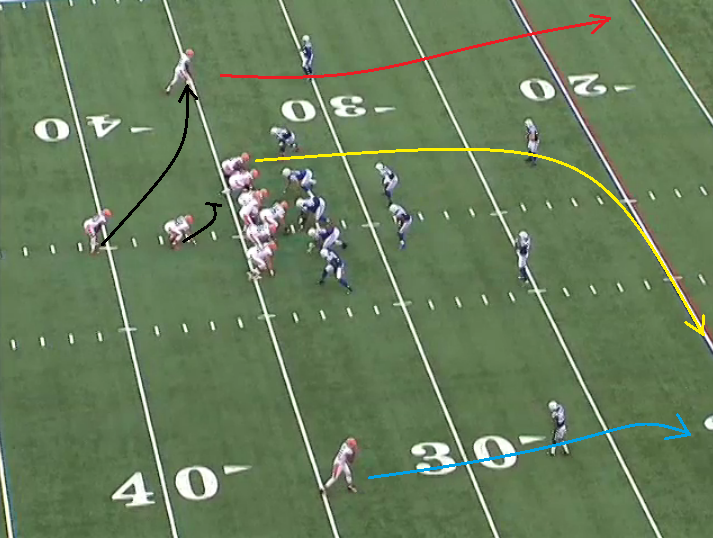 The Browns are going to run a play action pass out of the 2WR 1TE 2RB formation. At this point Trent Richardson is out of the game, so the threat of the run is slightly lessened. Powers is matched up on Josh Gordon (#13 – WR) at the bottom of the frame. Gordon is effectively running a stop and go to the corner, though Powers isn't beaten due to deception.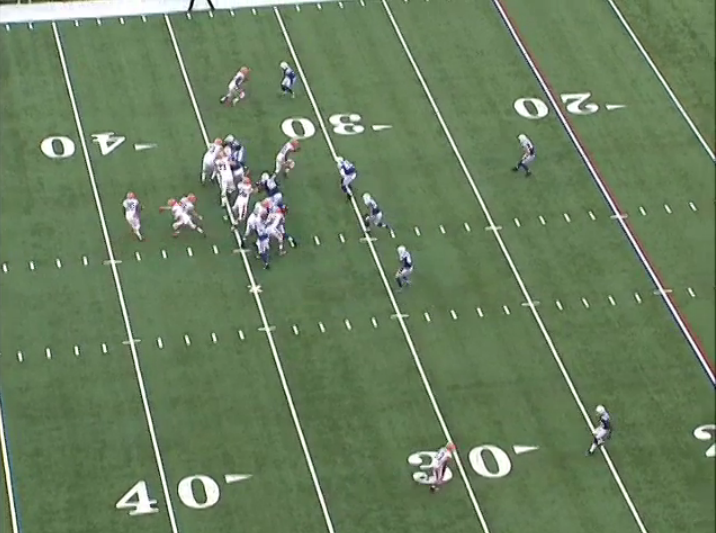 As Weeden fakes the handoff, Powers backs off and tracks his man appropriately. He's giving Gordon a fair amount of space in which to work, but the important thing is that he's maintained position and is able to track the play.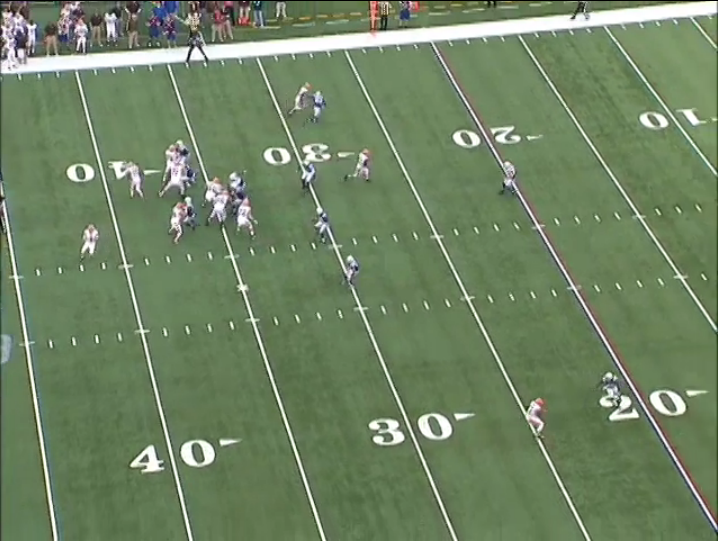 Gordon attempts to stop and lure Powers in, but the Colts cornerback maintains his distance and has the quickness to move back in stride with Gordon.
And by the time they continue their jaunt down the sideline, Weeden has released the ball. Gordon obviously knows this is coming, while Powers hasn't a clue – as well he shouldn't, he's tracking a receiver downfield.
The two of them end up in close proximity, and this is a battle that Powers isn't equipped to win. We can't see much from this angle, so i'll shift to the broadcast view.
Gordon has the inside track on the ball, and his size and strength are going to prove crucial. He can essentially pivot his body to shield Powers from the ball while making the reception.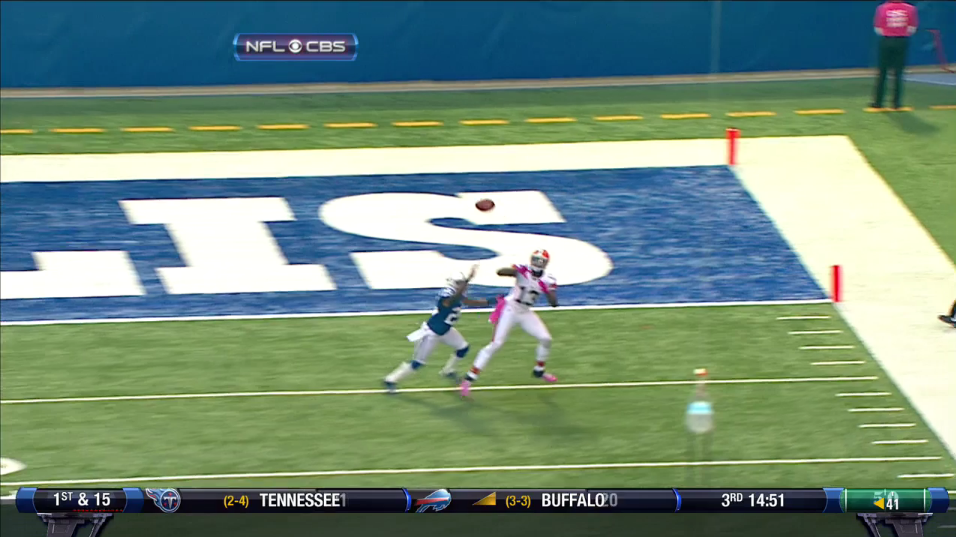 If Powers had more height and reach, would he prevent this play being made? Quite possibly, but perhaps that would take away from his prowess in the tackle, both in the run game and after the catch. I don't see the point in recriminating over a play like this because it's not where we want to be from a personnel standpoint. When we're playing the right players in appropriate matchups we can recriminate.
Powers gets a hand on the ball fairly sharpish, though the strength of Gordon proves too much and the play ends up as a touchdown.
So, Powers gives up a long touchdown, but how does he respond? The Browns test him on the first play of the very next series, on a 1st and 10 from the CLE 20. The score is 17-13 Colts, with 3:19 on the clock.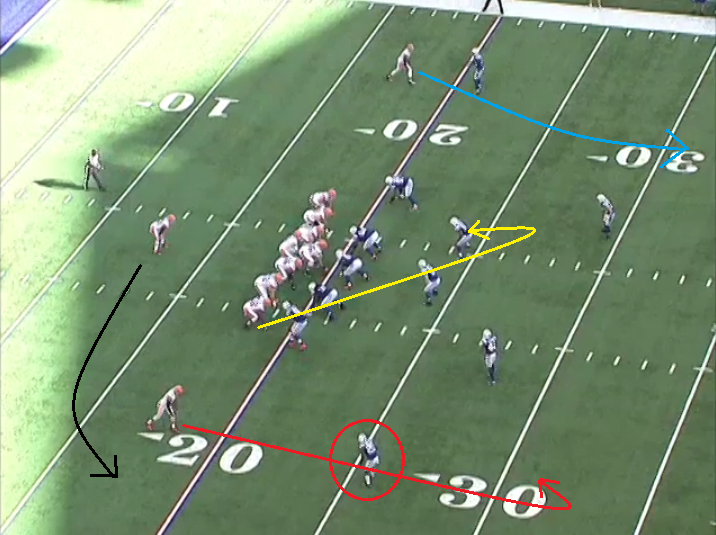 Powers is matched up on Greg Little (#15 – WR) at the bottom of the frame, and he'll be running a simple curl route designed to take advantage of any shakiness Powers might be feeling after the last touchdown.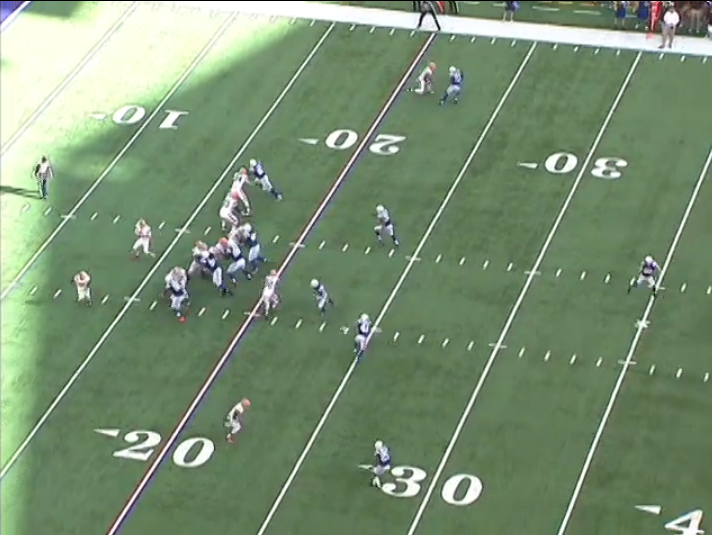 Having given up the long touchdown on the previous play, Powers is clearly intent on giving a large cushion. The swing pass is an option for Weeden here given Powers' depth on the sideline, but he wisely opts not to, as Pat Angerer is hurtling full speed towards the running back.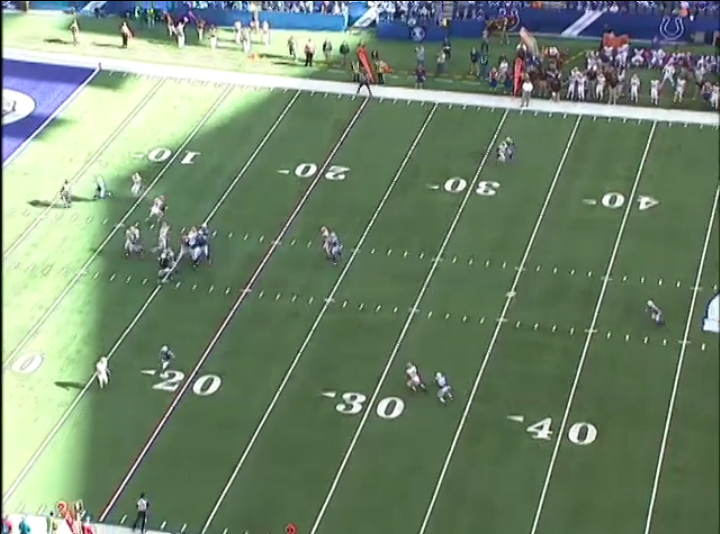 As Little turns into position, Powers displays good click and close ability to make the ground up on Little.
He makes a good tackle to limit the catch to 12 yards. I know some of you may say 'it's still a 12 yard gain' – indeed. The solace I take from this play is that Jerraud Powers displays more mental resilience than the other headless chickens we've been playing in the defensive backfield over the last year or two.
Of course I say that with full knowledge that I have to explain what's coming up.
To cut a long story short, it's 3rd and 1 from the IND 41 with 6:45 on the clock. Given the fact that this series determined the fate of the game in my opinion, some context is required. It remains 17-13, so a field goal will achieve little. With only 6 minutes left on the clock, it should absolutely be 4 down territory regardless. I'd personally favour two runs, but a deep strike has some merit.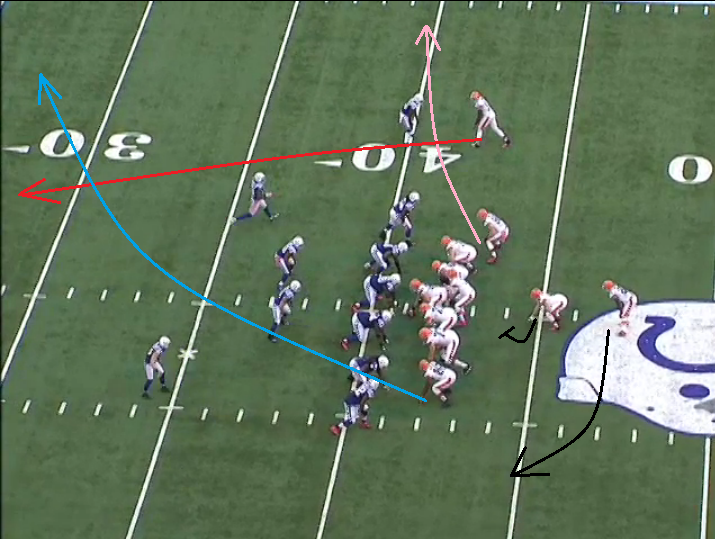 It's Powers vs. Gordon again at the top of the frame. Gordon is simply running a straight vertical up the middle, though he'll set the route up with an outside step from which Powers is never able to recover. As much as I hate 10 yard cushions, this is the downside of aggressive coverage.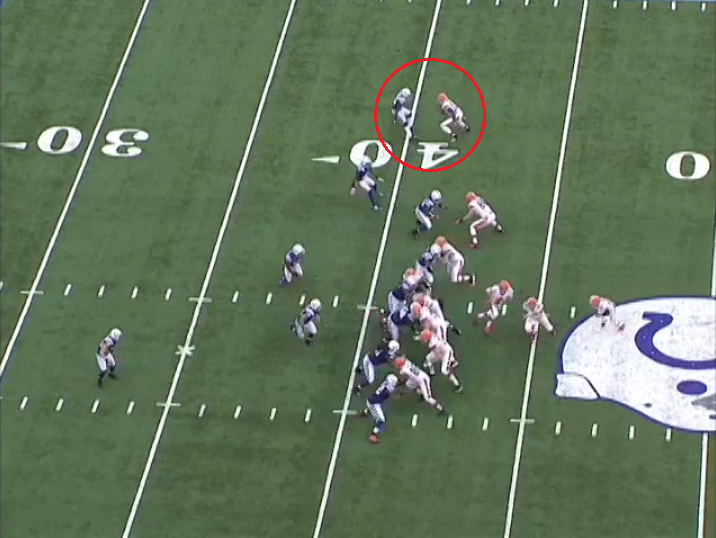 I've circled Gordon as he stutters to the outside, before making a break inside. Powers effectively gets hung out to dry for paying too much attention to it.
Gordon displays outstanding burst and quickness to take advantage of Powers' momentary lapse.
Miraculously, the Colts managed to muster some pressure on Weeden at the most crucial time. I believe it's Antonio Johnson (#99 – NT) coming straight up the gut towards the quarterback.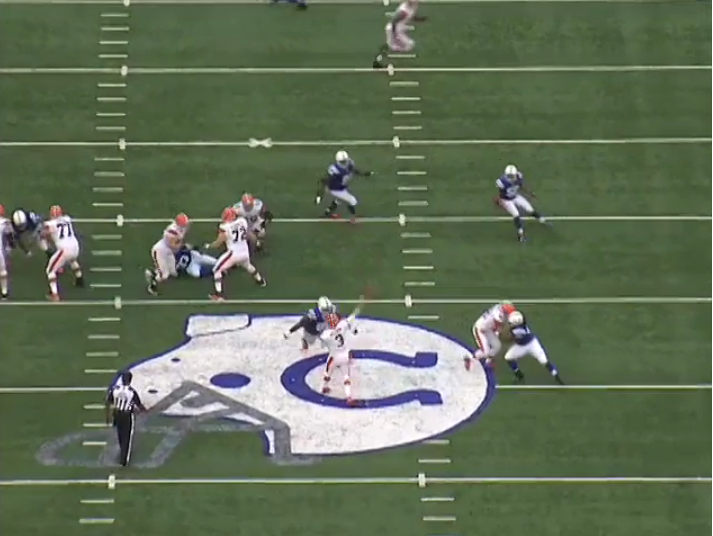 Weeden does an absolutely outstanding job releasing the ball as he's hit. He manages to generate great velocity downfield on a very difficult throw.
Gordon has maintained his pace downfield and the throw from Weeden hits him right in the bread basket. Powers never completely disappears from the play, though Gordon has necessary clearance to make the catch.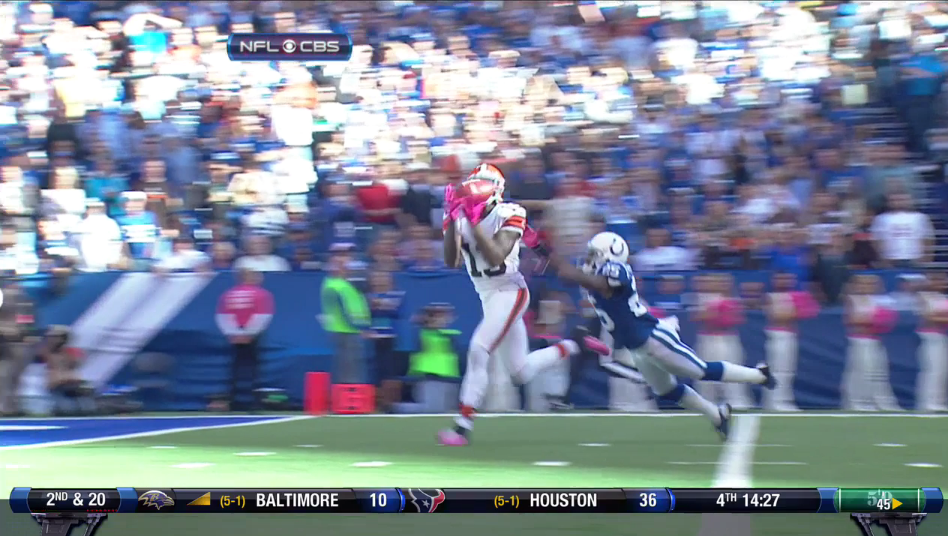 Drama! As the ball strikes his fingertips, the blinding light of the sun hits him in the eyes. A favour from the almighty to the now-released from hospital Chuck Pagano? Damn right.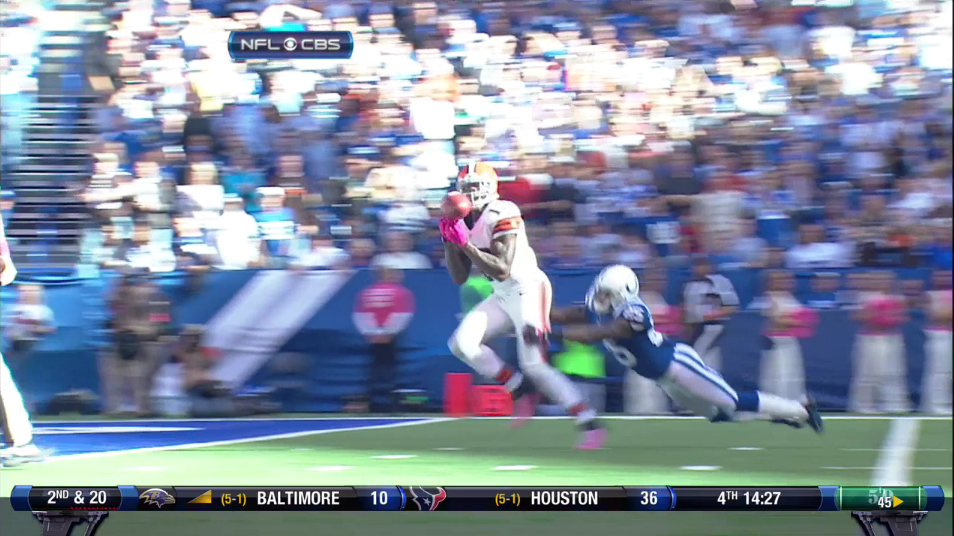 I feel for Gordon, because it's an absolutely rotten stroke of luck. He needs his concentration most when initial contact with the ball is made, in order to make an appropriate adjustment and corral it.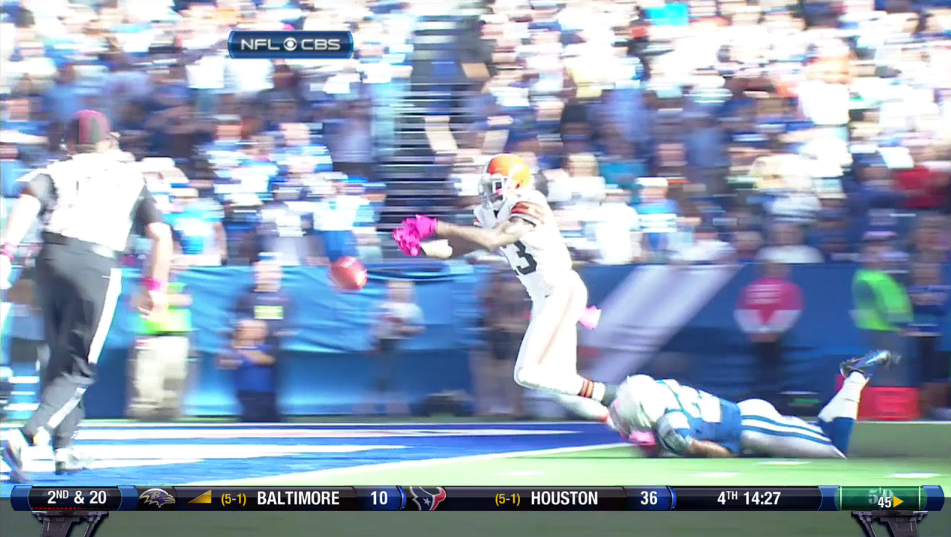 It slips through his fingers, and the Browns are left with a 4th and 1. They mystifyingly chose to punt and in doing so punted away their chances of winning the game. What I said last week about beating teams that want to beat themselves? The Browns were a perfect example. I feel for their fans having to endure the shoddy coaching performances of Shurmur, a clear acolyte of Caldwell. On that note, I was pleased by the performance of Bruce Arians this week, both in terms of the first half offense and in terms of aggressiveness. He went for it when required and punted when appropriate. Those are the most important decisions for a head coach, and I honestly wasn't expecting the improvement.
Sunday wasn't particularly entertaining from a defensive perspective, though I was pretty disappointed by the lack of turnovers against this Browns offense, particularly when deprived of Trent Richardson. The injection of talent I've been stressing as necessary only becomes moreso with each performance. The return of Robert Mathis should help considerably as well. Regarding Powers – get off his back, realise the extent of the mismatch and move on. He's a good player and has been one of the few bright sparks on defense over the past few years, so he deserves the slack.
Regarding rankings, we're 16th in total defense. I reflected on the ridiculousness of such a notion last week, so I won't repeat myself other than to say that this is a bottom 5 unit at present.
That's it for this week – Tweet me at @CA_Savage if you like, or comment below. I've been really busy over the past few weeks and haven't been able to devote as much time to looking at comments as usual, so i'd appreciate anything you have to say.