My new book Invincible, Indiana is ready for pre-order! A digital version is on sale NOW!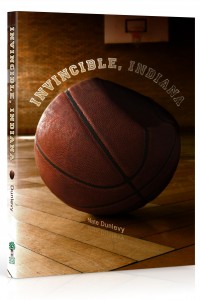 Official Description:
Dale Cooper arrived in tiny Invincible, Indiana determined to coach his way to a better job. He never bargained for a clueless principal, a bitter star, a racist point guard, and a town fiercely proud of 49 consecutive seasons of finishing exactly .500. When it becomes apparent to Dale that neither the town nor his players have any interest in winning, he devises a way to turn everyone's expectations upside down. His gambit forces Invincible to strive for greatness if only to keep their dreams of mediocrity alive.
Set in 1996-1997, Invincible, Indiana explores the myths and motivations that led to the demise of the 'single class tournament' that was the bedrock of Indiana mythology. Both funny and heartbreakingly serious, Invincible, Indiana unpacks the core of the Hoosier state's love affair with basketball. Invincible, Indiana will make you laugh, cry, and cheer, but most of all it will make you rethink everything you thought you knew about the hysteria that was basketball in Indiana.
Author Nate Dunlevy is already one of the most popular voices in Indiana sports coverage. His first book, Blue Blood: Tales of Glory of the Indianapolis Colts, explored the fragile history of the Colts as they fought for a place at the table and struggled to overcome the basketball bias inherent in Indiana. Now he takes on the traumatic final days of one class basketball, using the travails of fictional Invincible, Indiana to consider questions of greatness, fate, and the full court press.
HERE'S WHAT YOU NEED TO KNOW:
1. The book is currently available for pre-order at Madison House Publishing. Starting November 8, it will be available on Amazon.com and other retailers. Buy a presale copy, and you can get it personalized.
2. The non-Kindle formatted PDF is availble for sale now.
3. For the next week only, you can read a sample version of the book for free. Try it. If you like it, buy it. Pass on the sample to someone else. Yes. That's right. PIRATE THIS BOOK! I'm convinced that if you read it, you'll love it. The sample PDF is not optimized or formatted in any way. It's just that, a sample. The book is there, but it is not in the same format a real copy is. This will be available until November 8 ONLY!
4. Kindle specific versions go on sale next Tuesday as well, but you can always buy the PDF and have Amazon convert it.
5. You can order Invincible, Indiana together with Blue Blood for a discount, and get a digital copy of Invincible, Indiana for free!
WE ARE THROWING A PARTY!
Come down to the Indianapolis Colts Grille from 6:00-7:30 PM on Monday, November 14!
10% off your meal if you buy a copy of Invincible, Indiana, at the signing!
I'll be there to sign books and talk football, basketball or whatever you want. So come join us downtown, just off the circle for fun, food, and books!